We are a young and motivated team. Our highest goal is, to organize a wonderful India Experience according to your wishes for you!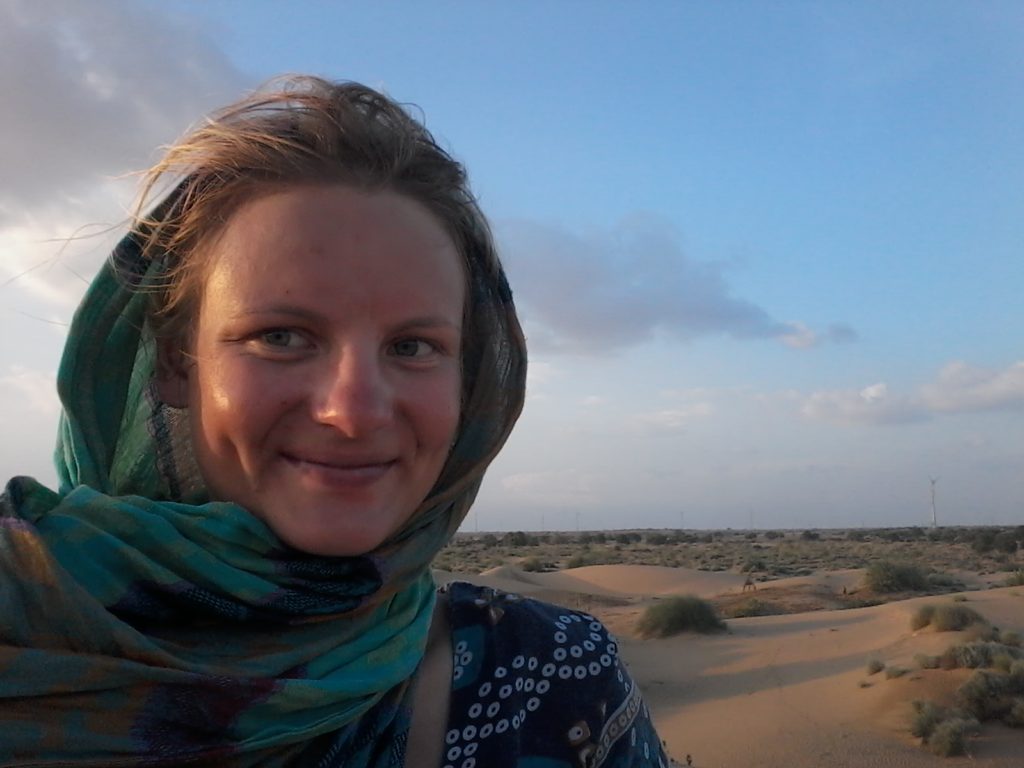 Sarah
Owner, Organization, Tour Guide and Yoga Teacher
Sarah, founder of Chalo! Travels, is a passionate outdoor sport person, Indian lover and yoga teacher
Sarah Appelt has been living in India since 2009.
Originally, she came to Delhi at the age of nineteen as a volunteer for only one year of service. But she fell in love with the diverse country, with its fascinating people, deep culture and enchanting landscapes. So she decided to have her base in India, more precisely in the Indian Himalayas, from where she organizes active and adventure trips and yoga trips through India.
She is a trained 1000 hours yoga teacher (certified with Yoga Alliance), mountaineer and mountain biker and has completed her studies in tourism management in India.
"I want to share my passion for the Indian mountain world and my affection for the local population with other travelers interested in culture and nature and active people from all over the world. I want to bring them closer to India with all its facets and ensure intercultural understanding between the different nations. Join in into an adventure in India and immerse yourself in a fascinating world full of contrasts, religions and nature."
Yoga Profile
Sarah had her first intensive contact with yoga during her year-long volunteer service in Delhi in 2009/10. In addition to teach in a school in a slum, she had a private yoga teacher who taught her the secrets of traditional Indian yoga. During this time Sarah not only found her own regular practice, but yoga also became an integral part of her life.
When she returned to India in 2012, she found her new private yoga teacher in the Indian mountain resort of Manali, with whom she completed the snowy winter over an intense month-long yoga workout at Shivananda Yoga.
In the following winter of 2013, she completed her first 200 hours of yoga teacher training in Goa with the well-known Ashtanga and Hatha Yoga teacher Vijay from Universal Yoga.
In the fall of 2015, Sarah completed her 300 hours of yoga teacher training at the Paramand Yoga Institute in Indore, a city in central India. Here she got trained mainly in yoga therapy, traditional Hatha yoga and meditation.
She continued to teach yoga in Manali and also offered yoga trips and retreats throughout India. Whenever she traveled to Germany again, she taught as a guest teacher at various yoga schools.
In 2016, Sarah attended a ten-day Buddhist silence and meditation seminar at the Tushita Center in Daramshala.
She completed her certification in Thai yoga massage in March 2017 in Dharamshala.
In autumn 2017, she completed another 300 hours of certified yoga teacher training in Akhanda Yoga style and Kundalini Yoga in an ashram in Rishikesh.
She received her training in singing bowl therapy and mantra meditation in Goa in March 2019 from Shiva Girish.
In January 2020, she completed another 200 hours of yoga teacher training in Yin and Ashtanga Yoga with Upaya Yoga in Goa. Later in the year she completed a Yoga Anatomy Training with Dr. Ariel Foster.
In Winter 2020-21 she did a 3 month intense certified training as an Ayurveda Lifestyle consultant at Ayur Greens in Kerala, India. In 2021 she completed here trainings in pre and postnatal Yoga.
Now, Sarah is a very experienced 1000 hours certified yoga teacher with her own deep yoga practice. She offers yoga trips and retreats throughout India throughout the year.
In May 2020 she founded her own yoga platform Yoga Maya India with the yoga school "Ganesha's Yoga Shala".
Jogi
Organization Himalaya and Guide
Pinku
Himalaya Motorbike and Trekking Touren
Pinku, also grown up in the Indian Himalayas, worked for many years as a tourist guide and taxi operator, so he knows the sights and road conditions in India well.
Pinku is also a passionate motorcyclist, enjoys riding on his bullet through the Himalayas.
He owns his own Royal Enfield 500 cc and is in charge of organizing our motorcycle tours.
In 2012, he built his own guesthouse in the middle of the family-owned apple orchards.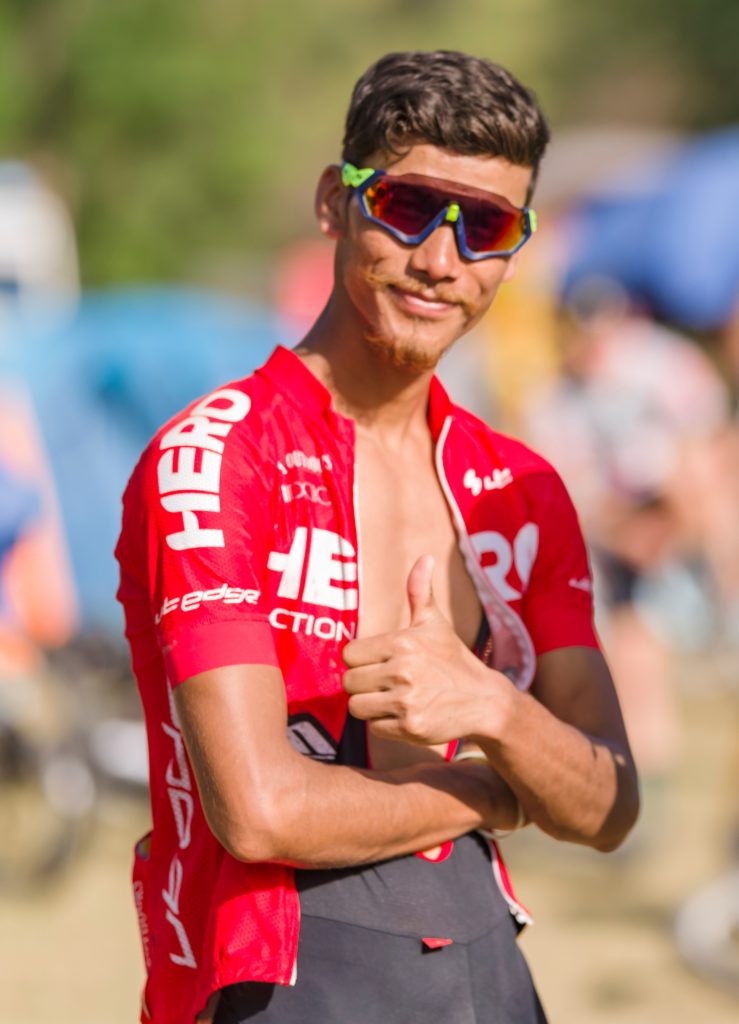 David
Guide Mountain Bike Touren
Grown up in the remote high mountain region of Kinnaur, David currently lives as a professional mountain bike athlete in Shimla in the Himalayas. Since mountain biking is his passion he is also a qualified bike mechanic.
Chalo! Travels is one of his main sponsors and supports him in training, nutrition and race logistics.
Whenever David is free from his racing he works for Chalo! Travels as a mountain bike guide and mechanic.
Dikshika
Guide
Noor and Dikshika are a modern couple from Delhi.
Both do a lot of sports, are dance teachers and backpack a lot through India themselves.
Dikshika has her Bachalor of Arts, represented India at the Olympic University Championships in badminton, is a Zumba and fitness teacher and she also does modeling a bit.
Dikshika mainly leads the backpacker trips for Chalo! Travels.
Noor
Guide und Yoga Teacher
Noor and Dikshika are a modern couple from Delhi.
Both do a lot of sports, are dance teachers and backpack a lot through India themselves.
Noor is a yoga practitioner and teacher based in New Delhi, India. He has trained in Ashtanga, Hatha, Kundalini and Yin Yoga. He has a love for Ashtanga and has trained under some of the best teachers in India including Ajay Tokas and Vijay Kumar. His additional educations include body anatomy, alignment and Yoga Philosophy. He is an avid reader and researches intensively on these topics.
He also is a dance teacher and has studied classical ballet, jazz and contemporary dance styles, teaching regular classes in Delhi.
His education includes a Master's in Industrial Management and a Bachelor's in Mechanical Engineering. He was working in the corporate sector before he decided to make a living out of things he loved doing.
He loves the outdoors and has also completed the Basic Mountaineering course from NIM, Uttarkashi and basic and intermediate skiing courses from IISM, Gulmarg and ABVIMAS, Manali.
Noor is mainly a Delhi guide, yoga instructor and tour guide in the Himalayas and Rajasthan for Chalo! Travels.
Anjali
Mountain Tours Uttarakhand
22-year-old Anjali from Dehradun, Uttarakhand is a remarkable young woman. Grown up in Dehradun, the capital of the mountain state Uttarakhand, she is fully dedicated to outdoor and adventure sports.
She completed several mountaineering training courses at the renowned Nehru Institute of Mountaineering (NIM) in Uttarkashi and is thus a certified mountain guide with special training in the medical field.
She loves mountain biking and trekking and is our woman for all tours in Uttarakhand and for our special "Outdoor Women Tours". She has led many trekking tours and climbed several peaks herself, including Mount Sathopanth (7040 m) and Draupadi Ka Danda (5711 m)
Yuvraj
German Speaking Guide
Our "New One" in Chalo! Travels team. Since January 2020, Yuvraj now supports us as a German-speaking guide on our cultural group and individual trips, as well as on German-language accompanied motorcycle tours.
As a state guide, Yuvraj has extensive knowledge of the history and culture of India and has a lot of fun discovering India with its guests again and again. He always faces new challenges and has now also discovered mountain sports and cycling for himself, although he still enjoys the motorized two-wheeler a bit more at the moment.
This summer he plans to take a mountaineering course.
The 25-year-old was born in a small village in Rajasthan. Here he lives with his parents on his own farm, when he does not accompany trips all over India.
Here Yuvraj introduces himself:
"I am Yuvraj Singh from Rajasthan. I have been working as a German tour guide since 2016. I have a bachelor's degree in mathematics and a degree in B2.1 from the Goethe-Institute. I can speak good German, English and fluent Hindi. I have great knowledge of our history and culture. My hobbies are cricket, trekking, staying fit and watching news broadcasts. I also have good architectural skills. I do all kinds of trips through India, so I'm a good mix of everything."