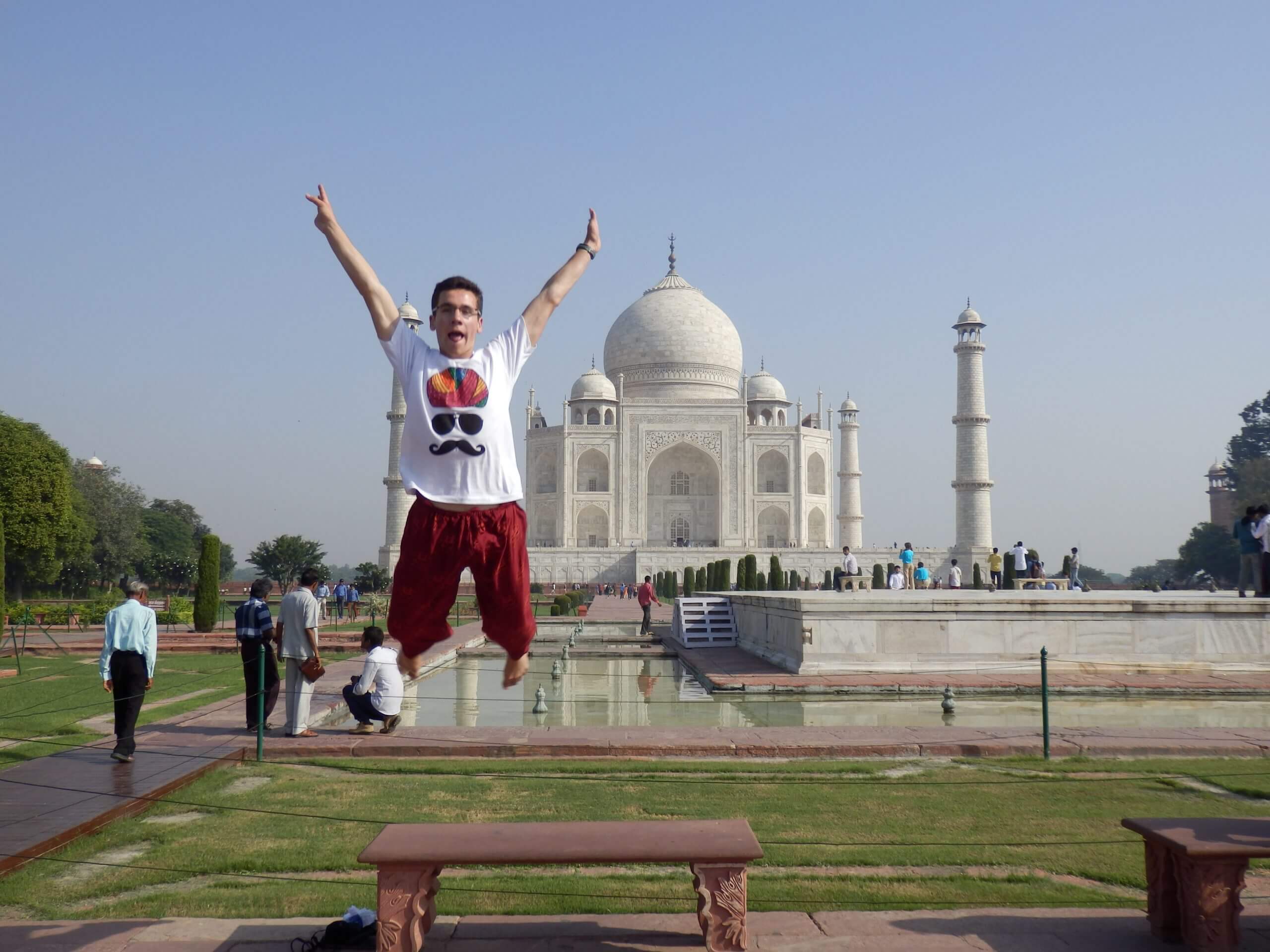 Frequently Asked Question
Which health and vaccination advices are there for visiting India?
Vaccinations
No Corona vaccination is required, but recommended.
Vaccinations are not required for direct entry from Europe.
However, the Foreign Office recommends that the standard vaccinations be carried out or completed. These include vaccinations against tetanus, diphtheria, pertussis (whooping cough) and polio (children's paralysis), possibly also measles, mumps, rubella (MMR) and influenza (flu), as well as pneumococci.
It is also recommended to vaccinate against hepatitis A and typhoid during long-term stays or special hazards also against hepatitis B, rabies, meningococcal meningitis ACWY and Japanese encephalitis.
If you arrive India from a High-Risk Yellow Fever area, you need to get the vaccination proof. Same, if you arrive from a country with Poliomyelitis.
Malaria
Malaria is prevalent throughout India year-round with seasonal variations. Especially during and after the monsoon season, the risk of infection is higher. However, malaria no longer occurs from heights of 1500 metres and therefore there is no risk of infection in Himachal Pradesh and Ladakh.
One should protect one another from mosquitoes that transmit the disease by clothing and mosquito repellent, as well as with an impregnated mosquito net at dusk and at night. This also makes sense to protect against dengue fever (day-active mosquitoes) that is common on coasts and cities.
It is also recommended to have a drug prescribed here in Germany for emergency therapy.
Rabies
The risk of rabies in India is high. Many stray dogs, especially in the cities, but also monkeys are infected. therefore they should never be fed. On a trek, you're sometimes out of reach for days from any civilization. Therefore, one should think about vaccinating against rabies.
Gastrointestinal diseases
Gastrointestinal diseases are a major problem in India and many travelers suffer from corresponding ailments. This sometimes has nothing to do with the quality of the food, but rather with the unusual and unknown ingredients of the food.
Water is often heavily polluted in India and is strongly discouraged from drinking water from the pipes. Only filtered or packaged bottled water should always be consumed. On trekking tours, it makes sense to have water purification tablets with you.
Travel pharmacy
Water purification tablets
paving/dressing material
broadband antibiotic,
anti-inflammatory cream
Malaria emergency medicines
acute diarrhea
medicines for pain, fever and travel sickness
Altitude and altitude sickness
Altitude sickness is a serious issue that should not be underestimated, especially during our trekking tours and expeditions in the Indian Himalayas. At altitudes above 3500 m, our body has to slowly get used to the low air pressure, which also causes less oxygen to enter our lungs. The first signs of altitude sickness are headaches, which are accompanied by dizziness, nausea, insomnia and loss of appetite. It becomes problematic when water accumulates in the lungs and brain and edema occurs. Then only the immediate descent to lower altitudes will help. During the trek we will slowly ascend to acclimatize. If we notice that there are problems with our guests (each person is otherwise able to acclimatize, regardless of age, gender and fitness level), either the entire tour group or the participant with a team member descends/returns. In addition, it makes sense to take emergency medications (Diamox, Dexamethasone, Nifedipine) against altitude sickness. For this, it is best to inform yourself at the pharmacy or seek advice from the travel doctor. In addition, we will have oxygen with us for the emergency. Click here for our blog article "Emergency pharmacy for trekking tours and mountain expeditions in the Himalayas".
In addition, if not already done, you can have a free information call from the BCRT (Berlin Center for Travel and Tropical Medicine) on vaccinations, health and height adjustment with our vouchers (among request). Simply make an appointment at one of the many locations and mention the voucher.
Are there any safety guidelines?
Of course, we try our best to update our guests always about the safety situation in India. Please keep yourself informed about the current security instructions for India on the website of the Foreign Office in your specific country as well!
How do I apply for my Visa?
The Electronic Visa for Tourists
In addition to the normal "sticker" tourist visa, there is also the tourist visa upon arrival directly at India's airports in the form of a stamp available. But it is compulsory to apply online in advance for it.
The so-called e-tourist visa is available for 30 days, 1 year or 5 years. The 30-day e-visa can be applied for 4 to 30 days before departure and costs 25 USD (from April to June even only 10 USD). This visa allows entry twice and can be applied for several times in the year.
The one-year visa (40 USD) and the five-year visa (80 USD) can be applied for up to 120 days in advance. For both visas, the uninterrupted stay may not exceed 90 days, but you may enter with them several times.
All visas should be applied for no later than 4 days before departure. If you are very short and need your visa within a day or two, you can use this page: iVisa.com gets the visa issued more quickly but at a high surcharge.
The visa fees must be paid after the online application via a payment platform to which one is automatically forwarded. Only afterward the Visa will be processed.
When registering online, you must fill out the application form, upload a copy of the first page of your passport and a passport photo. The passport must be valid for at least 6 months upon entry and a return flight is required for presentation. Please select the e-tourist visa as well as the appropriate subcategory. Click here to go directly to the e-Visa form.
Upon arrival at Indian airports, you will need to print the Online Visa (ETA). It must be written "GRANTED" on the ETA. Biometric measurements are carried out and you  get the entry stamp in your passport.
Application and more information about the visa on entry can be found here.
The Electronic Visa for Tourists
This visa requires a passport that is still valid for at least 6 months, 2 passport photos (format 5 x 5, against a bright background, biometric), the fee and the printed and signed online Form.
The issue of Visas is handled differently from Country to Country. Sometimes you have to apply direct at the Indian embassy, but mostly this service is outsourced. Please inform yourself and be carefully, that you don't end applying your Visa at an agency for extra money. Sometimes it is not so clear to see, which is the direct service provider and which is the agency.
Anyway, we generally recommend you to just apply online for an E-Visa. That is easier to apply for, takes less time and money and is more than enough for your purpose. More Information here.
The only reason to apply for this " Sticker" Tourist Visa, is, if you plan to get a Visa for a longer duration than one or five years and plan to stay continuous up to 180 days in India.
Depending on your country you can apply for Tourist Visa from 1 to 10 years with multiple entries and a continuous stay from 90 to 180 Days.
What kind of transportation is used during the tours with Chalo! Travels?
Depending on the budget and time, we offer different transportation options. Often, several modes of transport are combined during our journeys. So a trip can consist of a Rajasthan round trip with a private driver, after that a train or flight is taken to cover a longer distance and sometimes the only option is to take the overnight bus, especially, if your trip goes up to the mountains.
In the following, we briefly explain the individual transport options.
In the car with a private driver

This is the most luxurious and pleasant travel method, especially because you  have your own knowledgeable chauffeur along.  With your private driver you are very flexible, you have a local by your side and get into a deeper inter cultural exchange.

Depending on the size of the group and budget, we provide our guests with either a Toyota Innova (2-6 persons), a Maruti Suzuki (Alto) for 2-4 people or a Tempo Traveller (Force) for larger groups from 7 to 14 people. These vehicles can be air-conditioned, depending on the destination.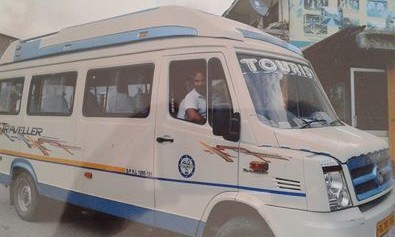 In the Himalayan region with poorly developed roads, we also often use Tata Sumo SUVs.

Travelling by Train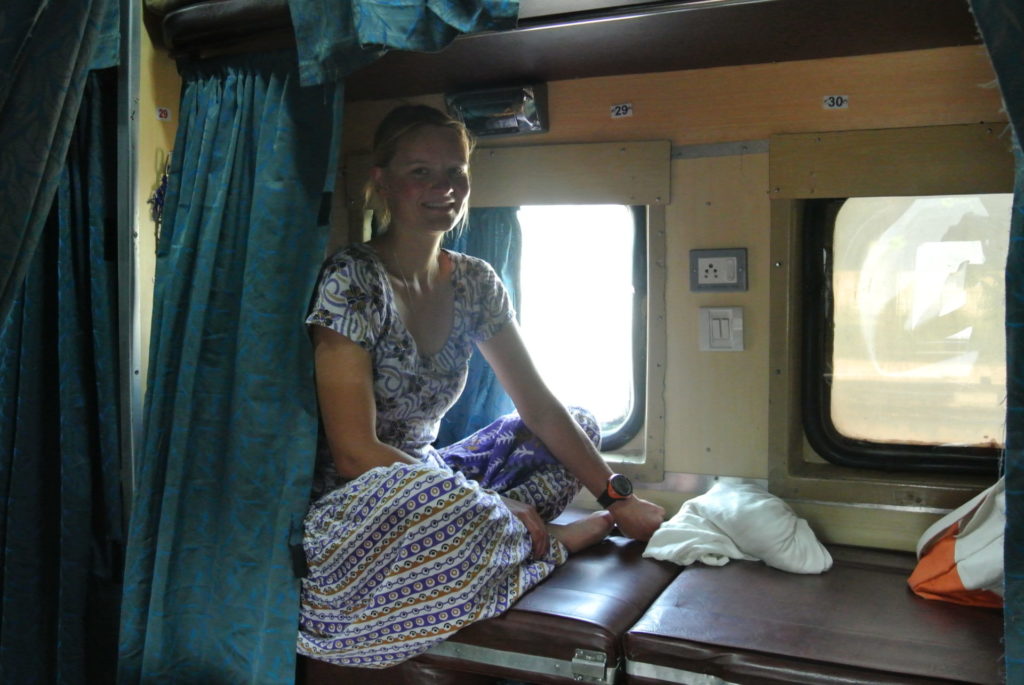 On the train
Travelling by train in India is an interesting experience and should be part of your trip in India. Especially longer distances are much more pleasant to spend in the sleeping compartment of a train than in a car.
We recommend that our guests take at least a short distance train ride during their stay in India. But we also would like to point out,  that even the upper class air-conditioned trains are still quite simple and that one or the other Traveller may not sleep that well.
But instead you will get to know the Indians' most typical means of travel, get into a nice exchange with locals and have time to process your travel impressions as you  pass the Indian landscape.
With Chalo! Travels you will travel in an air-conditioned compartment with 2 or 3 sleeping beds on top of each other. There are fresh bed linen and blankets. There are two toilets at both ends of the train carriage. Employees of the train regularly come by with food and beverages.
Travelling by Bus

Travelling on the bus is sometimes unavoidable and especially for our guests on a lower budget, the only option, when it goes high to the Himalayan regions of Daramshala, Manali or Leh.
Up to Daramshala and Manali we travel mostly  in an air-conditioned Volvo bus with rear-adjustable seats.  In southern India there are also the so-called Sleeper buses. These buses have instead of seats, proper loungers, single and double .
Travel by Plane

India is a big country and if you want to see as much as possible of the diverse Subcontinent, you can't avoid to cover some distances on the plane. The only alternative is the night train. Trains in India can often be booked out for months in advance, so you have to take a flight.
Whether the mode of transport will be the train or the flight depends again on the standard of your travel, budget, time and attitude towards environmental protection. There are now many different Indian airlines and flights are mostly cheap. Especially taking flights from Leh to Delhi, Delhi to Goa or Kerala make sense.
On the road with metro, taxis, car and bicycle rickshaws

Rickshaw
When we are travelling within the destinations itself or go from the hotel to the train station or airport and vice versa, we also take public transportation. Especially the use of the Metro can be very convenient. Going by rickshaw is uncomplicated and an experience at the same time. We use taxis as a means of transfer as well.
What kind of accommodation is used during tours with Chalo! Travels?
What kind of accommodation is used during tours with Chalo! Travels?
For all our trips we will accommodate you in selected typical, clean and comfortable accommodations in the 2- 3 star area.


All units have running hot water and are air-conditioned depending on the season and destination.

If you would like a higher category of accommodation (e.g. luxurious Heritage Hotels in Rajasthan, accommodation in the 4-5 star area), please let us know your wish in advance of your trip and we can fulfill this for a surcharge.In the following you will find descriptions of our types of accommodation when travelling with Chalo! Travels:
Backpacker Trips

Simple, clean accommodation with private bathroom and fan.
Homestays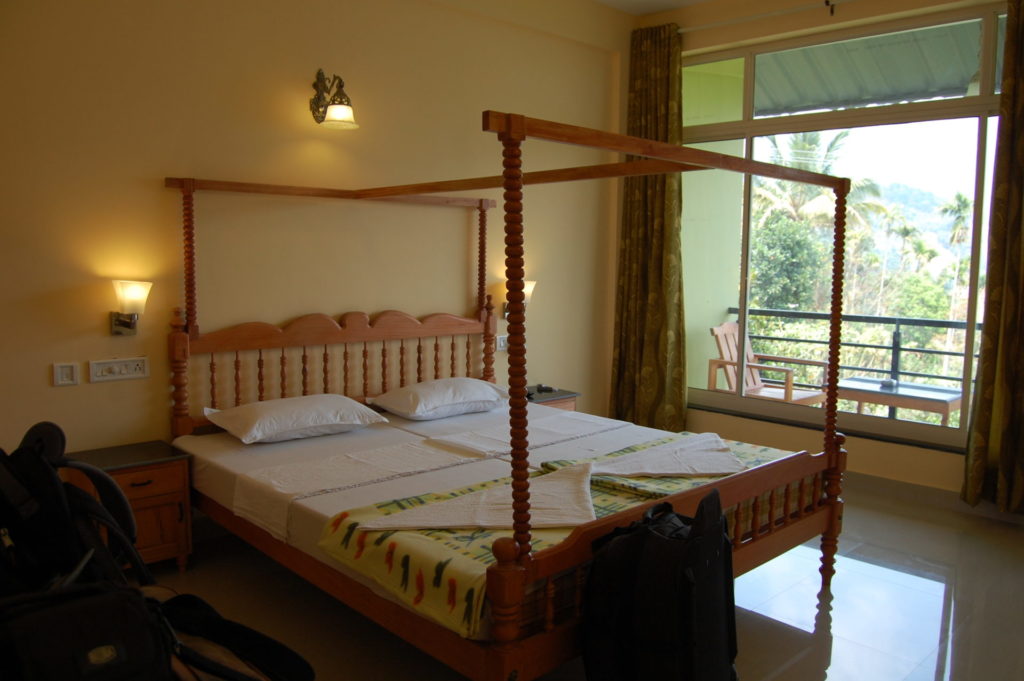 Homestay in Munnar
Cozy and clean rooms in the house of an Indian family. The guesthouses have a lot of charm and are (almost) all equipped with balconies, hot water and air conditioning.


Most rooms have balconies
Our homestays in the high mountain resorts are relatively easier to set up than our homestays in southern India. Most rooms have a private bathroom, otherwise there are shared bathrooms.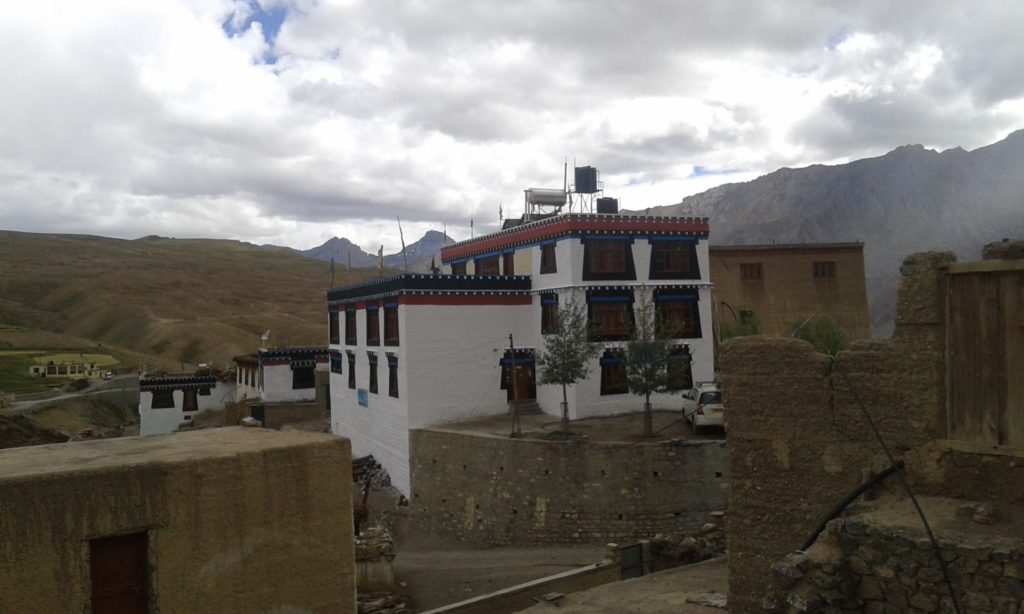 A Homestay in the Spiti Valley
Hotels and inns
Similar to our homestays, our hotels have clean rooms with air conditioning and hot water. The categories of our hotels and inns are in the 2- 3 star range.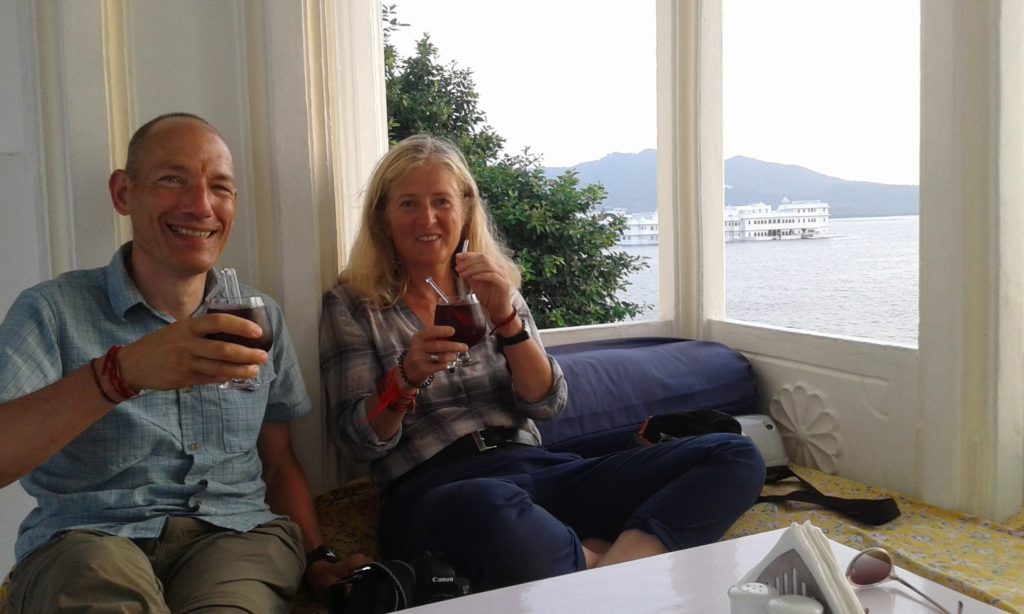 Hotel in Udaipur
As far as possible, we have tried to choose typical accommodations that reflect the atmosphere of the respective place and are furnished in the traditional Indian style. So we often accommodate our guests in a small Haveli (traditional Rajasthan mansion) in a backyard in Jaipur. In Manali our guests stay in Kullu-style mountain inns and in Rajasthan in one or the other Heritage Hotel.

In the larger cities of India such as Delhi, Mumbai, Kolkata or Varanasi, we have tried to focus on hotels that are conveniently located and have a good price ratio.

Yoga Ashram
Our yoga ashrams all have private clean rooms, some with private bathrooms. They are partly air-conditioned, otherwise, there is a fan.
Yoga Resorts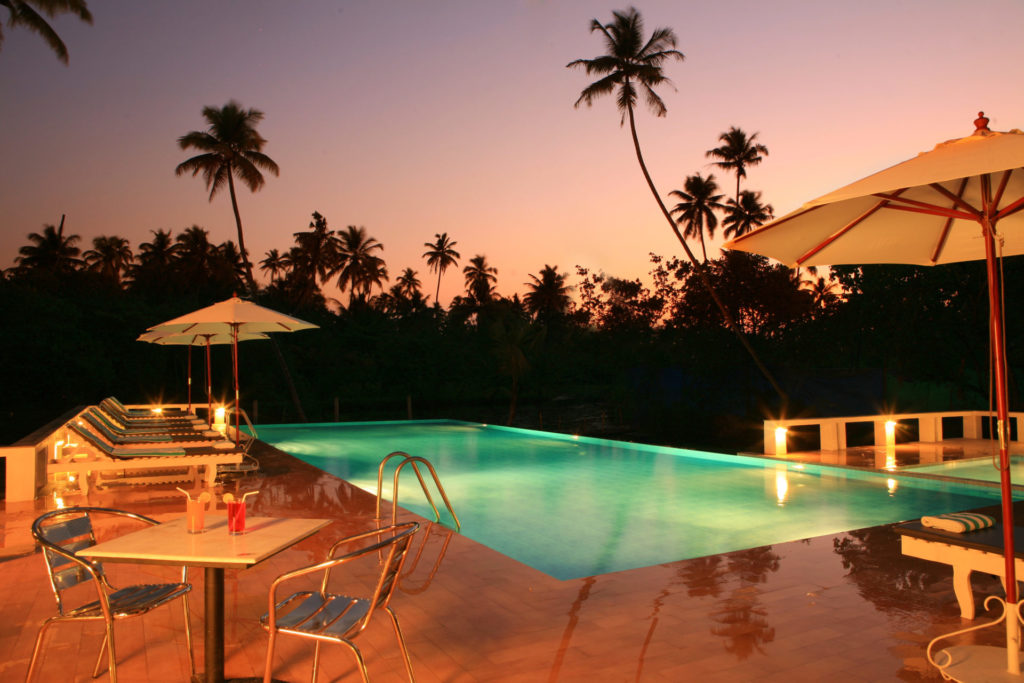 Beach Resort
The yoga resorts are luxurious and beautifully idyllically located holiday resorts, mostly directly on the beach.
Accommodation during the trek

Our comfortable tents during the trekking tours
During our treks you sleep in comfortable and large two-person tents and we provide you with mattresses and warm and hygienic sleeping bags. Depending on the type of the Trek, there will also be a dining tent, shower and toilet tent.
Deluxe Camps
Deluxe Camps are permanent camps with large Swiss-Cottage-style tents. They include proper beds and an attached bathroom with mostly warm water.


Deluxe Camp
Special accommodations
Sometimes we plan smaller and bigger highlights during your trip. Then it can happen that during a camel safari you sleep in the open air on mattresses – without sanitary facilities, or in a fully equipped houseboat with bedrooms and bathrooms. Be a little open and flexible for a new experience!
Overnight stays while travelling by train or bus
Long itineraries are part of a tour in India and are inevitable (read more in this article).
Due to the long distances, most transports take place overnight. Especially a train ride in India is an experience, because the train is the most typical means of travel of the Indians.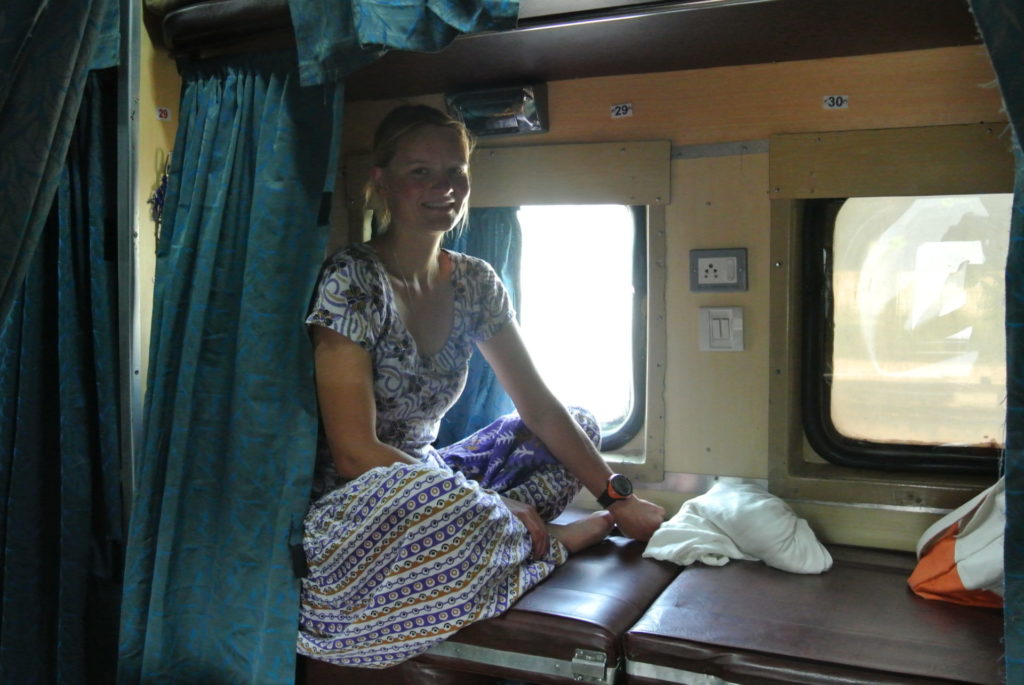 Train Journey
Travel with Chalo! Travels, we book you sleeping places in the air-conditioned train compartment, with either two or three beds on top of each other. Inside a wagon, 40-60 people sleep with two toilets each at both ends of the wagon. There are 6 to 8 beds in a compartment.
If you wish, flights are almost always an alternative to a longer train journey.
A night bus ride up into the Himalayas to Daramshala and Manali is unfortunately inevitable – trains do not run up here and the flights are mostly unreliable and fail.


Volvo Bus
All buses we book for you are air-conditioned Volvo buses with fold-back seats.
For our India Tours:
Clothes
only the most necessary, good shopping  in India possible
light and airy clothing covering the body, especially women should cover shoulders and knees
Clothes to change due to the warm and humid climate
Headgear (base cap, hat, scarf)
for Northern India and acclimatized rooms/vehicles some warm layers to cover
Raincape
Shoes
Slats or flip-flops or sandals
light comfortable sturdy footwear is worthwhile
Other
Sunglasses
Camera
Pocket knife
Travel pharmacy (water purification tablets, patches/dressing material, a broad-spectrum antibiotic, anti-inflammatory cream, malaria medicine, acute diarrhea medicine, medications for pain, fever and travel sickness)
Insect repellent
(Mosquito net)
Toilet paper/wet wipes (partly also available in India)
Sunscreen
Notebook
Passport and visa copy
Cash in your currency/ Traveller Checks
Charger (adapter not necessary)
Swimwear (for the beach, pool, etc.)
For the mountain region (detailed list for our trekking tours above)
functional trekking clothing
functional underwear
good hiking footwear
warm jacket
thick socks
hat and gloves
Indian Currency and Money
In India we have the Indian rupee ₹ as our currency.
About 80 INR corresponds to 1 EURO.
You are not allowed to export the Indian rupees and therefore cannot exchange them in advance of the trip.
Cashless payment by credit card is now quite possible in India. Nevertheless, cash is very popular and unavoidable, especially for smaller expenses.
Only in India itself can you exchange cash (euros or dollars) for rupees at airports (very bad rate), in hotels or agencies for a small fee.
Alternatively, you can also withdraw cash from ATMs.
Here you can withdraw a maximum of 10000 INR (approx. 130 €) at once. (You can withdraw multiple times in a row though, no problem).
Note that ATMs are often empty on public holidays or Sundays. There can often be long queues at the ATMs. So always have some cash in euros or dollars with you for emergencies.
It is best to choose the machines of the state bank SBI. This does not charge any fees. However, fees of 6 € may be charged by your bank.
How can I be accompanied by someone, who is not interested in the specific tour activity?
For accompanying travelers who do not want to participate in the actual activity such as mountain biking, climbing, mountaineering or trekking, but want to accompany a participant, we offer alternatives for different prices. For example, during a mountain biking tour you can be taken along in an accompanying vehicle or during a climbing expedition you can join till Base Camp or do an easier trek nearby. The same will work for our Yoga Tours: for a lower price, you can simply take part in the tour without taking yoga classes. Contact us and we will discuss your personal situation.
To participate in our trips, go to the "Booking Form" and fill in the form. If your choice is a travel module or a private trip, please send us an inquiry through the contact form or e-mail. We will then make you an offer, which you can book bindingly by phone or e-mail. Please provide the names of the travel participants and the passport numbers. The Terms and Conditions apply.
We will then send you a travel confirmation with a travel security certificate by e-mail.
Please check the travel confirmation. If any changes have been made to the trip that you do not accept, please let us know within 10 days.
Upon receipt of the security certificate, a deposit of 20% of the travel price is due. This can happen via Bank Transfer or Paypal.
The rest of the travel price must be paid approximately 4 weeks before the start of the trip.
You will receive all travel documents from us.
If you have any questions, please feel free to contact us!
How can I insure my booking?

We recommend all our travel participants to  have  travel cancellation insurance. If you wish, you can take it out via our German partner insurance Ergo Travel Insurance via the following link:
Furthermore, international health and accident insurance is important.
There are no restrictions regarding the travel to or within India since November 2022