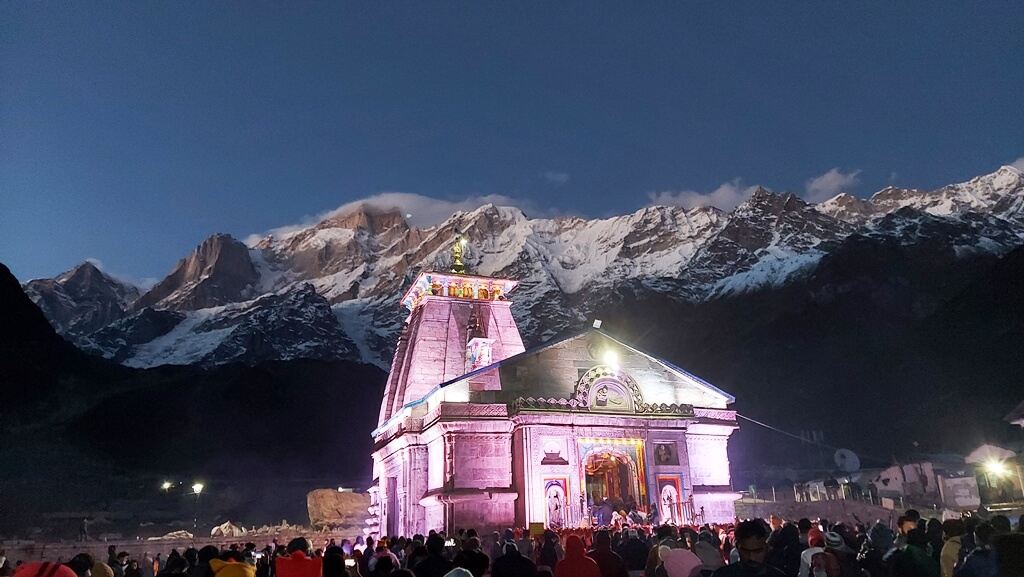 5) Safety as a woman: you will be very safe traveling with me in India! In general, India is also a very safe destination for women, if you follow a few rules. Most Indian men tend to look out for you and are ashamed of their country's reputation.
6) A scarf: either buy one in India or have one with you as a head covering in temples, as sun protection, dust protection, seat carpet pad, eye protection (you often meet a lot of novelty on the part of the Indian population), for wiping sweat.
7) Please be sure to have a layer of warm clothing with you: Thermal underwear, a sweater, a jacket. In Rishikesh and Mcleod Ganj it can get chilly at night. Otherwise, it will be rather (very) warm.
8) Vegan diet: In the homestay, ashram and resort it should not be a problem to eat vegan. It is sometimes a little more difficult in restaurants. Often, after all, cooked with butter and cream. But I'll watch out for that too. at cooking class we just cook vegan 🙂 Indians are great vegetarians but love the dairy products of their sacred cows!
9) Air India is a good airline. Luftansa and Vistara also offer direct flights from Frankfurt to Delhi. Over South India (Kochi/Cochin) it is best to fly with a very good Arab airline (Qatar is best, flies at 3am). You can extend as many nights as you like.
10) A backpack is much more practical just because of the train rides. Then we also have to carry the luggage sometimes. He is safe on the train. But a suitcase also works.
Info evening on women travel recording
In this live webinar from April 11, I presented the women's round trip through India in more detail. This trip will take place from 04. to November 19, 2023, and once a year in the fall. The trip will be led by a female tour guide and will have a special focus on interaction with Indian women, as well as yoga and Ayurveda, in addition to the cultural travel experiences. You can choose to participate in the two-week round trip through northern India or with a one-week extension in the form of a one-week stay at a yoga and Ayurveda resort in Kerala, southern India. The following questions were then answered:
1) Mosquito net: Not necessary, there will be few mosquitoes, which also hardly transmit contagious diseases at this time of year. A good mosquito spray, which you can also get very cheap in India is more practical.
2) Vaccinations: Basic vaccinations and Hepatitis A I recommend, all other vaccinations do not need to be done. In case of animal bites must be vaccinated against rabies vorot. We hope that this will not happen. If there is, there are very good private hospitals always close to our travel destinations
3) Good sports shoes with which you can walk comfortably are quite enough, hiking boots are not necessary.
4) There are western style sit down toilets and toilet paper throughout the accommodations. On the road, sometimes the squat toilets are preferable for hygienic reasons 😀. There will not always be toilet paper here either
Click here to go directly to the trip description.
Knot your own mala
Online Mala Knotting- Private Workshop including material
A Mala necklace consists of 108 beads of genuine semi-precious stone beads and a Guru bead and serves as your own personal talisman, piece of jewelry and accompaniment in your regular Japa meditation with a mantra.
Knotted by your own hand with the beads you choose, your own mala is very special.
The process of creating and knotting your mala is very meditative and creative and a beautiful activity to do all by yourself or with your friends.
This workshop consists of three 1 on 1 online meetings over Zoom of approximately 40 to 60 minutes each.
Workshop part 1
At the first meeting I will introduce you to the different beads and their meanings. I brought the beads from India myself.
Together we will then lay a design that is coherent for you from the beads you choose.
Then you choose the color of the thread and tassel, as well as a pendant.
I will send you all the material afterwards.
Workshop part 2
After you receive your material, we will meet again. I will explain the meaning of a mantra and introduce you to some mantras. From this you can choose the mantra that suits you and that you would like to use for your Japa meditation in the future. Maybe you already have a mantra?
Now I will guide you on how to knot your mala. Because between each bead is tied a knot with a certain technique and with your mantra.
Once you have mastered the technique, you can finish knotting your mala for yourself at your own pace. If any questions arise, I am of course at your disposal.
Workshop part 3
Once you have finished knotting your mala, we will meet a third time online to finish the mala with guru bead, tassel and pendant.
Then I will guide you to Japa meditation with your mala and we will meditate together.
Price: 108 €, each additional participant 98 €
Includes three 1-1 online workshops of 40-60 minutes, all materials, materials shipping.
Online Yoga and Yoga Therapy
I offer online yoga classes tailored to your needs on your preferred date.
Just contact me to make an appointment with me.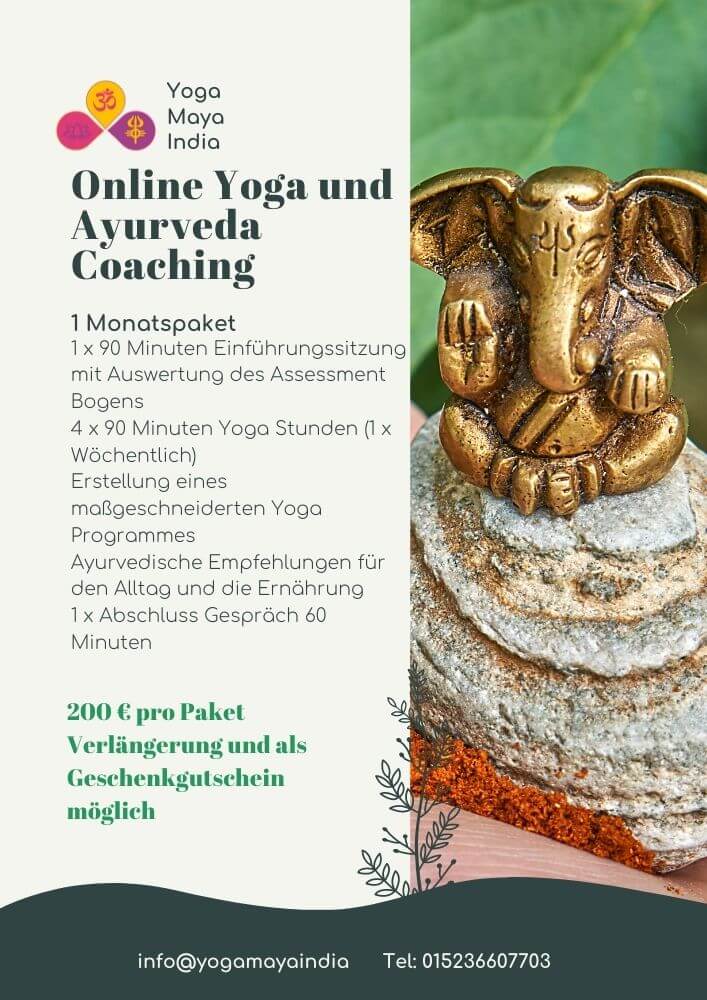 Yoga and Ayurveda Coaching- also possible online!
Come fully into your own balance with the principles from Yoga and Ayurveda.
Over 4 weeks we meet regularly.
I will create a yoga program tailored to your needs and provide customized Ayurvedic recommendations for your daily routine and diet.
This program includes 4 private yoga classes.
Extension of the coaching possible