Exactly one year ago I said goodbye to the participants of the last Multi-Active Rajasthan trip. It was the last I accompanied for Chalo! Travels before the Corona epidemic. After that we only had one backpacker trip at the end of March, which our tour guide Dikshika handled fabulously, despite all the restricions. Then the big lockdown started, air traffic to India was canceled and visas for India were no longer issued.
I haven't left India since then. On the one hand, because India is my adopted home, and on the other hand, because the restrictions within India have now been almost completely lifted, so that I can enjoy more freedom here privately. Entering Germany is associated with some difficulties, re-entering India is even more complicated for me.
So I'm still in India.
But what has happened since March 2020? For Chalo! Travels and myself a lot.
Yoga and Ayurveda
Already during the five-week very strict curfew in April and May, I started to train myself intensively in Ayurveda and Yoga and followed up with many other trainings even after the lockdown.
In addition to basic Ayurveda training, I have completed intensive training in meditation, pranayama, yoga, relaxation and Vedanta philosophy. I am now certified in Yoga Anatomy and Restorative Yoga and I am a children's yoga teacher. I have also completed advanced training as a pre- and postnatal yoga teacher. I have just returned from Kerala, where I did a three-month training as an Ayurveda Lifestyle Consultant in an Ayurvedic clinic.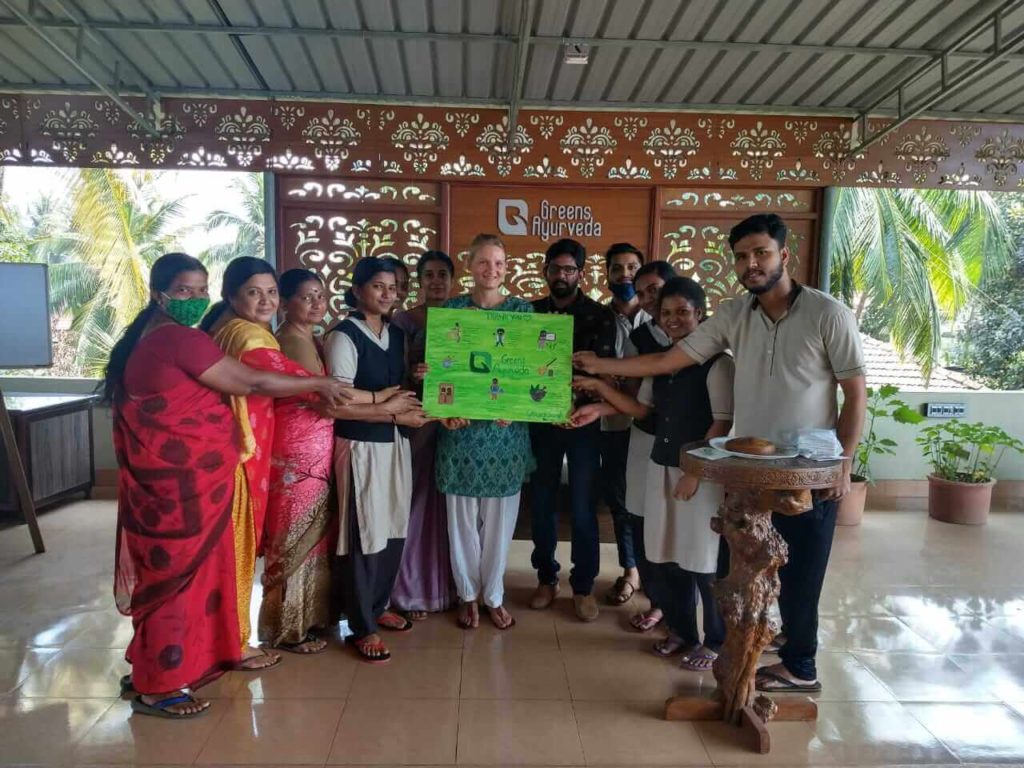 For the past year I have really been carried away by my daily practice in Yoga and Ayurveda. Even if I haven't been on the road in the last 12 months at all, I have undertaken a pretty big inner journey.
Yoga and Ayurveda, the two sister sciences that originated in India, are inextricably linked with my life. With the establishment of "Yoga Maya India" I come my dream of my own Yoga and Ayurveda Center a little closer. On this platform, I not only offer yoga and Ayurveda retreats and trips in India, but have also founded my own yoga school with the Ganesha Yoga Shala for training in Ayurveda and yoga.

But don't worry, my passion for India as a travel destination and active travel still persists. In the last few months I have been able to think intensively about Chalo! Travels and especially worked on the new website (take a look at our interactive India map ), which has now finally been finished! Now, in addition to the German platform, there is also an international format. I have expanded my team to include a few local partners and German-speaking guides and have thoroughly prepared all travel programs again. We are currently working on a new travel format: Traveling by rickshaw (tuktuk). But more on that when the time comes.
More news
By the way, there is now one too Chalo! India Podcast – Have a listen.
I also worked with Rekha (many of you know her from cooking classes in Jodhpur) on a cookbook with over 110 Indian recipes. More on this here .
In addition, with your great support, we have collected over 20,000 € in donations. Together with the non-profit organizations CHETNA and the Hope Fondation, we were able to support the people in India with food and clothing who were particularly hard hit by the corona epidemic. Thanks again for that!
I am now just waiting patiently for trips to India to be possible again soon and I hope that your desire to travel is as great as mine.
Until then
Sarah