They are delicious, they are sociable, they are (often) greasy and sometimes dangerous: Indian street snacks!
No other nation is better at snacking than the Indians. Around three o'clock, when the first hunger arises, until the early evening hours they gather in the streets and enjoy together with friends the delicious little things.
Most of the time, the owners set up their stalls in the afternoon and specialize in a very special snack that no one else can make better.You can see exactly which stand sells something very special: where everyone else gathers around it! And beware, after little time everything can be sold out.
Often the Indian snacks are fried. Particularly well known are the fried dough bags filled with potatoes called samosas. Or the vegetables (Pakora) fried in a dough.
Also delicious are momos, a specialty that the Tibetan refugees brought to India. The steamed dough bags are filled with all sorts of things, from spinach, to cabbage, to meat or chocolate and of course they can be also fried.
Each region has its own snacks. In Kerala there are roasts from Dhal or fried bananas, in Mumbai a mini dish called Pau Baji is famous. These are soft buns dipped in a vegetable sauce.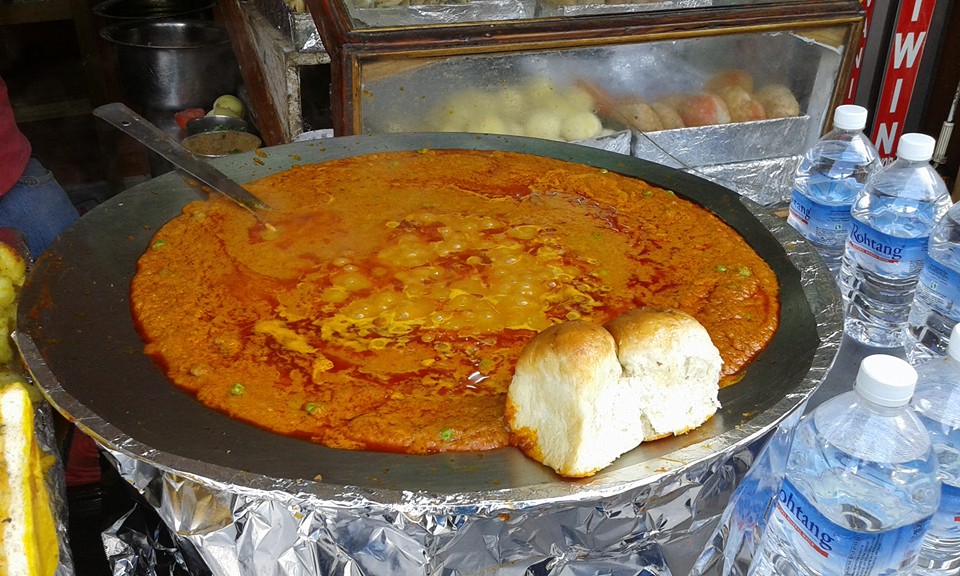 Rajasthan doesn't have a wide selection of vegetables and is simply limited to dough-fried chillies or Pakoras made out of lentils, while inPunjab Gol Gappas are popular: crispy small balls are filled with some potatoes and a sweet and spicy sauce. The Punjabis love them and can also eat up to 20 pieces once.
Healthier snacks include chana, spiced chickpeas.
In some regions you also like to snack on meat: fried chicken, savoury kebabs made from minced meat or crispy fried blood sausages from the mountain regions are very much eaten.
One of my favorite snacks and actually already holds a meal are the "Kati rolls". They are similar to wraps filled with well-seasoned vegetarian and non-vegetarian ingredients.
Also Dahi Wada (baked savoury doughnut in a sweet-sour yogurt sows) or Alu Tikki (potato buffer) are very tasty. The fall in the Category of " Chaat". Chaats are combinations of something fried with mostly a yogurt sauce, many ingredients and lots of flavourfull sauces- They cover all tatses from sweet to spicy. One of my favourite is "Raj Kachori". A huge fried crispy ball, filled with do many things from potatoes, chickpeas, to yogurt, fruits, nuts and more.
The sauces are important for all snacks. Whether it's a red hot chilli sauce, a sweet and sour sauce with fruit or the famous mint sauce, they're just part of the snacks and make the whole thing round!
But beware: street snacks are called so, because they are prepared and sold on the street: on an INDIAN STREET. Eat snacks only from stalls that make a good impression and at places from where many Indians eat as wll. Also, it needs a strong stomach to digest the snacks. Not only because of hygiene, but also because of the fat and the spicy ingredients.
A nice option to try the snack, are Chain-Restaurants who are specialized in Sweets and Snacks. These places are very hygenic and only a littler bit more expensive, but also offer sitting space. Try Bikaner or Haldirams.
It's worth trying them and if you didn't snack in India, you weren't in India.
Read more about the Theme: Food in India
2. What is not safe to eat and drink in India