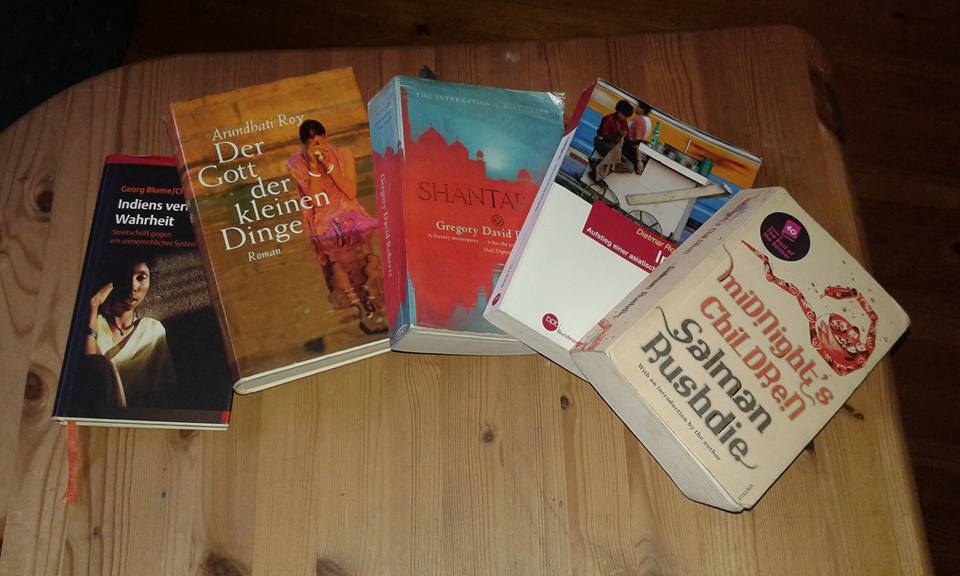 Before my first first visit India back in 2009, I had great respect and the urge to be well prepared before living in such a different world.
I tied to gain some information online, talked to people who previosuly visited India and watched some Bollywood movies.
But all this didn't feel quite enough.
It certainly contributed to an overall image tof India, but the picture is either greatly exaggerated (Bollywood movies) or very much influenced by individual opinions and experiences (Blog articles).
Books – both fiction and non-fiction, seem to  be the right way to prepare for India and to take along. While traveling through India you will face lots of time spending waiting or travelling- a book along is always a good time pass.
India is a subcontinent with 3.3 million km², 1.2 billion people, 29 states (which differ from each other as countries), 5 different  religions, 4 main casts with thousands of sub-casts. There is simply so much to learn, understand and experience. Books can help to get a better insight of India, its culture and people before hand.  But during your trip, also try to interact with as many locals as possible and dive deep in the ral culture itself to get your own ideas about the diverse country.
In the following I have compiled a small personal book list with books that I myself liked to read and which served me well, both as a very good preparation for India and as a good companion while being in India.
They are mainly novels- fictional stories set in real India that I'd love to read. But also good travel guides and some specialist literature can be found on my bookshelf.
Shantaram by Georg David Roberts
A thousand-page bestseller and very popular with India travellers. The first-person narrator with a criminal past (some overlaps with the authors real experiences in India) lived for several years in Mumbai in the eighties. Personally, I don't like the book so much and find it a little too one-sided with the focus on the criminal side of India, but make your own opinion. Many love this book.
The White Tiger by Aravind Adiga
A shocking but very good novel in which the first-person narrator Balram tells his own story in seven emails. It is about the rise of the poor village boy to the wealthy businessman in Bangalore. Muchinsight is given about India's caste system, corruption and inequality, as well as India's gradual westernization.
Life of Pi by Yann Martel
The boy Piscine experiences a shipwreck with his family and their entire zoo, during a crossing from India to Canada. Only Piscine can save himself with a zebra, an orangutan, a hyena and a tiger on a lifeboat and interesting things that lie between reality and fantasy  happen.
The pre-story about Piscines life in India is very informative. In India itself the boy, who grew up in an atheist family, tries out the three main religion in India (Hinduism, Islam and Christianity) and values all of them.
Balance of the World by Rohinton Mistry
If anyone is interested in learning more about India's history from the time  of emergency (1975) till Indira Gandhi's assassination (1984), can have a look in this novel. Here, 4 main figures of different ages, genders and religion, experience this difficult time from different view points. No one is happy.
Holy Cow by Sarah Macdonald
An easy reading and very good travel companion. The journalist Sarah Macdonald describes her difficulties in living in Delhi and takes you on a somewhat superficial search for the meaning of life and death. She meets representatives of different religions, attends seminars and even meets Bollywood actors. A nice reading while being on the road.
The God of Little Things by Arundhati Roy
This book takes you into the world of Kerala. The story is tragic and written in a very poetic language- but if you master yourself through, you might have gained a better insight in the society of India.
India- Stefan Loose
A very good travel guide and a good choice, if you don't want to follow the "Lonelyplanet" travel trails. A German travel Guide. I advice you, to look for a similar version in yur country.
"Cultural Shock India" by Rainer Krack (Reiseknowhow Verlag)
India is shocking in many ways and many things seem incomprehensible to us. In the "cultural shock" you can read to understand more. This is a german book, but I am sure, there are similar books out there in english. One would be " The Holy Cow", available in all book stores and tourist shops in India.
India's Suppressed Truth Dispute Against an Inhumane System by Georg Blume/Christoph Hein
A crass book in which the authors honestly expose the ugly political grievances.