Now it is only two weeks before the start of the Bike Transalp – a multi-day bike race across the Alps – and I am not only preparing for my annual stay in Germany, but also of course for the race. After all, it is supposed to be the oldest and toughest mountain bike stage race in Europe.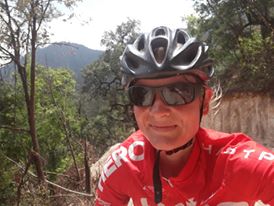 It is once over the Alps by mountain bike: in 7 stages it is necessary to cover 500 km and 18,000 meters of altitude.
It's good that I've been in good shape for months this year. Of course, it has an advantage to train in the Himalayas. Not only do I already live here at over 2000 meters and thus always sniff good altitude air – the altitude training is inclusive, so to speak – but also that it is easy toclimb many meters of altitude and to have good trails.
Only yesterday I chatted with my Transalp partner Hinrich. He himself is a brilliant mountain biker who lived in India himself and has worked for almost all major mountain bike manufacturers worldwide. Now he lives near Hanover with his Indian wife and daughter Mahi.
Hinrich said he was quite envious when he read my altitude meters at Srava, an app where athletes can upload their running and cycling workouts. In Hanover he could hardly get close to the 1000 meters of altitude and that was too boring for him, because he had already ridden all sorts of trails. Nevertheless, a good training I think, because also being mentally strong is important for such a race.
At a normal 40 to 50 km training track, it is most of the 1200 meters of altitude that I cover. On our longer trips on Sunday and Tuesday we get up to 3000 meters of altitude.
But not only because the monsoon is approaching India, but also because the intensive interval training on the indoor trainer is simply important, I sit on the roll two or three times a week and let myself be tormented and sweated by Trainerroad, an online training program for cyclists. The other days I spend outside as much as possible off-road, because I still have to work on my technical skills.
I drive six units a week. Monday is a rest day. To recover, I try to do yoga as often as possible and a bit of functional training as well..
Quite a lot of time and effort, which I put into my mountain bike training for the Transalp, some people may think now.
The fact that the Bike Transalp race is coming is a good fit for me. Not only am I very much looking forward to the Alpine experience, but it also serves as a good training motivation. And a stage of 100 km and 3500 meters of altitude on single trails, gravel tracks and forest paths is not a breeze and for this you have to train, otherwise every single one of the seven days becomes an ordeal. It is mandatory to get the body used to the long continuous load and also to sit on the saddle.
Otherwise, the goal of Hinrich and me at the Bike Transalp is simply a reasonable time and fun riding, to enjoy the atmosphere, to have fun. Also it will certainly be interesting for me to race my first race with a team partner, especially since we have two different strengths – mine is uphill, Hinrich is great in downhill. Here it is probably necessary to adjust to each other as well as possible and for both to put your ego aside and not to feel too bad once you are the slower one. The team ride is also somehow great, as we can take care of each other and will help each other, should problems with bike and rider occur.