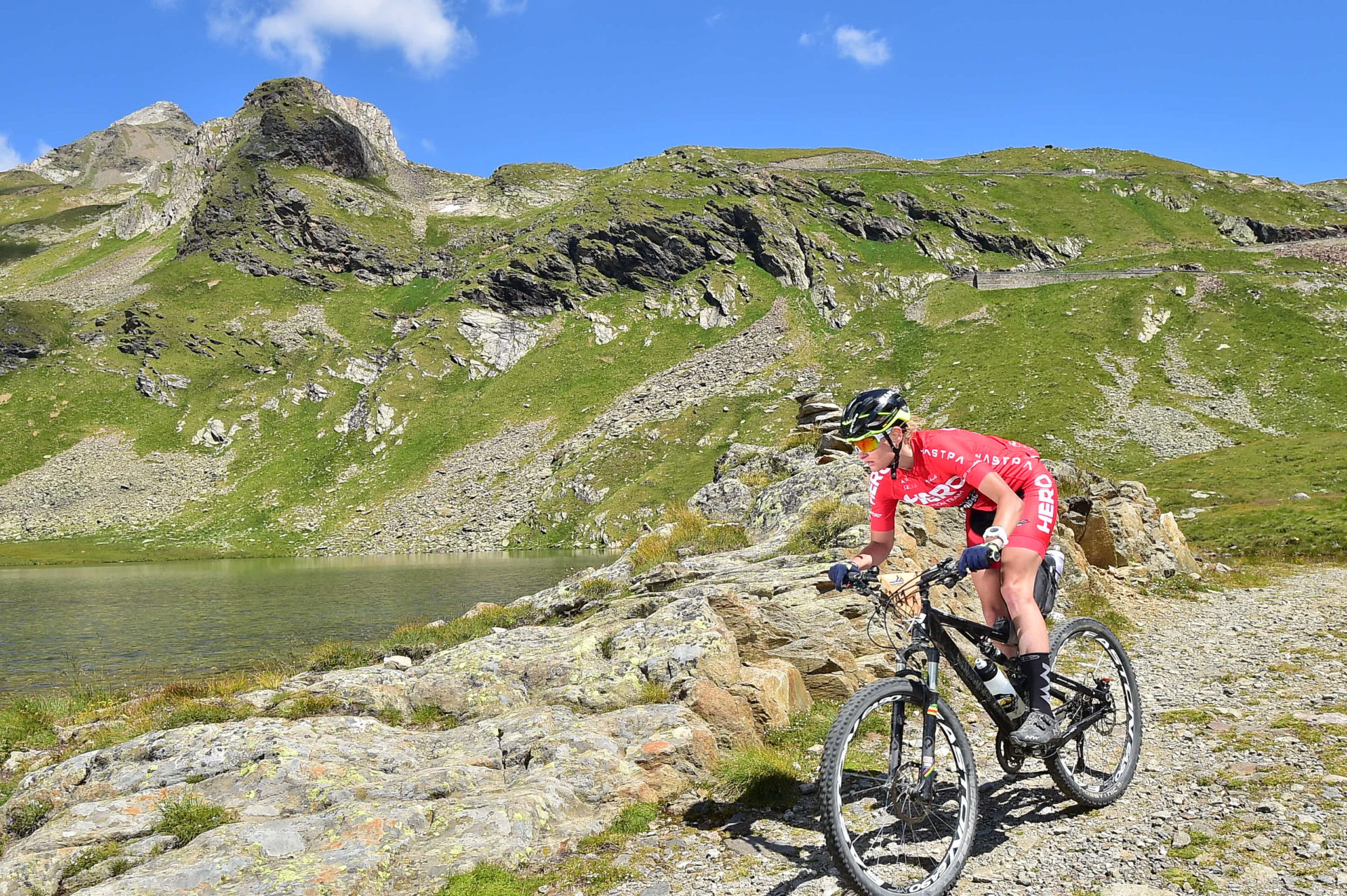 I started mountain biking in India: the Himalayas with their long ascents and descents, bad roads and wonderful mountain trails simply offer the perfect conditions for this sport. A road bike would be out of place here and so I sat down on a mountain bike for the first time eight years ago for a short trip from my adopted home of Manali to the village of Naggar, 22 km away. The wide tyres, the suspension and the wide handlebars were unusual for me as a hobby cyclist. Also unusual were the intense inclines and Indian road traffic. But at the end of the day I had not only had a nice tour, but also found a new hobby!
Now, eight years later, I took part in my first mountain bike race outside India: the seven-day Bike Transalp. More than 500 kilometers and 18,000 meters of altitude,  from Imst to Arco at Lake Garda acroos the alps- as the name suggests.
Here is the report.
Not only was it my first race in Europe, it was my first action on a mountain bike outside India.
Two weeks later, a friendly couple took me on a four-day bike Trekking through the Harz, a mountain area in central Germany.
These two experiences gave me a good impression about how mountain biking works in Europe and made  the differences to mountain biking in India very clear.
Cycle paths, roads and trails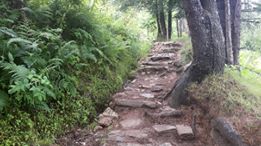 This does not exist in India and the greater is my enthusiasm for the German cycling network! If you just put some effort into your tour before, it is possible to travel exclusively on cycle paths for days or even weeks. Even for mountain bikers I have seen specially advertised trails in the Alps! Madness!  A completely new mountain bike experience for me!
In India there are great trails, miles long and through the most beautiful areas. But I ride there on the same paths that the locals use,
to collect firewood or to lead their cows to the pasture.
Instead of mountain bikers, you meet women with baskets full of grass or a herd of goats. Experience Pure! For novice cyclists, these trails may not be
so ideal. So they sometimes meander quite close to a steep abyss, have many technical elements such as stone stairs and roots and serve more as a challenge for the experienced mountain biker. Sure, such trails exist in the Harz and in the Alps as well, but not only :).
Bikeparks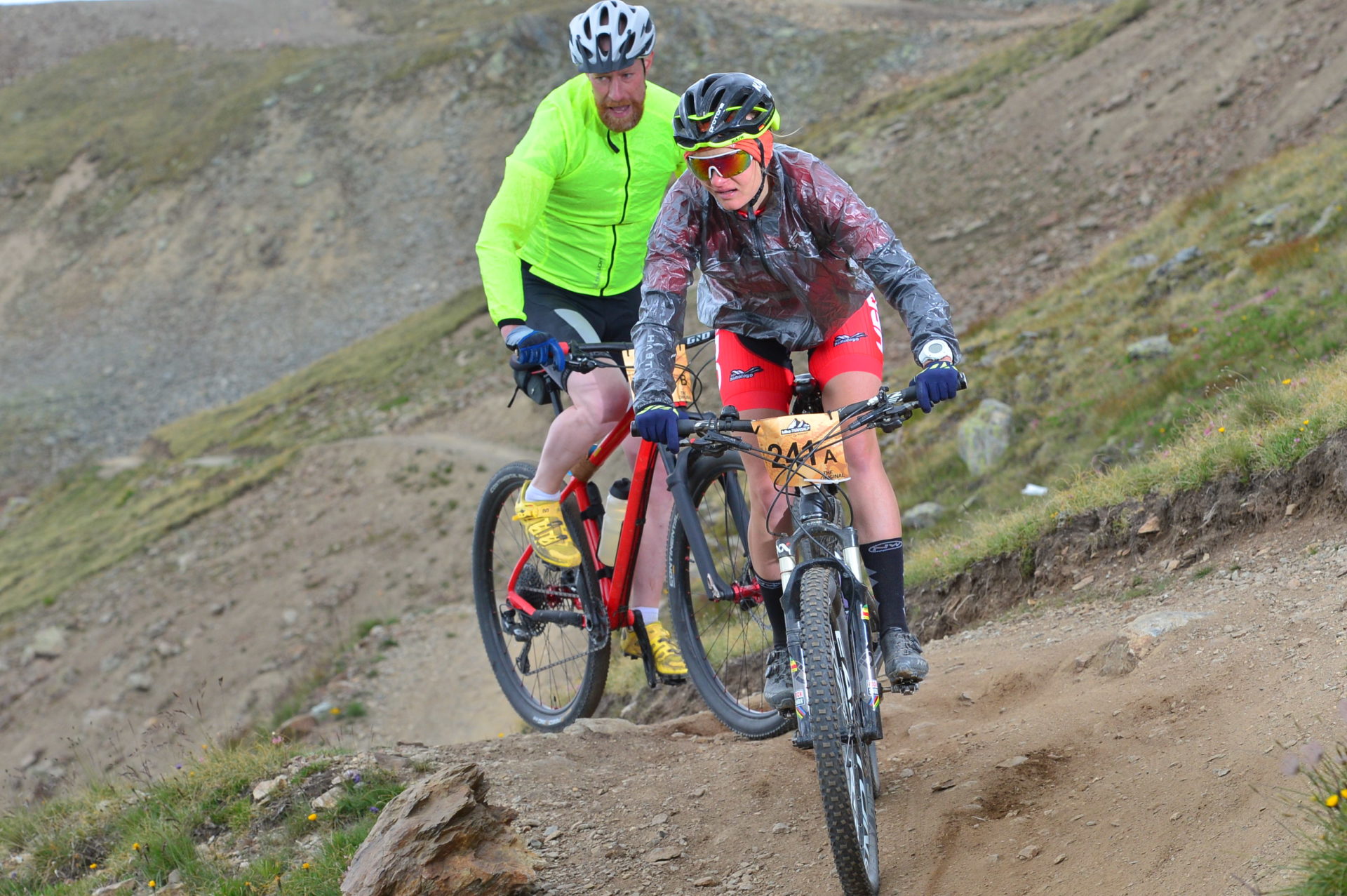 Wow! – the perfect way to pratice the techniques  properly! During the Bike Transalp as well as on our Harztour I had the opportunity to ride in bike parks, which are very different in themselves. Here you can really have fun:
Berms, pump tracks, jumps – here you can find the whole program and also natural obstacles, such as roots, stone passages etc. are included and if you don't want to ride up yourself, you can be transported by gondola.
India is  far away from such a park and with the still quite small but steadily growing mountain bike community it will probably take some time.
Although some hand made trails are already being built.
Mountain bikes and mountain bikers
In Europe, mountain biking seems to be a very popular sport and quite a few invest quite a few euros in their bike. I was surprised how many bikers I met on the way. The whole of Europe seems to be sitting on their bikes in the summer – a real popular sport.
In India you are rather the exception and are looked at in full astonishment when you are riding a mountain bike. At me, as a woman anyway.
When you meet another mountain biker in India, it's special. Most likely you already know each other from  races in India, to which often the same participants come. If you don't know each other yet, you will make friends now.
Mountain bikes in India also have lower standards. The sport itself is just a little behind. Lack of knowledge about repairing is also a factor one shoudl have in consideration.
Mountain bike racing
In India the races becoming more and more numerous and by now you can participate  almost every week in another race. Unlike in Europe, competition is much less, with almost no women competing. But the prize money is often high! Especially multi-day races such as the MTB Himalaya or MTB Arunachal also attract many foreigners, who are mostly able to win here.
While a participation of 100 riders in India is already a big race, the 650 participants at the Bike Transalp almost frightened me and on the first days I had to learn to ride in a larger group and to be constantly surrounded by bikers. In a race in India, it can also happen that you are on your own for hours.
Mountain bike tours
Guided mountain bike tours are available in India as well as in Germany/Europe. While the crossing of the Alps is a real classic, the tours in India are rather unknown and probably more special, but no less impressive and sporty, such as the 500 km long Manali-Leh Highway, the second highest high-altitude road in the world.
If you organize a trip in Europe well and are not afraid to carry your luggage, you can carry out beautiful tours on your own safely from village to village and according to your own needs with the help of internet, GPS, maps and signposts. Accommodation for all tastes is available almost anywhere, as well as supermarkets and restaurants.
In India, it's not so easy: there are no advertised mountain bike routes, no markings. Villages can lie several (100) kilometers apart and whether there is a place to sleep there is uncertain. The hospitable Indians would probably always provide a bed and some rice for you though.
If you don't just want to be on the roads, you'd better book a local guide. This is not only safer, but also fun and relatively cheap. If you don't want to give up good food, don't like to carry your luggage yourself and want to be sure of your sleeping place, book a tour! Check out our 2 weeks MTB Tour here.
Conclusion: Mountain biking in the Indian Himalayas still has something very original and wild and it is fun to participate in the development process. Already in the few years I have lived in India, so much has happened in this sport!
Nevertheless, it was nice to be able to experience mountain biking in Europe and it was a great inspiration for me. I will take many new ideas with me to India and communicate them to my mountain bike colleagues.
Nevertheless, I am looking forward to being back on my "cow" trials in India soon.