Since we have some groups for popular nine-day mountain biking tour on the 470 km long Manali-Leh Highway this Summer, it seems appropriate to give some suggestions for preparation and hints for the tour.
Preparation
There are still a few months until the start of the tour, but since we need stamina and endurance to cope with the six passes, which hace to be crossed, it makes sense to start training now.
The preparation does not have to be too intensive, but can be gently integrated into the weeks of the everyday life.
A long extended bike tour at the weekend is a must! Find a nice destination and try to plan a tour at least 40 to 80 kilometers long.
You may take breaks and you do not have to race, a steady, continuous pace is sufficient. Here you train especially your ability to sit on the saddle for long.  Especially the men know how painful it can be to sit on the saddle for a long time!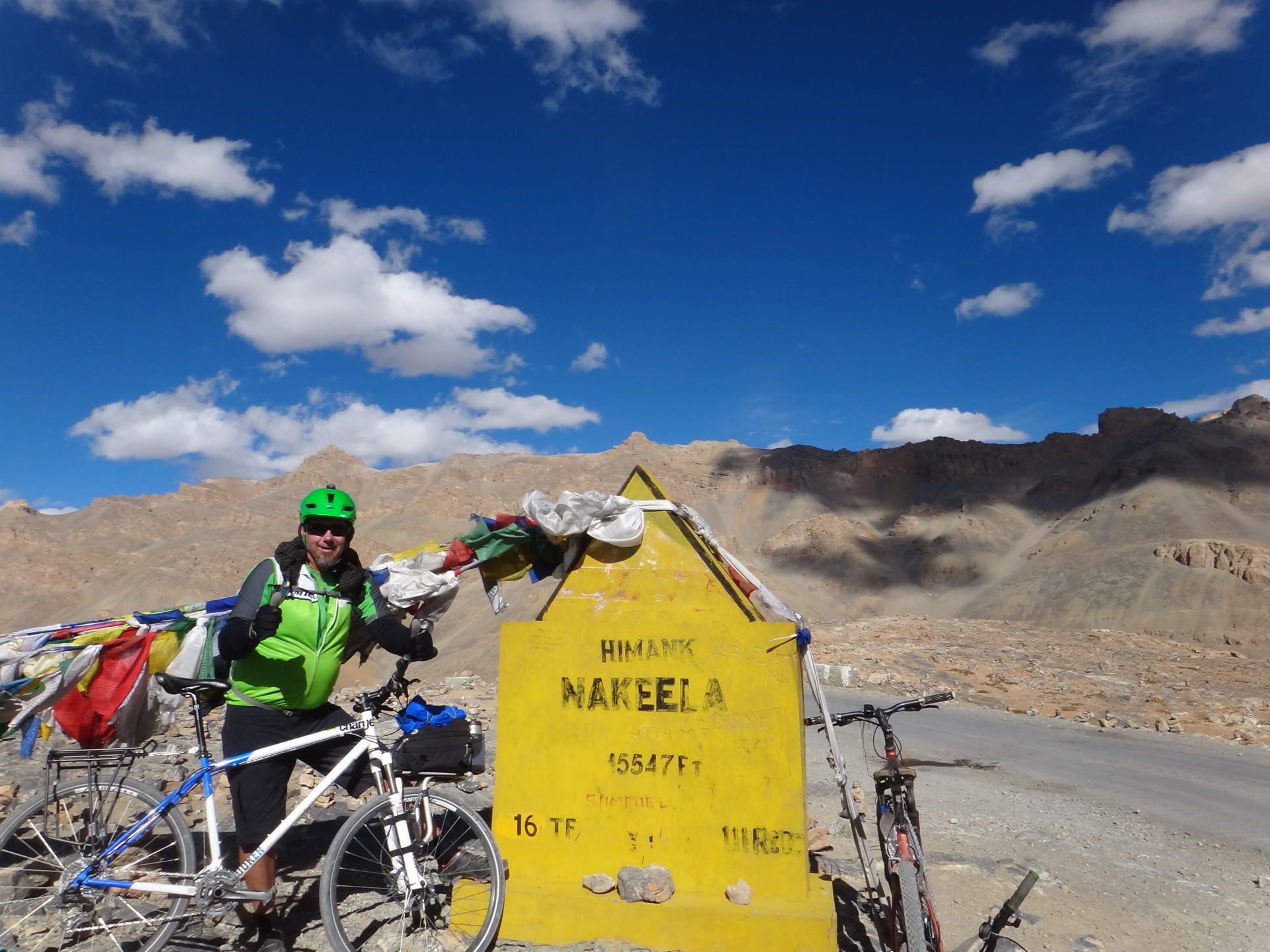 If you have mountains nearby, include them in your training routes. You should ride them up in a light gear..
Within the working week, I recommend tshorter tours by bike. This can be the commute or the daily shopping. I just want the bike to become another part of your body in the next few months.
In order to train your stamina and perhaps gain some leg muscles, it does not hurt to go jogging or to visit the gym as well!
Equipment
Here I will not mention a complete packing list, which can be found here, but simply point ou some particularly important things!
Good Cycling shorts:
I had already mentioned it a little earlier: with so much sitting, the buttocks, sooner or later, start to hurt! So get good cycling pants with upholstery, even an extra gel cover for the saddle can make sense!
Own Pedals, helmet and saddle
If your ride with cleats or have your own saddle and good fitting helmet, take the pedals, helmet and saddle along with you. Otherwise we provide you with flat pedals. helmet and saddle will be provided by us.
Warm clothes:
We will almost always be continuos over 4000 meters, on the passes even at over 5000 meters. Last year we had snow in August! So please think of warm clothes and wind clothes, such as functional underwear, windbreaker, hat, gloves, thick socks etc.!
Additional food:
Convulsions, hunger hole, exhaustion… although our food is more than sufficient and the tours are designed in such a way, that we have always time to fuel ourselves with tasty food prepared by our cook. But an energy bar in between, or a magnesium tablet makes sense. Quckly you feel recharged and the other kilometers up the pass become a clap.
Positive attitude and willpower:
Your body and your legs are just your instrument, in the end it will be your head that takes  you to Leh.
The passes between Manali and Leh are above all one thing: Long!!! 20, 30, 50 km  uphill only. But they are not steep, so: turn off the thinking and start pedalling. I always look for small intermediate goals during the climbs, likes the next turn, the next car etc.
Notes
Altitude sickness
As I said, the head will decide more about your success than your fitness. But not only in terms of your willpower, but also in terms of your ability to adjust to the height!
Not every body is the same and many super athletes have failed on a mountain climb because of altitude sickness.
The altitude is a serious increasing factor on the Manali Leh mountain bike tour.
We have planned the tour in such a way, that we will gradually get used to the altitude over 4000 meters.
However, if you should experience symptoms such as severe headache, nausea, rattling breath, we have to take it as a serious matter. Please do not let your ambition guide you and let us know as soon as you feel discomfort and abnormalities. Then we can act and take quick action, such as return, medication or oxygen administration. Also take some medication along from home (ask your doctor).
Riding with fun
Enjoy the adventure! You probably won't come back to this Himalayan area anytime soon, so soak up all the culture and nature! The landscape changes here constantly, we will pass interesting villages and beautiful lakes! So don't just stare stubbornly at the street, but look around!!!! It's worth it!!