Sport & Abenteuer Reisen
Reise Bausteine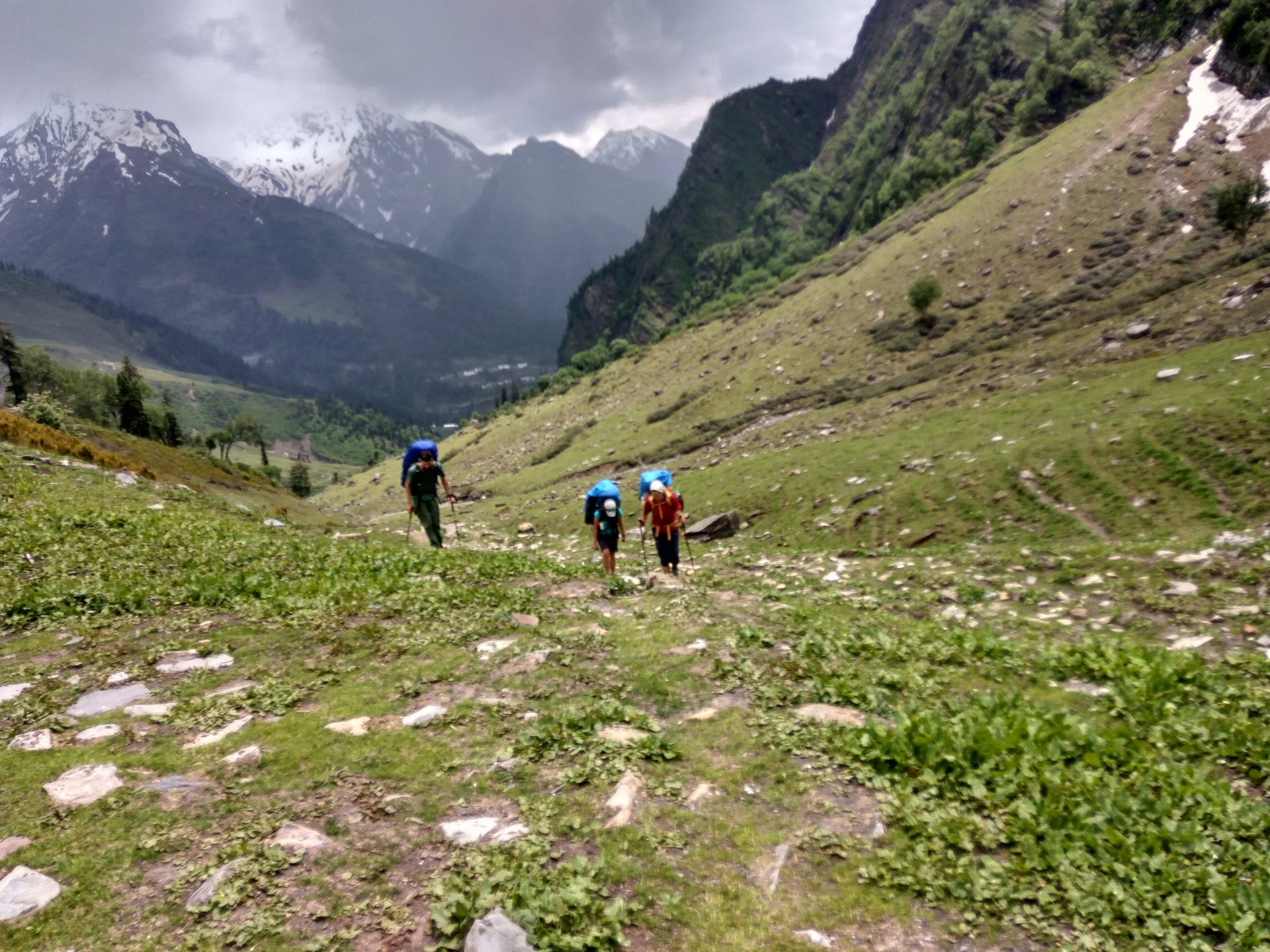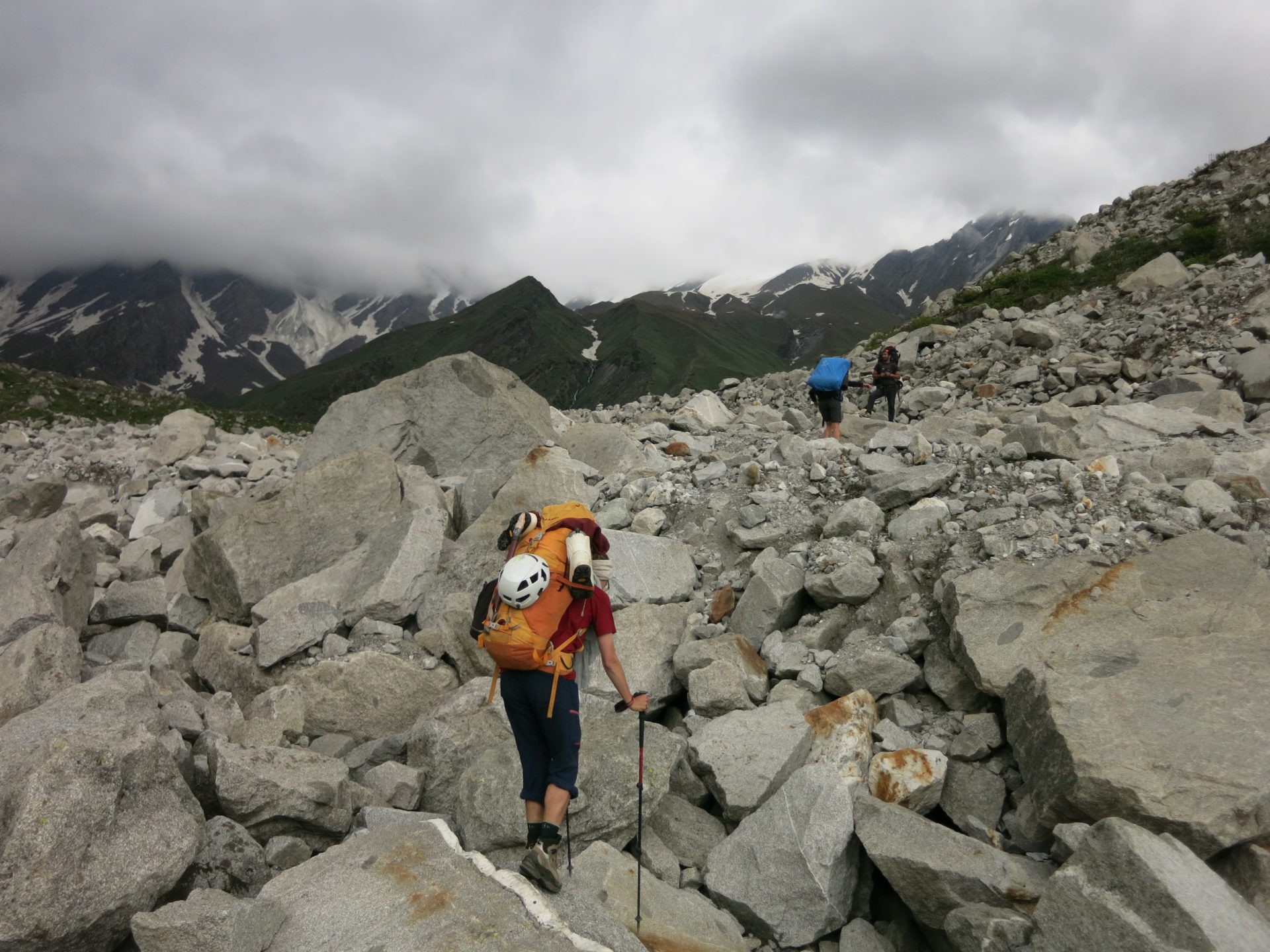 Overview
This trek is one of the easiest but also the most beautiful treks in the region. Within 3 days it goes up to 3690 m to the Beaskund, a small lake that marks the origin of the river Beas. The surrounding high mountains (sometimes over 6000 m) are in the immediate vicinity and the views of the Friendship peak, Hanuman Tibba and the peaks of Ladhaki and Shittidar are unique. Often the camp at Beas Kund serves as a base camp for our expeditions to climb these mountains. On the way we pass the Solang Valley, a popular place for tourists. Adventure sports such as bouldering, paragliding, skiing and zorbing are possible here. We continue to Dhundi. From here you have a first look at Hanuman Tibba and his "Seven Sisters".
Program
Day 1 Old Manali (2100 m) to Solang Valley (2480 m) 5 hours
A beautiful hike through small villages, forests and apple orchards to the winter sports resort of Solang. (Overnight in the tent) -/L/D
Day 2 Solang Valley to Bakkar Thach (2900 m) 5 hours
Today it goes partly along a quiet road and then on on small paths. Our camp is surrounded by the highest mountains of the area, among others, by the "Seven Sisters" and Hanuman Tibba. (Overnight in a tent) F/M/A
Day 3 Bakkar Tach to Beas Kund (3690 m) back to Bakkar Tach 6 hours
On a challenging path over frozen rocks of the glacier moraines we go to the holy Beaskund lake. we enjoy the meditative atmosphere, the mountain flowers, herds of goats and bubbling streams. After a picnic at the lake we go back to the camp in BakkarTach. (Overnight in a tent) B/L/D
Day 4 Bakkar Tach to Dundhi 4 hours, then by jeep back to Manali
A small hike down to the road. From here, a car picks us up and takes us back to Manali. B/L/-
Services
Trained trekking guide
Cook and helper
Load horses or carriers
Accommodation for 3 nights in 2-man tents
Kitchen tent
Dining tent
Toilet tent if needed
4 days full board (3 x breakfast, 4 x lunch packages, 3 x dinner and snacks)
Transport to the starting point and end point of the trek
Highlights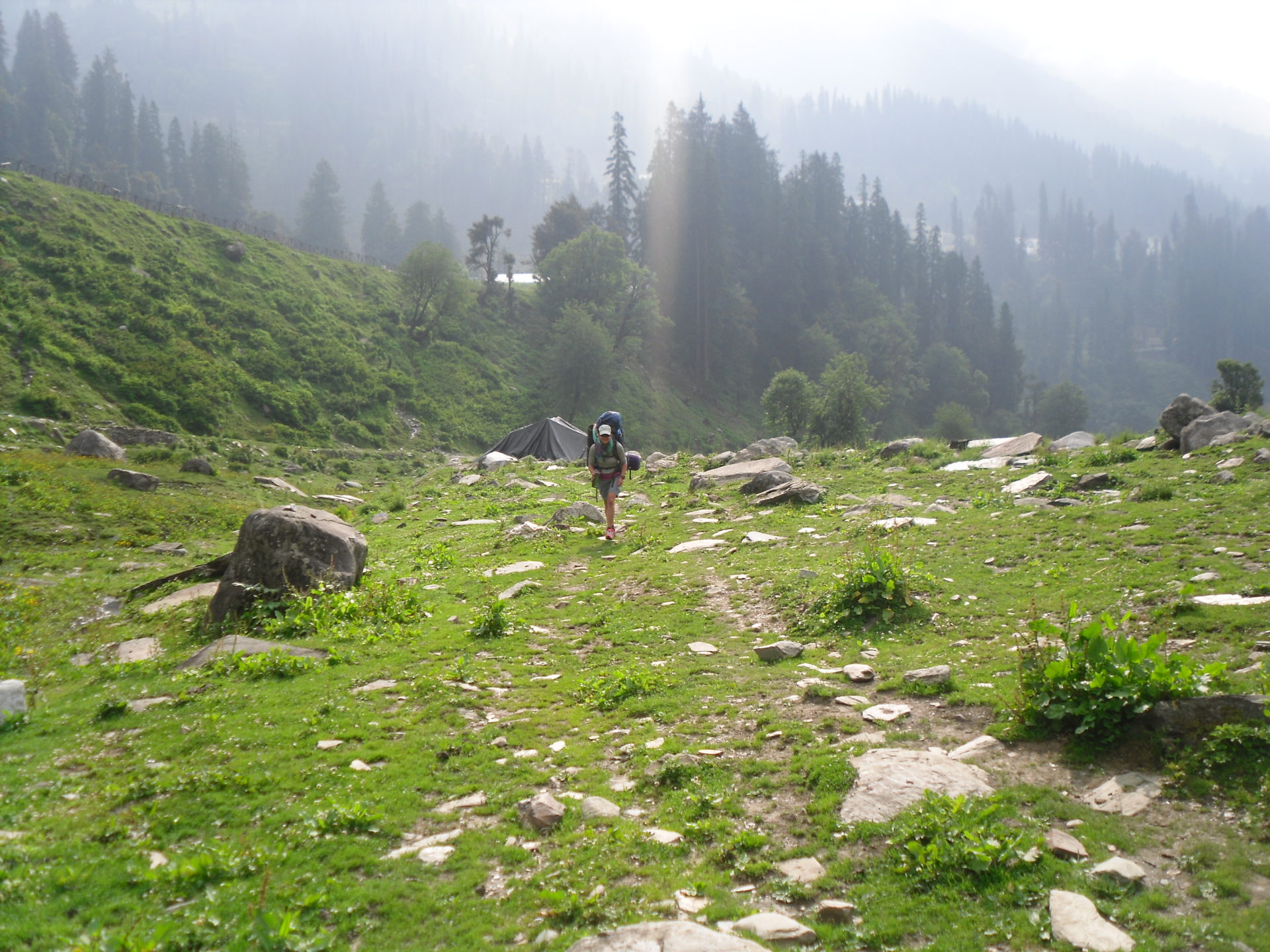 Prices and Dates
This trek is possible from April to October!
From 2 Participants 300 €/Person. Price decreases with higher number of participants.
Tour Info
Requirements
A moderate trek with 4 to 6 hours of daily stages and no great inclines. Only the march over the large rocks of the glacier moraine is somewhat challenging.
Information about the Trekking Tours with Chalo! Travels
Mountain guide and trekking team
On all our treks we have at least one (for larger groups of 6 participants two) trained local mountain guide. Our mountain guides have all completed at least the Indian mountaineering training, many of them have also completed the advanced courses.
They are familiar with the trekking routes and know the terrain excellently. All our mountain guides speak English.
In addition, there is a local team consisting of a cook (if the group consists of only two participants, the mountain guide also takes over the tasks of the cook), helpers, horsemen with horses or Nepalese porters, depending on the type of trek.
All our team members have been working with us for years, are very friendly and always strive to provide our guests with a great trekking experience. Their English (besides of the Guide) is rather mediocre or non-existent, but this is not necessarily a hindrance to communicating with them.
Trekking Routes
The trekking routes are designed according the skills of our guests and are all feasible for a person with a good fitness level, unless otherwise mentioned. The daily routes are between five and eight hours long (with breaks) and an average increase of around 500-800 metres of altitude is completed.
In between, rivers may have to be crossed. The paths are partly well developed, but sometimes also almost non-existent. On our trekking routes there are hardly any villages in between, so we will take enough food for the whole tour.
On our treks we cross passes, snow or glaciers. On steep slopes, we have safety equipment with us.
Daily routine (Depending on the length and intensity of the trek, the times may vary)
7: 00 am Get up with Tea
7:30-8:30 am Breakfast
7:00-9:30 am Dismantling of the camp
8:00- 9:30 am Start Trek
1:00 pm Lunch on the way
3:00-5:00 pm Arrival at the camp and camp construction
3:30-5:30 pm Snacks
7:00 pm Dinner
Altitude and altitude sickness
Altitude sickness is a very important topic that should not be underestimated, especially during our trekking tours in the Indian Himalayas. At altitudes above 3500 m, our body has to slowly get used to the low air pressure, which also causes less oxygen to enter our lungs. The first signs of altitude sickness are headaches, which are accompanied by dizziness, nausea, insomnia and loss of appetite. It becomes problematic when water accumulates in the lungs and brain and edema occurs. Then only the immediate descent to lower altitudes will help. To prepare for the heights on our treks, we will either spend a few nights at high altitudes before the trek or slowly ascend during the trek to acclimatize. If we notice that there are problems with our guests (each person is otherwise able to acclimatize, regardless of age, gender and fitness level), it may happen that either the entire group or the concerned participant descends/returns with a team. In addition, it makes sense to take an emergency drug for altitude sickness. For this, it is best to consult the pharmacy or the travel doctor. For certain treks we will also have oxygen with us.
Luggage
Each trekking participant is responsible for his own clothes and personal belongings. Depending on the trek, we are either with horses or porters. If we have load horses, one bag per participant can be loaded onto the horse. In the case of treks with porters, all personal luggage must be carried independently. Tents, sleeping bags, mattresses and food are carried by our porters.
For trekking tours with horses, a day backpack with space for the lunchbox, a water bottle and warm overcoat clothing should be taken with you. Here to the complete packing list for our trekking tours.
Packing list for trekking tours
sleeping bag at least -10°C
large backpack or soft carrying bag so that the load animals can carry the luggage
Small carrying backpack for the day approx. 30-40 l with rain protection
flashlight/headlamp
2 refillable water bottles
hiking poles
passport and passport copy
camera with spare battery and memory card
headgear as sun protection
Good Sunglasses
cap
Scarf, Buff
Gloves
wind-proof trekking pants
trekking pants
Functional Underwear Long
hiking boots
socks thick and thin
sneakers, sandals and/or slats
windbreaker
Warm Jacket
fleece sweater/jacket
Tshirts
sunscreen, lip balm min. Protection 40
fat cream
water purification tablets (boiled and filtered water is provided)
own medications for headaches, nausea, digestive problems, colds)
bubble patches and dressing material
own hygiene articles
Toilets Paper
hand disinfection
Meals
During the trek there will be a vegetarian full catering. Water is either boiled or we have a water filter with us.
Breakfast (daily selection):
Coffee/Tea
Oatmeal porridge/muesli/cornflakes/Indian porridge
Indian breakfast
Sliced fruit/vegetables
Lunch (mostly lunchbox), sometimes warm in the camp
Sandwiches/Indian (rice, chapati, vegetables)/potatoes
Juices
Chocolate
Fruit
Snacks
Tea/coffee
Cookies
French fries/Indian snacks
Soup
Dinner (depending on the length of the Trek mix of Indian/Chinese/Continental)
Vegetable dish
Lentil dish
Rice/noodles
Chapati
Salad
Dessert
Accommodation and camp
We have very comfortable and spacious two-man tents. Our mattresses are practical but simple if there are problems with sleeping on hard surfaces, please take your own mattress with you or order from us. Our sleeping bags are freshly washed and have a very good quality with comfort zone up to -5°C/extreme zone up to -20° C. It is recommended to bring personal indoor sleeping bags.
In addition, we have a spacious dining tent with tables and chairs, a kitchen tent for the team and a toilet tent. For treks up to 4 people, the kitchen tent can also act as a dining tent at the same time.
For trekking tours with porters, we will take our smaller, lighter tents with us and do without a toilet tent.
Weather
In the Himalayas, temperatures fluctuate widely. While it can get warm up to 25°C during the day and the sun is not only warming, but also very intense (sun protection is a must), it can also cool down significantly below the minus-grade at night, especially in the months end of September and October, as well as in June. There may also be weather changes with snow on the passes.
Beas Kund Trek