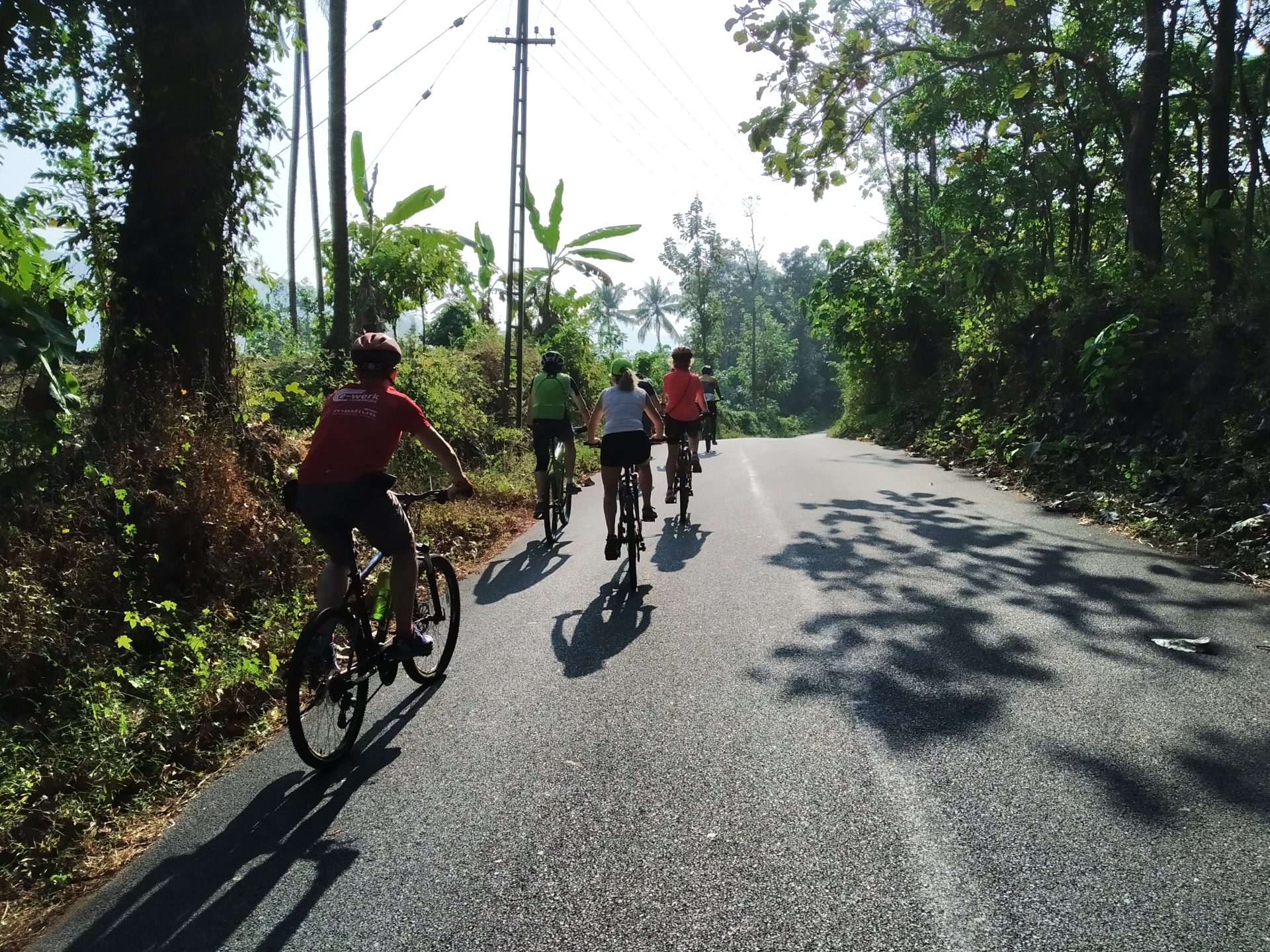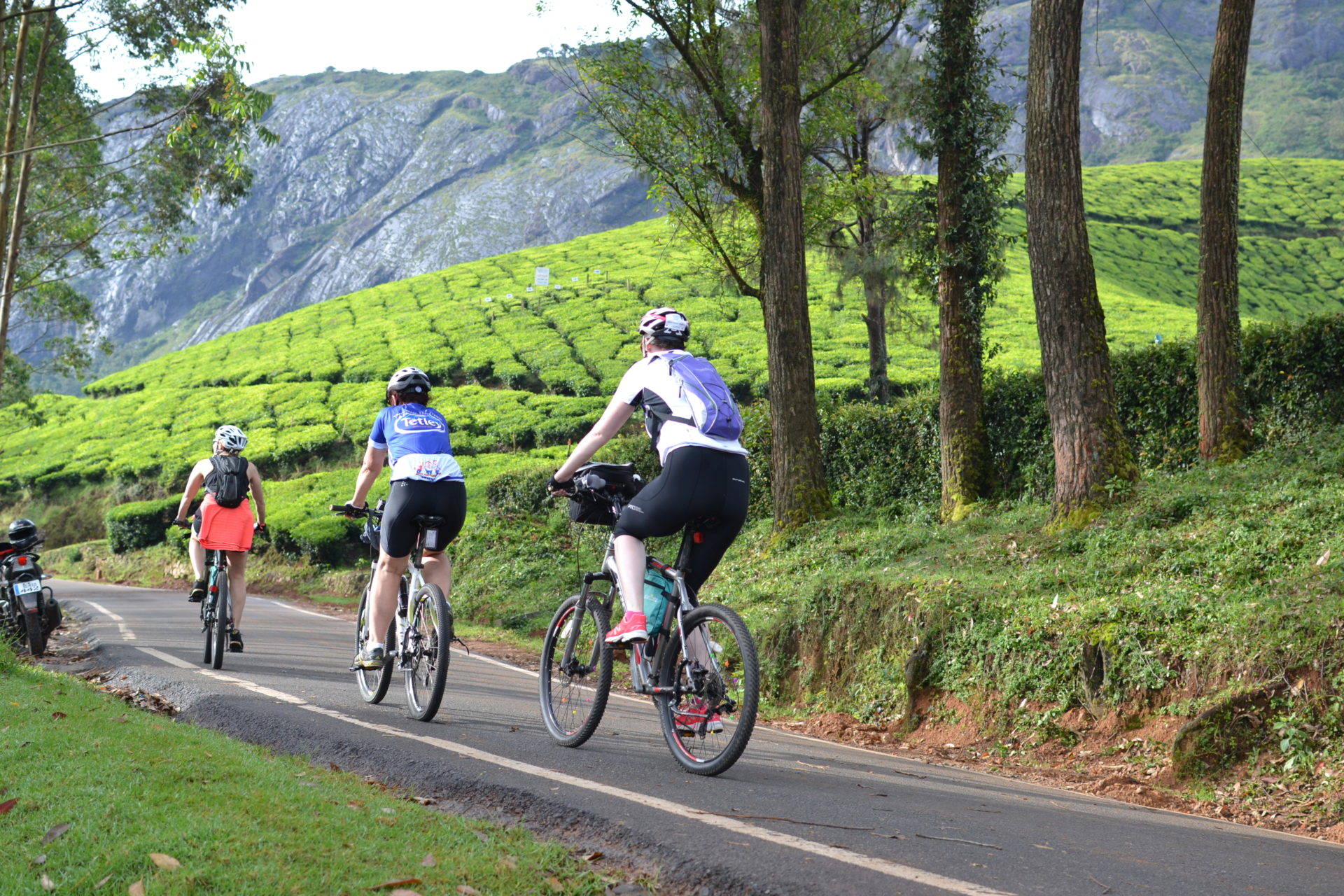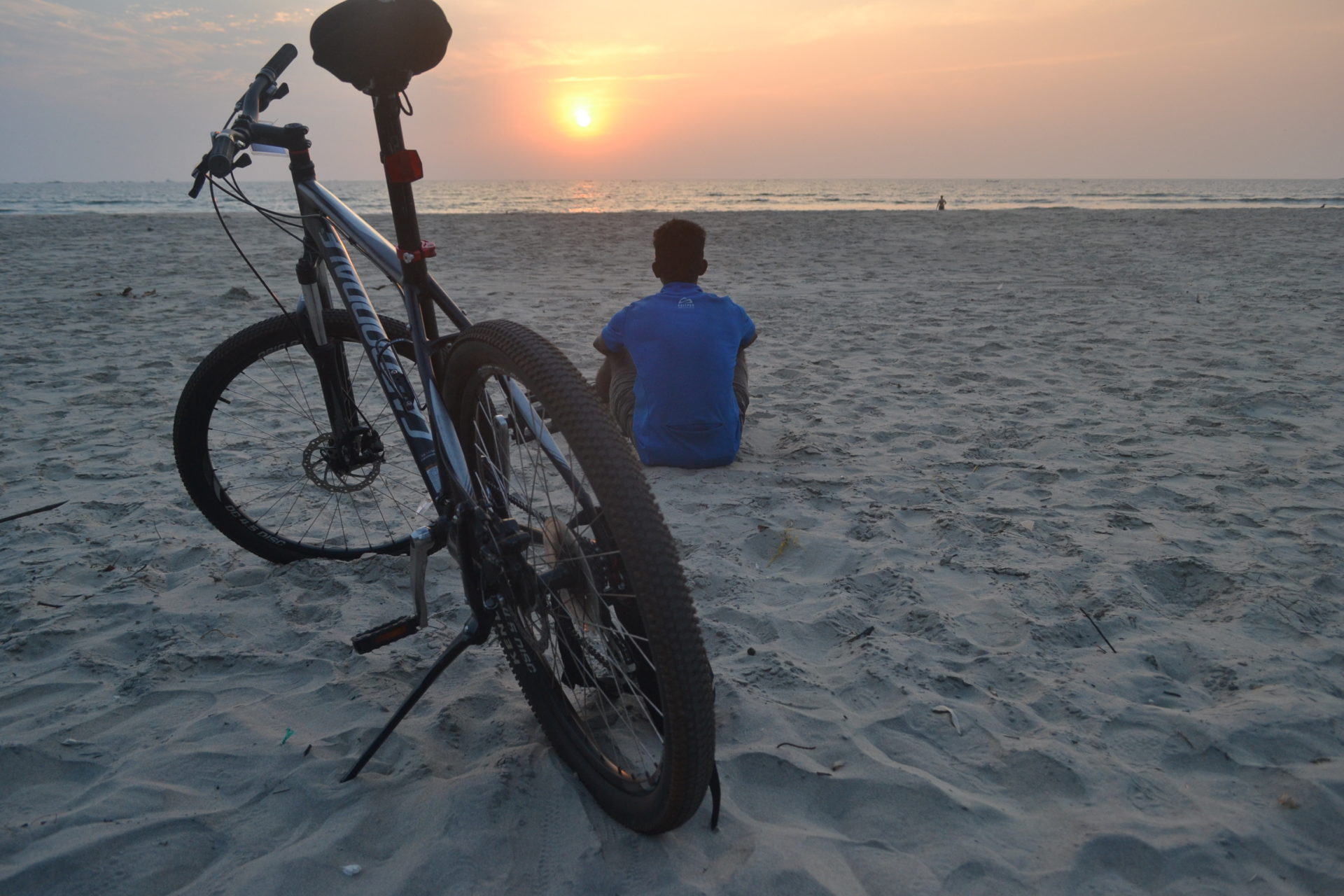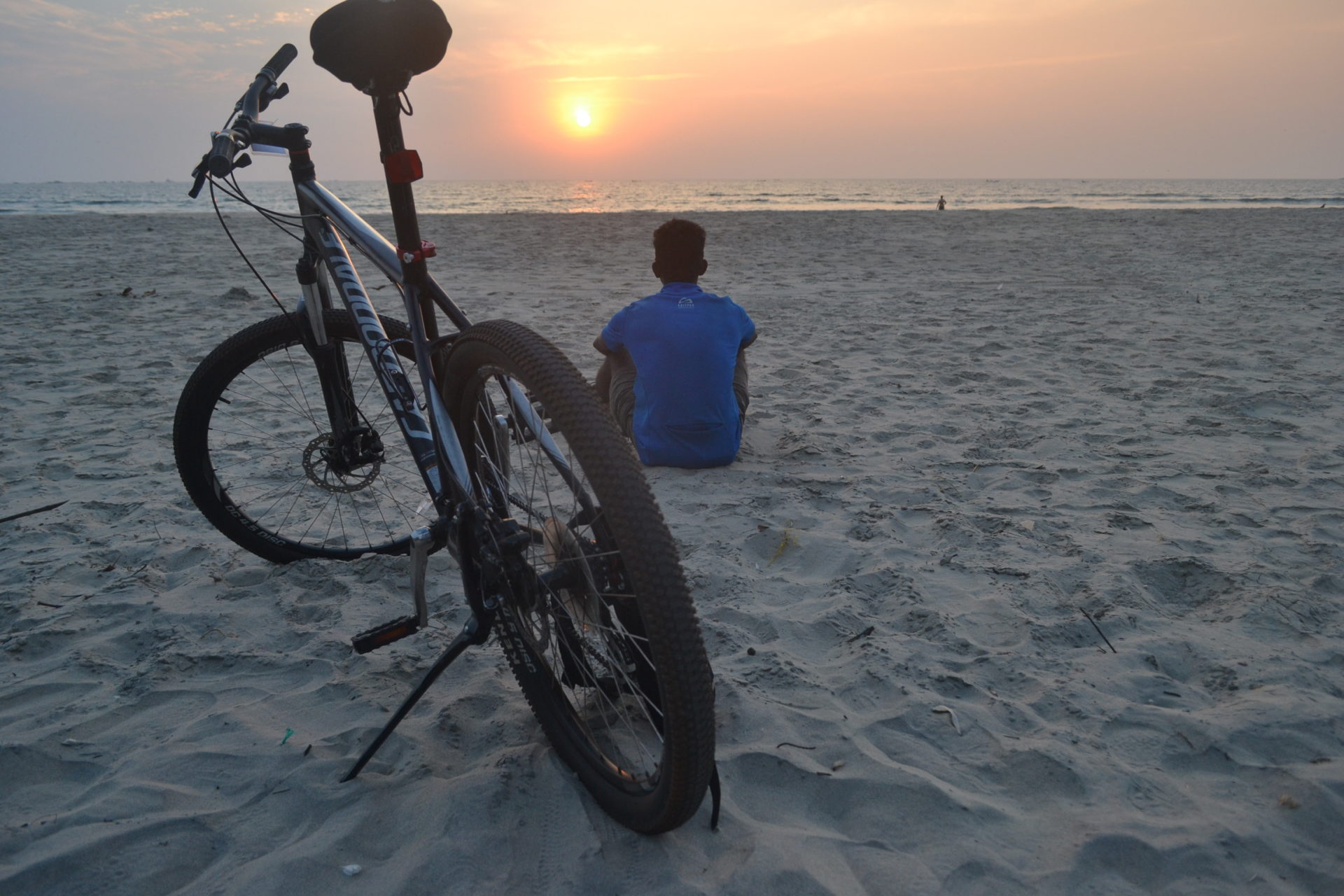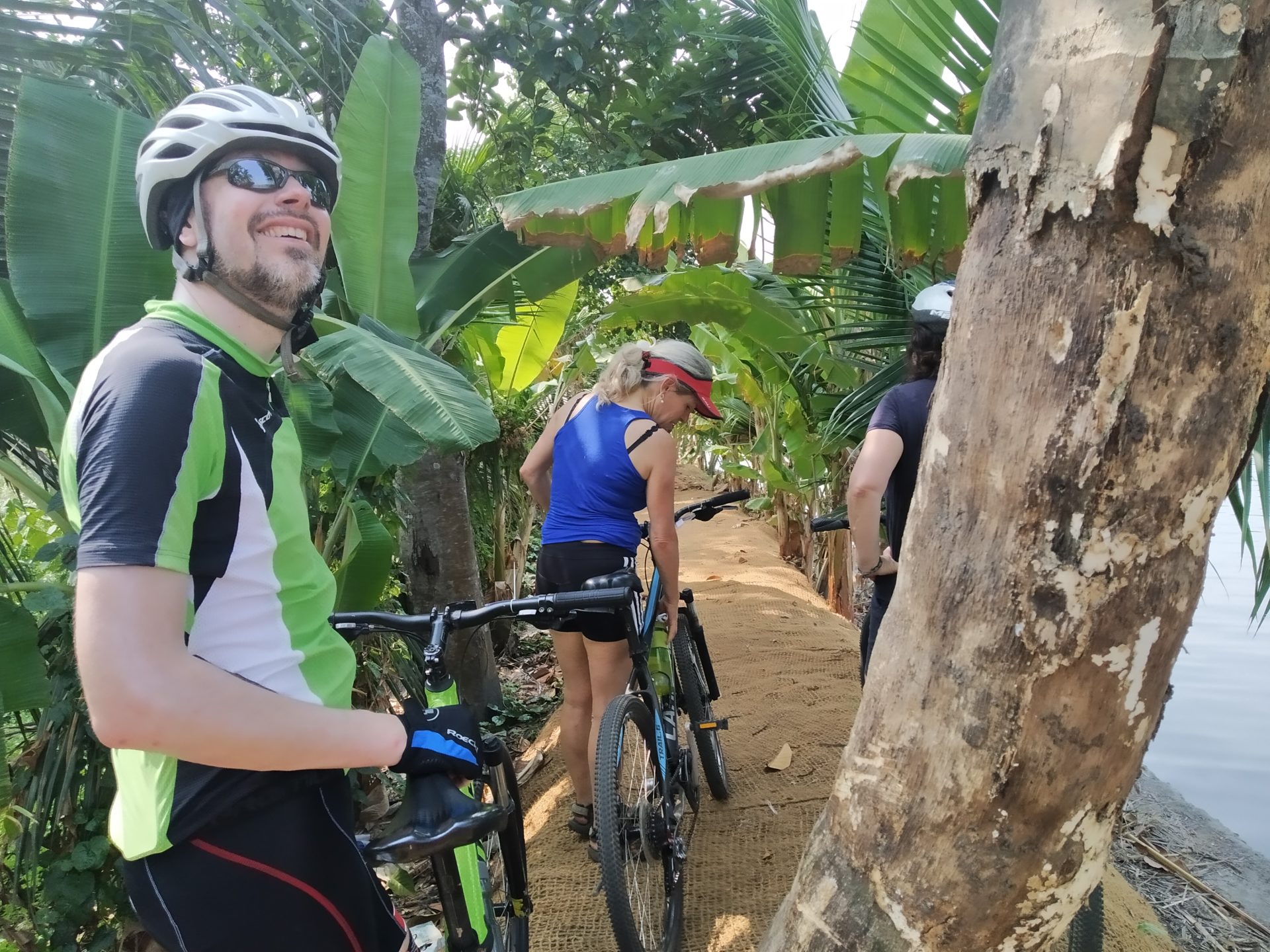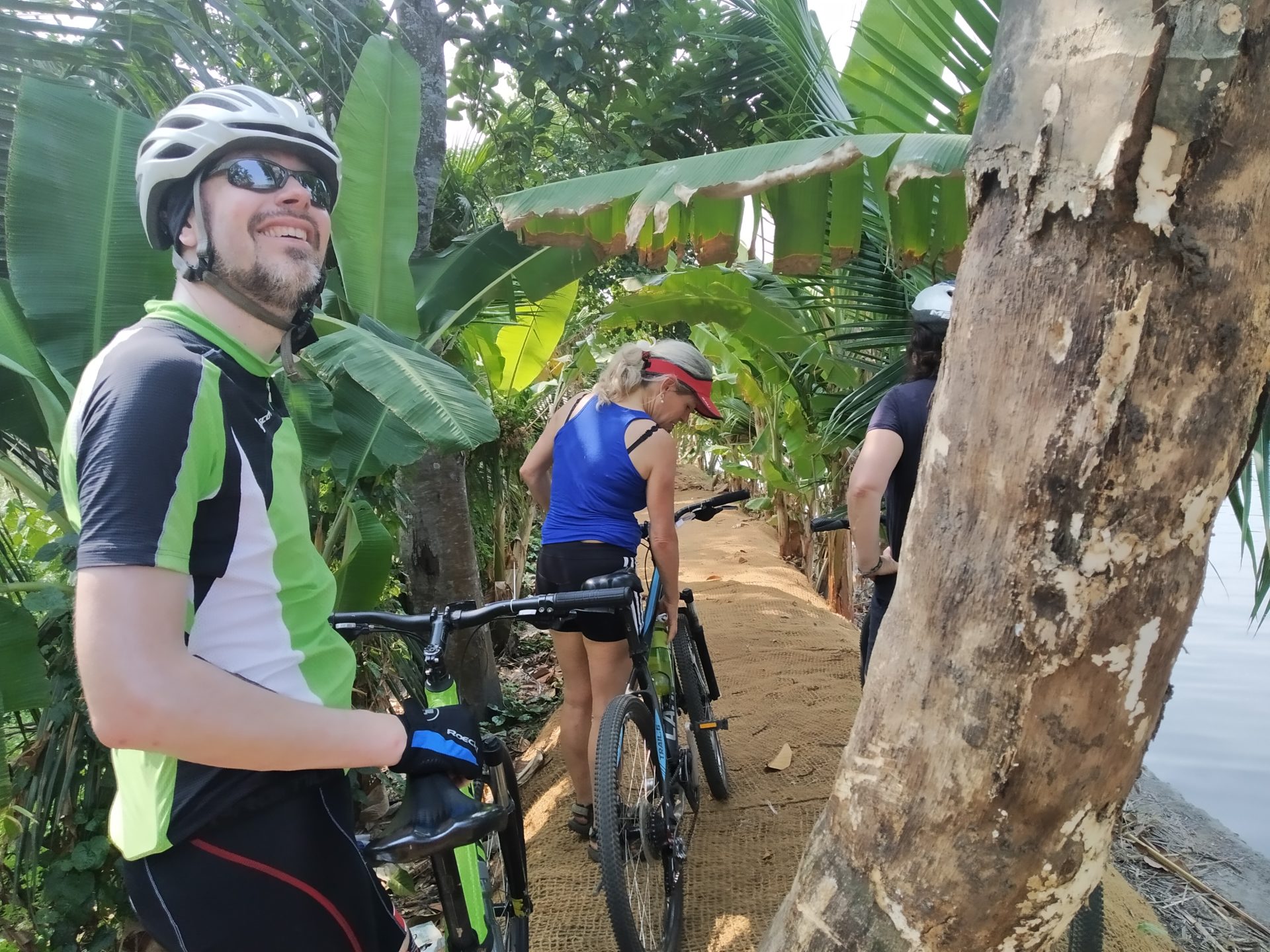 Overview
This tour presents a unique combination of the beautiful landscape diversity of Kerala, sporting activity, as well as the cultural experience in southern India. For two weeks we cycle first through the green Kerala with its palm trees, rice fields and spice and orchards. Then it goes up hill through the Westghats to the resort Munnar.
Here there are tea plantations as far as the eye can see with wonderful views! We cycle through the Indian jungle to Kumily, where we try to see elephants and other wildlife on a hike and boat tour in the Naturereserve. In the evening we will take part in an Indian cooking class to delve deeper into the spice diversity of India.
Via Kulamavu, an air spa, we descend to the backwaters, where our houseboat is already waiting for us to sit relaxed through the canal system. We end the tour with a stay on the beach and can rest and relax our muscles!
Almost every day, 25 to 85 km are covered by bicycle, on mostly small and well-developed roads. In some cases, the ascents can be quite challenging, steep and also quite long. Added to this is the warm humid climate in the lower regions, which makes you sweat from time to time. If you need a rest break, the accompanying vehicle is always ready!
We are happy to organize a follow-up program through India before or after the tour.
Program
Day 1 Arrival in Kochi and exploring the place
We arrive in Kochi at the airport and check into our guesthouse in Fort Kochi to relax a little from the flight. Kochi is located on a natural harbour on the Malabar coast. Since 1340, the city has become the most important port on India's west coast for the spice trade with China and the Middle East. In 1502, the Portuguese established their first commercial establishment in the city. Fort Kochi is shaped by southern Europe and thus offers a gentle introduction to getting to know India. We use the day to visit Kochi and will visit the Franciscan Church, the oldest church built by Europeans in India. Vasco de Gama was also buried here. On a walk, we can watch the local fishermen do their work with the 13th-century Chinese fishing nets. We rest a little from the strenuous journey and use the day to look around and get to know the group. In the evening we watch a traditional Kathakali dance performance. (Overnight in guesthouse) -/-/D
Day 2 Kochi to Thattekad 50 km
We start early in the morning and take a vehicle that takes us just outside Kochi to avoid the city traffic. We start our bike tour on small village roads that wind through the countryside and will drive past spice gardens and orchards. In the afternoon we reach the bird reserve Thattekad on the banks of the Perijar river. We stay in a luxurious jungle camp and can go on a small exploration tour through the forest in the afternoon. (Overnight at Camp) B/L/D
Day 3 Thattekad to Kallar 50 km
After a good local breakfast, we continue along the Periyar River and through woods, gum tree plantations and spices on quiet streets. Gradually we notice that we are gaining in height and there are more and more climbs that need to be overcome. Before we finally reach the West Ghats, we strengthen ourselves and take our lunch. Then it goes on and on uphill until we finally reach our destination. (Overnight in guest house ) B/L/D
Day 4 Muthuvaankudi to Munnar 40 km
A sporting day awaits us today. It goes first through the cardamom fields and then on through the tea. Always steadily uphill to Munnar at 1600 m. We will take an extra loop through the tea plantations, as well as visit the Munnars market and the tea museum. (Overnight in hotel) B/L/D
Day 5 Munnar to Suryanelli 28 km
Today offers us an excellent landscape, great views and a ride through spices, tea plantations and forests. It goes mostly up, but often also downhill.
We cycle through "Grahams Land Tea Estate" tea fields as far as the eye can see – and over the famous mountain pass "Lockhart Gap". Today we live in a camp in the middle of nature. (Overnight in Camp) B/L/D
Day 6 Suryanelli to Vandanmedu 75 km
Today we have another long stage ahead: after an early breakfast we cycle around the beautiful Anaerangal lake and through tea plantations. As far as Vandanmedu it goes through cardade plantations, which gave this place its name. Our tired legs are expected to rest in a wonderful resort in Vandanmedu. (Overnight in hotel) B/L/D
Day 7 Vandanmedu to Perijar 70 km
Today we reach the famous Perijar National Park, famous for its wild inhabitants, such as elephants and tigers. We use the afternoon for a guided tour in a spice plantation, because now it really is time to know about all the spices we have passed in the days before by bike. In the evening we also use our new knowledge with an interactive cooking course followed by dinner. (Overnight in homestay B/-/D
Day 8 Guided hike and boat trip through the Periyar Nature Reserve
Today we take a guided hike and boat trip through the reserve and try to spot one of the numerous elephants. The landscape, located on an artificial lake, is unique and the change from bike to our legs is good for us! (Overnight in homestay) B/-/-
Day 9 Perijar to Vagamon 55 km
Tiny paths meander through the jungle. We drive through coffee, pepper and tea plantations until it goes up to the air spa Kulamavu with its magnificent views. Not an easy climb, but it's worth it. (Overnight in hotel ) B/L/D
Day 10 Kulamavu to Kumarakom 80 km, transfer possible
Today we leave the Western ghats and reach the backwater town of Kumarakom, while we cycle through small villages and fields. The backwaters are a wide-branched canal system of over 1500 km. (Overnight in hotel) B/L/D
Day 11 Houseboat Tour through the Backwaters
After exploring the backwater by bike in the morning, it is interesting in the afternoon. We climb our houseboat, which will be our accommodation until the next day. As we are served, we enjoy the ride through the canal system of the green backwaters and get to know the life of the locals on the water first hand. Who wants can try catching fishes. (Overnight on the houseboat) B/L/D
Day 12 Leaving the houseboat and driving to Allepey 25 km
After leaving our houseboat in the morning, we cross tiny streets to our accommodation in the middle of the backwaters near the ancient backwater town of Allepey. The place invites you to a relaxing Ayurveda massage. (Overnight in hotel) B/L/D
Day 13 Allepey to Marari Beach 30 km
Along a small coastal road we drive to our resort on the beautiful Marari beach. We enjoy the afternoon on the beach and can also take advantage of the Ayurveda offer. (Overnight in resort B-/-)
Day 14 Beach Day
Today we relax on the beach and take advantage  of our Ayurveda resort. (Overnight in resort) B/-/-
Day 15 Transfer to the airport
We say goodbye to each other and are taken back to the airport. If you like, you can expand your stay in India and continue to travel through the beautiful country. B/-/-
Services
Bicycle rental for 14 days with helmet
Total transfer
Accompanying vehicle
Bicycle mechanic, local guide
English-speaking travel companion
all nights in a double room as advertised
Meals as advertised (throughout the trip full catering except for the last two days at the beach resort): F=breakfast, M= lunch, A= dinner
Drinking water and refreshments during bike tours
Guided hike and boat trip and entrance to the Periyar Tiger Reserve
Cooking
Entry Kathakali or Kareli demonstration
Entry Tea Museum
international flights
Visa
unmentioned meals and drinks
unmentioned activities/entrance fees
Tip
Highlights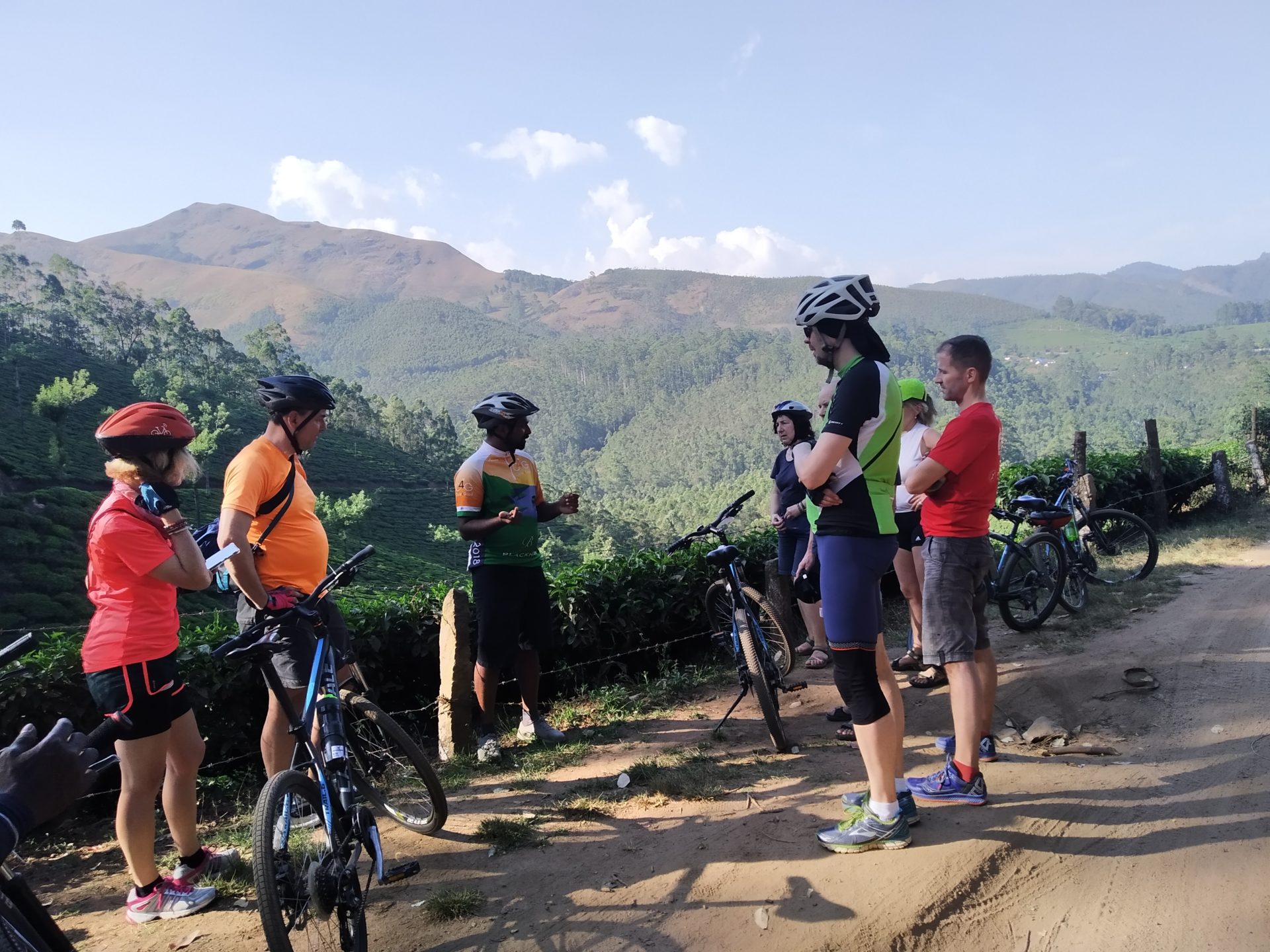 Prices and Dates
22.10.2023 – 05.11.2023
20.10.2024 – 03.10.2024
Possible as a private tour at any time
best time is from October to March
from 2 participants from 2650 € per person
3-4 participants from 2550 € per person
from 5 participants from 2450 € per person
450 € single room supplement
Tour Info
Requirements
For this tour a certain basic fitness is a prerequisite, especially when it goes through the Western ghats. There are also quite steep ascents here. Nevertheless, the tour is possible for everyone (-woman), because it can be changed into the accompanying vehicle any time. The daily stages are usually about 40 km long. Sometimes it can get quite warm during the day.
Informationen about our bicycle tours in South India
Rental bike
Cannondale /Trek / Merida
speed 7-8
Disc brake
Suspension
Flat pedals
Frame size: 13.5″- 21″
Bicycle bag
Water bottle holder
Gel saddle
Own pedals or saddles can be mounted.
Roads
Mostly we will be on quiet and small village roads. Sometimes the journey on the highway cannot be avoided, but this is very rarely the case and then there is always the option to hop on the accompanying vehicle for a few kilo meters.
Indian traffic is very different from western world . Always remember that there is left-hand traffic. A popular instrument is the horn, which is used a lot in all variations and volumes, so don't be afraid!
Region
Kerala is home to many Christians, so you can not only visit Hindu temples and mosques, but also visit many churches. In many places you almost feel like in southern Europe, because many Portuguese settled here during the colonial period and traded. As a result, the cuisine of many places is also somewhat southern European , in contrast to many other parts of India, also beef.
Of course, you can also get freshly caught fish and seafood everywhere in the coastal regions.
From November to March it is pleasantly warm and you only need light clothing. On most beaches of Goa and Kerala you can swim in normal swimwear. On beaches just outside, it is advisable to put on a T-shirt. Women in particular often attract unwelcome glances from locals and Indian tourists, as it is not common for women in India to show too much skin.
Climate
From March, temperatures will rise and it will be humid, so you should sweat a lot and pay attention to your circulation. From June to the end of September is the rainy season and many seasonal accommodations and restaurants are closed. It rains quite heavily during this time.
Accommodation
Our accommodations during the tours are typical and comfortable hotels with air conditioning in the 3 star category.
Our resorts (3 to 4 stars) offer a lot of comfort and are also equipped with pools.
5

Family Bicycle Holidays in Kerala

Our family and many friends declared us crazy when we announced our plan to spend this year's Christmas holidays cycling in India. Even Indians warned us against such a tour: "You'll risk your life!" But our adventurous spirit and the confidence in Sarah, who had organized the tour for us, were greater. So we - parents and five children between the ages of 10 and 18 - started from Hamburg via Dubai to Kochi just before Christmas. The tour took us from the coast in 14 days up into the mountains and over the backwaters back to the coast. The sporting demands of the tour were high so that we were soon happy to always have an accompanying bus at our side. Not everyone is made for mountain stages line in the Tour de France...! It was our expressed desire to experience India as authentically as possible, not a soft-washed tour with luxury hotels and Western European service, but real Indian experiences. This requirement certainly cursed one or the other family member during the journey, but the experiences and experiences we were allowed to have were great and speak for themselves. A bike tour is always a great way to get to know the country and people with all the positive and negative sides. a laid table with Keralan food in a small homestay And our three companions Sarah, Jogi and Pinku were great. They all had a good connection for our children and also looked after them, which made us parents very relaxed. We are full of admiration for Sarah, who has given very clear instructions to Indians in this male-dominated world. And it always worked– even if the plan had to be overturned again because of unforeseen events. Everything has really been done to make our journey a success. Even if the joy of returning to Germany was great, the journey has left its mark. In fact, preparations are already underway for a trekking tour in the Himalayas with Sarah, Jogi and Pinku.
Bicycle Tour Exotic Kerala