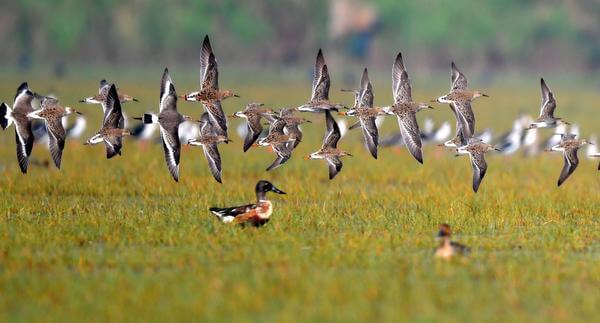 Overview
With the States Odhisha and Chattisgarh we have one more " off the beaten track" tour to offer. Odhisha, the tribal state, has also a rich Hindu culture with the capital Bhubaneswar consisting of man temples. Chattisgarh is considered to be India`s cleanest state and is rich in forest and nature. On this trip you will have meaningful interactions with the people from different nature tribes.
Programm
Day 1 : Arrival at Bhubaneswar
Meet and assistance – transfer to Hotel – Half day sightseeing of Jain caves of Khandagiri and Udayagiri – State Tribal Museum – Overnight at Bhubaneswar

Day 2 : Bhubaneswar full day city tour
Morning visit ancient temples of Parshurameswar , Mukteshwar , Lingaraj – Heritage walk in old town area to see the ancient temples , bindu sagar holy lake – PM possible to organize a cooking workshop of Odia Cuisine

Day 3 : Excursion to Dhenkanal (90kms + 90kms ,4hrs)
Excursion to visit Nuapatna textile village – demonstration of Ikat weaving techniques in a master weavers house – visit Sadeibareni dhokra craft village – demonstration of how dhokra is made using lost wax technique – Later visit Joranda Monastery of the Mahima Sadhus to witness the evening rituals – Return back to Bhubaneswar
Day 4 : Bhubaneswar – Konark – Puri (110kms, 3hrs)
Drive to Puri – visit 64 yogini tantric temple – Dhauli peace pagoda – Pipli applique center – en route visit Famous Sun temple at Konark – Overnight at Puri

Day 5 : Puri – Raghurajpur – Puri (20kms,1hr)
Morning bicycle tour (subject to availability) of Puri to visit Grand road of Puri , Jagganath temple ( foreigners not allowed inside ) can visit from outside the temple premises only – visit Swargdwar cremation ground of the Hindus – PM visit Raghurajpur heritage village – demonstration of Gotipua Odissi dance – visit artisian houses – demonstration of how pattachitra traditional paintings are made – Overnight at Puri

Day 6 : Puri – Mangalajodi – Baliguda (300kms, 8hrs)
After breakfast checkout from Hotel – visit Mangalajodi wetlands – boat ride on motorless boats to see various migratory birds – Later proceed to Baliguda – Overnight at Hotel

Day 7 : Baliguda – Rayagada (150kms ,4hrs)
In the morning we shall visit villages of the Tattoo faced Maliah Kondh – Meet and interaction with tribes – see their famous sacrifice pillars – Later drive to Rayagada – Overnight at Hotel

Day 8 (Wednesday): Rayagada – Chatikona Weekly Market – Jeypore (230kms ,5hrs)
After breakfast drive to Chatikona Weekly market of the Dongoriya and Desia Kondhs – Dongoriya ( people of the hills ) are one of the most beautiful tribes of Odisha and belong to the PVTG category , it is possible to onlymeet them at the weekly market – haats ( weekly market ) are places where tribes come down from various places in order to sell their local products and return buy provisions / medicines etc. – later drive to Jeypore en route visit Mali (agriculturists ) – visit farm lands and Kuvi kondh villages – Ovenright at tribal home stay at Peta ( run by tribal boys – a sustainable tourism effort )

Day 9 (Thursday): Jeypore – Onkudelli Weekly Market – Jeypore (100kms, 3hrs)
Excursion to visit Onkudellli Weekly market of the Bondas and Gadabbas – Bondas are another group of most beautiful tribes of Odisha and also fall in the PVTG group – Pm return back to Peta – Lunch at camp site – Pm proceed to visit villages of Kumbhars by walking ( pottery makers ) – a workshop of pottery making can be organized in the village – later soft trek to visit villages of parojas and ollar gadabas – Overnight at home stay at Peta

Day 10 (Friday): Jeypore – Kunduli Weekly Market – Jeypore (120kms, 3.5hrs)
Excursion to visit Kunduli Badaparoja weekly market – Pm soft trek in villages of Parojas , mali , Bhatra and Bhumiya – Overnight at Home stay at Peta

Day 11 (Saturday): Jeypore – Kotpad – Jagdalpur (180kms, 4hrs)
Drive to Jagdalpur – en route Kotpad textile village – visit Mardum Weekly Market of the Abhuj Maria Gond tribes of Chattisgarh – Later visit Chitrakut waterfalls- Overnight at Hotel in Jagdalpur

Day 12 (Sunday): Jagdalpur (120kms,3hrs)
Morning after breakfast drive to visit villages of the Maria Gond tribes – demonstration of tradition Bison horn maria dance with the villagers – Later visit Pamela weekly market – return back to Hotel

Day 13 : Jagdalpur – Kondagaon – Raipur (300kms ,7hrs)
Drive to Raipur – Enroute visit Kondagaon village famous for ferro metal crafts – Later visit Biddi factory ( local cigarette making factory ) – Overnight at Hotel

Day 14 : Departure
On time transfer to airport for departure
Services
transportation / fuel / drivers expenses / all sightseeing / toll and taxes
Accommodation on twin sharing basis with breakfast only , Full board at tribal home stay
All entrances / dance fees / boat rides
Fresh mineral water during transit
All taxes included
personal expenses
unmentioned meals
Visa
tips
Highlights
Prices and Dates
Best time is from October to April
from 1750 € per person for 2-3 participants
Group from 4 participants: 1650 € per person
Single room supplement: 400 €
Tour Info
Requirements
A cultural trip without great physical requirements. Open-mindedness and flexibility are required!
Further Information
Starting Point: Bhubaneswar
Ending Point: Raipur
Hotels provided :
Bhubaneswar : VITS / New marrion or similar
Puri : Hans coco palms
Baliguda : Hotel Bivab
Rayagada : Hotel Sai International
Peta : Peta Camp home stay
Jagdalpur : Avinash International or similar
Raipur : Hotel Celebration or similar
Cultural Experience of the Tribal Areas Odhisha and Chattisgarh