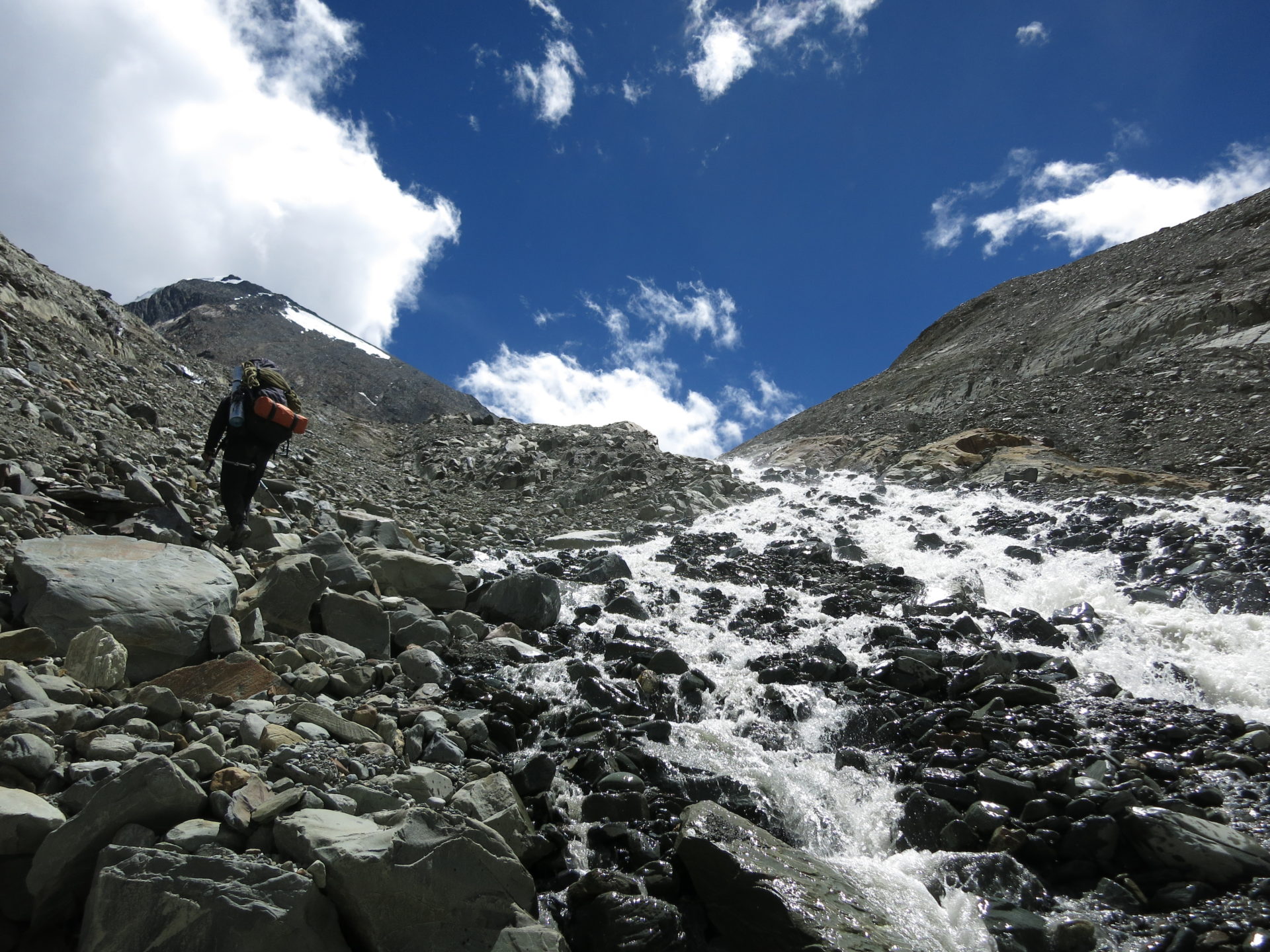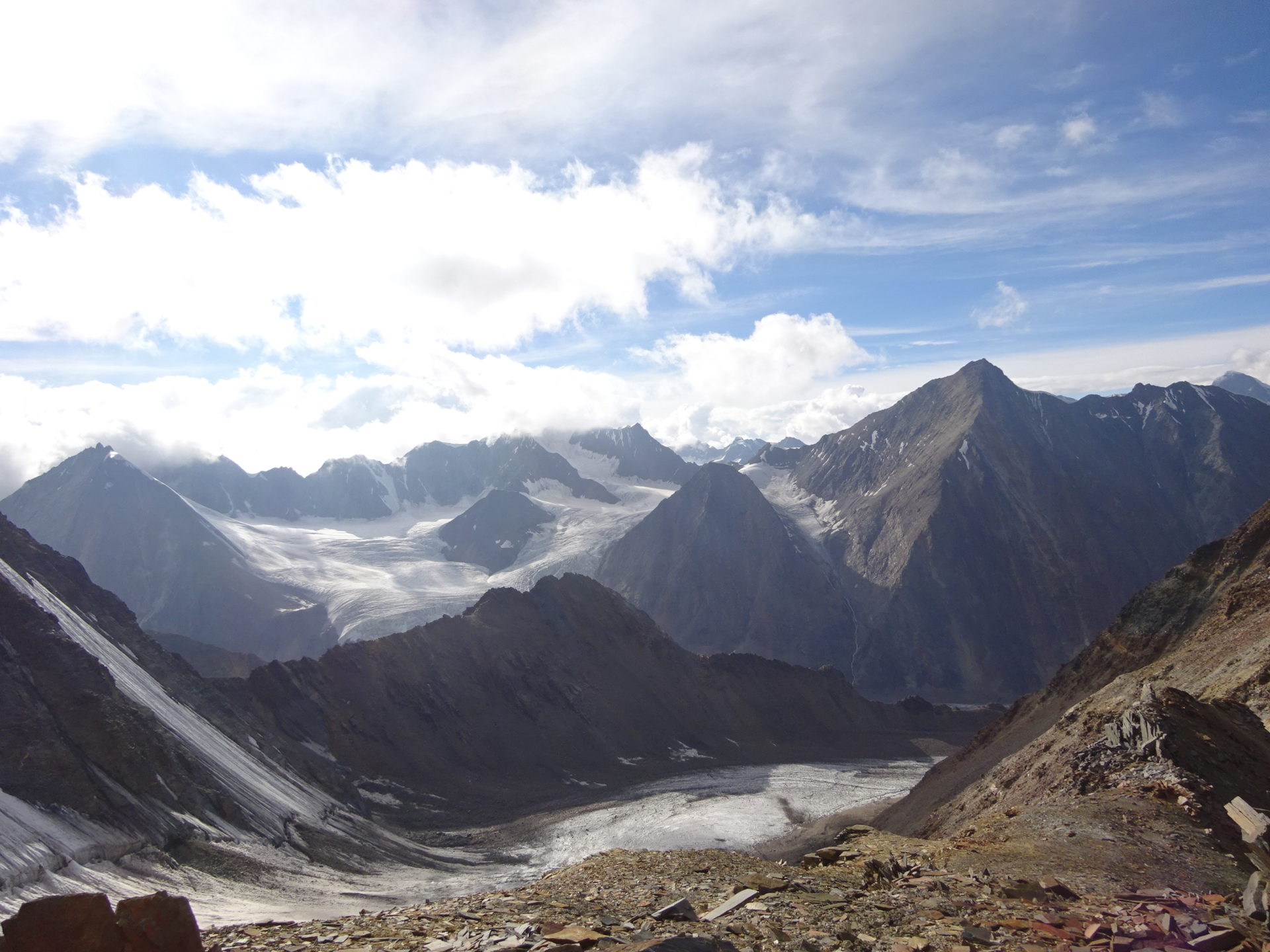 Overview
The C.B. 14 peak is located in the C.B. mountain range in the central Lahaul massif. The name of the chain derives from the two rivers Chandra and Bagha, which form the boundary of the massif. When climbing this peak you have to cross the huge Dhaka glacier, the largest in Lahaul. From above you have a great view of the Kunzum mountain range, the Chandratal Lake and the Chandra River. The C.B. 14 is a technically easy summit and ideal for first-time mountaineers, who want to gain first experiences. This expedition can be combined with the ascent of the technical C.B. 13.
The C.B.14 Expedition is ideal in the month of July and August, when it rains in the rest of the country.
Program
This expedition can also be organised for you from/to Delhi. Please make a request!
Day 1 Manali (2050 m)
Presentation of the team, purchasing, control and distribution of equipment, overnight stay in the hotel
Day 2 Manali to Batal (3960 m) by car 125 km
Day 3 Batal to Basecamp (4600 m)
Day 4 Basecamp to Camp 1 (5100 m)
Day 5 Rest day, control of equipment, simple theory in mountaineering
Day 6 Camp 1 to Camp 2 (5300 m)
Day 7 Camp 2 to the summit camp (5800 m)
Day 8 Summit Camp to the summit (6078 m) back to Camp 1
Day 9 Camp 1 to Basecamp
Day 10 Rest Day at Basecamp/Extra Day
Day 11 Base Camp to Batal
Day 12 Batal to Manali by car
Services
Ausgebildeter Bergsteigerführer
Koch und Helfer
Lastpferde oder Träger bis Base Camp
Deutschsprachige Begleitung
Unterkunft in 2-Mann-Zelten (1-Mann-Zelt Aufpreis)
Küchenzelt im Base Camp
Vollverpflegung
Transport von Manali zum Start der Expedition
Transport vom Ende der Expedition nach Manali
komplette Expeditionsausrüstung
An- und Abreise nach und von Manali (kann organisiert werden)
Persönliche Trekking Ausrüstung (Kleidung, Rucksack, Stirnlampe, Trekking Schuhe, Handschuhe etc.)
IMF Erlaubnis
Highlights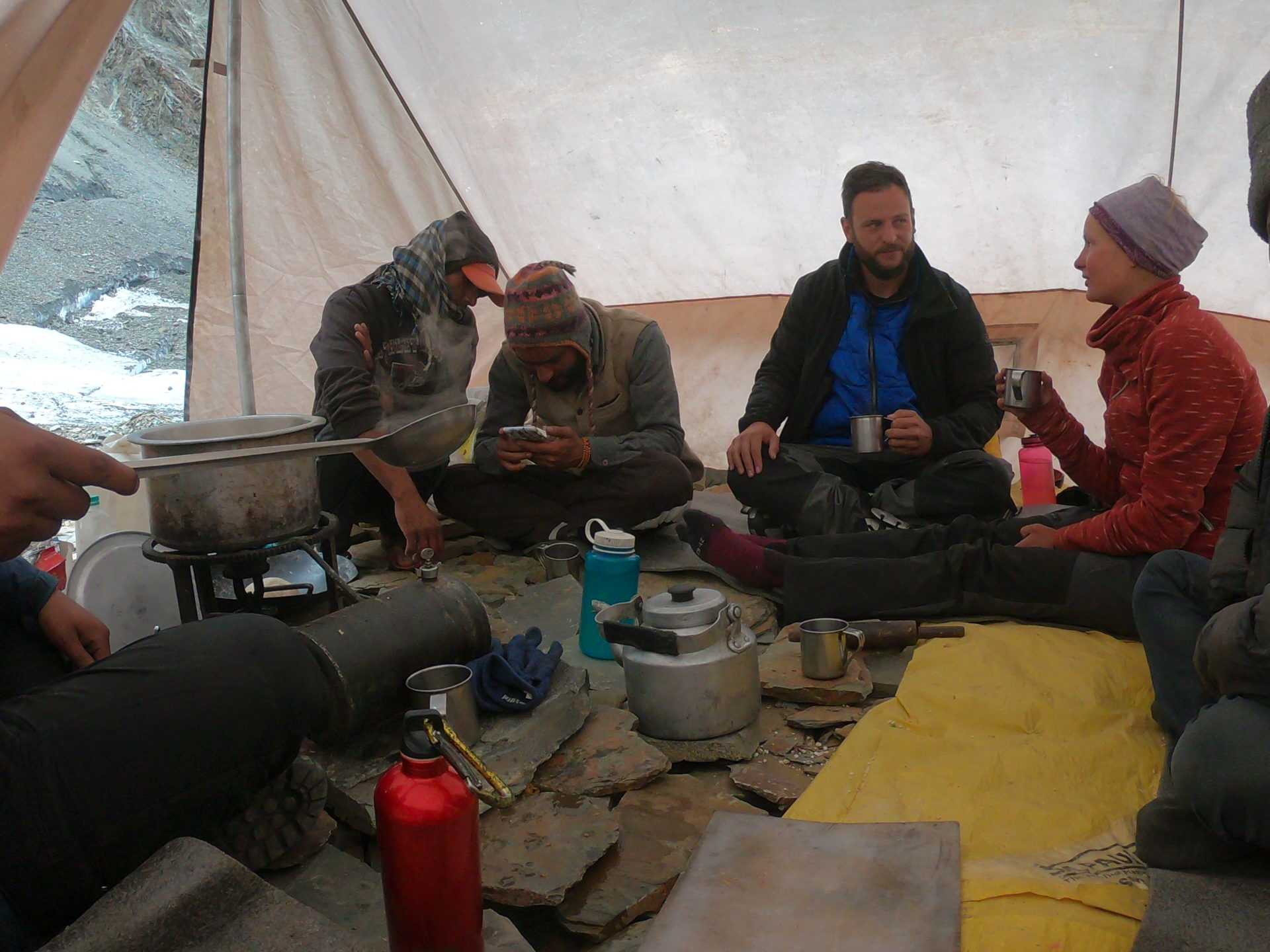 Prices and Dates
This expedition is possible from July to September!
Please make an inquiry
Tour Info
Requirements
Mountaineering experiences are not necessarily necessary. If you have never climbed a mountain before, you can take an intensive course with us beforehand. You should be physically and mentally fit for the ascent.
Information about our Expeditions in the Indian Himalaya with Chalo! Travels
Mountain guide and team
On all our expeditions we have at least two trained local mountain guides with us. Our mountain guides have all completed all Indian mountaineering training and regularly lead expeditions and mountaineering courses. They have climbed the peaks several times and know the terrain excellently. All our mountain guides speak English.
In addition, there is a local team that will accompany us at least until the base camp. Which includes cook, helpers, horsemen with horses or Nepalese carriers, depending on the type of trek up to the base camp.
All our team members have been working with us for years, are very friendly, professional and always striving to give our guests a great experience and fulfill their wishes. Their English is rather mediocre or non-existent, but this is not necessarily a hindrance to communicating with them.
2. Summit
The summits have a different level of requirements from simple to difficult. Even with simple ascents of the summit, certain climbing techniques are required, as well as the use of equipment. On each of our tours we include days of practice to learn or repeat techniques and practice using crampons, ice picks, gaiters and using the rope. Thus, even inexperienced participants can participate in a summit expedition with a more difficult degree. The peaks are between 5000 and 6500 meters high.
The first days of the expeditions to the base camp are more like trekking days. The daily routes are between five and eight hours long (with breaks) and an average increase of around 500-800 metres of altitude is completed.
In between, rivers may have to be crossed. The paths are partly well developed, but sometimes also almost non-existent. On our trekking routes there are hardly any villages between, so we will take enough food for the whole tour.
From the base camp we will reduce our team and only travel with our guests and the mountain guides. While the rest of the team will stay in base camp. Meals will be easier, the daily routes can be up to 12 hours and especially on the day of the summit we start in the early morning hours around 2:00-3:00. From Base camp we will be on the road with all the equipment and depending on the situation, the mountaineering team will fix the ropes.
In all our expeditions we have planned 1-3 additional days in case the weather conditions are bad or we need more time for a good acclimatization. If we reach the summit without these additional days, our guests have a hotel in Manali at their disposal.
3. Daily routine till Base camp
7: 00 am Get up with tea
7:30-8:30 am Breakfast
7:00-9:30 am Dismantling of the camp
8:00- 9:30 am Start Trek
1:00 pm Lunch on the way
3:00-5:00 pm Arrival at the camp and camp construction
3:30-5:30 pm Snacks
7:00 pm Dinner
4. Altitude and altitude sickness
This is a very important topic that should not be underestimated, especially during our expeditions in the Indian Himalayas. At altitudes above 3500 m, our body has to slowly get used to the low air pressure, which also causes less oxygen to enter our lungs. The first signs of altitude sickness are headaches, which are accompanied by dizziness, nausea, insomnia and loss of appetite. It becomes problematic when water accumulates in the lungs and brain, and edema occurs. Then only the immediate descent to lower altitudes will help. To prepare for the heights on our treks, we will spend some nights in the same camp and do so-called "loadferrys". This means that we transport some of our luggage to the next higher camp the day before and get back to the low camp. During the trek we will slowly ascend to acclimatize. If we notice that there are problems with our guests (each person is otherwise able to acclimatize, regardless of age, gender and fitness level), either the entire tour group or the participant with a team member descends/returns. In addition, it makes sense to take an emergency drug for altitude sickness. For this, it is best to inform yourself at the pharmacy or seek advice from the travel doctor. In addition, we will have oxygen with us for the emergency.
Our expeditions are organized in such a way that the complete tour from Delhi to Delhi is usually possible in two weeks. Nevertheless, we advise our guests to extend this period as far as possible in order to have more time for the actual acclimatization.
5. Luggage
On our expeditions from Basecamp, every expedition participant is responsible for carrying his or her personal clothes and belongings, as well as for his own equipment and some of the food and team equipment (ropes, materials, tents, cooking utensils). The total weight will be between 15 and 20 kg. Until base camp we will have the support of carriers and load horses. Here is the packing list for our expeditions.
6. Meals
During the trek to the base camp there will be a vegetarian full catering. Water is either boiled or we have a water filter with us.
Breakfast (daily selection):
Coffee/Tea
Oatmeal porridge/muesli/cornflakes/Indian porridge
Indian Breakfast/Toast/Eggs/Jam/Butter/Cheese/Honey/Chocolate Spread
Sliced fruit/vegetables
Lunch (mostly lunchbox), sometimes warm in the camp:
Sandwiches/Indian (rice, chapati, vegetables)/eggs/potatoes
Juices
Chocolate
Fruit
Snacks:
Tea/coffee
Cookies
French fries/Indian snacks
Soup
Dinner (depending on the length of the trek, a mix of Indian/Chinese/Continental):
Vegetable dish
Lentil dish
Rice/noodles
Chapati
Salad
Dessert
7. From Base camp, meals are more simple with carbohydrate-rich food
Breakfast:
Tea, Coffee
Oatmeal, muesli, rice
Lunch (self-carried and divided for all days):
Dried fruits and nuts
Chocolate bar/muesli bar
Boiled potatoes/eggs
Cheese
Fruit
Snacks:
Biscuits, Soup, Instant Noodles, Tea/Coffee
Dinner:
Noodles/rice/instant dishes/couscous
8. Accommodation and Camp
We have light 2-3 man tents, sleeping bags with comfort zone up to -5°C, as well as good mats. It is recommended to bring personal indoor sleeping bags.
In addition, we have a spacious dining tent with tables and chairs, and a kitchen tent for the team up to base camp. For expeditions of up to 4 people, the kitchen tent can also act as a dining tent at the same time.
From Base camp we will not have a kitchen and dining tent.
9. Temperatures
In the Himalayas, temperatures fluctuate widely. While it can get warm up to 25°C during the day and the sun is not only warming but also very intense (sun protection is a must), it can also cool down at night well below the minus degrees with temperatures down to -10° C, especially in the months end of September and October, as well as in June and at altitudes from 4500 meters. There may also be weather changes with snow and storms. Bad weather can always be a hindrance for a successful climb.
Mountaineering in Lahaul on The C.B.14 (6078 m)