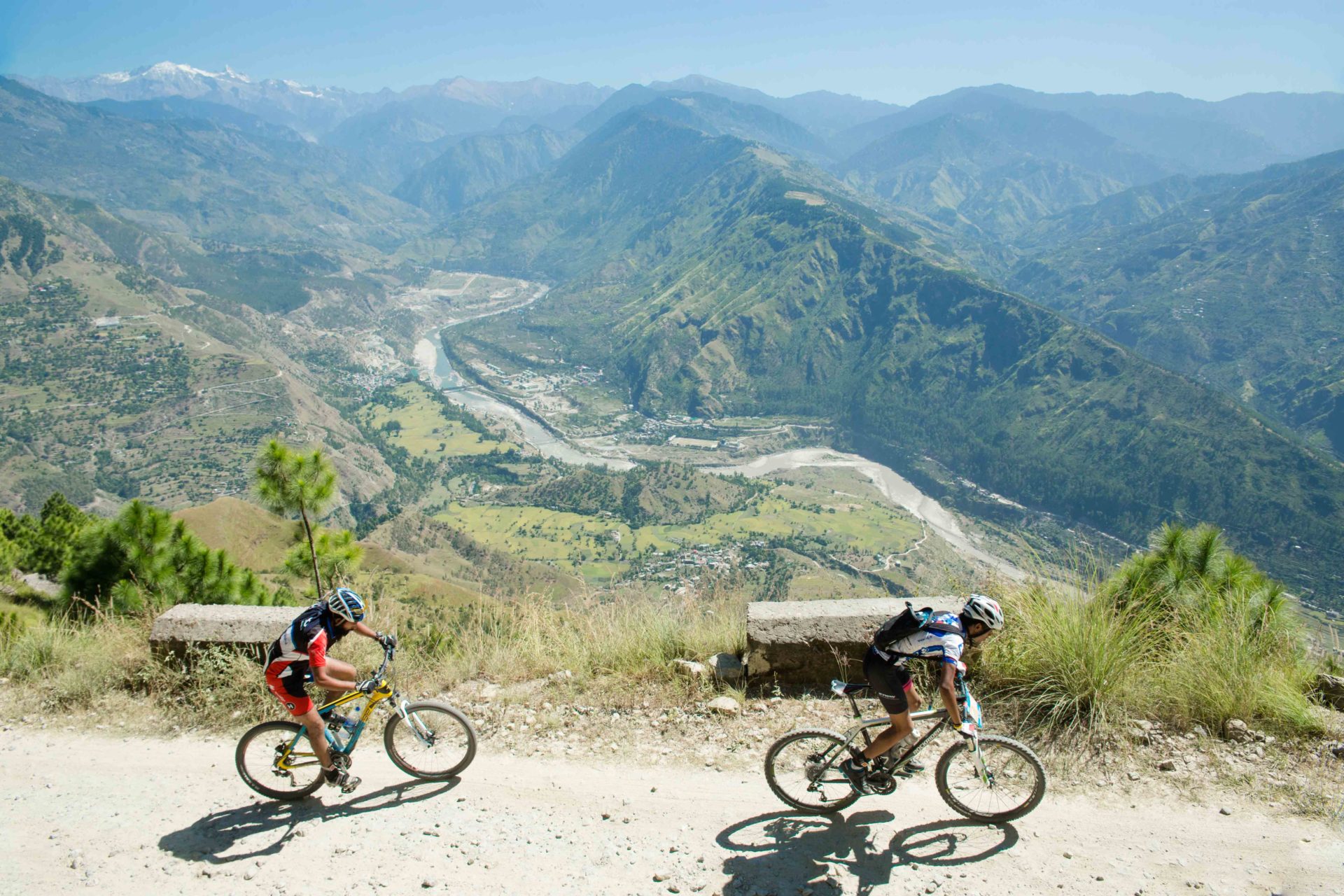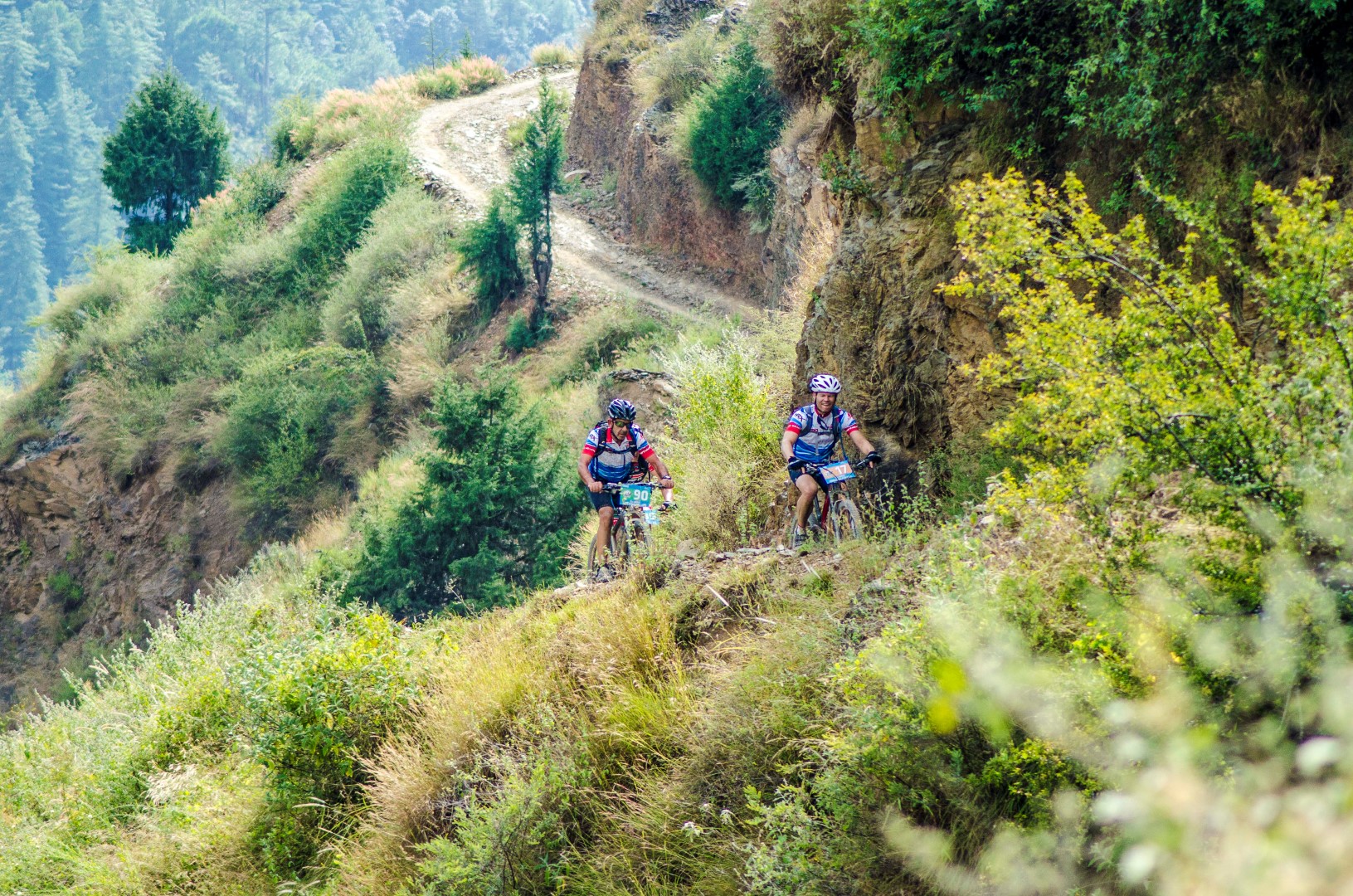 Overview
The seven-day "Hero MTB Himalaya" race in the foothills of the Indian Himalayas has established itself over the years as a real insider tip among mountain bikers worldwide.
Every year in October, some of the world's best mountain bikers and many amateur riders meet to compete in the tough race and enjoy the beauty of the still largely untapped Himalayas.
It's always an adventure! In October 2023 you have to cross passes on forest and gravel roads and some single trails, pass small mountain villages and marvel at the mightiness of the Himalayas when the first snow-capped peaks rise in the near distance.
The participants are accommodated in comfortable camps with single tents, shower and dining tents, as well as a service station and relaxation area in tranquil areas in the middle of nature.
In order to motivate you to take part in the race, but also to support you with the planning and logistics of your arrival and departure, Chalo! Travels to the race with a "complete package". We organize everything for you from and to Delhi and even accompany you during the race serve as your contact person for questions and problems on site.
After the race we offer a small six-day trip to India.
Of course, we can also design and organize your days after the race individually for you, or – if you are in a bit of a hurry – simply organize the return transport to Delhi.
You have the following options:
Trekking Tour in the Himalayas
Visit to the Taj Mahal
Cultural tour
Yoga and Ayurveda Journey
Beach stay in Kerala
… and many more options.
You can get insights into the race here and here .
Click here to go to the official website of the race organiser.
Program
01.10. Departure from home and arrival in Delhi, hotel rooms in Delhi
02.10. Travel to Shimla
First you take a taxi to Kalka near Shimla. From here we take the famous toy train (4-5 hours) – a narrow-gauge railway that takes us through over 100 tunnels and 800 bridges to Shimla at an altitude of 2100 m. Our luggage and bicycles are brought directly to the hotel in Shimla by vehicle.
We stay at the famous Woodville Hotel. A heritage hotel from colonial times. Today we have included all meals for you. Overnight stay at the hotel (F/M/A)
03.10. Acclimatization in Shimla
We are going to take a relaxed approach to this day. After breakfast we assemble the mountain bikes and then we go on a ride together. On the way we take tea breaks and also visit the Jakhu Temple. In the evening we walk to the famous mall – the pedestrian zone of Shimlas. Overnight stay in a hotel (B / – / -)
04.10. Registration Shimla
From today the MTB Himalaya Race officially begins with the registration, the briefing for the race and the prologue race. If necessary, we will change our accommodation.
05.10-11.10 6 days MTB Himalaya race with one day off. Overnight in camps, full board
12.10 Transfer to Mcleod Ganj and visit of the place
After the race it is relaxed: We drive to the tranquil town of Mcleod Ganj – this is where the Dalai Lama and many other exiled Tibetans are at home. The day is for relaxation. The Dalai Lama Temple can be visited. Our bicycles are safely transported directly to Delhi and we will receive them back at the airport on the last day of travel. Overnight stay at the hotel (F/-/-)
13.10. Day hike to Triund
Since we are in the Himalayas, we want to take the opportunity today to see the really high mountains during a day hike. Overnight stay at the hotel (F/M/-)
14.10 Drive to Amritsar and visit the Golden Temple in the evening by night train to Agra. Overnight stay on the train (F/-/-)
Today we go to Amritsar, which is five hours away, here we visit the famous Golden Temple and take a Heritage Walk with Streefodd Tour, before we continue to Agra in the evening with the night bus.
15.10. Visit the Taj Mahal, continue to Jaipur
Arrived in Agra we visit the Taj Mahal. Then it goes to Jaipur by vehicle. Here we visit the famous Amber Fort. In the evening there is a small Bollywood dance class on the program. Overnight stay at the hotel (F/-/-)
16.10. Sightseeing in Jaipur with morning bike tour and cooking class in the evening
Early in the morning we get on bikes again. But not for a race, but to get to know Jaipur from the perspective of the locals. A traditional breakfast at a family's home, a visit to the marble quarter and vegetable market, as well as driving through narrow streets is on the program. An interactive Indian cooking course concludes our small tour. Overnight stay at the hotel (F/-/A)
17.10. Drive to Delhi and fly back home
After breakfast, drive directly to the airport in Delhi, which is four hours away. Here we also meet our bike luggage again.
Included services
Race participation in the Hero-MTB Himalaya race with starter kit
All accommodation with breakfast before and after the race 8 nights
Meals as advertised
Tour Guide(Sarah)
all mentioned activities including entrance fees
complete transport as described
Separate transport of bike luggage
Visa
International flight
unmentioned meals outside the race
unmentioned entrance fees for other monuments
Highlights
Prices and dates
The exact date for October 2023 will be announced
4-16 participants
1750 € per person
Single supplement 200 €
Without a six-day connecting trip, with direct transfer by vehicle from the end of the race to the airport: 1300 €
Of course, escorts who do not participate in the race can also book the package or book an individual package.
Travel info
Requirements
A very intensive race with several 1000 meters of altitude per day and challenging route. Driving safety on the mountain bike is a prerequisite.
Flexibility, a great deal of openness to new things and a willingness to compromise should also be shown. The organizers give the best to run the race on an international level, yet we are in India, with all the conditions and requirements that go with it.
More information
If you are interested in booking the complete package for the race, please contact us directly to discuss the trip with you individually.
After booking the package we will send you the registration form for the race.
You will also need the following documents to register:
Passport or identity card
Medical certificate
International travel insurance after white
Passport photo
There are the following categories for the 13th MTB-Himalaya Race 2017:
Open Men Solo (18 to 40 years)
Open Women Solo
Masters Solo (41 to 50 years)
Grand Masters (51 years and over)
Team of Two
Supporter
+ Minimum age is 18 years
+ Registration deadline is September 10
+ At least 5 participants are required for each category
To the camp
New campsites are approached every day during the race. Both one-man and two-man tents are available. Furthermore, there are shower tents separate for women and men with warm water, a dining tent, a relaxation area, as well as a service station with a team of mechanics and spare parts. A physiotherapy and massage team is also available for a fee. Temperatures at night can drop to as low as 5°C.
To the race
The stages are completed between 50 and 100 km with up to 3000 metres of altitude per day. The routes lead over forest, sand and gravel slopes. There are also some single trails, but also asphalted sections. The race tracks are well marked and there are track posts at regular intervals. There are also at least 2 catering stations per stage. Here you can get water, electrolytes, energy drinks, juices, glucose, bananas, sandwiches, wraps, potatoes, cakes, eggs and chocolate.
Meals
Every day there will be varied and nutritious food, both vegetarian and non-vegetarian. In addition to local specialities, there are also continental dishes, all served buffet style with meals.
Safety and medical care
During the race we will always have a doctor and an ambulance with us. A helicopter is available on call.
This should be included:
In addition to your bike clothes and warm clothes for the camps, please bring your own tools and spare parts such as hoses, chains, brake pads, oil, etc. with you.
You will receive further detailed information after booking.
MTB Himalayan Race Complete package in October 2023 with an optional six-day India connecting trip