Multi Aktiv Reisen
Kultur Reisen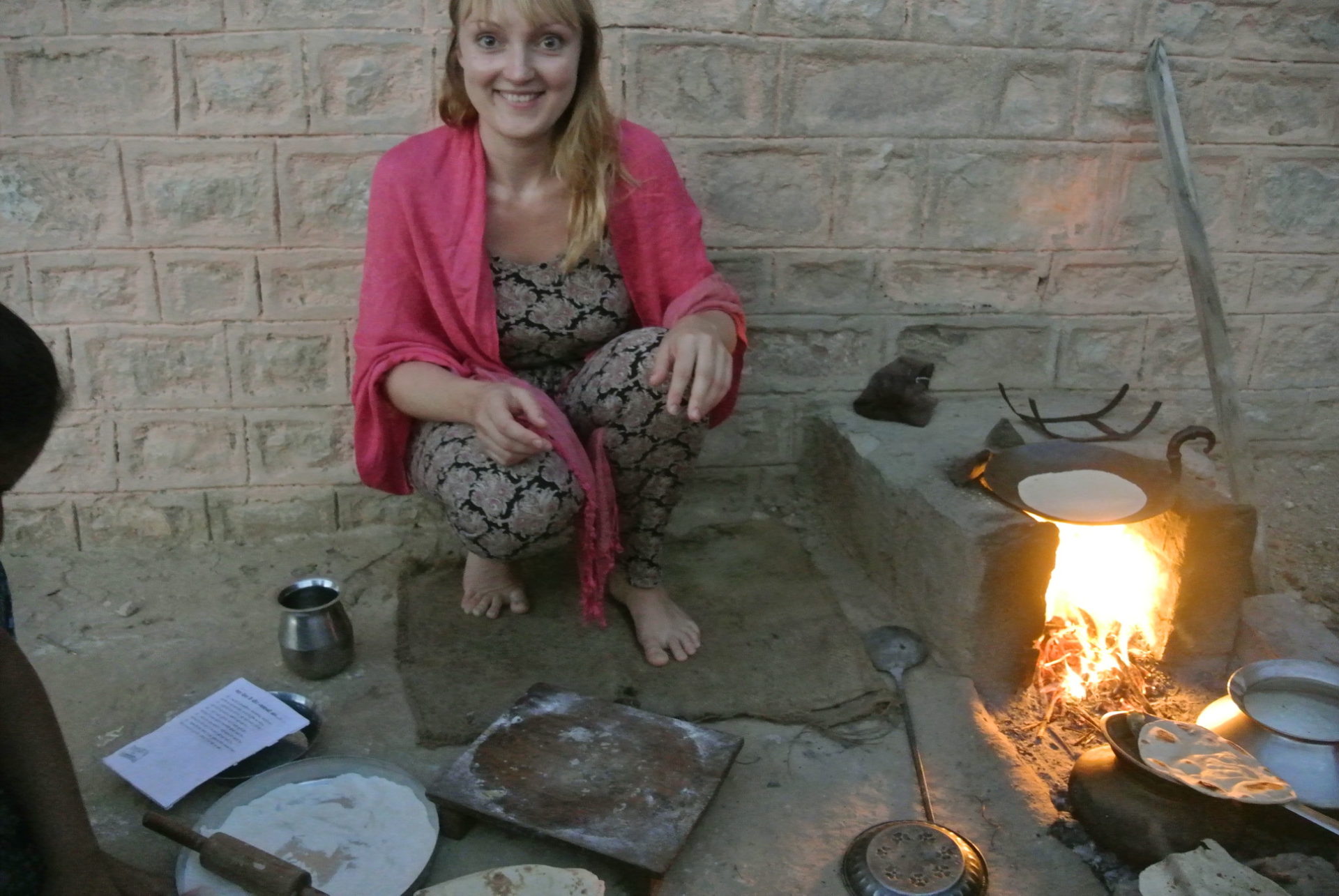 Overview
Just reading the program for this special trip makes your mouth water! India's exotic, diverse and spicy cuisine is something very special and is famous and loved all over the world.
With special masalas, traditional cooking processes and all the senses, excellent dishes are conjured up in India, which differ greatly depending on the region.
We have created this special travel format for all travelers who want to immerse themselves in the diverse Indian cuisine and be introduced to the secrets of Indian cooking with exotic ingredients and a variety of spices.
The Culinary India Journey is aimed at hobby cooks and those with a sweet tooth, as well as professional chefs.
We will visit colorful markets, explore vegetable and spice plantations, taste street snacks, visit very special eateries, dine in first-class restaurants and eat at home with Indian housewives, the real professionals. We can not only look into the pots of the chefs, but often pick up the wooden spoon ourselves.
We will travel through very different regions of India. Each with its very own kitchen.
As you can see from the program, we not only feast our way through but also get to know India intensively with its people, scenic charms and sights. Visits and smaller and larger activities in between whet our appetite for the next exotic dishes and cooking units
But let's be honest, the best way to get to know a country and its people is to cook and eat together!
In Delhi and Agra we will get acquainted with royal Mughlai cuisine and many different street snacks and sweets. In Amritsar we will immerse ourselves in Punjabi cuisine and cook with a family farmer. In the desert city of Rajasthan it gets even spicier and we get to know very special ingredients. Then we make a jump to South India. In Kerala we will experience what you can do with rice, use coconut and also be instructed in Ayurvedic cooking.
Meat and fish eaters, as well as vegetarians, will get their money's worth on this trip. Finally, India is known for its phenomenal and varied vegetarian food.
We learn how to prepare spicy and creamy curries, are introduced to the art of Dal cooking, and get to know both the Tawa pan and the tandoor oven. We will cook juicy meat and fish dishes, bake a variety of Indian flatbreads and be instructed in the art of Indian sweets preparation. We get to know and cook a wide variety of Indian breakfasts and snacks and after the two weeks, we know everything about spices and spice mixtures.
Tour highlights:
Trying the most diverse and best Indian dishes in five different states (vegetarian and non-vegetarian)
Dine in world-class Indian restaurants
Many cooking courses with the Indian chefs at home
Visit markets, spice gardens and plantations
Experience and taste Indian sweets and street snacks
Visit the main attractions: India Gate, Golden Temples, Jantar Mantar, Palace of Winds, Taj Mahal, Amber Fort, Mehranghar Fort, Fort Kochi, Tea Museum
Many Activities: Bike Sightseeing, City Walks, Boat Ride in Perijar Reserve, Kayak Tour, Beach Visit, Tea Plantation Walk
Program
Day 1 Arrival Delhi with surprise dinner
We pick you up from the airport and bring you to your hotel. Today is the day of arrival and recovery from the journey. Depending on the arrival time, we will take you on a small market tour in Delhi, we can visit some sights and end the evening with a first very special dinner together at Connaught Place. -/-/A
Day 2 Delhi food tour with evening Mughlai cooking class
In Delhi alone you could probably fill up two weeks to experience the various culinary highlights of the city!
Today our culinary trip to India officially starts with an excellent breakfast, where we get a good overview of what is eaten for breakfast in the different regions of India. We can also look into the pots of the chefs during "live cooking".
Strengthened then it goes to Old Delhi.
Here we not only visit the largest mosque in India, the Jama Masjid, but also walk through the narrow streets of the bustling old town. We will visit the largest spice market in Asia and thus become familiar with the most important spices in Indian cuisine. Strolling along the famous Chandni Chowk, we will see small street stalls and candy shops everywhere.
In the Gurudwaha, the Sikh temple, we not only enjoy the peaceful atmosphere, but are also served sweet Indian chai.
Of course, a visit to the famous Parantha Walli Galli is a must. Crispy flatbread, so-called "parantha" with a wide variety of fillings is offered here, for which the alley is named.
After visiting Jama Masjid, we will have lunch at Karim's.
In 1913, Haji Karimuddin, the son of the Mughal ruler's royal cook in the Red Fort, opened the small eatery. Still known as "the Mecca of Mughal cuisine" a hundred years later, royal dishes such as Romali Roti, Seekh Kebab Burra, Ishtu, Korma, Mutton Pasanda and Sabzi Gosht are served to the "common man (and woman)".
We will also try our way through the fine Mughlai cuisine in Karim's and watch the nimble Roti bakers baking bread. Karim's is known for its goat and chicken dishes, but also prepares excellent vegetarian dishes.
To digest the rich food, a rickshaw ride through New Delhi with its wide boulevards, a visit to India Gate and the government district with a short walk through the Lodhi Gardens is a good way to go before we start our first cooking adventure.
After we have already tasted the creamy and fine Mughlai cuisine, it is time to swing the wooden spoons ourselves in the afternoon and be instructed in the secrets of vegetarian Mughlai cuisine. We cook: Dal Makhani, Makhmali Kofta, Jhatpat Shahi Paneer, Veg Plateau Biryani and Lachcha Pudina Parantha. F/M/A
Day 3 Flight to Amritsar
A visit to the Punjab region should not be missed on a culinary trip to India. We take a flight to Amritsar and visit the famous Golden Temple. Here, of course, we also pay a visit to the canteen kitchen and observe how free meals are prepared in gigantic pots for thousands of pilgrims. The chapati machine is also a highlight. Of course we will also try the dishes ourselves. In the afternoon we explore the city on a walk and are introduced to the secrets of typical Punjabi cuisine. F/M/A
Day 4 Rural Punjab
Today we drive out into the country to a farm family. We enjoy the peaceful village atmosphere. At the family home we learn how to prepare the famous Punjabi dishes Sarson Ka Saag, Makki ka Roti, Kadhi Pakodha and Masala Chaas on the local stove. In the evening we take the night train to Agra. After all, no journey should be complete without a train ride! F/M/-
Day 5 Agra Taj Mahal Sunset and Street Food Tour
We check into our hotel. After some rest at the hotel, we will visit the Taj Mahal and Cafe Sheroes for lunch. The nonprofit cafe is run by women who survived acid attacks. While we have a light lunch, the women tell their stories.
In the afternoon we will visit the farmers of the rural area of Agra by bike and end with a fantastic view of the Taj Mahal at sunset.
The day ends with a "Street Food Tour" through Agra, where we try a wide variety of Indian street snacks and chaats and end the evening with the famous butter chicken and naan at "Mama Chicken". Of course we also take a look at the professionals in the tandoor oven! There are also excellent vegetarian alternatives here. F/-/A
Day 6 Taj Mahal visit and explore Jaipu
After a leisurely breakfast (and maybe some pool time) we drive another four hours to Jaipur, the capital of Rajasthan. As we travel, we also switch from the creamy and rich cuisine of the Mughal and Punjabi to the slightly spicier vegetarian delights of Rajasthani fare.
For lunch we try a Rajasthani Thali – a plate with the most diverse dishes of Rajasthan.
We then visit the magnificent Amber Fort and the Block-Print Museum, as well as the Jantar Mantar Observatory and the Palace of Winds.
In the evening we visit a Rajasthani family and cook our dinner together. We learn Lal Mas, Gatta ka Sabzi, Kadhi, Kachori, Kher Sangri, Sogra and are surprised with a Rajasthani sweet. F/M/A
Day 7 Bike sightseeing and local breakfast
We take a morning bicycle sightseeing tour and visit the highlights of the city of Jaipur and get an impression of the life of the people. Visit the Vegetable Market and Yoga Park, the famous Candy Maker, the Marble District and Temple, Jaipur's best Lassi and the City Palace Complex. The tour ends with the typical Rajasthan dish "Dal Bati Churma".
After the filled morning we enjoy the relaxing five hour drive to the blue city of Jaipur. On a roof terrace with a view of the Blue City and the Mehranghar Fort, we try our way through the further variety of Indian dishes. F/-/A
Day 8 The Blue City Jodhpur and Cooking Class at Rekha
A day in the blue city with a visit to Mehranghar Fort, the clock tower market and a city walk. We also visit a special spice shop, where a small gift basket with excellent spice mixtures is waiting for you. For lunch we enjoy an excellent lass with typical street snacks.
In the afternoon, Rekha awaits us for the final cooking in North India.
Here we cook the most popular dishes from northern India and also cater to your desired dishes. Rekha is a wonderful cook and teaches us the best recipes. F/M/A
Day 9 Flight to Kerala, South India
Upon arrival in Kochi, we drive to the small peninsula of Fort Kochi, known for its colonial heritage and culture. Here we live in a wonderful homestay with a local family. To kick off the South India culinary tour, we will visit a local restaurant at the port with the famous Chinese fishing nets to enjoy a special Kerala dinner with the best of vegetarian and non-vegetarian dishes. F/-/A
Day 10 Tour of the colonial city of Fort Kochi and evening cooking class
In the morning we have a typical breakfast, prepared by our hosts, and embark on a detailed sightseeing tour of Fort Kochi. Once an important port and trading center, the city developed into a hotspot for numerous merchants from all over the world. The gradual blending of their cultures over the centuries has made Fort Kochi a unique city that is a must-visit. We will visit St. Francis Church, the original burial place of the great explorer Vasco da Gama. We visit the Mattanchery Palace, also known as the Dutch Palace, and the market. We reach the Jewish town and visit the synagogue there. Continue to Dhobi Khana where we will visit the public laundry and the laundry community that has worked here since colonial times. Afterwards, we head to Kayees Restaurant (established in 1948) for lunch, known for its authentic Malabar Biriyani. In the afternoon there will be a cooking class with our homestay, followed by a dinner with dishes like aviyal, thoran, fish curry and sweets of the typical Kerala cuisine. F/M/A
Day 11 The tea plantations and spice gardens of Munnar
Breakfast includes puttu (steamed cylinders with grated coconut) and kalada (black chickpea curry). We board our vehicle to drive to the tea hills of Munnar. The cuisine in the hills differs from that on the coast, also in the way of cooking and the ingredients. We visit a local vegetarian restaurant and taste ghee/masala roast dosai/uthappam/curd rice and filter coffee accompanied by sambar (a flavorful lentil broth) and coconut chutney. Dosai (crispy pancake made from fermented rice and chickpea batter) is considered one of the healthiest foods to eat any time of the day. After lunch we drive to the Tea Museum to learn more about the history of tea planters. We will explore the plantations and taste different types of tea. We drive to a tranquil eco-resort blessed with natural beauty. Here we will join the hosts in the kitchen to observe the preparation of various Kerala vegetarian and non-vegetarian dishes, prepared with locally grown vegetables and fresh spices. F/M/A
Day 12 Through the wilderness to Thekkadey
In the morning we can take a village walk through the plantations to learn about the local farmers and the crops and spices they grow. Upon our return, we take a quick peek into the kitchen to see the chef preparing steamed idlis and sambar. After breakfast we drive into the wilderness to Thekkady where the epic Banana Leaf Sadhya awaits us for lunch. It consists of numerous small vegetarian dishes. These include Avial (mixed vegetable dish in coconut and yogurt sauce), Thoran (dry vegetable dish with coconut), Erissery (pumpkin in spiced coconut sauce), Mango Pickle (mango pickled in vinegar and salt), Pappadam (fried batter made from black chickpea flour), Payasam ( vermicelli cooked in milk or coconut milk).
After a hearty lunch we will take a boat tour in the Periyar Nature Reserve. The biodiverse reserve is rich in flora and fauna and is home to 35 species of mammals, including the majestic Bengal tiger and Asian elephant, and more than 260 species of birds, including the great Indian hornbill. With a bit of luck, we will see some of the animals.
Afterwards we will prepare together the simple dish Biriyani, with raita and pickles. The origin of the dish is in Persia/Arabia and it is believed that the ancient traders brought the recipe to Kerala. A complex blend of spices, rice, ghee and meat or vegetables, the delicious dish was used to feed military warriors. B/L/D
Day 13 Alleppey Backwater Canal System
After breakfast with our host family, head to the Spice Plantation for a guided tour of the native spices for which Kerala is famous. Then it goes into the level to the backwaters. The main occupation in this area is agriculture and fishing. We stop at a famous restaurant to taste the Malabar Porotta (Fluffy Dough Cakes) with spicy hot dishes while sitting by the green rice fields. Upon reaching our backwater homestay, we will take a village walk and taste tea and delicious fried snacks at a local tea shop. In the evening we will prepare the complicated Malabar Porotta in a cooking class. There are also nadan kozhi (chicken curry), karimeen mappas (pearl fleck fish curry in coconut milk), Kerala shrimp curry, dal, okra fry, and pachadi, a pineapple dish. F/M/A
Day 14 Kayaking the backwaters and beach resort at Marari Beach
There is appam/idyappam and vegetarian coconut stew (kurma) for breakfast. We can watch the preparation. In the morning we go kayaking to enjoy the golden sunlight on the winding backwater channels. We visit a local church and see flocks of croaking ducks, fishermen with their fresh catch, toddy tappers climbing the coconut tree and children taking a bath before school. Also, during the kayak tour, we visit the toddy shop for lunch, where the farmers relax and enjoy the refreshing alcohol drink toddy made from coconut sap. The toddy shop's signature hot and spicy foods are prepared in earthenware vessels and pair well with fresh toddy. We'll try boiled tapioca with fish, roast kuttanad duck, fish stewed in banana leaves and stuffed with spices and coconut milk, and fried mussels or fried anchovies for lunch. We will also try other dishes in the from the smoking kitchen.
Then we head to our next destination, Turtle Beach Ayurveda Beach Resort.
On the way we will stop at a snack shop in the city center where we can see different kinds of snacks and sweets being made. These include banana chips, jaggery-covered banana chips, rice halwa, spicy snacks, and many other delicacies.
Arrived at the resort, there is time for a dip in the sea, relaxing at the pool or beach or an Ayurvedic massage.
In the evening we enjoy the hotel buffet. F/M/A
Day 15 Relaxing day at the resort with Yoga and Ayurveda
Today we enjoy a day filled with Yoga and Ayurveda. The day starts with a yoga class. In the morning you can relax or you can take part in a small lecture on "Ayurvedic cooking" before we take part in an Ayurvedic cooking course in the resort.
In the afternoon we visit the fishermen on the beach and after sunset we watch Kalarippayattu, a traditional martial art believed to be 3000 years old.
We end the last day of the trip comfortably in the resort. F/M/A
Day 16 Departure
It's time to say goodbye to India. But you will certainly take many travel impressions and even more Indian recipes home with you.
We take you to Kochi Airport.
Included services
All accommodation in good to very good hotels, resorts and homestays
all transfers including 2 domestic flights and a train ride, otherwise in the vehicle with driver
German-speaking tour guide
Full board, except for three lunch meals: F: breakfast, M: lunch A: dinner (excluding drinks)
all mentioned cooking classes
all mentioned activities with entrance fees and fees
Spice mixes
Travel insurance certificate
International flight
Visa
private expenditure
unmentioned meals and drinks
Tips (approx. 50 €)
Highlights
Prices and Dates
Fixed Dates
14.10.2023 – 29.10.2023
24.02.2024 – 10.03.2024
12.10.2024 – 27.10.2024
Private trip from 2 participants: 3100 € per person
from 4 participants: 2400 € per person
from 6 participants: 2200 € per person
Single supplement: 500 €
This trip is possible as a private trip at any time
Travel info
requirements
India is a very intensive travel destination with many impressions. During our explorations and visits we are in "real India" with all its intensity. Please be prepared for this.
Otherwise, the journey will be very pleasant without great physical requirements. You should be interested in cooking, spices and meeting people.
Accomodation
We live in beautiful and well-kept hotels, resorts and guesthouses. Especially the overnight stays in the family-run guesthouses, the so-called "homestays", are a particularly nice experience, as one gets a little closer to the life of the locals here.

getting there
Please book multi stop flight to and from Delhi Airport and Kochi
Frequently asked questions
Do I need an adapter in India?
no, an adapter is necessary, since most of the time no other plugs are used in India. More information here.
How is the climate?
The climate is dry warm to subtropical. In July/August is monsoon season, which manifests itself in short showers. The best time to travel is October to March. In northern India, it can sometimes get chilly.
What language is spoken in India?
The official national languages are English and Hindi. In Kerala, however, Malayalam is spoken. In addition, there are numerous regional national languages, all of which differ in word and writing, and there are also over a hundred dialects.
Is there a time difference?
Yes, there are: India versus Germany (CET) + 4.5 hours, during European daylight saving time it is + 3.5 hours.
Notes on money/currency:
The local currency rupee may not be entered or exported. Travellers wishing to import more than 5000 cash or traveller's cheques must indicate this on the currency declaration form you receive upon your entry. We recommend taking euros with you. It is easily possible to exchange money in hotels or banks and bureaux de change, with the exchange rate being uniform. It is recommended to keep the receipt to ensure a return at the airport. International credit cards are accepted by most hotels in major cities and tourist centres.
Notes on "additional costs" and tipping:
For the meals, drinks and snacks that are not included in the travel price, you should calculate approx. 5.00 (euros) per meal.
Tips are a voluntary service, which everyone should decide for themselves. Please note, however, that tipping is common in many cultures and is an important part of income due to the relatively low wage level. As a rule of thumb, 5-10% of the invoice amount is appropriate. India is a travel country where a tip is expected for each service. Be it the luggage carrier, the service staff in the restaurant and hotel, for the toilet or the rickshaw ride.
Vaccination instructions:
There are no vaccination regulations for direct entry from Germany. The Foreign Office recommends checking the standard vaccinations when travelling to India. These include vaccinations against tetanus, diphtheria, pertussis, polio, mumps, measles, rubella and influenza, as well as pneumococci.
Vaccinations against hepatitis A and typhoid, long-term stays or special hazards are also recommended for travel vaccinations against hepatitis B, rabies, meningococcal meningitis ACWY and Japanese encephalitis.
Please keep in mind that vaccination regulations may change in the short term. In addition to the family doctor, individual information is also provided by the health offices or tropical institutes.
Further information at www.auswaertiges-amt.de or www.crm.de
What equipment should you think of?
Passport
Printing of the electronic tourist visa (e-TV)
Cash/EC card/credit card
Photocopies of the most important documents (keep separate from originals). Send a copy of the PDF to your own email in advance
Travel
Day backpack (approx. 25l volume if possible with integrated rain cover) for food and drinks on the go
light sneakers or sandals (to air out your feet)
Wind and rain protection (e.g. breathable rain jacket)
Long trousers and sweater/jacket (for the evening and/or rooms with air conditioning)
Handkerchiefs (possibly also wet handkerchiefs for body hygiene)
Don't forget your photo equipment
bathing suits, bath towel
Sunprotection and headgear (cap, hat or headscarf, sunglasses, sunscreen)
Travel pharmacy, first aid kit, possibly personal medications, insect repellent
appetite
Notebook
Two Week Culinary India Tour