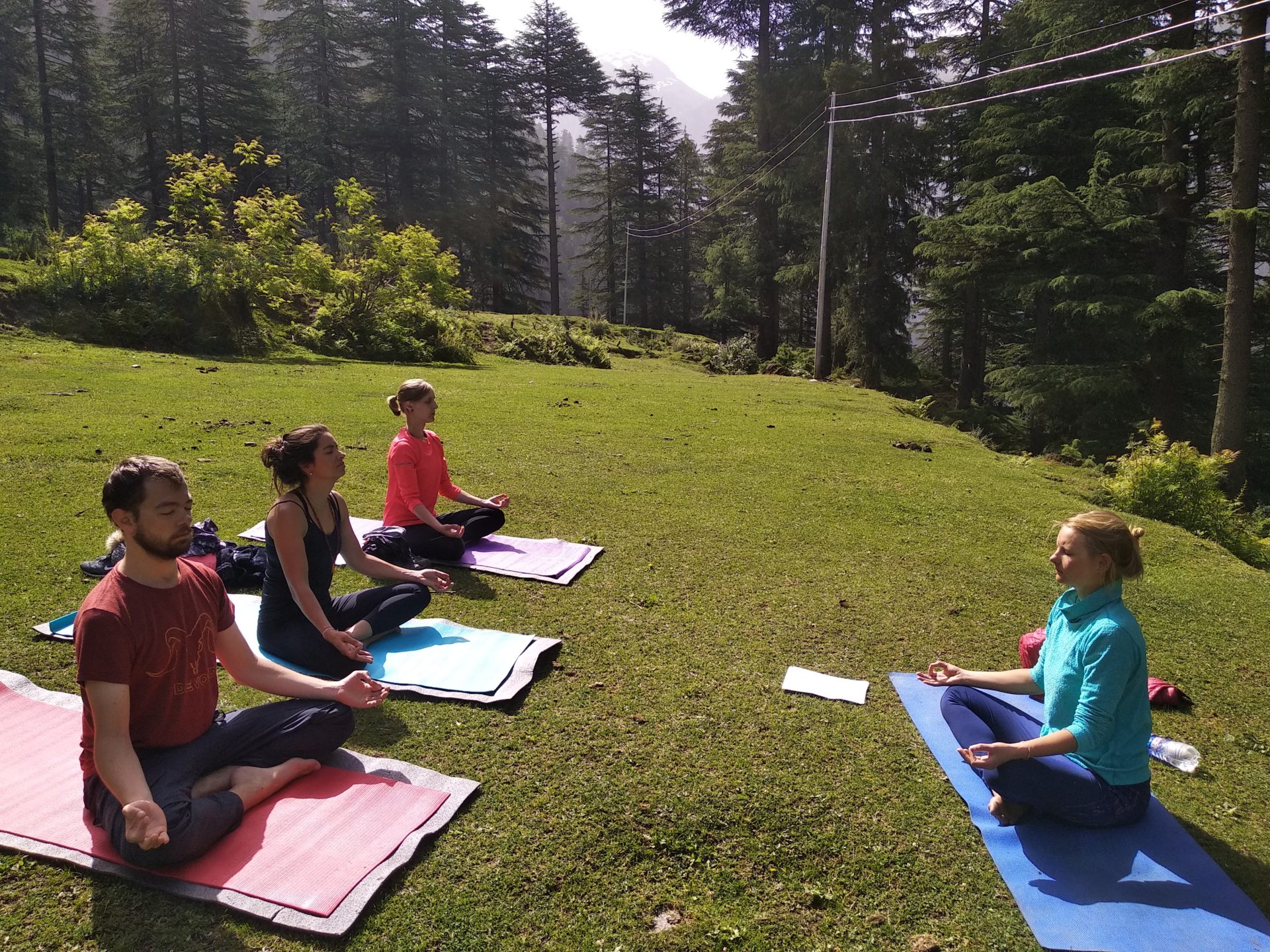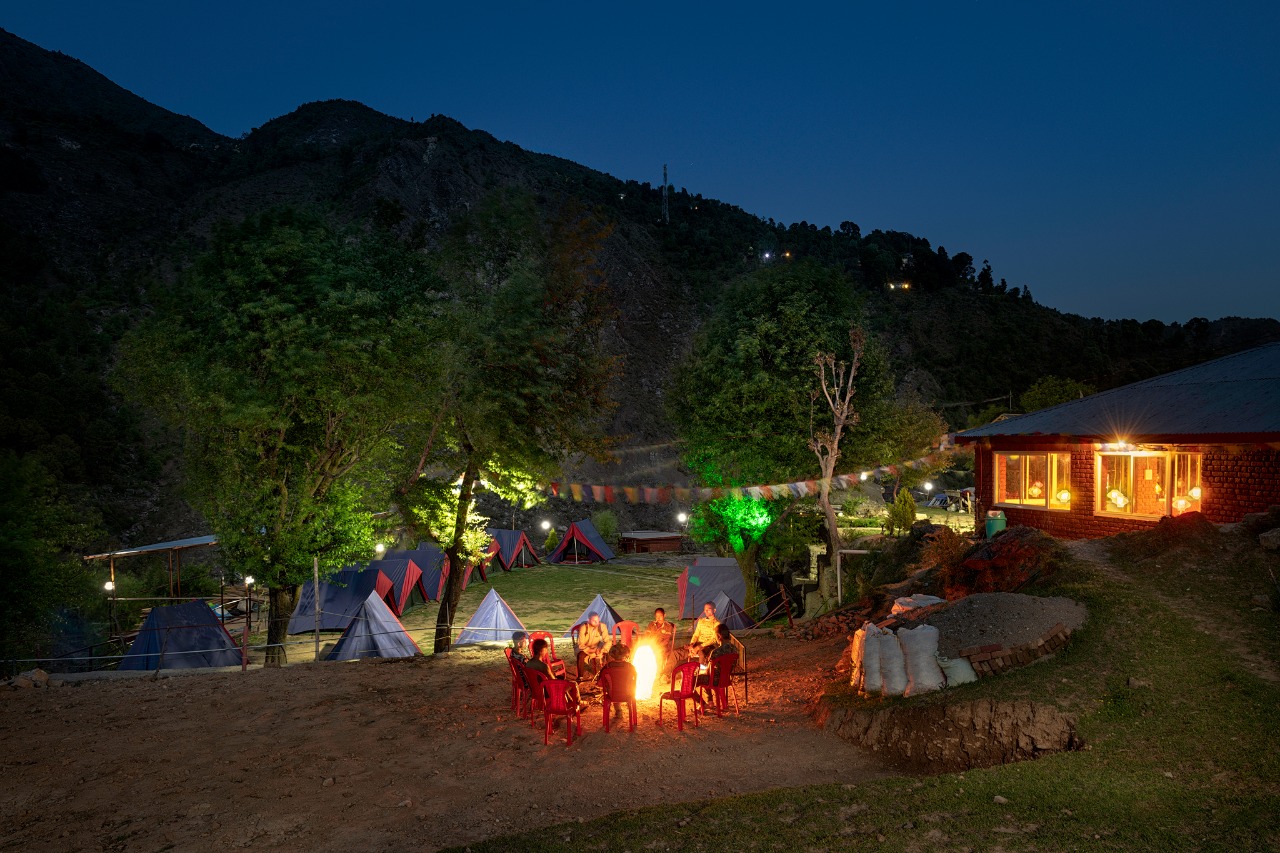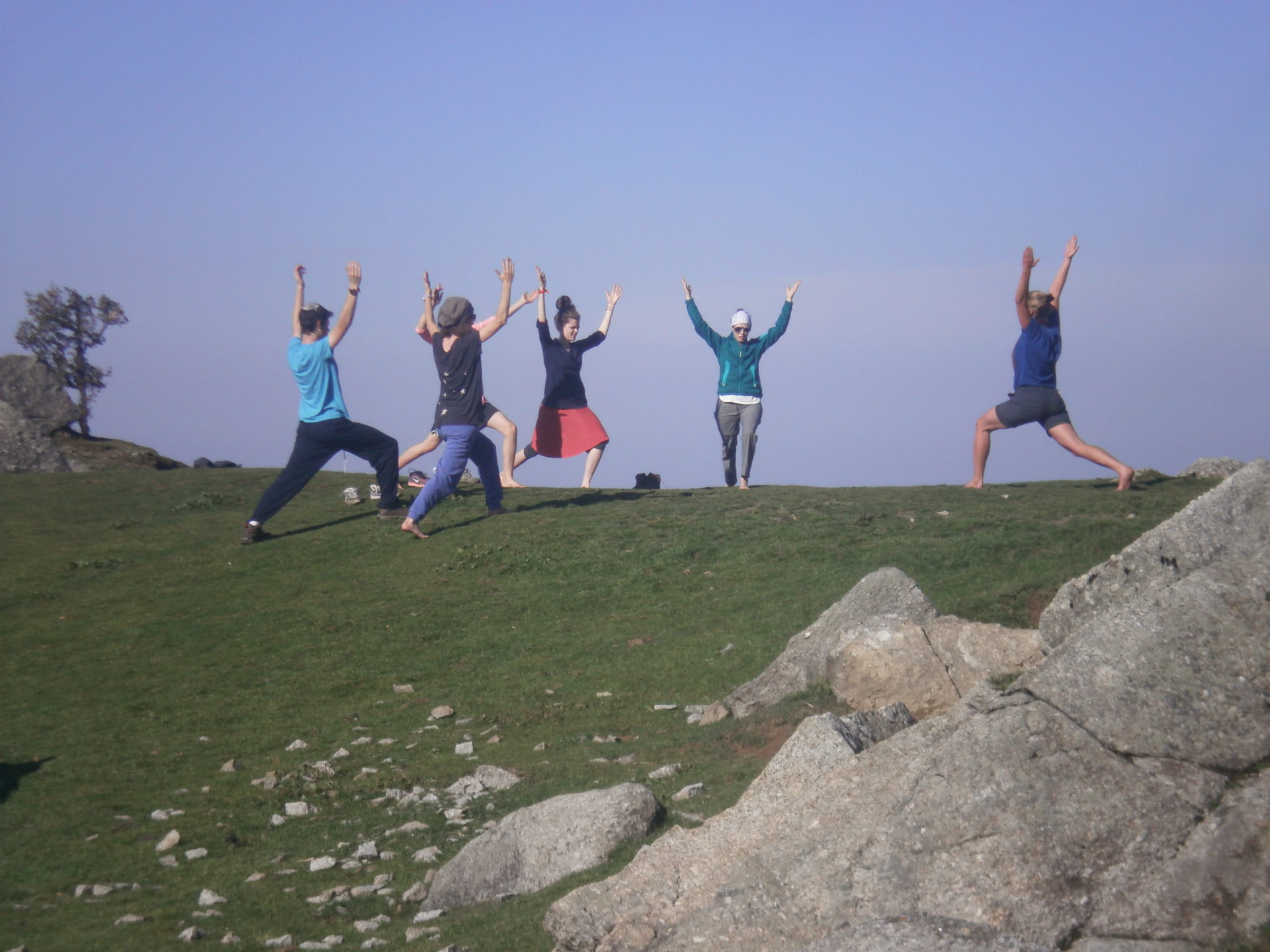 Overview
This yoga camp nearby Dharamshala is for those who like to practice yoga in the Indian Himalayas, who love nature or might be on a lower budget.
You can choose between staying in a tent or in a small hut or tree house.
In the morning you wake up through the nearby sound of the stream and the singing of the birds. The daily yoga classes take place on our green camp lawn, surrounded by snow-capped mountains.
The camp is the ideal place for some peace and relaxation. We will also set up a small massage centre where you can enjoy daily Ayurvedic or Tibetan massages.
The food is freshly prepared by our own camp chefs. It is served as an Indian-vegetarian buffet.
In addition to the daily 2 yoga classes, we will also offer daily a 2-hour workshop on various topics such as:
Pranayama
Meditation
Philosophy
Mantra
Yoga Lifestyle
Cooking
Ayurveda
Mudra

Our evening program consists of Kirtan, Satsang, Meditation and more. We also invite guest teachers for the workshops and evening events. For some yoga classes, we will also visit other yoga schools nearby, so you can experience a variety of yoga styles in India.
The small Tibetan settlement of Mcloed Ganj is just 1.2 miles away from the Camp. This is where the Dalai Lama and other Tibetan refugees live. Here we will visit the Dalai Lama Temple and the Meditation Center Tushita. The nearby villages of Daramkhot and Baghsu invite for small walks. Mcleod Ganj is a tourist destination with nice little cafes and restaurants.
Our two-week yoga camp also includes a three-days hike to the snow line at 3300 meters. We will stay in idyllic camps and enjoy yoga, pranayama, mantras and meditation every day in the nature. The three-days tour is moderate and doable for everyone with a normal fitness level. Of course there is always the option to stay in the camp.
Program
Day 1 Arrival in Delhi, transfer to hotel
Day 2 Day in Delhi with a visit to a non-profit NGO and a yoga session with the children. Afterward Iscon temple visit with Arti (fire ceremony). In the evening night bus to Dharamshala (10 hours drive overnight)
Day 3-13 Yoga Camp
Daily schedule:
7:00-7:30 am Meditation
7:45-9:15 am Yoga class
9:30 am Breakfast
11:00 am -1:00 pm Workshop
1:30 pm Lunch
2:00-4:00 pm Free time
4:00 pm Tea
5:00-6:30 pm Yoga Class
7:00 pm Dinner
8:00 pm Evening program
Within the two weeks we will have a 3 day/2 night hike to the mountains with yoga classes in the morning and evening.

Day 14 In the evening night bus (10 hours) back to Delhi
Day 15 Arrival back to Delhi, rooms in Delhi for the day, departure
Services
2 nights Hotel Delhi with breakfast
all transfers
City tour in Delhi with transport and lunch in NGO
Bus Delhi-Dharamshala/Dharamshala-Delhi
12 days/11 nights stay at the camp in two-man tents with 3 vegetarian meals, free water and tea
within these 12 days 3 days yoga trek (all equipment, guide, staff and meals included)
12 days yoga camp with daily 2 yoga classes, a workshop, daily meditation and an evening program
small excursions
Yoga instructor/tour attendant
International flight
Visa
unmentioned meals
Highlights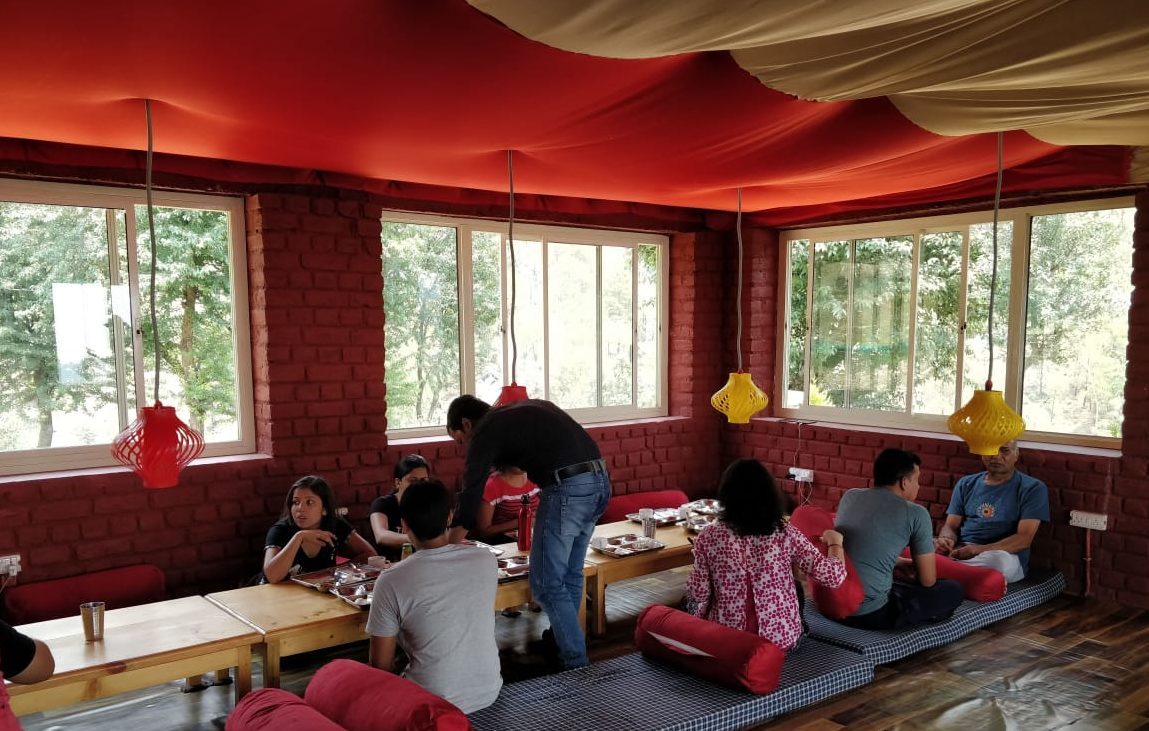 Prices and Dates
Fixed date:
no fixed dates, as private tour possible, please inquire
Price per person: 1200 € (4 to 16 participants) Supplement for single room/tent: 200 €
Extra:
Stay in a cottage with attached bathroom: 150 € extra
Stay in the tree house with connected toilet: 100 € extra
Arriving by plane: 2 ways 150 € extra
Guests can also participate for a shorter period of time or join a 7-day yoga trek. Please contact us for more information.
Tour Info
Requirements
Please be prepared for a simple but clean tent and cottage accommodation with shared bathrooms. Almost all activities take place outside. The yoga classes are suitable for all levels.
Further Information
Teachers
Retreat leader and yoga instructor: Sarah and Noor
Yoga Camp
The camp is 2 km below Mcloed Ganj.
There is a dining room, which is also suitable for lectures and lessons in rainy weather.
Participants have the choice of staying in simple but spacious tents, huts or tree houses.
While the cottage has an attached bathroom and the tree house has an attached toilet, 10 common and clean sanitary facilities and 10 shared toilets are available.
All accommodation options are offered in double occupancy. Individual stays are possible.
What to bring
Recommended list:
Loose and light clothing (knee and shoulder covered, preferably white or bright colours), all garments are available in Mcleod Ganj
a scarf or cloth
thick socks
Sweater, Jacket, Head
Walking shoes
small backpack
Flip-flops/sandals
Towels
Sunglasses
Toiletries (sunscreen) and small medical equipment (in Mcleod Ganj you can get everything)
Passport (copy), credit or ATM card, some cash in your currency (approx. €50-100),
Mobile phone, camera, charger (no adapter), maybe laptop
notebook, writing material
a lot of curiosity and excitement
15 Days Himalaya Yoga Camp