Yoga Reisen
Ayurveda Retreats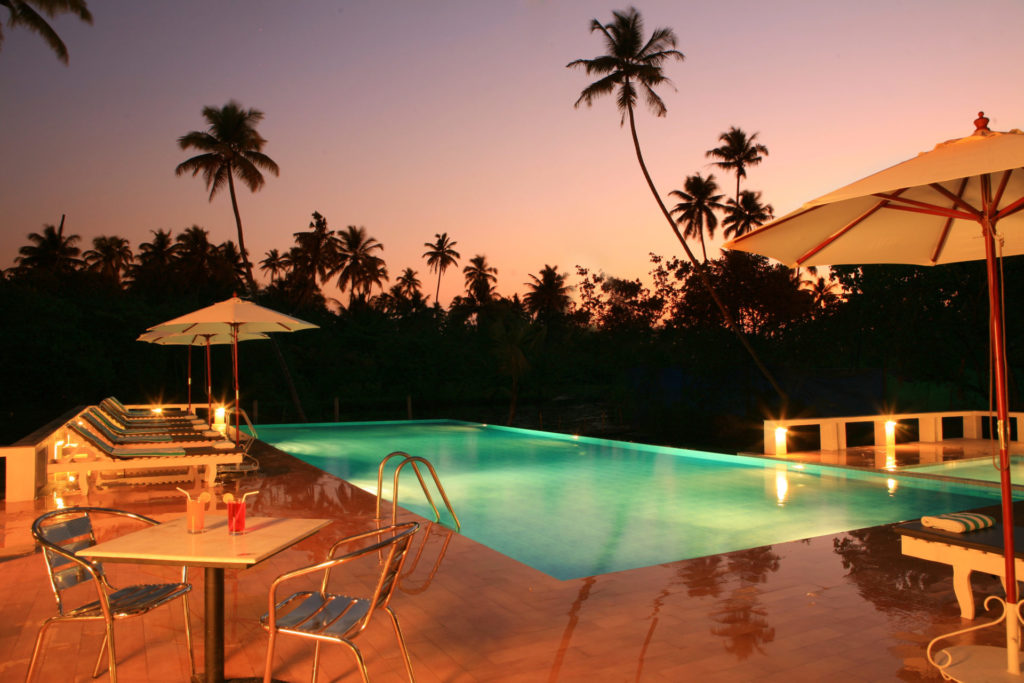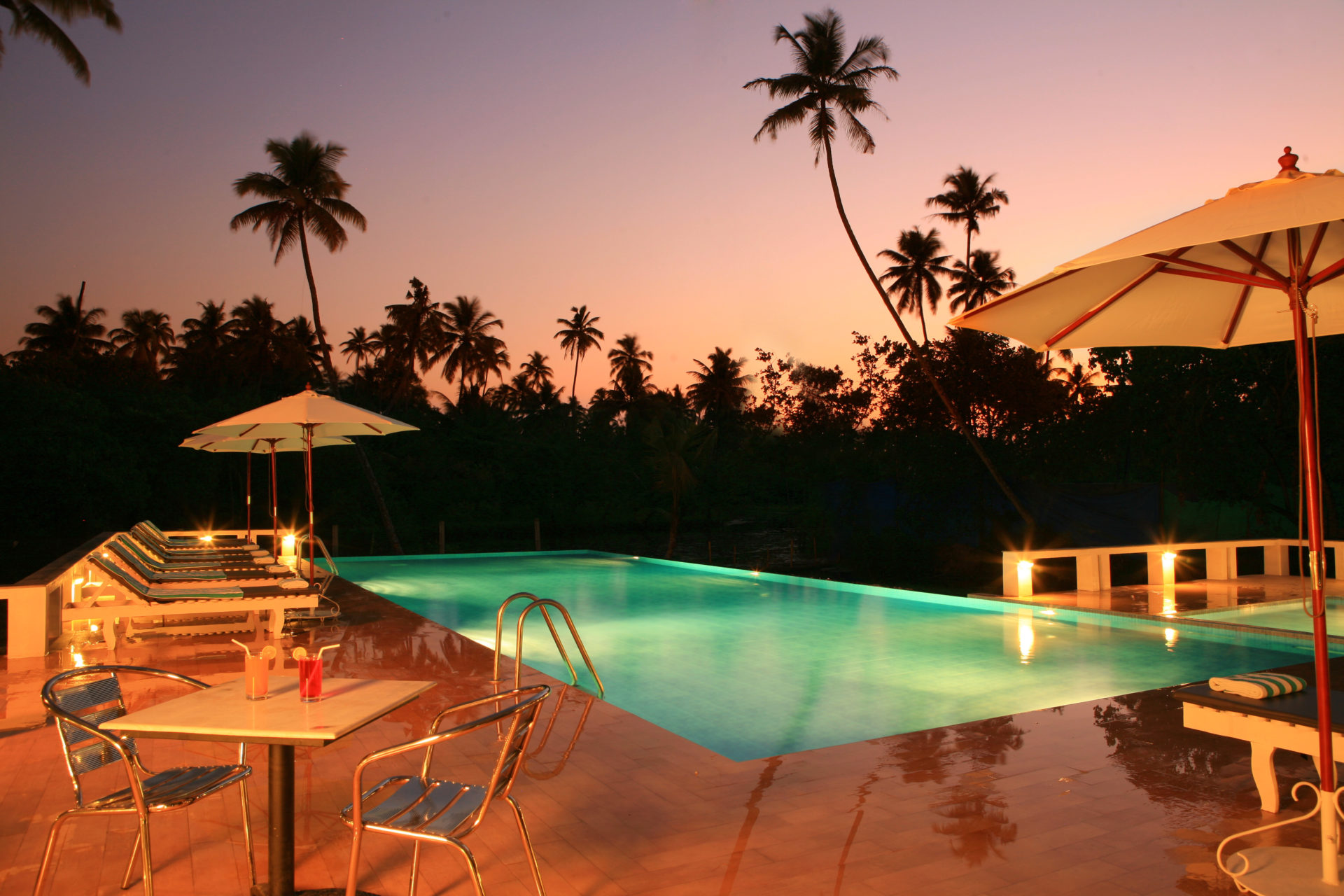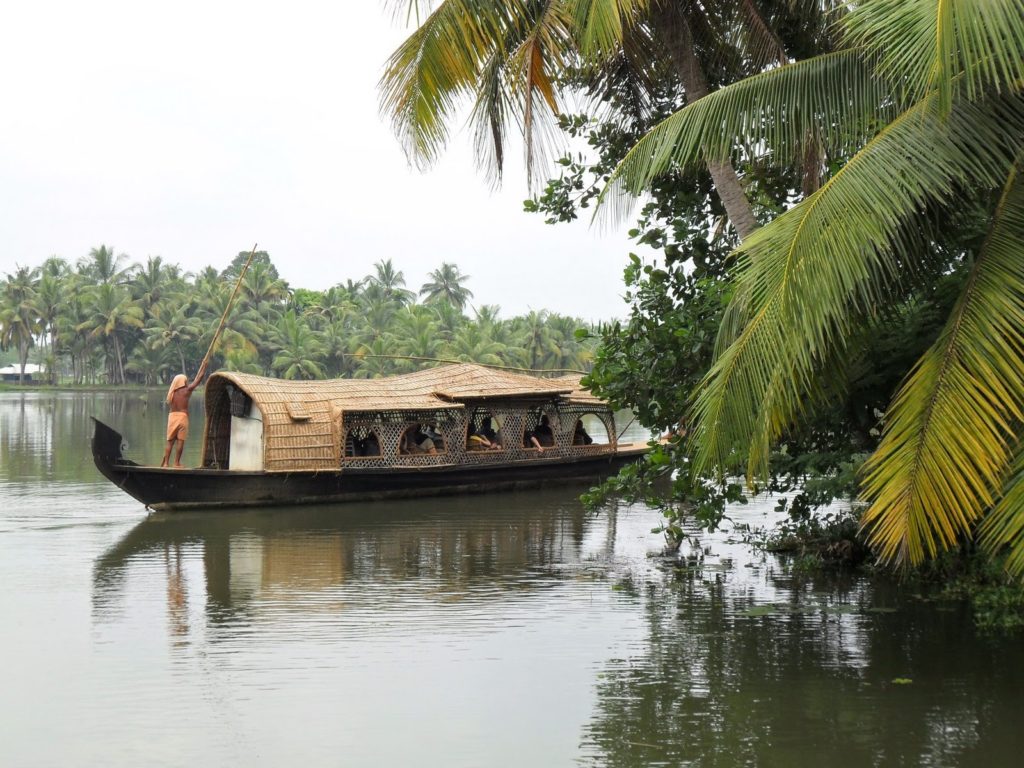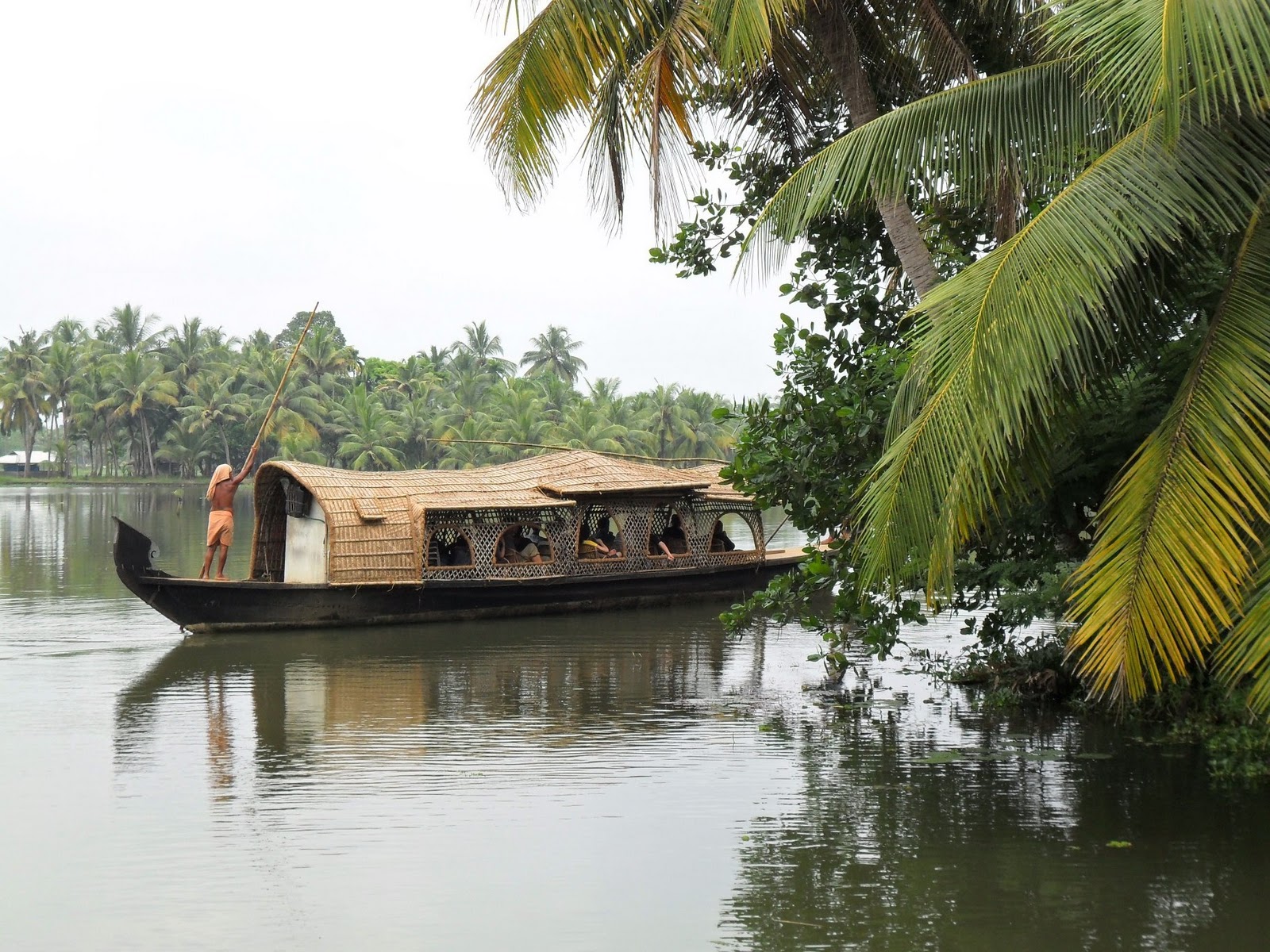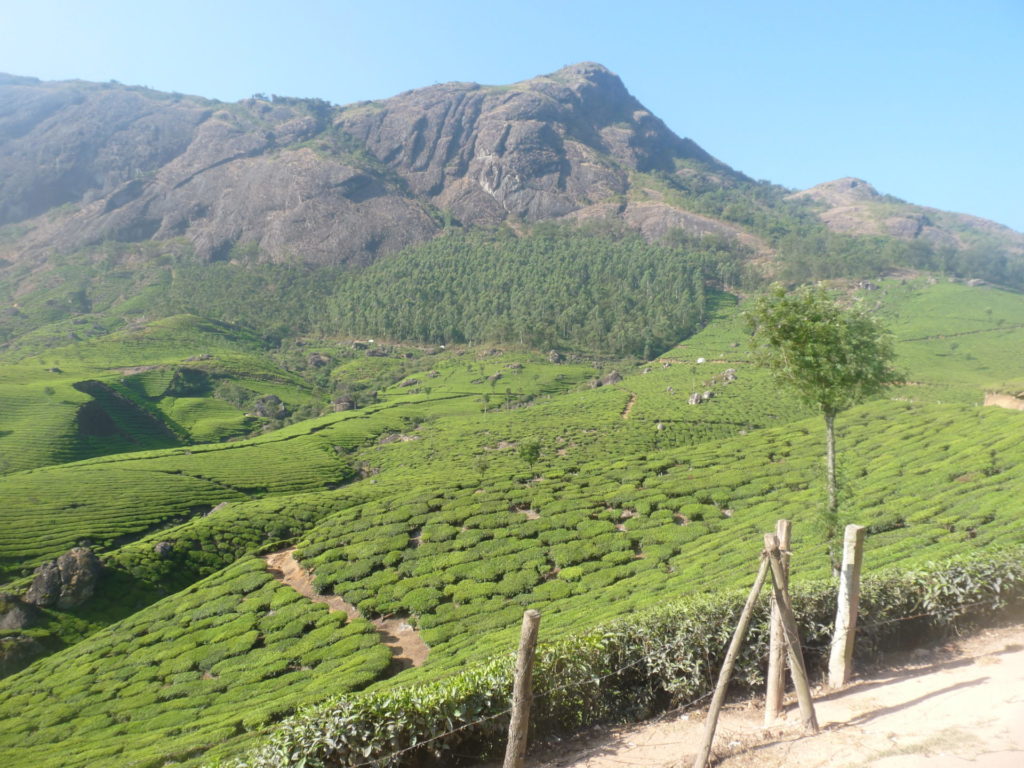 Overview
A white sandy beach, green palm trees, small fishing villages – at the Marari beach in Kerala, time seems to have stopped. Here, right on the Arabian Sea, in a green oasis of palm trees and Ayurvedic medicinal plants, our Ayurveda Resort is located. The small bungalows are comfortably furnished, the Ayurveda area, pool, the outdoor restaurant and the yoga terrace are all located on the property within a short walk distance. The wide sandy beach borders directly on the resort.
The Marari Turtle Beach Resort offers the perfect space for a relaxing holiday week with daily yoga classes, Ayurvedic treatments and healthy Ayurvedic food.
But before the Retreat, we will on a week long tour to get to know the palm state of Kerala. We will wander through tea and spice plantations, perhaps spot wild elephants, visit the coastal town of Fort Kochi and take a overnight houseboat tour through the backwaters. Of course, the daily yoga classes will not be missed.
With Sarah, our experienced tour guide and yoga teacher, we will have wholesome Yoga classes and will get to know the beauty of Kerala and it's inhabitants.
Sarah herself has lived in India since 2009 and has completed various training courses in yoga here. She teaches a combination of hatha, flow and traditional yoga, with a strengthening asana practice, relaxed pranayama and deep meditation.
About the Resort:
The two daily yoga classes in the morning and evening give the structured daily routine in the resort a nice setting. In between there are three healthy Ayurvedic meals and a daily Ayurvedic treatment, with a consultation of the Ayurvedic resort doctor at the beginning of the week. The afternoon is meant for relaxation on the beach or at the pool.
Program
Day 1 (Saturday) Departure from Home
Independent journey to India by plane from Home
Day 2 (Sunday) Arrival in Cochin/Kerala
You will land at Cochin International Airport and will be welcomed by your tour guide Sarah Appelt and taken to the hotel on the small island of Fort Kochi (2 hour transfer)
After some rest, we will explore the small Portuguese-influenced old town and end the day with a dinner together. Hotel (-/L/D)
Day 3 (Monday) Drive to Munnar
After breakfast we set off for the four-hour drive up to the Westherngaths to Munnar. We move into our accommodation and meet in the afternoon for a first yoga class. Homestay (B/-/D)
Day 4 (Tuesday) Hike through the Tea and Spice Plantations
Today we enjoy a day hike and at the same time learn a lot about the tea growing and the different spices. Everything grows here: from cardamom, to cloves and pepper to cocoa beans.
Also today we end the day with a yoga class. If you like, you can also visit a presentation of the traditional martial art Kathakali. Homestay (B/L/D)
Day 5 (Wednesday) Drive to Thekkadey with cooking class and spice plantation Visit
Four hours we drive to our next destination Thekkadey, where we are warmly welcomed by our Homestay owner Suresh. Later we visit a spice plantation to further deepen our new knowledge we gained yesterday. In the evening we take part in a fun cooking course. Homestay (B/-/D)
Day 6 (Thursday) Hike through Perijar National Park
Early morning we will start our visit to the Perijar National park. Here we spend the whole day as part of a hike and with a little luck, we will see the wild elephants. The evening free. Homestay (B/L/-)
Day 7 (Friday) Drive to Allepey and start of the houseboat tour through the backwaters
It goes back to the coast. In Allepey we board our luxurious houseboat to enjoy the canal landscape of the backwaters from the water. Houseboat (B/-/D)
Day 8 (Saturday) Leaving the houseboat and driving to the resort
We leave our floating home and head to our nearby Yoga and Ayurveda resort right on the beach. After some free time on the beach, a yoga class and a delicious dinner await us. Resort (B/-/D)
Day 9 (Sunday) – Day 14 (Friday) Ayurveda Beach Resort
Within these six days we will enjoy a regular daily routine with yoga and Ayurveda. Afternoon workshops are organised as well. Resort (B/L/D)
Our daily program:
7:00-8:30 am Yoga
9:00 am Breakfast
10:00 am -1:00 am Ayurveda treatments with doctor consultation on Monday
1:30 pm Lunch
2:30-5:30 pm Rest and relaxation. Participation in workshops or additional Ayurvedic treatments
5:30-7:00 pm Evening Yoga
7:30 pm Dinner
Day 15 (Saturday) Departure
Depending on the departure time, after a last morning yoga session and breakfast, we will embark on a two-hour return trip to Cochin Airport. (B/-/-)
Services
seven-day round trip through Kerala
5 nights in hotels and homestays with breakfast
1 night on a houseboat with breakfast and dinner
Private vehicle with driver
1 x Cooking Class
1 x Spice plantation
2 x day hikes with breakfast and lunch
one yoga class per day
Transfer Airport
7 nights at Ayurveda beach resort in a double room in the beach cottage
Full board (buffet), fruit meals in between and one bottle of water daily
6 Ayurvedic treatments in the Ayurveda oasis, at least one consultation with the Ayurvedic resort doctor
2 x daily 1 1/2 hours of yoga (except on arrival and departure days, as well as excursion days)
daily workshops
Visa
International flight
unmentioned meals (B: Breakfast/L: Lunch/D: Dinner)
Activities not mentioned in services (admissions, performances)
Highlights
Prices and Dates
Fixed Date:
23.12.2023-06.01.2024
2850 € per person (Peak Season Price during Christmas and New Year)
Single supplement: 500 €
This trip is also possible as a private trip with free choice of dates and your own travel wishes. Please make an inquiry by email.
Tour Infos
Requirements
Yoga and Ayurveda Holidays for Everyone. The Level of the Yoga Classes are adapted to the levels of the students
Further Information
The Marari Turtle Beach Resort
Our beach resort is located directly at the beautiful Marari beach, 50 km from the port city of Cochin. There are 29 well-equipped beach cottages on the 13-acre complex. All cottages are air-conditioned, have a safe, telephone connection, TV, fridge, and kettle. Wi-Fi is available throughout the area.
Despite the size of the resort, the atmosphere at the resort is very familiar and you will quickly feel at home. The resort is adjacent to its private beach and also features a large swimming pool and an open-air restaurant.
Yoga Classes
Our yoga teacher Sarah lives in India since 2009 and has also learned Yoga here. She has an 1000-hour certification with the Yoga Alliance in Hatha Yoga and Traditional Yoga, and Yoga Therapy. In addition, she took courses in Shivananda, Ashtanga, Yin Vinyasa and Kundalini Yoga and continues to train. For several years she has been leading yoga retreats in Indian yoga ashrams, conducting yoga trips in India and giving workshops in children's yoga.
She designs her classes according to the needs of her students. She combines strengthening asanas with soothing pranayama and deep meditation.
Yoga Workshops
Several times during the retreat, workshops with various themes are offered: "Yoga for a strong back", " Be your own yoga teacher", "Sun salutation", "Right yoga with shoulder and neck problems", "Meditation techniques", "Mudras- not only simple hand gestures" and "Yoga and breathing" and many more.
Ayurveda Treatments
The resort has its own Ayurveda wellness oasis with in-house Ayurvedic doctors and an excellent wellness team. Guests can enjoy an Ayurvedic massage or other Ayurvedic treatment once a day. A whole Pancha Karma is also possible for a small surcharge.
Climate
From November to March it is pleasantly warm and you only need light clothing. On most beaches of Kerala you can swim in normal swimwear. At remote beaches, it is advisable to put on a T-shirt. Women in particular often attract unwelcome glances from local and Indian tourists, as it is not common for women in India to show too much skin. From March, temperatures will rise and it will be humid, so you will sweat a lot and you should pay attention to drink enough. From June to the end of September is the rainy season and many seasonal accommodations and restaurants have closed. It rains quite heavily during this time.
Holiday Yoga Special: Round Trip followed by an Ayurveda Resort stay during Christmas and New Year