A report about my three-week stay at Arambol beach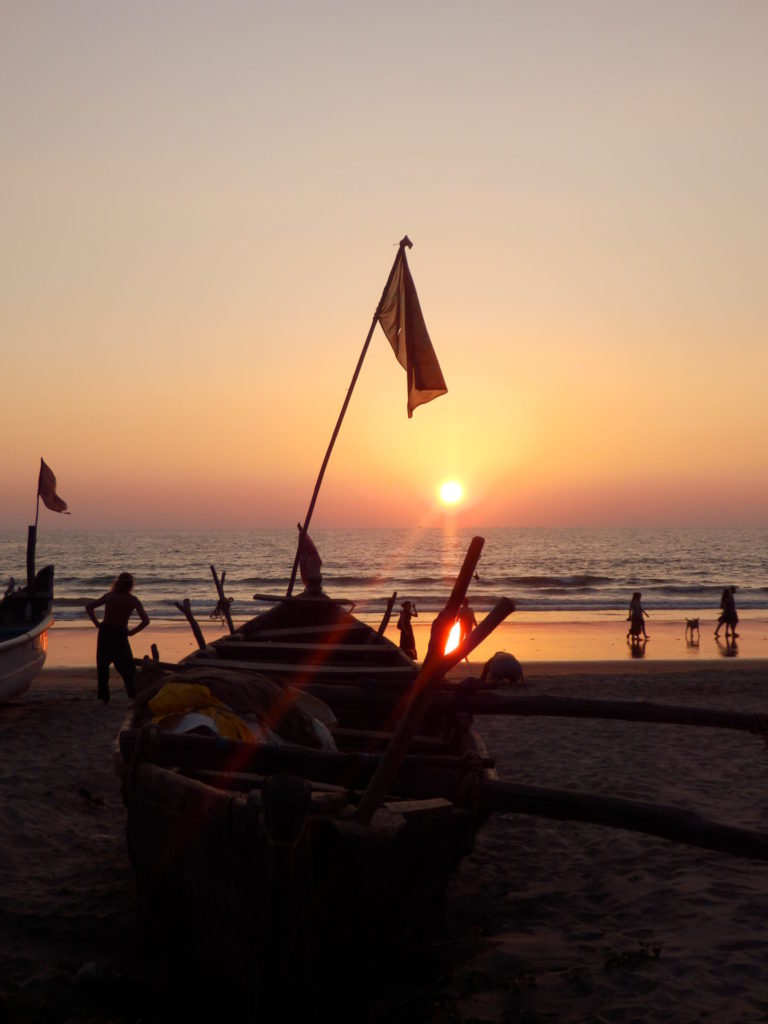 Among the 50 beaches in Goa there is the right one for each of us : there are the beaches for package tourists in Baga and Calangute with large luxurious hotels. Then there are relatively natural fishermen beaches like Benaulim without big parties but with water sports and dolphin sightseeing trips. There are beaches that Indian tourists prefer (Colva) and beaches dominated by the Russians (Morjim). In South Goa there are particularly beautiful beaches such as Agonda and Palolem, which invite you for a few relaxing days by the sea. But here, too, commerce is growing.
If you're looking for parties and hippy life, you're probably in good hands in Arjuna and Arambol. Aramabol is the northernmost beach on the border with Maharashtra.
Wait a minute? Hippy Life and Parties??? That's relly not my thing at all!! So what drove me to go to Arambol for three weeks?
Well, the reasons for this were manifold.
On the one hand, I have completed here my first yoga teacher training 7 years ago. Now I wanted to spend some time with one of my oldest yoga instructors to focus more on Asthanga Yoga. Moreover I was interested in participating in a nine-day course in singing bowls and mantra meditation.
Since I would go to Arambol alone, I liked the idea a) to go to a beach that I knew and b) to stay in a place where I also have many acquaintances. Most shopkeepers here spend half a year in winter during the high season in Arambol and then move to Manali, my former home, for the summer months. Whether the laundry lady, a restaurant owner or a hairdresser, I know them all :).
So I went to Goa in mid-February, after an intensive two-week Rajasthan trip. The warm weather, the tropical scent, the green palm trees and the sound of the sea immediately ignited the holiday feel in me.
In fact, even then, the arrival in Arambol was a small shock. Arambol was an artificial world consisting of shops, inns, restaurants and yoga studios. Not that much has changed in the last seven years, but perhaps I've spent too much time in "real India" lately. Because this place doesn't really have much to do with the original India anymore.
But perhaps it is also true that such a place can only be created in India? Indians are very business-minded and love good business: if there is a demand, Indians can serve them quickly and cheaply: fruit shakes, vegan cakes, seafront loungers, yoga classes, massages, rental mopeds, laundry service, apartments for rent? No problem at all – Sab Kuch Chalega, as they say so beautifully in Hindi.
In the first days, this "Hippi- Tourist" life is somehow fun for little money: go to yoga at a pleasant time in the morning, then have a mango lassi served with fresh fruit juice and "Israeli" breakfasts, then directly to the sea and after a pleasant bath lying on the free beach lounger. In the afternoon maybe a massage or a table tennis match or a round of chess? At sunset  back to the beach, here you will apparently meet everyone who is currently staying as a guest in Arambol.
What is going on here at this time is hard to describe: in small groups or alone, people dance, meditate, drum, sing or practice yoga. Long-term tourists have lined up on the beach to sell their homemade jewelry, energy balls, paintings or massages. In addition, Indians sell roasted corn cobs, sliced watermelon and ice cream at their stalls.
Once the sun has set, you can enjoy your fish platter at a table directly on the beach.
After a few days at the latest, you can quickly see also the different side: The beach is heavily polluted. Even if everything seems quite cheap, a day in Arambol with meals three times a day, can become expensive and without a moped there seems to be somehow no escape from this artificial world?!
I went to bed after dinner, like all those who have come to Arambol for a course (of any kind). For others, the real fun of parties, marijuana and tax-free alcohol only begins at night.
One might think that there is somehow a contradiction. Half of Arambol's guests are here for their spiritual development and take courses in yoga, meditation, massages and Ayurveda. The other half spends their time partying, beaching and lounging.
But these two extremes bypasses each other in some way. When one part gets up to go jogging on the beach or go to yoga class, for the other part the parties are just finished and they go to bed, sleep long and then get up sometime around noon, while the former group still has classes. Only for sunset at the beach, both groups meet and here they harmonize surprisingly well.
Overall, Arambol is a paradise for all those who want to develop in the fields of yoga, meditation and Ayurveda – whether in the form of a rigorous education or simply privately, taking part in a variety of classes.
So you can take part in an intense Asthanga yoga class, then listen to a lecture on Buddhist meditation, attend a fun acro yoga class in the afternoon or practice relaxing yin yoga, then end the evening with a Kirtan concert.
In Arambol you can learn to play harmonium, attend a course on Mala-knotting, become a meditation teacher, take a course in Iyengar Yoga or take a yoga teacher training in any path.
However, it is important to inform yourself in advance about the quality of the course when choosing your course. Because besides numerous very good and first-class schools and teachers, there are also a lot of charlatans who offer services that are just bad due to lack of competence. Because yoga and co has long been an excellently functioning business in India as well.
But once you have found a good school in Arambol, the place can really offer a quite pleasant environment. Of course, it can't be compared to being in an Indian ashram. But somehow it is great as well, if one can end an intensive day of classes relaxed on the beach at sunset, enjoy fresh fruits and also escape from"being a student" in a nice restaurant.
I myself liked my everyday life in Arambol very much over time. Every morning I went for a walk on the beach before my class or did yoga, during my lunch break I met with my harmonium teacher and in the evening I went to one of my favorite restaurants, where I was already eagerly awaited.
I wasn't sad to leave Arambol at the end of my course, because I was looking forward to my real Indian life and also to be able to make myself a muesli again without paying several hundred rupees in a restaurant. But these three weeks definitely had a recovery effect, allowed me to meet many new and old acquaintances and even the course, the harmonium and the yoga classes still have an effect.
For all those who also come to Arambol for a yoga teacher training or similar, heree the following recommendations:
Look for a room with a kitchen for which you pay a weekly or monthly rate. Maybe you will also find roommates with whom you can share an entire house or your course includes accommodation and food. Because believe me, going out for dinner is fun from time to time, but in the long run it is exhausting, boring and really expensive.
Rent a moped during your stay. So you can also drive out of "Wonderworld" Arambol to the real India, to clean beaches, sometimes enjoy  cheap and real Indian food and  freedom and independence.
Within Touri-Arambol there is no ATM, but 1 km outside at the "Arambol Bus Stand". The walk there is worthwhile if you don't want to pay extra fees with the money changer.
My favorite restaurants are Shimon Falafel (for humus, shakes, bourekas and, of course, falafel). Taste of India (for the best Samosa, homemade pasta and cheap Thalis), The Bees Knees for the best and largest Veg Platter (really great good portions).
A really nice activity is to walk along the paths to the northern Querim beach. If you want to make a beach day, it is best to go to the Mandrem beach further south.
With the moped you can take a day trip to the capital Panjim or to the spice plantations behind Old Goa.
Have fun in Goa