Interview with Harmeet Khurana, 25 years old, member of the Sikh religion
Harmeet is a twenty-five-year-old housewife from Delhi. She has been married to her husband Charanjeet for 6 years and has a three-year-old son, Angad. Harmeet, who belongs to the Sikh religion, invited me to her home for an interview, so that I could get an insight into the life of an Indian housewife in the city.
When I enter her house, I immediately notice the good furniture, the beautiful decoration and the many rooms. Hamreet belongs definately to a wealthy family.
Hello Harmeet, thank you very much for the invitation. Your apartment is great! Who lives here?
We live in a joint family. This means that the sons live with their wives and children at their their parents home. My in-laws have their own bedroom with bathroom, so do my husband's brother and his wife, as well as myself with my husband Charanjeet and our son. Charanjeet's sister also lives here. Unfortunately, she couldn't get married. Because of her polio illness we couldn't find a husband for her.
Was it weird for you to marry into this new family?
In the beginning it was unfamiliar, but what can I do, that is the normal way of a women here.
Now you're a housewife, what did you do before you got married?
I went to school and started studying. I got engaged to Charanjeet when I was 15 and then married him when I was nineteen. I studied from home for the last two years. Now I have a bachelor's degree, but as a housewife no use for it.
Would you say, being a housewife is a job?
Yes, absolutely. I work around the clock and never have a holiday!
What does your normal daily routine look like?
I get up at 7:00 am. I wash myself, dress and read our holy Sikh book. Then I wake up my child and my husband. With my sister-in-law, I prepare the breakfast, while my mother-in-law is responsible for lunch, that the men take to work and we eat later at home.
At 9:00 am we have breakfast, then the men go to work and Angad goes to the kindergarden.
Now is time for a little household. I clean up my room and sometimes lend a hand to our employees, who wash the laundry, clean the house and do the dishes.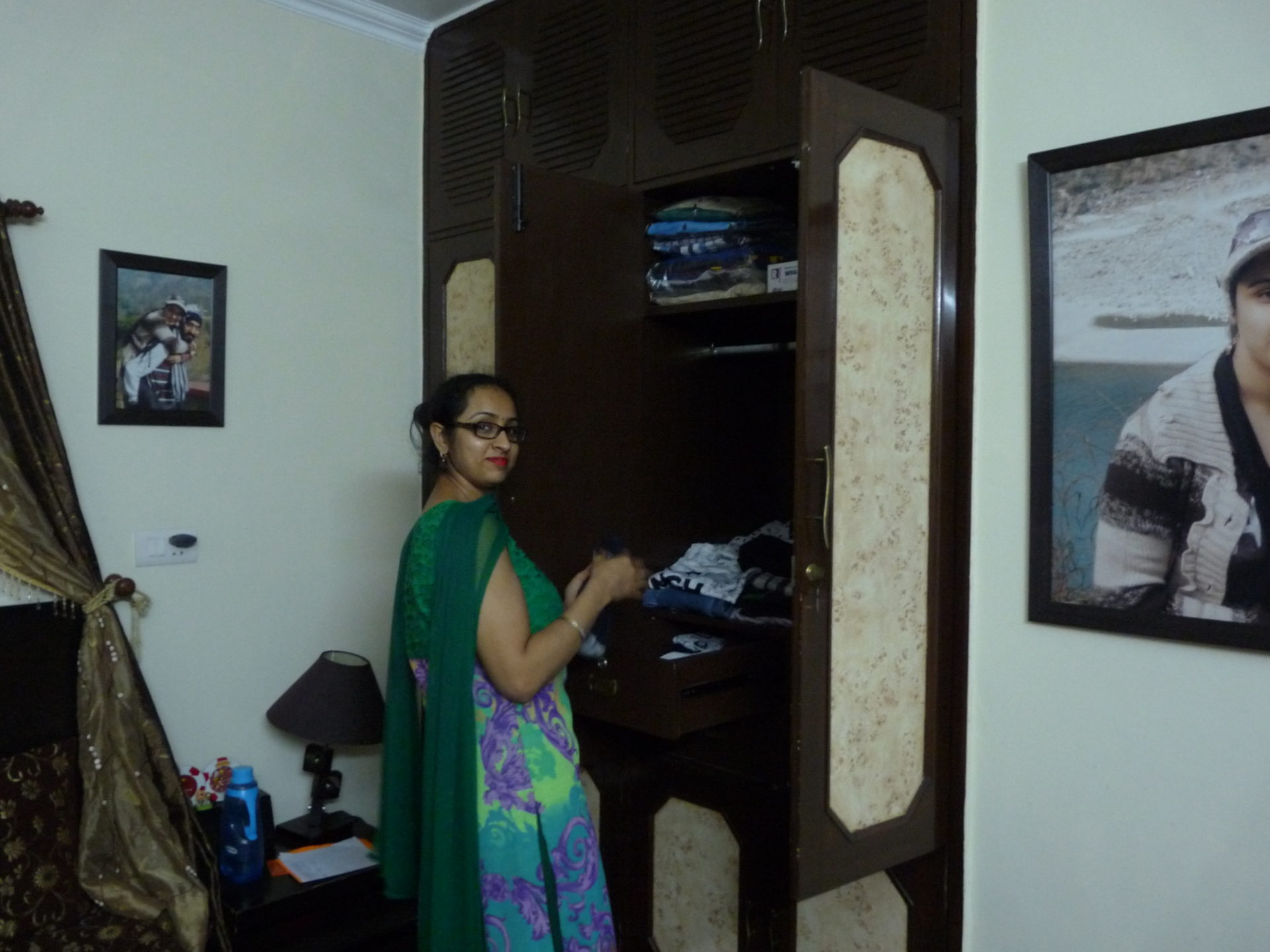 Every now and then I go out with my sister-in-law to shop or go to the beauty salon or our tailor comes for measuring us to make our new suits.
Once a month I meet 13 women from the Kitty Club. For two hours we meet, eat and collect monthly money. Each woman gives 3000 rupees in a pot and all the money then goes to a different woman in need every month.
My son Angad arrives from his school at 1 pm Then I give him food.
With my sister-in-law and mother-in-law I always eat at 2 pm Then we sleep until 6 pm.
Before we start cooking for dinner  (either me or my sister-in-law cooks) we drink tea and eat snacks.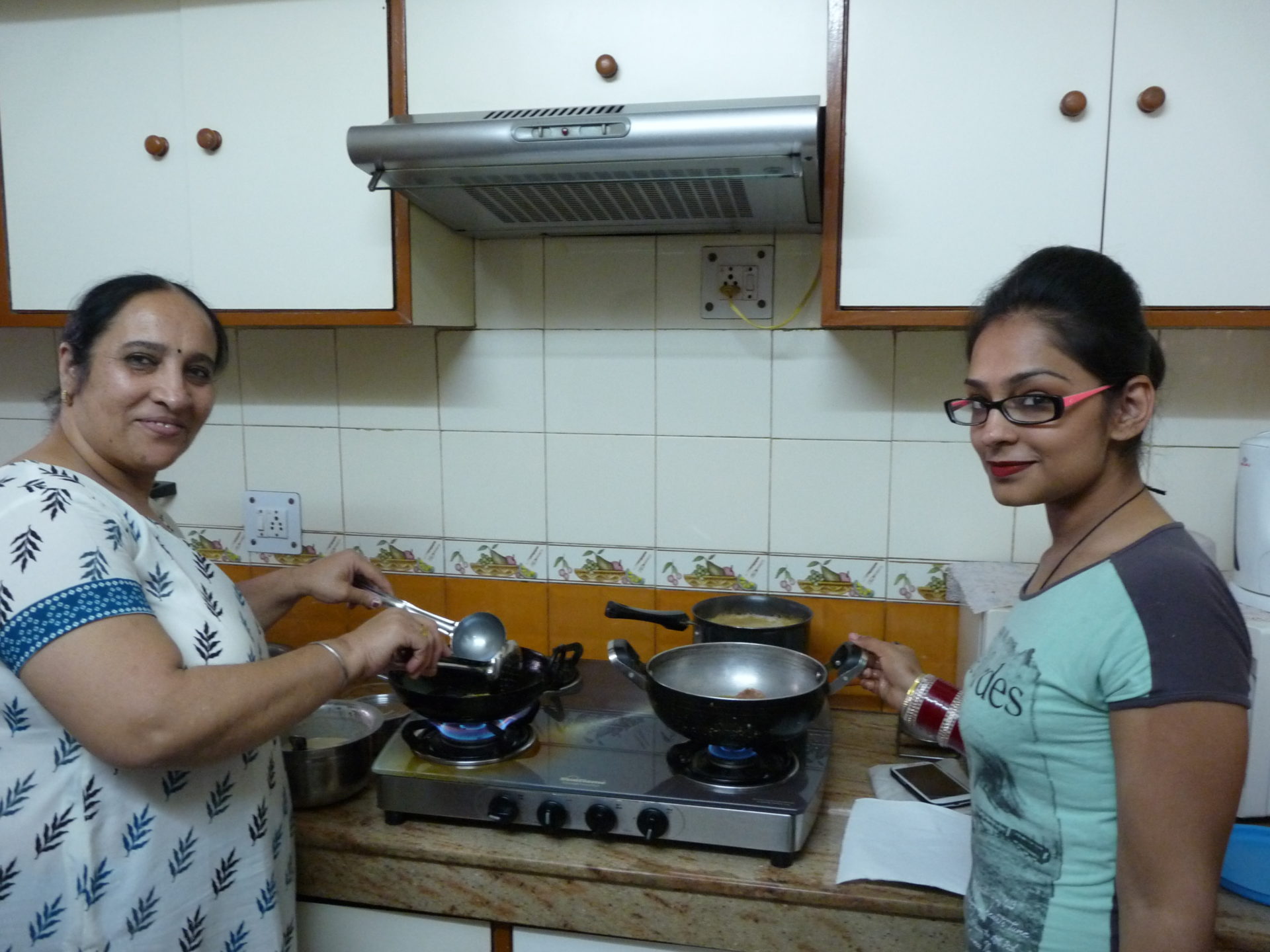 At 9 pm the men come back, then we eat dinner at 9:30. Before I go to bed I read again in the holy book.
Do you follow the Sikh religion very much?
Yes, but not completely. We are not allowed to cut our hair. I don't cut my head hair, but I pluck my eyebrows..
Also, I only pray twice a day, usually you should read the holy book four times a day.
Sikhs who choose to follow their religion honestly and completely always carry a knife, a comb and silver rings with them. They wear special underwear and never cut their hair.
I'm just wearing the bracelets, I'm not ready for anything else yet.
And what do the men do all day long?
They all work together in the family business from 10 am to 9 pm. They sell fabrics.
So your main work is cooking. Where did you learn it?
From my mother and mother-in-law.
And what is usually on the plate at your home?
For breakfast there is Parantha, that are stuffed chapathi. Sometimes there are also eggs. Lunch is always vegetarian, as meat is not allowed to be eaten in the shop for religious reasons.
In the evening we always prepare something with meat in our family. The men are meat lovers and don't want anything else!
Does your husband takes you out sometimes?
Oh yes, 2-3 times a month we go out to eat. Monday is always his day off, then we either do something or do the weekly shopping together.
In the winter months from December to January, however, we are busy attending weddings, as this is the time of marriages in the Sikhs Religion
Your husband does the shopping?
Yes, I send him what I need via Whatsapp and he gets it.
What do you wear for clothes?
Often our Punjabi suits, which consist of long tops and tight trousers. I also have a lot of Western clothes, which I put on in the shopping centers.
I wear saris on special occasions. I have about 30-40 suits.
Thank you Harmeet for the interesting interview and the special day!
On this day Harmeet and her family not only welcomed me very curiously and lovingly, but also cooked me especially! They prepared a famous Afghan dish called Ashak and another Indian vegetable dish that is eaten with buns (Phao Baje) and served me homemade snacks and Indian ice cream.
The highlight for all of us was certainly when they put me in one of their Indian suits, stuck a Bhindi (a red dot) on my forehead.What fun!
For me it was something very special to be among women and to have been received by them so amicably and warmly! Thank you very much for that!!