In addition to trekking tours, climbing, mountain biking and expeditions, I also offer Indian cooking classes in Manali. Of course, I don't teach the cooking classes myself and I don't have any income from it, but like to support the Indian woman Narvada- and excellent cook and lovely lady. You  can also visit the website.
Narvada is a middle-aged Indian woman who runs an orphanage in Vaschisht, near Manali. Every day she cooks passionately for up tp thirty children, looks after them and is like a mother to them.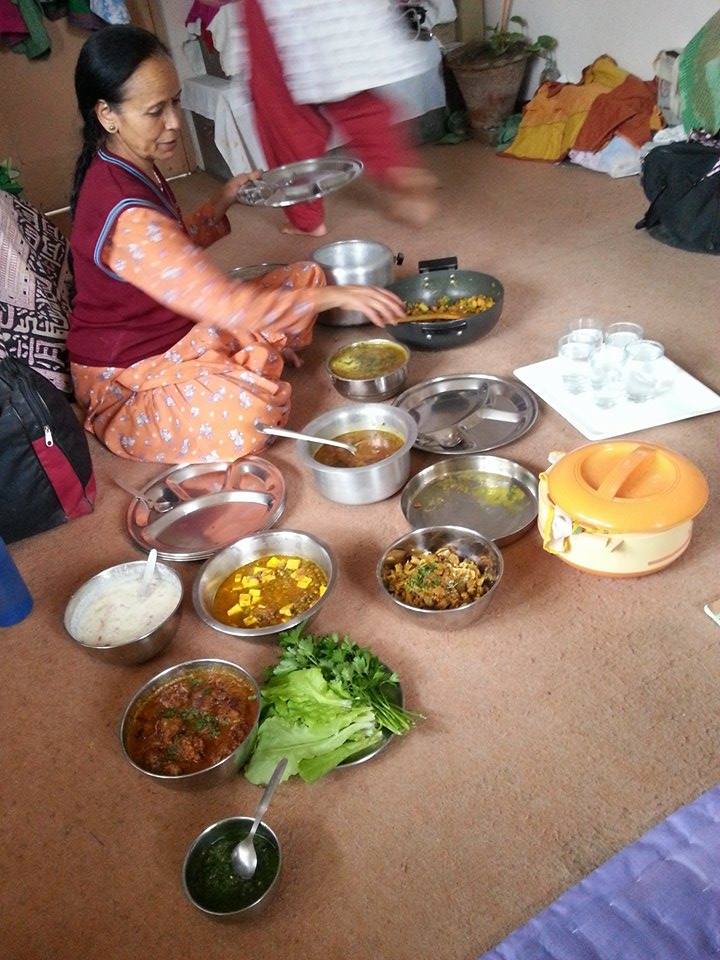 Her salary for running the orphanage is very low. As a single mother of two daughters, she also has o support her daughters on the way of their education. The cooking class is not only fun for her, but also helps her making a living.
A few days ago, she had four students from the USA and Spain.
Those interested in cooking must decide in advance which of the many dishes to choose from. They can choose between a lentil dish, a vegetable dish, a main course, a dessert, an Indian bread and a dip. Learning how to make the Indian Masala Chai is inclusive.
Lentil Dish Dal
A Dal is a simple  lentil dish served daily with rice in almost all Indian households. It is particularly delicious with lemon, yogurt or ghee (clarified butter).
This time, our students had chosen the kidny bean Dal and Dal Makhani, a dish of black lentils with butter, which is very popular in this region.
Vegetable dish
I like to eat Indian, especially because of the vegetarian variety! The vegetables taste always different and are satisfying, just as it should be after a balanced meal!
This time we made Mix Veg, a dish of various vegetables and Baingan. Baingan is Hindi and means aubergine. It's one of my favorite dishes.
The basis of all Indian dishes is almost always the same: first, cumin seeds and diced onions are roasted in oil, fresh ginger-garlic paste. Then add one tablespoon of the spices turmeric, coriander, chilli and garam masala and roast. Add salt, then diced tomatoes. Simmer everything in the pan until the oil separates from the rest. Then add some water and the desired vegetables or the lentils and it is done! Of course, there are still a few subtleties for the respective ingredients.
Main
In India, there is a very special cream cheese, the so-called Paneer. It can easily be made from boiled milk and lemon and has a very fine taste.
We prepared the cheese with peas during the cooking lesson, a very good combination. We also cooked Veg-Kofta, fried vegetable balls in a delicious sauce!
Dessert
Indians love it sweet! And you can notice that, wile eating indian sweets. Unfortunately, you can get used to the amount of sugar quickly. One of my favourite desserts is the carrot Halwa: grated carrots are fried in oil with sugar and milk. Dried fruits and nuts are added! Simply delicious!
The four cooking students conjured up the Suji Ka Halwa, a dessert made from semonlina.
Indian bread
Indians often make the common flat bread themselves here. The chapati, a thin flatbread of water and flour, is the simplest and most common. Our students quickly realized that it is not so easy to find out the right combination of water and flour. And getting the chapati into a round of form isn't that easy as well!
They also made  Gobi Parantha. A stuffed chapati baked with cauliflower in oil. Actually a very typical breakfast, but it tastes at any time of the day.
Dip
An Indian dip is a chutney or a raita, a yoghurt sauce with vegetables or fruits. We made the delicious mint chutney and a raita with tomatoes, onions and cucumbers. While the chutney gives the dishes more of an extra spice, the raita is mild and refreshing.
Of course, I joined this delicious meal! The highlight of the day were definitely the Koftas.
!