Julley is the magic word in the northern Indian region of Ladakh. Translated, it means "Hello", "Goodbye", "Thank you" and "Please".
With this simple word you get through in the high mountain desert of Ladakh quite well. Everywhere you are illuminated by Ladakh faces and a "Julley" is shouted at you.
Leh is the district capital of the Ladakh region and cultural center. Surrounded by rugged high mountains and with the Shanti Stupa and the Leh Palace in the background, the Buddhist-influenced town has a pleasant atmosphere. Cosy restaurants, backpacker cafes and shops offering jewellery and fabrics from Kaschmir.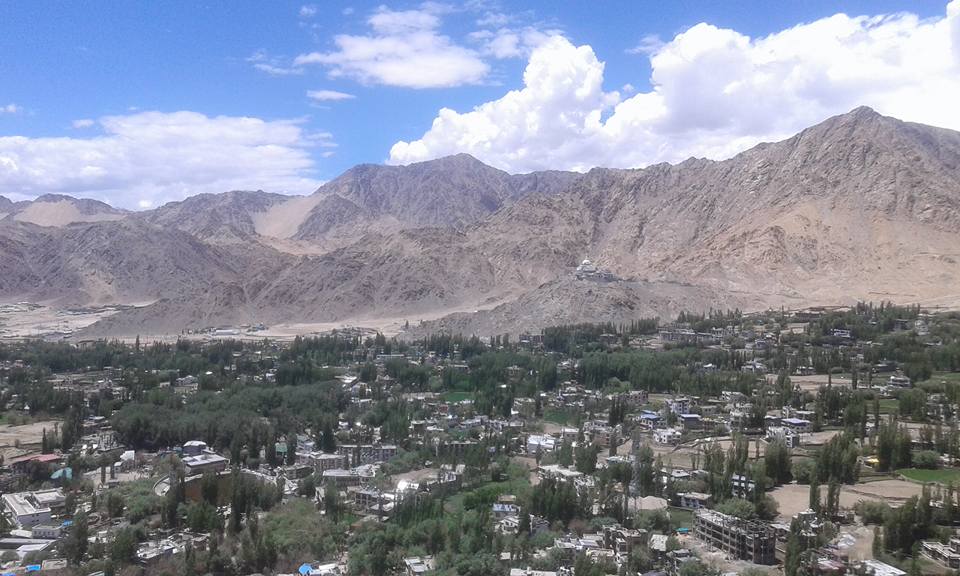 For Trekkers, backpackers and travellers Leh not only serves as a starting point for great tours in the wide mountains, but is also a nice place for a few days of rest and relaxation.
If you reach the city at an altitude of 3500 meters by plane from Delhi, you absolutely need a few quiet days in Leh just to get used to the altitude and acclimatize. Weakness, headaches and dizziness are symptoms of altitude sickness and an adaptation to the low air pressure up here are prerequisites for being able to enjoy the Buddhist-influenced high mountain region.
The six best things to do in Leh
But fortunately, Leh and his surroundings have a lot to offer to pass the time pleasantly. And then you can go on bigger explorations to Lake Pengong, the Nubra Valley or on a trekking tour/mountain ascent for example.
1. Walk through Leh
Maybe the walk is not possible on the first day, because it goes up and down a bit. But if you have enough air in your lungs, you should take a look at Leh's most beautiful sights on foot.
The best way to do this is to start on Chanspa Road. The "Backpacker shopping street" with good restaurants, shops and cosy cafes. Follow the road until you reach the foot of the Shanti Stupa. The Stupa, a Buddhist monument of peace, was built by the Japanese in 1991 and offers a great view of Leh and the surrounding mountains at 3600 m. But first you have to climb 500 steps, not so easy at this height!
Over small streets around Leh the route continues to the foot of a small old monastery. It goes again laboriously uphill, but the colorful prayer flags blowing in the wind contribute to a beautiful picture with the monastery and rugged mountains in the background. The monastery itself is not worth seeing, but if you like, you can take a look for a small entrance fee.
From here it goes down a narrow path to the Leh Palace. The renovated palace is still more like a ruin from the inside, but is beautiful to look at it from the outside, especially when it is illuminated at night. A little below the palace you reach the old town and walk through small alleys and past old Ladakhi houses. One of the renovated buildings houses an art exhibition of the non-profit association Lamo with interesting photographs.
Below the old town there is another traditional house called Leila. The small cosy café serves delicious homemade cakes, Ladakh specialities and real coffee. A great place for some peace and quiet. Especially the roof terrace is worth a visit. In addition, the café itself offers regular guided walks through Leh!
If you walk a little further down the road towards the city center, you pass a small milk shop. Here, not only fresh Indian cheese is produced by hand, but also excellent lassi. The sweet yoghurt drink with a hood of fresh butter is not only refreshing, but also quite saturating.
Now you are already in Leh's pedestrian zone, which has only just been renovated. If you turn left, you can look at a Buddhist monastery, turn right, you come to a Muslim street where Kashmiri bakers sell delicious fresh bread.
This is where the three to four-hour walk ends.
2. Yoga and Meditation in Leh
I highly recommend the Mahabodhi Center in Leh. In Chanspa Road, a German yoga teacher and his Indian assistant Shashi teach yoga, meditation and pranayama all day long – for beginners and experienced people. In addition, three-day meditation classes are held regularly outside the main centre.
3. Feasting in Leh
Whether you're coming back from a trek or not, Leh has excellent restaurants, bakeries and cafés and you can spend your days without any problems with cake and Momos! (Momos are stuffed, steamed dough bags and a specialty of the region.)
Here are my three very different favorites:
Tibetan Kitchen
Great Indian and Tibetan food of the highest quality with nice staff and good seating. It is very popular and sometimes you have to make a reservation. Especially good are the Tibetan soups, momos and tandoori chicken. €€
Restaurant and Bakery Babylon
Great fresh baked goods, apple strudel, volkorn rolls and muesli biscuits! But the backpacker restaurant on Chanspa Road has so much more to offer! In addition to the typical dishes such as Israeli, Italian and Indian, there are great fancy vegan options. All dishes are fresh and hygienic and very, very tasty. Especially suitable for travelers who want something else and vegetables. €€
No Name Dhaba
The insider tip! Here breakfast and lunch are served for the locals for little money. A variety of local dishes are prepared daily by two Ladakhi women and you can fill up on the plate like a buffet of everything. Then it is billed per dish. It can't get expensive. The small simple restaurant is so popular with the locals that you prefer to come a little earlier. For what is gone is gone! However, the Dhaba is not easy to find. Before the bike rental at the beginning of Zangsti Road on the right you have to climb a small staircase. €
4. Rafting
The two rivers Indus and Zanskar offer excellent rafting opportunities and if Leh becomes too monotonous in the long run and you are in need of a bit of an adventure, book a rafting trip! The excursion takes place all day long. First, you drive 55 km to Chilling to the starting point. Here you go into the raft and through interesting rapids for 30 km to the confluence of the rivers Zanskar and Indus. A delicious lunch in a garden under apricot trees awaits you.
5. Monastery and Palace Tour Around Leh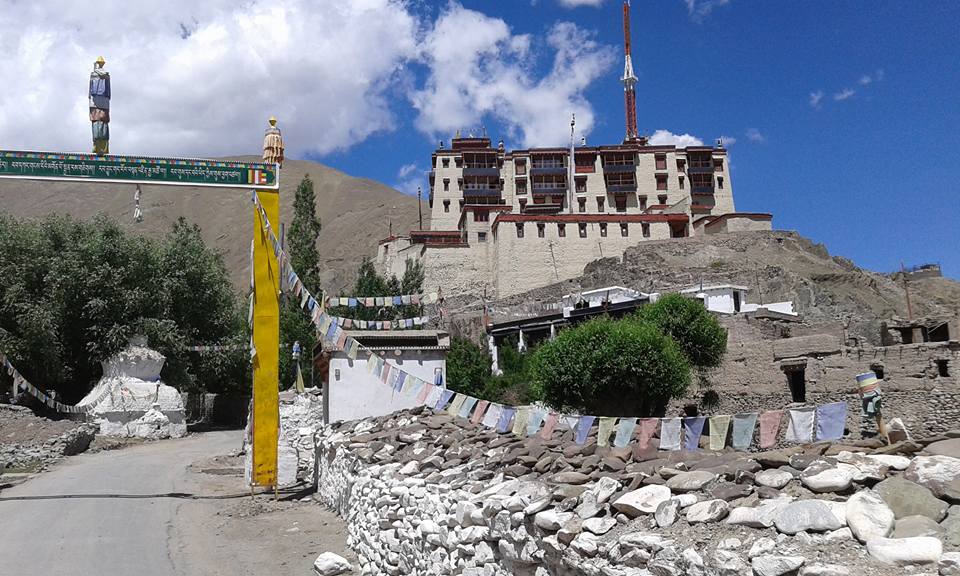 Whether by bike, motorbike or taxi – you can visit beautiful and very special Buddhist monasteries around Leh and not only marvel at unique and antique works of art, paintings and statues, but above all get an insight into the daily life of the monks and nuns. It is fascinating to participate in a morning ceremony, to attend a monastery festival with mask dances or to watch the monks paint large peace mandala with colored sand.
The scenery is spectacular. Most of the time, the monasteries are built on hills and are visible from a far distance and offer great backdrops for photographs. More famous are the monasteries Thiksey and Hemis, but also the smaller so-called gompas, such as Spituk or Phyang are worth seeing and less crowded.
The royal palaces of Shey and Stok are also worth a visit to learn more about royal life in the museums.
6. Downhill bike tour from Kardung La Pass
Once the highest motarable pass in the world, the Kardung La Pass is still high at 5300 metres. Who likes can of course cycleup the 36 km from Leh to the pass- a true challenge. But it's much more fun to roll it down.
First you can drink a mint tea in the highest cafe in the world and then  have your  fingers down on the brakes and enjoy 2000 meters of altitude loss!
The views are spectacular, at the pass itself it can snow even in summer and the descent is intoxicating without getting out of breath.