Delicious, easy to male without baking and healthy!
Due to my quite extreme activities in mountain biking and mountain sports, I often need a fast energy source.
Especially during several-hour mountain bike races without a stopover, but also during a mountain expedition, it is important that I always have a small supply of high-caquitonic food with me, which is both easy to digest, as well as easy to transport and consume.
Carbohydrates are just the thing here!
Many athletes use gels and ready-made energy bars. The former does not taste at all to me, the latter can be quite expensive, especially if, like me, you live in India, where these products are imported. In addition, these products are full of artificial additives and in the long run far away from being healthy!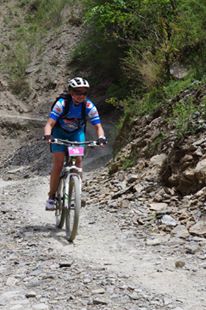 So making my own engery supply is the motto, especially since I have the big advantage of getting good and natural energy sources such as nuts, dates, coconut and co. quite easily in India.
After a short research in the Internet keyword, I quickly came to the conclusion that I can actually be quite creative and free with the recipe.
Of course, you need a basic ingredient that somehow "holds everything together" and "puts it in shape". In my case, I used dates here. But then you can pretty much add everything you have, which is delicious and provides energy.
My balls eventually became quite creative and it was actually a bit tedious to shred and mix the ingredients by hand and without a blender. So if you have a kitchen appliance at your disposal, I recommend using it.
Later, you simply form small balls with your hands.
In the following I will present my creation to you. Among the "normal" ingredients, I also added chia seeds (the newly discovered superfood) and ground coffee. Chia- because i hardly came across an energy bar or ball without this ingredient during my research on the internet, caffeine of course for the little extra kick.
Ingredients for 10 balls (approx. 100 g)
250 dates
2 tablespoons chia seeds
2 tablespoons chopped almonds
2 tablespoons chopped cashew nuts
2 tablespoons grated coconut
2 tablespoons sesame seeds
1/2 teaspoon cinnamon (for the taste)
1/2 teaspoon ground coffee (for the extra kick)
1 teaspoon cocoa
1 teaspoon coconut oil (so everything holds together)
Mix all ingredients together and shape 10 balls by hand and then wrap it with foil. I like it when the nuts still have some consistency and are not too much grounded, so you have a bit of a crunch in the balls.
By the way, when I tried the energy balls for the first time during a bicycle race, I was absolutely thrilled. They were not only extremely tasty, but quickly helped me to get new energy so that I could maintain my performance level! Perfect.
I  call these Energy balls Energy Laddus. Laddu is the Indian name for a round and energy-rich candy – quite fitting I think 😉
Ps. By the way, I was able to win the racewith the Energy Laddus!