Sport & Abenteuer Reisen
Aktive Kultur Reisen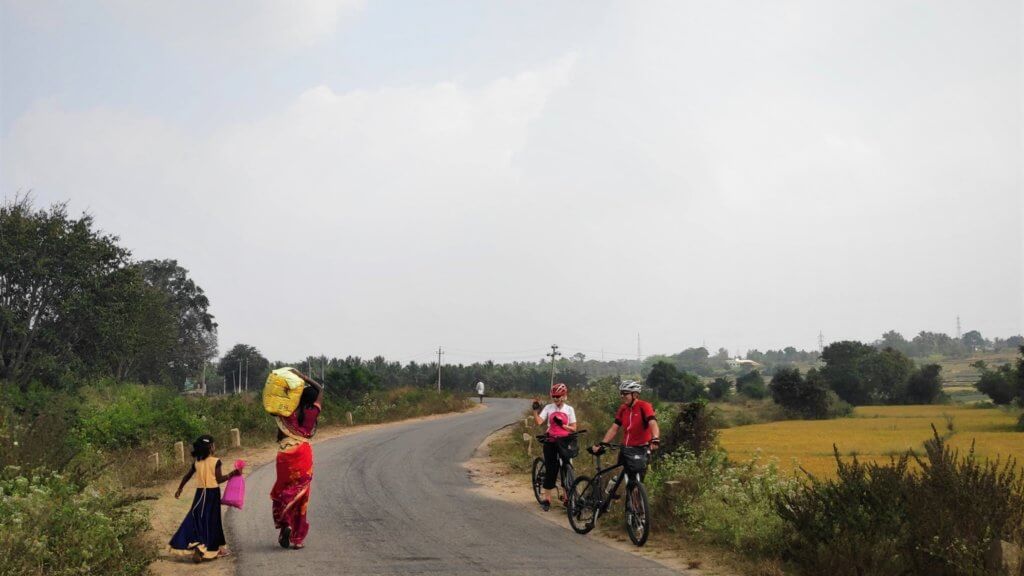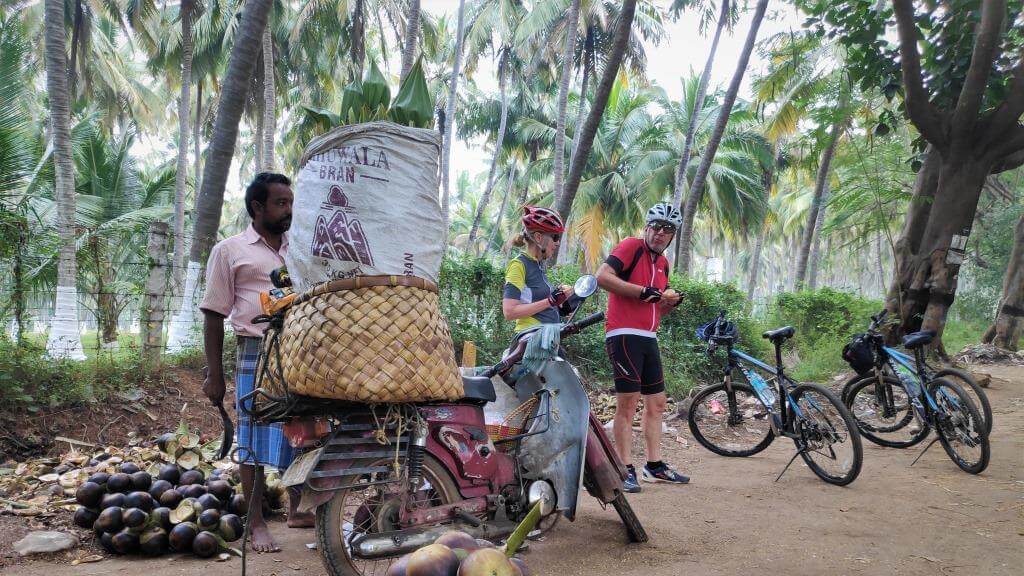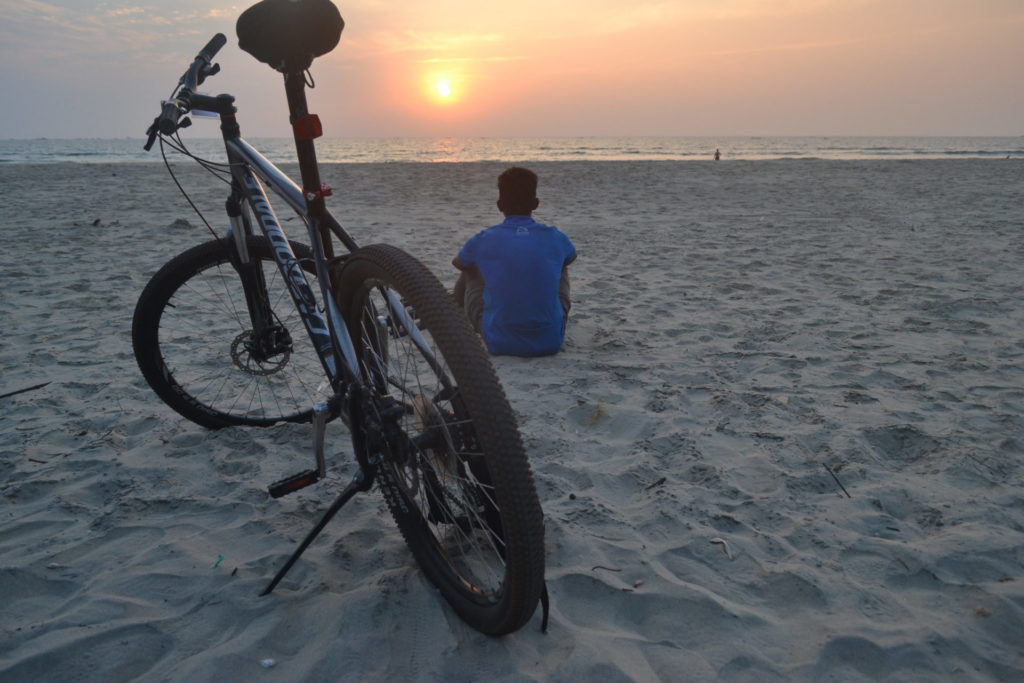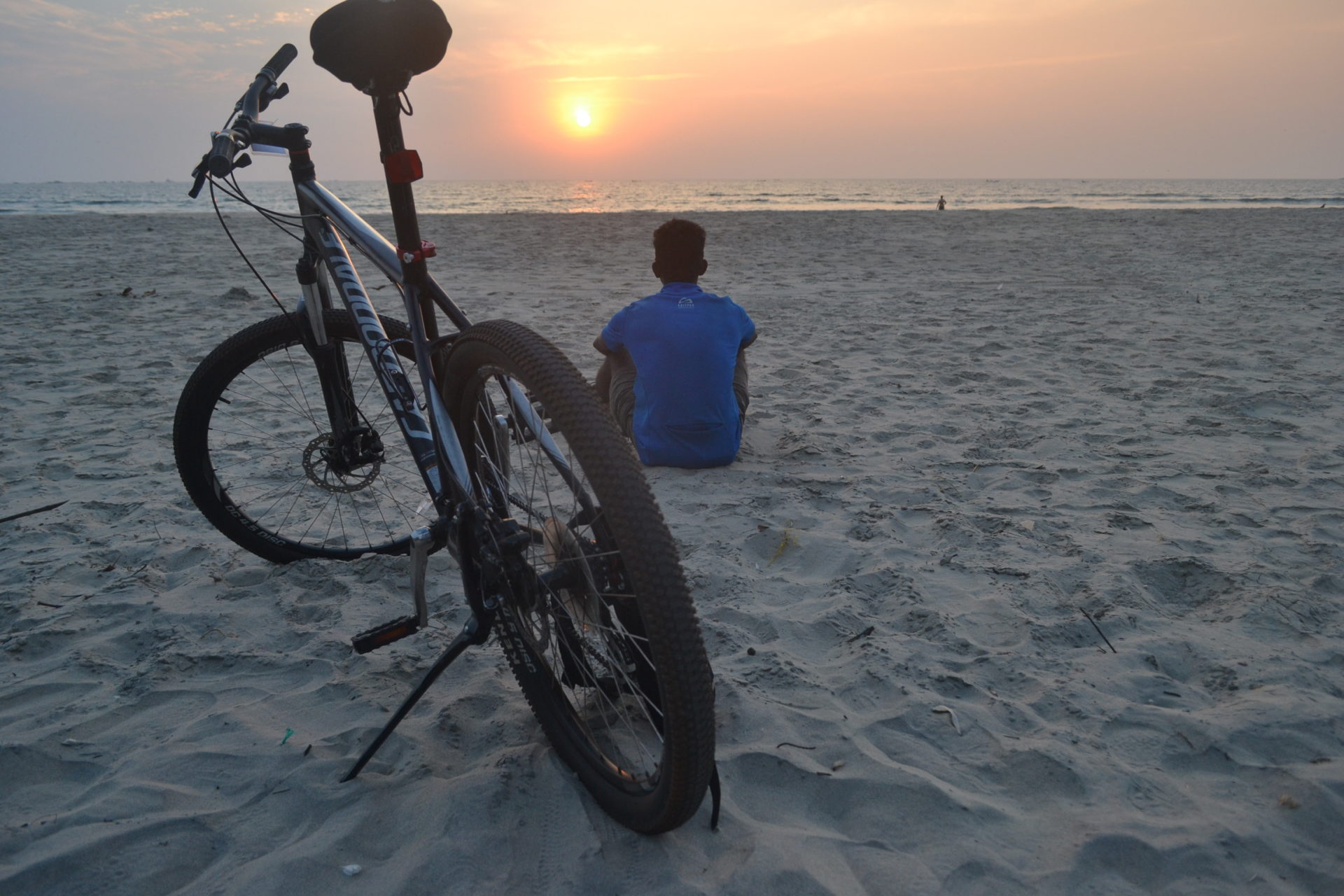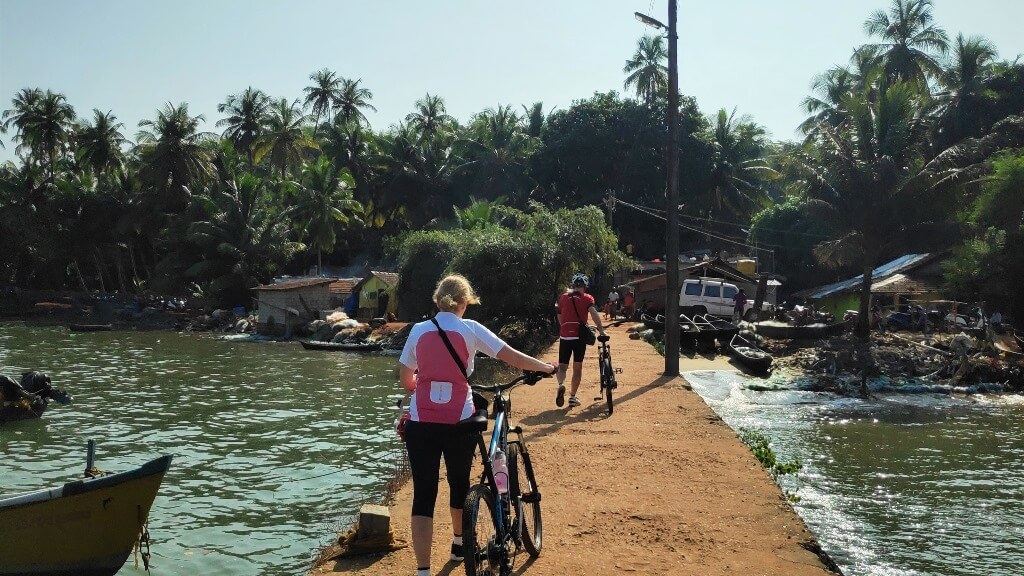 Overview
South India – Western Ghats Ride is an epic cycling tour connecting the highlight destinations across one of the oldest mountain ranges in the World. This scenic mountain range with its tropical evergreen forest, wide variety of flora and fauna and perennial rivers which leverage monsoons and the overall climate of the region. The area is home to ethnic tribes like Badaga, Toda, Kota, Kurumba, Irula, Nayaka & Kani tribes. These tribes live in perfect harmony with nature and forests. However, the ever-growing human activity, requirement of housing and industrial land is detrimental to the fragile ecosystem of the Ghats. The government of India and forest departments have implemented key policies to effectively protect the natural diversity of the region. All said, no doubt that the best way to explore this immensely biodiverse and ecologically sensitive mountain range is on the bikes.
We will commence our ride from the sunny beach of Goa and ride along the coastal fishermen villages through Gokarna and Shiroor. Then we cut across the Agumbe forest to reach the rural Koppa. Further, we ride toward the scenic Chickamagaluru and reach the vast expanse of coffee plantations at Balur. Here on, we will ride to Hassan and see the 13th-century Chennakesava temple, an epitome of Hoysala Architecture. We will ride through villages and suburbs to the palace city of Mysore to spent an additional break day to recharge ourselves.
We will drive through the Bandipur and Mudumalai National Park which are prime tiger hotspots of South India. We will join for a jeep safari in the National park where Elephant, Gaur, Sambar, Spotted Deer, Malabar Giant Squirrel, Wild Boar, Malabar Parakeet, and the Grey-headed Bulbul are a common sighting. Further, we ride up the Nilgiris (Blue Mountains) towards Ooty and spend overnight at the enchanting Coonoor. After a heritage train ride through stretches of Tea Plantations and valleys, we will reach the agrarian village of Pollachi for authentic village experiences. Next days, we ride through the misty tea hills of Munnar and further along the river Periyar towards the lowland forests and birding hotspot of Thattekkad. Finally, we ride to the colonial town of Fort Kochi for a history tour. If you have a couple of days left, the add-on tour program offers cycling to the fishermen village of Marari, relax by the pristine beach here and witness the traditional martial arts. Another day spent exploring the backwaters village on a kayak through the meandering narrow canals and have lunch on banana leaf at a traditional family homestay.
Program
Day 1: The tranquil beach of South Goa
Arrival and relax by the beach
Our guide will pick you from Goa International Airport. We will drive for roughly 90 mins through the village roads with a view of Portuguese styled houses, Churches, Mangroves, Coconut and Cashew trees, restaurants serving Goan Fish Thali and favorite beverage – the Feni brewed from the juicy Cashew fruit. We drive along the silent beaches of Varca & Cavelossim to reach the tranquil beach in South Goa. Here we spend overnight in a cozy wood cottage nestled in palm groves adjacent to the pristine beach. After you settle down, the bike fitting is scheduled for the afternoon. Rest of the day, you can relax by the beach and prepare for the Western Ghats Ride ahead.
Property
Meal
Activities for the day
Approx. Distances & Duration
Agonda Paradise
–
Arrival, Bike Fitting
Free day
90 Min Transfer
Day 2: Cycling to Gokarna
Story of the Sacred Land and The Ancient Temple
Crossing the Goa state border, we will transfer you to Karwar in Karnataka which will take an hour and a half. The drive will be through the hilly undulating terrain with sparse forest and woody patches. En route, you can also view the sea shaking hands with the river Kali. We will cross the river on a Ferry along with the locals. From here, we start cycling towards our first destination – Gokarna. Further, we ride on the backcountry roads, mostly flat terrain with the view of fishing harbors, Coconut, Cashew, and Mango Tree groves along the western coast. We will finish today's ride at a scenic nature resort in Gokarna. Being a prime pilgrim center in South India, Gokarna is famous for the 4th century CE Sri Mahabaleshwara Swami Temple. According to legend, the Atma Linga – the Soul of Lord Shiva is worshipped here. Hence, it is believed that the Mahabaleshwara temple is one of seven temples to be visited for attaining Moksha. In the evening, you will be visiting tranquil Ohm Beach for a sunset walk followed by a special dinner at the beachside restaurant.
Property
Meal
Activities for the day
Approx. Distances & Duration
Namaste Café
B (L) D
Cycling to Gokarna along the Coast
River crossing on local ferry
Evening Walk at the beach
Optional Boat Ride to Paradise Beach
Transfer to Karwar 45 km 1.30 hours
Cycling to Gokarna 50 km 5 hours with picnic lunch and ferry
Day 3: Cycling to Shiroor
Witness one of the Biggest Shiva Statue and ride to the eco resort
Today, we will start our bike ride further south, along the coastal road with the view of the Arabian Sea in the west. We will pass through the fishermen villages of Honnavar and Manki with their off-grid beaches, fish markets, and small temples. We will cross the Aghnashini and Sharavati river and ride through a combination of flat and undulating backroads. En route, we will visit the majestic Murudheshwar Temple standing 20 stories tall in the coastal village of Bhatkala. A mechanical lift will take you to the roof of the temple. From here, you can see the gigantic statue of Lord Shiva sitting gracefully with blessing mudra with the vast sea in the backdrop. Further, we drive crossing the Venkatapur and Chowtani River and enter the gateway of the lush green and biodiverse Western Ghats to wind up our ride at an old-styled eco-resort.
Property
Meal
Activities for the day
Approx. Distances & Duration
Blue Waters
B (L) D
Cycling to Murudeshwar
Visit Murudheshwar Temple enroute
Transfer to Eco Resort
Total 111 km
Cycling to Murudeshwar 60 Kms 5 hours
Transfer to Hotel 1 Hour
Day 4: Cycling to Koppa
Ride through the land of King Cobras
From Shiroor, we further ride south to cross the Byndoor, and Yadamavu River and ride through the narrow stretch between the scenic Maravante Beach and the Kolluru river. We will further orient east towards the most enthralling sections of western Ghats. Initially, we ride through flat village roads with farms, temples, and dwellings. Further, we ride steep uphill through the Agumbe forest area. The unique rainforest ecosystem here serves as one of the top habitats for the great reptile species – the King Cobra. We will progress our ride through hilly and undulating terrain with the scenic view of valleys, winding roads, hairpin bends, and swatches of Coffee Estates. In the last section, we drive towards the rural destination of Koppa bordering the Chikkamagaluru district. We will wind up today's endeavor in a traditional and well-kept homestay with 300 years of lineage.
Property
Meal
Activities for the day
Approx. Distances & Duration
Ammadi Homestay
B (L) D
Cycling to Koppa through Ghat Roads
Plantation Walk
Total 147 km
First 60 km Cycling 5 hours
Transfer to hotel 3 hours
Day 5: Cycling to Balur
Ride to the Coffee Capital
We start today's ride through the undulating and hilly terrain of Chikkamagaluru towards Balur. We transverse through the high mountains of the region with the view of scenic landscape, slithering rivers, waterfalls and lush vegetation. After riding past 70 Kms, 6 hours, we will wind up today's endeavor to reach a rustic bungalow nestled in a 400-acre expanse of Coffee plantation located at a height of 1100m above sea level. The ideal weather and rainfall make Chikkamagaluru, the coffee capital of India alongside the Kodagu district in Karnataka. Established in the year 1826 by the British, these numerous plantations provide employment to the local population invariably. The centuries-old plantation and the time-tested planter's bungalow is more than a tale on the history of coffee cultivation in India. We unfold the coffee heritage of the estate during the plantation walk scheduled in the evening.
Property
Meal
Activities for the day
Approx. Distances & Duration
Coffeeberry Hills
B L D
Cycling to Balur through Plantations
Coffee Plantation walk at Balur Estate
Total 70 km Cycling 6 hours
Day 6: Cycling to Hassan
Witness marvelous Hoysala Architecture at the Chennakesava temple
Today, we again ride on undulating terrain through the small agrarian villages of Mudigere with coffee and spice plantations. Further, we will ride along the Yagachi water reservoir to reach the temple town of Somanathapura, Belur. The town is renowned for the Chennakesava temple dedicated to Lord Kesava / Vishnu located on the banks of river Kaveri. The 13th-century temple is the epitome of exceptional Hoysala architecture. The temple has very finesse stone carving and inscriptions depicting ancient Hindu scriptures Mahabharata, Bhagavata Purana, and Ramayana. If time allows, we will further drive to Halebidu to visit the Hoysaleshwara temple dedicated to Lord Kesava, After the temple visits, we drive through the back-country roads to reach the rustic Hassan and wind down at a scenic village resort.
Property
Meal
Activities for the day
Approx. Distances & Duration
Pearl Hassan
B (L) D
Cycling to Hassan through Villages
Visit Chennakesava and Hoysaleshwara Temple
Total 97 km
Cycling to Balur 60 km 5hours
Transfer to hotel 3 hours & temple visit
Day 7: Cycling to Mysore
Ride to the palace city of Mysore
Morning, after breakfast, we leave Hassan and ride through the rural roads towards the city of Mysore also called Mysuru. Today, the terrain will be undulating with a slight downhill. We will pass through villages with a vast stretch of cultivated lands, tobacco plantations, vegetable farms and small temples along the way. We ride alongside the Krishna Raja Sagara lake which is the confluence point of Sacred river Kaveri and its tributaries. Kaveri river is also the basis of Ranganathittu Bird Sanctuary which supports a variety of avian species in the region. Once this land was affected by famines and droughts severely affected the local cultivation and livelihood. It was until 1911 a dam was constructed by the Maharaja of Mysore and the issue was mitigated. Further, we drive the last short stretch to reach the palace city of Mysore and wind down at a cozy hotel.
| | | | |
| --- | --- | --- | --- |
| Property | Meal | Activities for the day | Approx. Distances & Duration |
| Regenta Central | B (L) D | Cycling to Mysore via backroad | Total 120 km 7 hours with lunch |
Day 8: Break day at Mysore
Rest Day and sightseeing of the historic city – Mysore
It's a break day for cycling and today we set out for the sightseeing tour of Mysore city. We visit the famous Mysore Palace with its Durbar Hall and the Golden Royal Elephant Throne. Mysore is an ancient city with more than 600 glorious years of legacy. Known for its glittering royal heritage, bustling markets, magnificent monuments, cosmopolitan culture, and a friendly populace. The city is also a thriving center for the production of premium silk, sandalwood, and incense. We will also visit Chamundi Hill to have a panoramic view of Mysore city. Further, we will visit the ancient Chamundeshwari temple and the Nandi temple with its giant stone sculpture of a sitting bull dedicated to God Nandi. We will wind up the sightseeing tour with an evening walk through the old-time Devaraja Market packed with its flowers, fruits, and vegetable stalls.
Property
Meal
Activities for the day
Approx. Distances & Duration
Regenta Central
B D
Mysore Sightseeing
Visit Palace, Chamundi Hill & Devaraja Market walk
–
Day 9: Cycling to Masinagudi
The wilderness of Bandipur
We will start today's ride through the outskirts of Mysore city crossing the Kabani River, settlements, and small temples. Reaching Bandipur, we will stop cycling and drive through two of the prominent wildlife sanctuaries in South India – Bandipur and Mudumalai. This scenic and biodiverse section of Western Ghats is categorized as Nilgiri Biosphere, one of the largest in South India. The national parks here are primarily dedicated to conserving endangered habitat of the tiger. Here, we go for a jeep safari in the Tiger reserve. Look out for the commonly seen species like the Elephant, Gaur, Mouse deer, Sambar, Spotted Deer, Malabar Giant Squirrel, Wild Boar, Malabar Parakeet, and the Grey-headed Bulbul. After the Safari, we drive to cozy accommodation in Masinagudi.
Property
Meal
Activities for the day
Approx. Distances & Duration
Avadale
B (L) D
Cycling to Bandipur via villages
Drive through Bandipur Wildlife Sanctuary
Jeep Safari
Drive to Begur 45 km 1 hour
Cycling to Bandipur 50km 4hours
Drive to hotel 25km 1 hour
Day 10: Cycling to Ooty
The enchanting Blue Mountains
Today, we start the ride, to take on the grueling high-altitude hairpin bends along the villages with tea, and vegetable plantations to reach the hill station Ooty, situated approx. 2000m above sea level. The little colonial town is known for its English-styled cottages that have unique teak floors, tiled roofs, and chimneys, resemble a movie scene from another era. The land is framed by the lush tea gardens, which we will explore during a small walk. We also visit the tea museum.
Property
Meal
Activities for the day
Approx. Distances & Duration
Teanest
B (L) D
Cycling to Ooty
Tea plantation walk and tea museum visiz
Total 55 km 6 hours
steep hairpin bends
Day 11: Cycling to Pollachi
The heritage train journey and backcountry village of Tamil Nadu
Morning, we board the heritage train for a remarkable monorail journey through spectacular vistas as we descend to the popular hill station of Coonoor. The railway still relies on its fleet of steam locomotives and is a UNESCO World Heritage Site. The train journey through villages and pine forests offers a mesmerizing view of manicured tea plantations and scenic valleys. Alighting from the train, we ride through the backcountry roads to Mettupalayam and further to Pollachi – a small agrarian town located at the foothills of the Nilgiris known for its jaggery, vegetables, and cattle market. The terrain will be continuous downhill and undulating, then flat and windy towards the last stretch. We will settle down at a serene plantation resort amidst coconut groves in the quaint agrarian village.
Property
Meal
Activities for the day
Approx. Distances & Duration
Ambra River Resort
B (L) D
Heritage train ride through tea hills and villages
Transfer from Mettupalayam to Pollachi
Countryside cycling through sugarcane and coconut farms
9.15 to 10.30 Train journey
Transfer to Kothagiri one hour
Start Cycling, 30 km 2 hours, mostly downhill
Transfer to hotel & enroute lunch 120 km 4 hours
Day 12: Cycling to Munnar
Ride to the manicured and misty Tea Hills
Leaving the great windy plains of Tamil Nadu, we ride the next stretch towards the Ghats. The terrain will be hilly and undulating with winding roads. We will pass aside the Anamalai Tiger Reserve and start riding uphill through the hillocks of Chinnar Wildlife Sanctuary and sandalwood forests of Marayoor towards Gundumalai with the view of Anamudi Peak. From here, we will start seeing the vast stretch of Tea Plantation perched by small waterfalls and rivulets and the Eravikulam National Park famous for the endangered Nilgiri Thar. We will be passing through scenic valleys and settlements for tea estate employees. The freshness of the high altitude (1500m) climate and misty cool breeze will be good enough to energize your mind and soul. We spend overnight at a small plantation cottage with a fascinating view of the valley and tea plantations.
Property
Meal
Activities for the day
Approx. Distances & Duration
East End
B (L) D
Cycling to Amaravati
Drive through the Chinnar Wildlife Sanctuary and Sandalwood forest
Tea & Cardamom Plantations walk
Total 130 km
First 55 km Cycling 4 hours
Transfer to hotel with lunch and see jaggery making 4 hours
Day 13: Cycling to Thattekkad
Birding Hotspot of Thattekkad
Leaving the high-altitude tea-growing hills of Munnar, we ride to the lowland forests of Thattekkad. The terrain will be hilly and undulating with steep downhill roads. We will ride through the village roads of Adimali and Neriyamangalam with the refreshing view of the Periyar river, lush rainforest, cardamom plantations, small waterfalls, rivulets, chirruping birds and lurking bonnet macaques watch your way. We will settle down at an eco-lodge situated right on the banks of Periyar River facing the Bird Sanctuary. Afternoon it's time to visit the Salim Ali Bird Sanctuary a prime habitat for several species of birds including many water birds. We can also stroll through nearby plantations and the countryside to meet the local cultivators here.
Property
Meal
Activities for the day
Approx. Distances & Duration
Birds Murmur Camp
B (L) D
Cycling downhill through forest patches along river Periyar
Thattekkad Bird Sanctuary Visit
Total 73 km
Cycling 4 hours, mostly downhill
Walk at bird's sanctuary 2hours
Day 14: Cycling to Fort Cochin
History Tour of Fort Kochi – Queen of the Arabian Sea
Further, we will ride past the lowland forest valley of Thattekkad. We ride on mostly flat backroads along the irrigation canals through the village. You can see local cultivates of rubber, pepper, nutmeg, banana, and pineapple plantations along the route. We will end today's ride at Fort Kochi – rightly called the queen of the Arabian Sea. Afternoon, we will go out for the History tour of Fort Kochi to know more about its colonial heritage. Once been a major port and trade Centre, it evolved as a settlement hotspot for numerous merchants from across the world. The gradual intermingling of their cultures for centuries has made Fort Kochi a unique heritage city to visit. We will walk through the Jew street, flea market, watch the creaking Chinese fishing nets, and the sunset. Later, a traditional Kathakali dance performance will be showcased. It will be nice to check out the local restaurants for a dinner before winding up in a comfy hotel.
Property
Meal
Activities for the day
Approx. Distances & Duration
Gama Heritage
B (L)
Cycling through villages and vegetable plantations along irrigation canals
Afternoon Fort Kochi Sightseeing
Kathakali Dance Performance
50km Cycling 4 hours Transfer to hotel 1.30 hours

Day 15: Cochin Airport
Tour Ends
It's the time to say Adieu, with fond memories of the ride through the biodiverse and culture-rich Western Ghats. We will be happy to drop you at the Cochin International Airport. If you have a couple of days more left, the add-on tour program offers more experiences of the beach and backwaters of Kerala as you can read through below.
| | | | |
| --- | --- | --- | --- |
| Property | Meal | Activities for the day | Approx. Distances & Duration |
| | | Drive to Cochin Airport | 1.30 hours |
ADD ON PROGRAM LEISURE AT MARARI BEACH
Day 15: Cycling to Marari
Ride to the Fishermen Village
After breakfast, we will start the ride from Fort Kochi toward the pristine beach destination of Marari. The road will be mostly flat throughout with a view of the Arabian Sea. You will be riding along the patches of wetlands, coastal village of Chellanam, Fishing Harbour of Andhakaranazhi and coconut groves. We will visit the coir factory en route to learn more about coir and its products made by the locals here. Once, this cottage industry was a prime source of income for the locals, men and women alike. We will further ride to a serene beach resort at Marari and settle down. Evening, we can go for a walk in the fishermen's village nearby and get to know more about the humble life of these brave sea warriors. You will wind up the day watching the beautiful sunset at the beach here.
Property
Meal
Activities for the day
Approx. Distances & Duration
Turtle Beach
B (L)
Cycling to Fishermen Village
Coir Factory Visit
Total 45 km
Cycling 3 hours
Day 16: Leisure at Marari
Sunbathe at the pristine beach and Martial Arts Show
Today we spent the day relaxing by the beach, swimming or simply basking in the sun or relax in the comfy cottages amidst the palm groves. You can closely observe the well-kept vegetable garden, butterfly garden or the small animal farm in the serene resort. You can also experience traditional Ayurveda rejuvenation treatments or do mindful yoga practice with an expert yoga trainer at the resort. Afternoon, we go to a traditional martial art show nearby. This Kerala's own fighting style known as Kalaripayettu is also one of the oldest disciplines practiced by the personal bodyguards of the erstwhile Kings. A typical fighter is trained for many years to have great coordination of his body and mind, be utmost agile and generate incredible thrust from the synchronized full-body movements. A Kalari massage is delivered by each Guru to keep the body of his trainees in the best shape and overcome injuries. The master trainer will further accustom you with the various fighting styles, techniques, weaponry and some basic self-defense tips.
Property
Meal
Activities for the day
Approx. Distances & Duration
Turtle Beach
B (L)
Leisure at Beach
Kalaripayettu – Traditional Martial Arts Demo
–
Day 17: Backwaters of Alleppey
Kayaking and village experience at the backwaters
In the morning we drive to the backwater village of Champakulam. A visit to the backwaters is incomplete without a kayaking adventure through its narrow intrinsic canals. We paddle lazily across the small islands and wetlands to see up close, how the village life wakes up to life with the golden lights of the sun. You can see toddy tappers climbing up the high coconut tree, the local fishermen harvesting clamshells and pearl spot fishes on their canoe, women washing clothes and children walking to the school, while flocks of ducks paddling across the narrow canals, the patient kingfishers, egrets and cormorants keeping a watchful eye on their next catch. After the kayaking, you will be greeted by a friendly host at the heritage homestay situated right on the banks of Vembanad lake. You will be served traditional banana leaf lunch with all the flavors you can reckon with your taste buds. After lunch, we will go around for a short village walk to see the church, toddy shop, vegetable market, local tea shop and meet the delighted villagers.
Property
Meal
Activities for the day
Approx. Distances & Duration
Turtle Beach
B (L)
Kayaking Excursion in the backwaters
Lunch with local family and village experiences
2.30 hours kayaking
Day 18: Tour Ends
It's pack-up time till the next adventure. We will be happy to drop you at the Cochin International Airport if this is as per your schedule.
Property
Meal
Activities for the day
Approx. Distances & Duration
Drive to Cochin Airport
75 km Drive
2.30 hours
Services
Accompanying English Speaking Guide
Transfers in AC vehicle
Accommodation in Twin Room
Meals as mentioned
Refreshment & Drinking Water
Mountain or Hybrid Bikes
Activities as mentioned
Airport Pickup and Drop
Toll, Interstate Permit & Parking Charges
Entry Fees at Monuments, Plantation, Museums etc
Government Taxes
Visa
International Flight
Tips (approx. 50 €)
Expense on Additional Services availed en-route and at Properties
Personal Expenses including Camera Fees
Travel Insurance & Medical Expenses
Highlights
Prices and Dates
Fixed Dates:
26.11.2023 – 10.12.2023
20.01.2024 – 03.02.2024
(tour is possible as a private tour from September to May)
2-3 participants: from 2750 €
from 4 participants: 2600 €
from 8 participants 2500 €
Single supplement: 500 €
Add on Tour 3 nights with all mentioned activities: from 400 € per Person
Single Supplement: 180 €
Note:
15 December to 15 January Peak Season Supplement Surcharge
Accommodation depends on availability
Tour Info
Requirements
The bike tours are moderate but sometimes require good endurance and fitness. You should be prepared to cycle for several hours in the tropical climate with temperatures up to approx. 30°C and high humidity on partly unpaved paths in mountainous terrain. During the cycle tours we have not only routes in the plain but also stages with steeper ascents and descents. There is the option to book e-bikes or using the backup car from time to time.
Stay
We stay in beautiful and well-kept middle-class hotels and guesthouses. Especially the overnight stays in the family-run guesthouses, the so-called "homestays", are a particularly nice experience, as one gets a little closer to the life of the locals here.

Arrival
Please book a flight to Goa Dabolim Airport and from Airport Cochin with arrival Day on day 1 and Departure Day on Day 15 or 18. We will welcome you at the airport.
Frequently asked Questions
Do I need an adapter in India?
Yes, an adapter is necessary, as in India most of the plugs are used. More information here.
What is the climate in Southern India?
The climate is subtropical. In July/August is monsoon season, which manifests itself in short showers. The best time to travel is October to March.
In the south of the country, the sun's irradiation is particularly intense due to its proximity to the equator. In order to avoid unpleasant and long-term dangerous sunburns, care must be taken to ensure good sun protection and adequate fluid absorption.
Dangerous currents continue to lead to bathing accidents on the coasts. Warnings on the beaches are essential.
What language is spoken in India?
The official national languages are English and Hindi. In South india, however, many different languages are spoken and there are also over a hundred dialects.
Is there a time difference?
Yes, there are: (CET) + 4.5 hours, during European daylight saving time it is + 3.5 hours.
Notes on money/currency:
The local currency rupee may not be entered or exported. Travellers wishing to import more than 5000 cash or traveller's cheques must indicate this on the currency declaration form you receive upon your entry. We recommend taking euros with you. It is easily possible to exchange money in hotels or banks and bureaux de change, with the exchange rate being uniform. It is recommended to keep the receipt to ensure a return at the airport. International credit cards are accepted by most hotels in major cities and tourist centres.
Notes on additional costs and tipping:
For meals, drinks and snacks not included in the price of the trip, you should calculate approx. 15,- (Euro) per day.
Tips are a voluntary service, which everyone should decide for themselves. Please note, however, that tipping is common in many cultures and is an important part of income due to the relatively low wage level. As a rule of thumb, 5-10% of the invoice amount is appropriate. India is a travel country where a tip is expected for each service. Be it the luggage carrier, the service staff in the restaurant and hotel, for the toilet or the rickshaw ride.
Here is a detailed orientation. Menus often include a surcharge indicated as a service batch. However, the waiters usually see little of this. An additional tip of 5-10% is appropriate. Porters, drivers and guides also expect tipping. For racks 20-30 Rs per bag is attached, for maids 20-30 Rs per day. Your tour guide will be happy to advise you.
Tip: Talk to your fellow travellers. It has often been proven that one of the group gives a reasonable tip on behalf of the whole group (e.g. for the tour guide and driver). Experience has shown that each traveller will receive a tip of around 60 € for the entire trip. But: Tips are voluntary and please communicate with the group on site how you want to deal with it.
Notes on vaccination:
There are no vaccination regulations for direct entry from Germany. The Foreign Office recommends checking the standard vaccinations when travelling to India. These include vaccinations against tetanus, diphtheria, pertussis, polio, mumps, measles, rubella and influenza, as well as pneumococci.
Vaccinations against hepatitis A and typhoid, long-term stays or special hazards are also recommended for travel vaccinations against hepatitis B, rabies, meningococcal meningitis ACWY and Japanese encephalitis.
Please keep in mind that vaccination regulations may change in the short term. In addition to the family doctor, individual information is also provided by the health offices or tropical institutes.
What equipment you should think of?
Passport
Printing of the electronic tourist visa (e-TV)
Cash/EC card/credit card
Photocopies of the most important documents (keep separate from originals). Send a copy via PDF to your own email in advance.
Travel documents
Day backpack (approx. 25l volume if possible with integrated rain cover) for food and drinks on the go
comfortbale clothes and shoes for walks and hikes
Cycling clothes, helmet, drinking bottle, cleat Pedales, if required
light sneakers or sandals (for aerating the feet)
Drinking bottle or field bottle (minimum 1 liter)
Wind and rain protection (e.g. breathable rain jacket)
Long trousers and sweater/jacket (for the evening and/or rooms with air conditioning)
Towel
Handkerchiefs (possibly also wet handkerchiefs for body hygiene)
Photo equipment
Field cutter/remote glass if necessary
bathing suits, bath towel
Sun protection and headgear (cap, hat or headscarf, sunglasses, sunscreen)
Travel pharmacy, first aid kit, possibly personal medications, insect repellent
Due to different socket types, we recommend taking an international adapter set with you.
15 Days Goa to Kerala Bicycle Tour with optional 3 Days add on Beach Resort and Backwater Tour