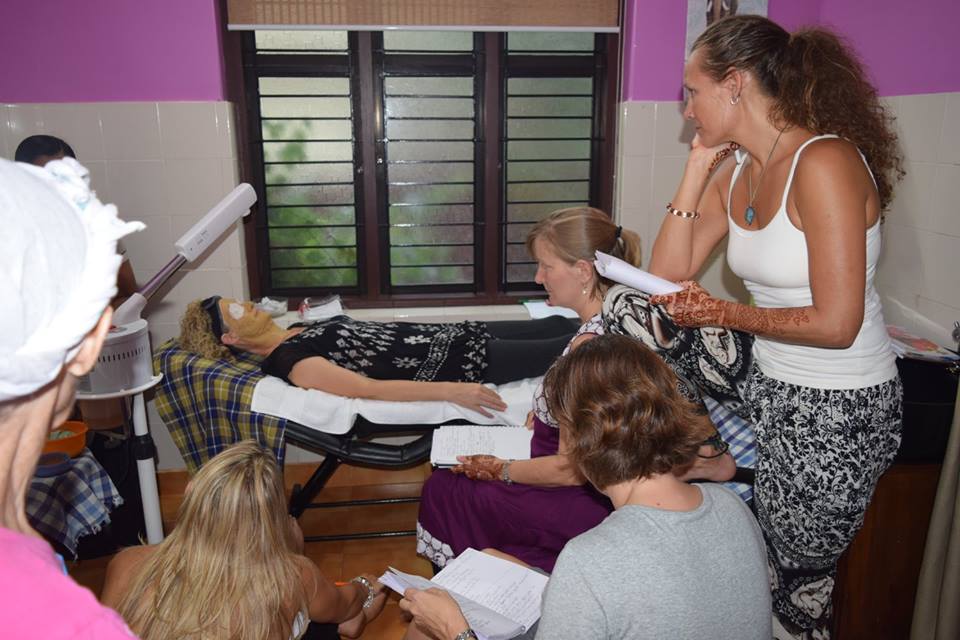 Overview
Ayurveda and Yoga are two interconnected traditional Indian health systems for body, mind and soul. These two sister sciences support each other to provide a healing health system to the yoga practitioner or Ayurveda patient.
Both Yoga and Ayurveda have their origins in the Sat Dharmas, the six Orthodox philosophies in India, are more than 5000 years old systems and are based on the Samkhya philosophy. Both focus on your holistic health, called Swastha, including your physical, mental and spiritual health, with yoga focusing more on the well-being of the mind and Ayurveda on your physical body.
Together, they create the perfect mix of practices and treatments to bring more value to your life.
In this training to become a certified Ayurvedic yoga teacher, you will learn how to integrate Ayurveda into your yoga practice and the daily life of your students, and you will be able to design yoga classes according to the guidelines of Ayurveda with a focus on, for example, the prakriti, the season and the day.
In addition, you will be trained to give private yoga Ayurvedic sessions for your clients as well as to conduct Ayurveda Yoga Health Coaching to improve or maintain the health of your clients.
Course content:
Ayurveda History and Philosophy
Ashtanga Ayurveda
Basic Principles of Ayurveda
Concept of Tridosha
Prakruti / Constitution
Body tissue according to Ayurveda
Mala or waste products
Ojas, Tejas, Prana
Digestion and metabolism
Ayurvedic lifestyle according to the Doshas, Prakriti and Vikriti, seasons, age and time of day
The interrelationship between yoga and Ayurveda
AyurYoga
Ayurveda diet with Ayurveda cooking classes
Ayurveda Dincharya (daily routine)
small Ayurveda herbalism
Ayurvedic massage (Abhyangha) and other treatments
The course will be a mixture of theoretical and practical sessions.
This course is for:
trained yoga teachers who want to include the concept of Ayurveda in their lessons
Health professionals who want to refresh and deepen their knowledge in their fields of expertise or to expand their knowledge into the field of Ayurveda
all those who are interested in Yoga and Ayurveda and want to bring Ayurveda into their lives.
For registered Yoga Teachers of the Yoga Alliance who want to receive certified training lessons
Training
Greens Ayurveda Center is a small, well-known spa clinic in the southern state of India: Kerala. Here you will not only learn Ayurveda from Ayurveda experts, but also live the Yoga and Ayurvedic lifestyle under palm trees and near the Arabian Sea. Basically an education with a holiday feeling :). Kerala is known as the centre of Ayurveda, and Green Ayurveda is one of the best therapy and training centres in India.
The Chief Physician Dr. C. P. Asghar and his team of physicians and therapists provide comprehensive care and knowledge. The clinic is located in a small village surrounded by palm trees and within walking distance of the beach.
Students will be accommodated in clean and well-equipped air-conditioned rooms.
The complex has a recreation area, a dining room, a multi-room hospital, airy classrooms, a rooftop terrace, a herb garden, a library and a guest kitchen.
Daily you have one Ayurveda treatment included.
Following the training, the 7 days trip through South India can be connected.
Program
Day 1 Arrival
Upon arrival at the airport, you will be greeted by the instructor Sarah and taken by transfer to the Ayurvedic Clinic. After a short break we have lunch, show you the area and introduce you to the whole team. In the afternoon we have our first theory lecture, followed by meditation and dinner.
Day 2-14 Ayurveda Yoga Teacher Training
During these two weeks, an intensive program of yoga lessons and theoretical and practical Ayurveda workshops awaits you.
Sunday is free and we will take you on a small sightseeing tour.
Day 15 Departure
After the graduation ceremony, it's time to say goodbye and we'll be taken by transfer to the airport to continue our journey home.
Daily program
6:00- 7:00 Yoga and meditation
7:00 – 9:00 Ayurveda application
9:00 – 9:30 Breakfast
11:00 – 13:00 Ayurveda class 1 practical and theoretical
13:00 – 14:00 Lunch break
14:00 – 16:00 Ayurveda class 2 (practical or theoretical)
from 16 o'clock excursions, free time, further Ayurveda treatments or extra lessons
19:00 – 20:00 Dinner
Included services
14 nights in a double room with attached bathroom
2 weeks training with course material
Certificate
ayurvedic counseling with dosha determination, imbalance analysis and treatment recommendations
Full board (traditional/vegetarian/Ayurvedic)
filtered water
Laundry service and free Wi-Fi
daily yoga and meditation classes
Access to the Ayurveda Library
Cultural performances
1 day trip on Sunday
daily Ayurveda application
Airport
Instructor
Visa
International flight to and from Kozikode or Kannur airport (we will be happy to assist you with flight booking)
Additional treatments (can be booked)
Highlights
Prices and dates
fixed group date:
07.01.2024 – 21.01.2024
1650 € per person (4 to 16 participants)
Single supplement: 250 €
Even outside the 2 weeks (anytime) intensive courses are possible. Please inquire for more information:
Ayurvedic Cooking and Nutrition
Ayurveda Pharmacy
Ayurveda massage
Ayurveda Marma Chakra and Massage
Ayurveda Beauty Program
Following the training, the 7 days trip through South India can be connected.
Travel Info
requirements
Intensive yoga training requires a lot of discipline and commitment. In order to obtain the certificate, no hours of absence may be recorded and a theory and practice examination must be passed.
More information en
Training and certificate
Together with the trained staff at Greens Ayurveda, Sarah will teach the practical and theoretical classes as well as the daily morning meditation and yoga classes. The course is certified by Greens Ayurveda.
About the region
Kerala is home to many Christians, so you can visit not only Hindu temples and mosques, but also many churches. In many places you almost feel like in southern Europe, because many Portuguese settled here during the colonial period and traded.
Climate
From November to March it is pleasantly warm and you only need light clothing. On most beaches of Kerala you can bathe in normal swimwear. On the beaches just off the coast, it is advisable to put on a T-shirt. Women in particular often attract unwelcome glances from local and Indian tourists, as it is not common in India for women to show too much skin. From March the temperatures will rise and it will be humid, so you will sweat a lot and have to pay attention to your circulation. From June to the end of September is rainy season, and many seasonal accommodations and restaurants have closed. During this time it rains quite heavily, but is an ideal time for an Ayurveda retreat.
What you should bring:
light knee- and shoulder-covering clothing (thighs and tunic, shirt and wide trousers, knee-covering dresses (also shorts and tops possible)
Clothing for Yoga
old clothes (under clothes, shirts, trousers) for treatments with oil and pastes
Scarf or scarf
Sandals or flip-flops
Sunglasses, Sunscreen, Head
own toiletries, but not too much, as many Ayurvedic products are available here
small bag / backpack for excursions
Passport (copy), credit or bank card, cash in your currency (approx. €50)
Camera, phone, charger (no adapter required)
Notebook and writing material
Swimwear, towel
Ayurveda Yoga Teacher Training in Kerala