Sport & Abenteuer Reisen
Aktive Kultur Reisen
Kultur Reisen
Trekking Reisen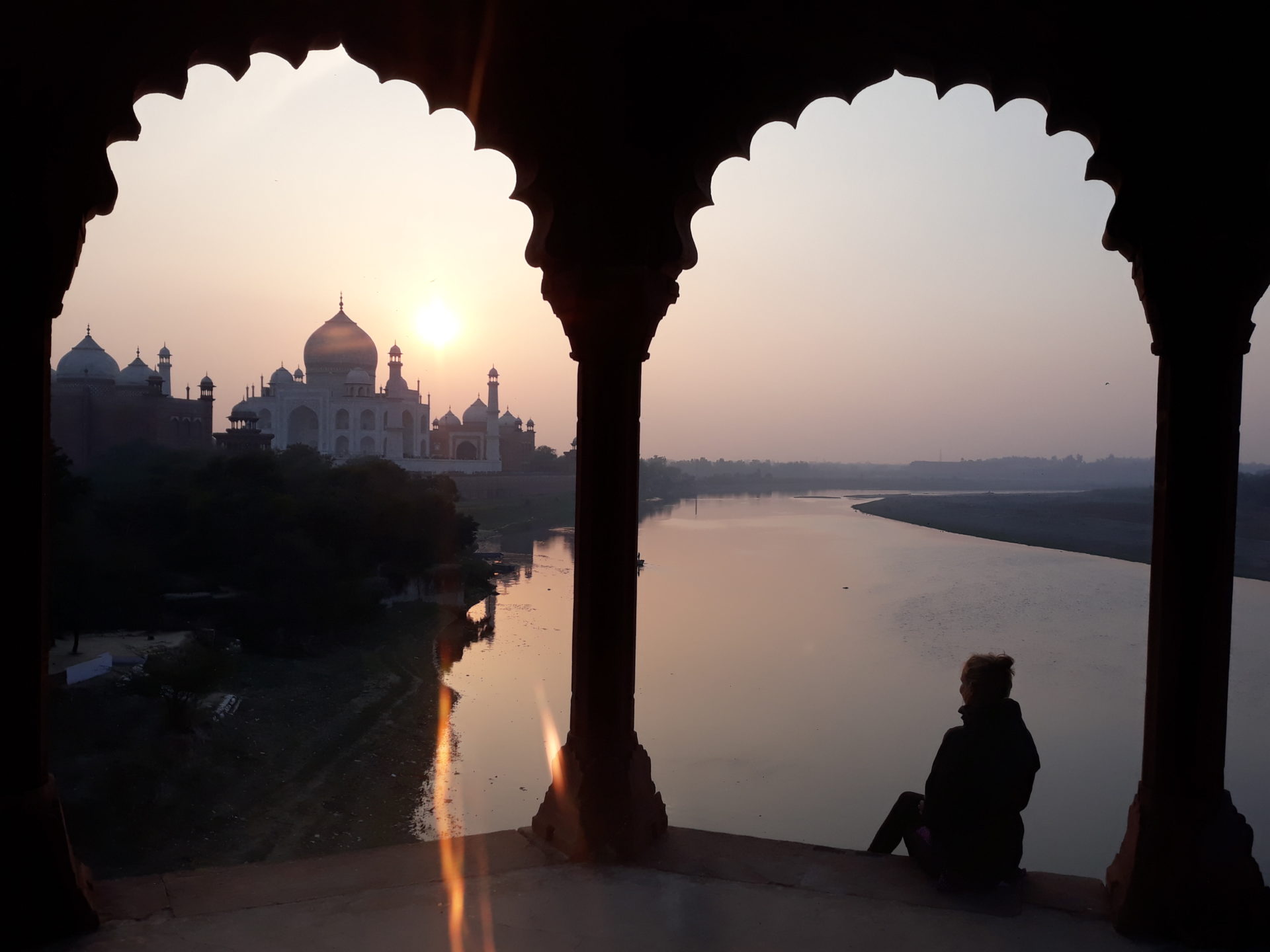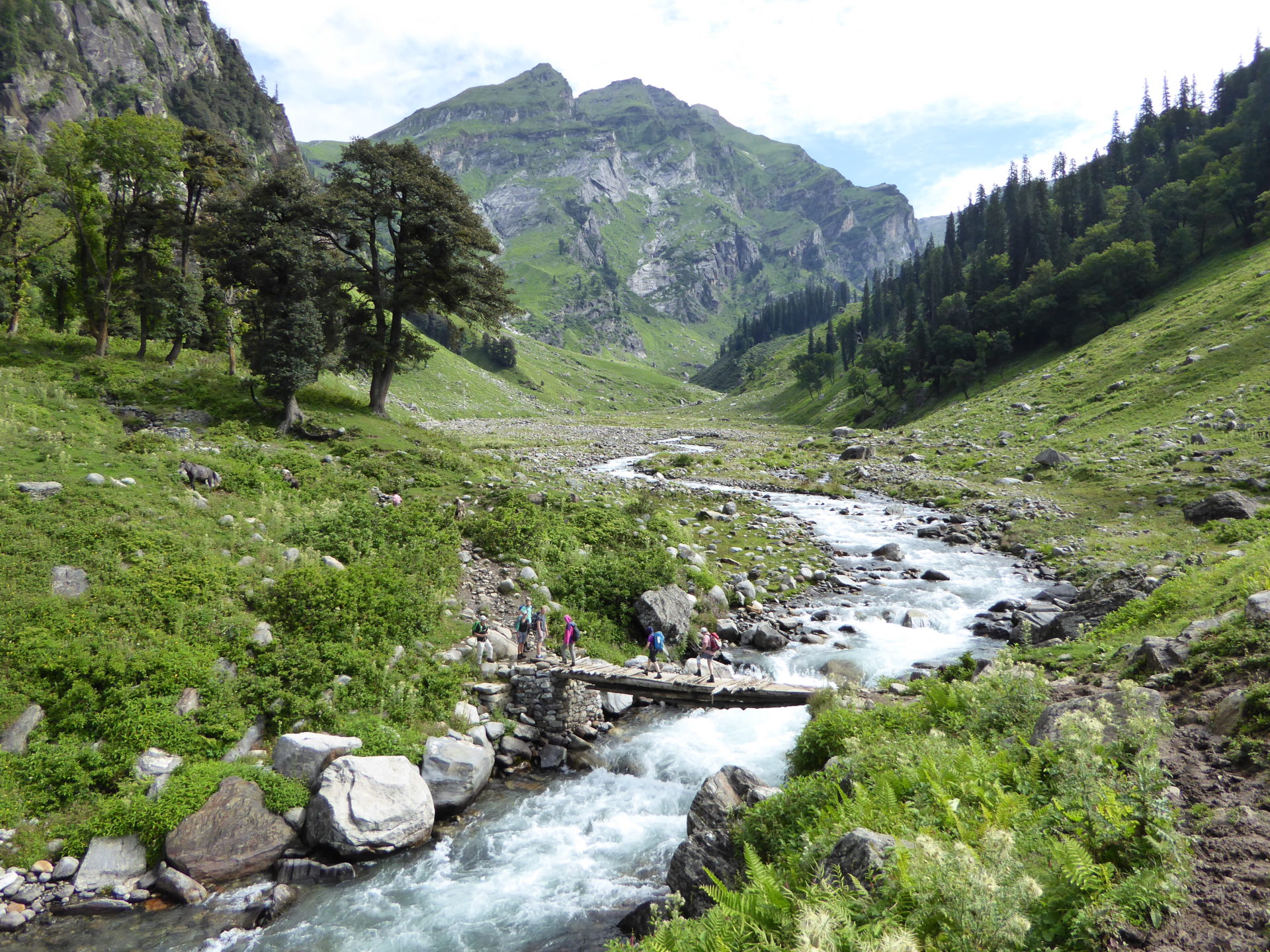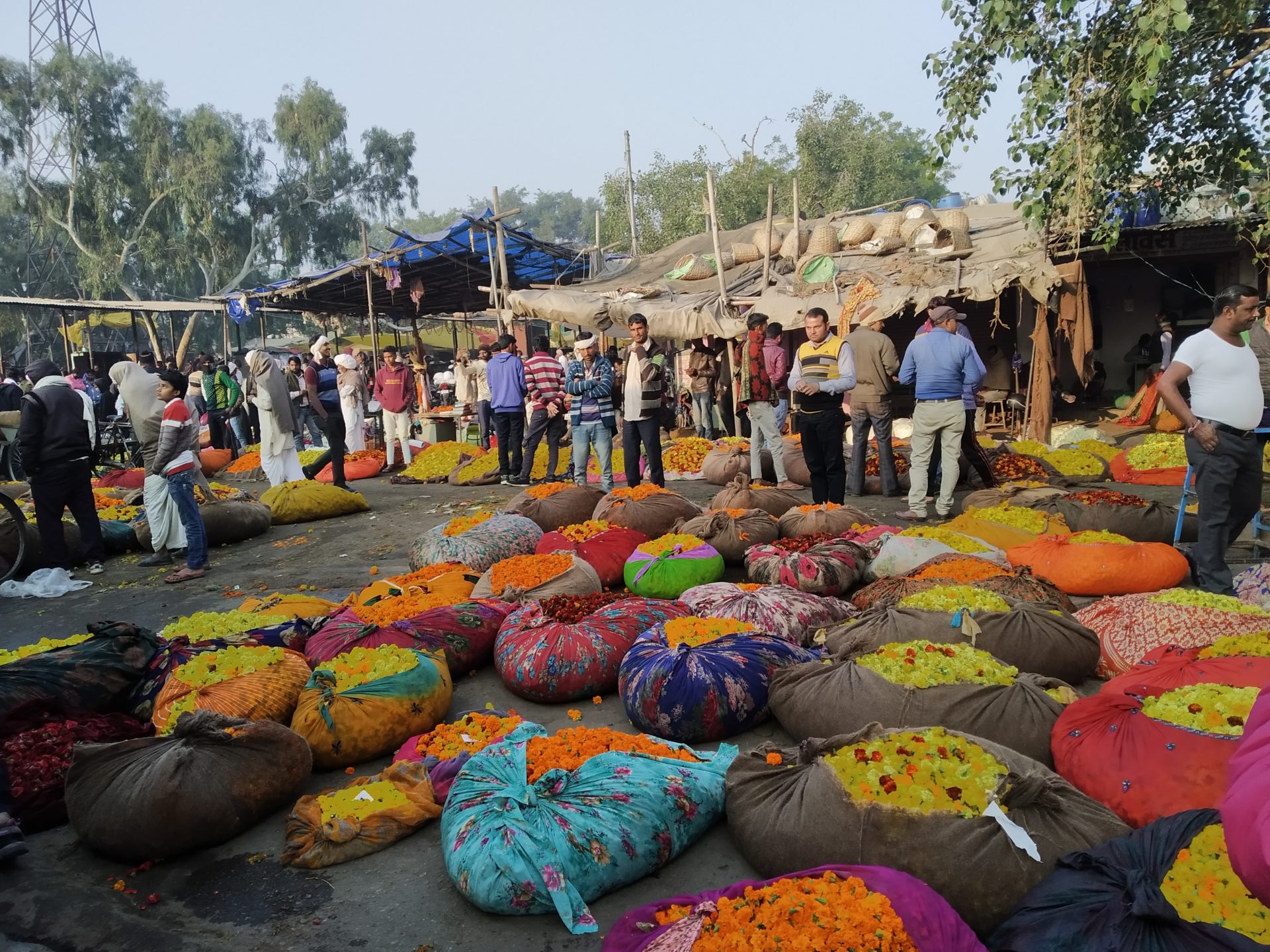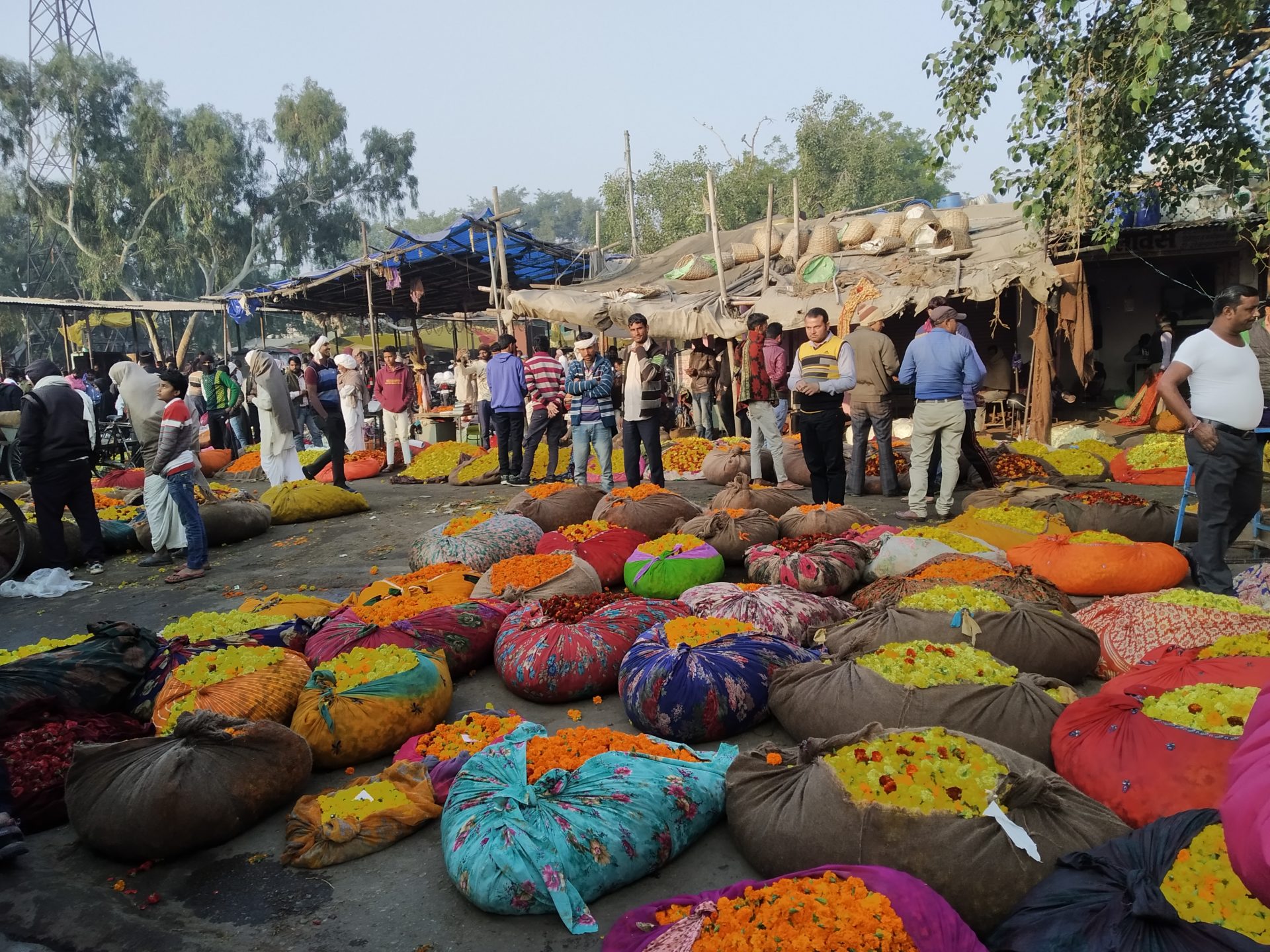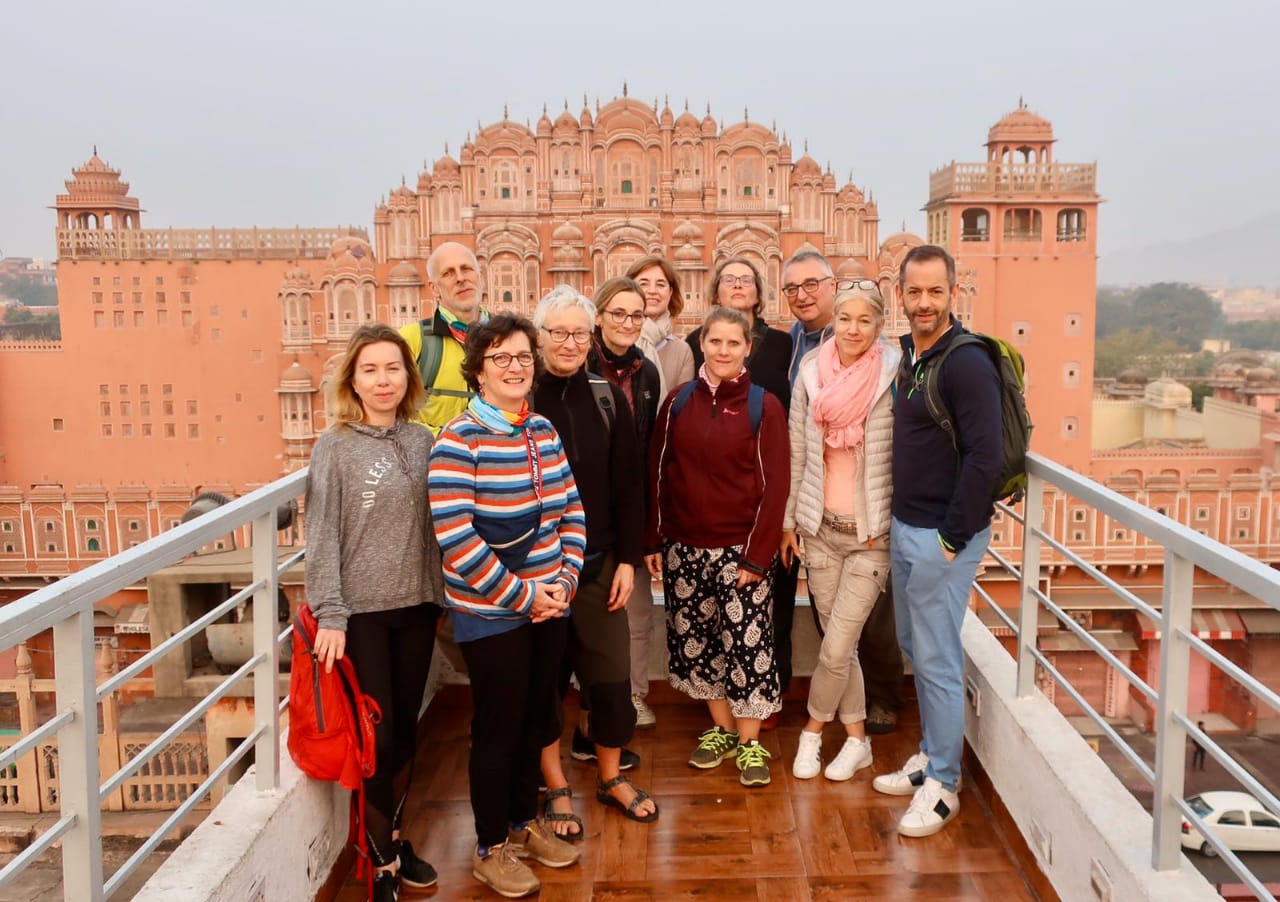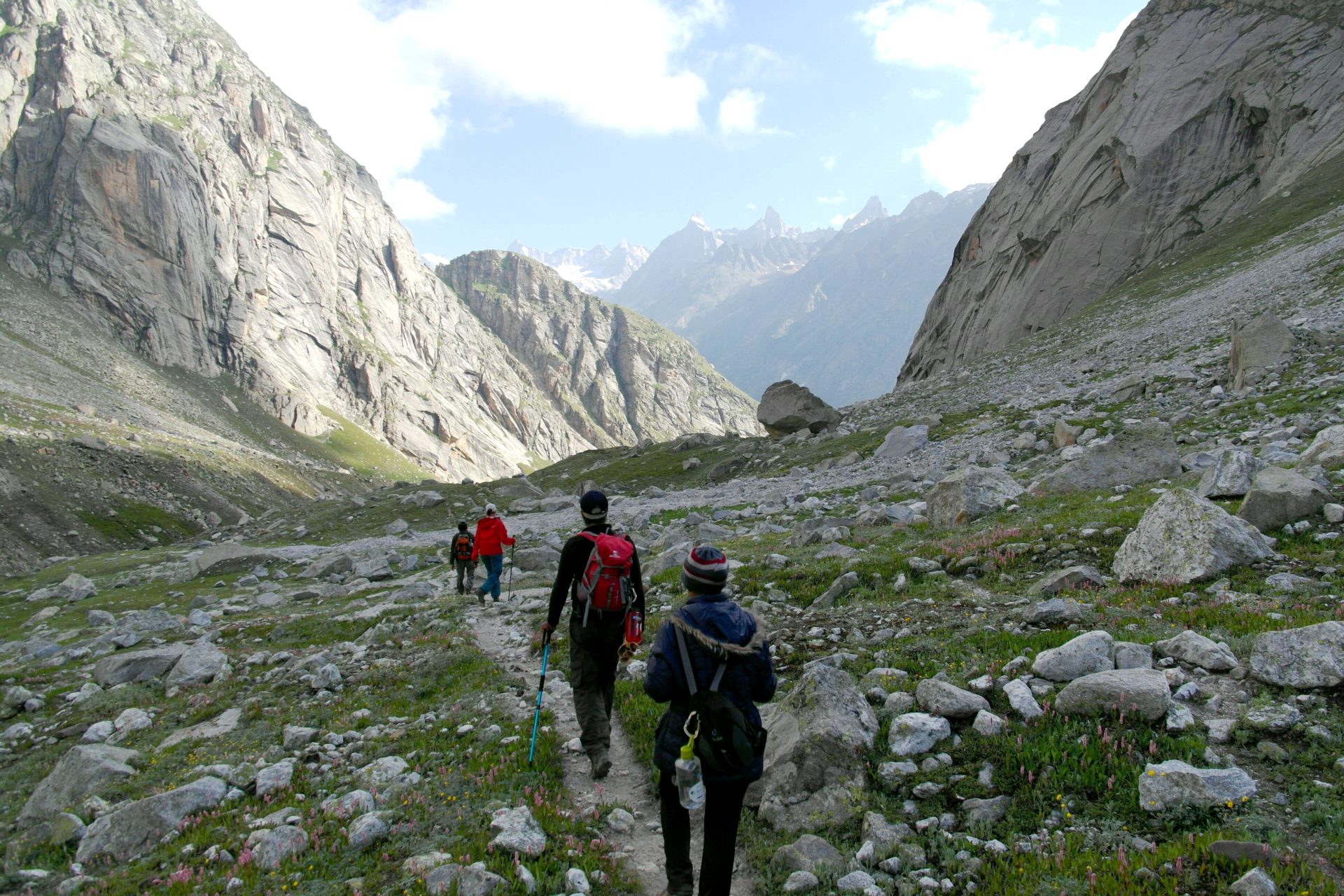 Overview
This trip is a wonderful combination of trekking and cultural sightseeing.
First we go up to the Himalayan region. Here you take a week-long trekking tour to the foot of the 6001 meter high Deo Tibba and over the 4270 meter high Hamta Pass. After the trek, a jeep drives you further through the high mountain desert to one of the most beautiful lakes in the region: the moon lake Chandratal.
After the active part of the journey in the high mountains, you return to Delhi. Here a taxi is waiting for you and in the next three days you will visit the Rajasthan capital Jaipur and the Taj Mahal in Agra.
This trip serves as an example of a combining different Travel Building Blocks (here trekking and culture). All our trips are changeable and can be combined with each other. Get in touch with us so that we can plan a trip tailored to your needs!
Program
Day 1 Arrival in Delhi, in the evening drive to Manali with air-conditioned Volvo bus 14 hours overnight
You will be taken from the airport to the hotel. After a breakfast and some rest, we can explore Delhi together by rickshaw and metro. In the evening we set off for the fortnightly drive to Manali. (Overnight stay on bus) B/-/-
Day 2 Manali Recreation Day and local sightseeing tour 2050 m
In the morning we reach Manali and check into our hotel. Today, recovery is on the agenda. We enjoy the green mountain landscape of Manali and later go on a small sightseeing tour. (Overnight stay at the hotel) B/-/-
Day 3 Start of the Hamta Pass Trek
Drive to Jagatsukh (2015 m) 7 km from Manali
Jagatsukh to Tilgan (2430 m) 5 to 6 hours trek
It's constantly going uphill. First through the village of Jagathsukh. We reach an old temple. From here we continue through a deep forest until we set up our camp. We have a unique view of Manali. (Overnight in the tent) -/L/D
Day 4 Tilgan to Sarotu (3380 m) 6 to 7 hours
Today, our path is not quite so steep. It goes on through forests and we have to cross a river. We hike on green pastures, where we meet shepherds with their sheep. It goes up to just above the tree line. (Overnight in a tent) B/L/D
Day 5 Sarotu to Deo Tibba Basecamp (4300 m) 5-6 hours
Today we have a very special stage ahead of us: we go to the Base Camp of the Deo Tibba, which at 6001 meters is one of the highest peaks in the region. He proudly towers over our camp, which is located on the bubbling Alien River! (Overnight in a tent) B/L/D
Day 6 to Chikka (3300 m) 6 hours
It goes downhill and then into the Hamta valley. We reach a dam and meet settlers who spend the summer here with their cows. It goes deeper into the valley and we have to cross a river over a shaky bridge. (Overnight in a tent) B/L/D
Day 7 Chikka to Balu-Ka-Gera (3770 m) 5 hours
Today we have the adventurous challenge of crossing another river, this time without a bridge! We have our camp near a small lake. (Overnight in a tent) B/L/D
Day 8 Balu Ghera to Shia Gauru (via Hamta Pass) (4268 m) 6 hours
Today we cross the famous Hamta Pass. Over boulders it goes higher and higher and the air becomes noticeably thin. Arriving at the top, we are surrounded by glaciers and snow-capped peaks. We descend into a side valley of the Lahaul valley. (Overnight in a tent) B/L/D
Day 9 Shia Gauru to Chatru (3560 m) 4 hours and jeep drive to Chandra Tal Lake
Today we have an easy day. We descend comfortably to Chatru, a tiny place with a few small eating places next to the raging Chandra River. From here we take the jeep to the infamous Chandra Tal Lake. It lies far in the high mountain desert of the Lahaul valley and for about 2-3 hours it goes deeper and deeper into the mountains on a sandy slope. The lake, located at 4200 meters high, has the shape of a crescent moon (Chandra=Moon) and is surrounded from all sides by high mountains. (Overnight in a tent) B/L/-
Day 10 Return to Manali 6 hours
A long but impressive drive that takes us back to the green Kullu Valley via the 3980 metre high Rothang Pass. Here is a room with a bed and a hot shower waiting for us. (Overnight stay at the hotel) B/L/-
Day 11 Relax day in Manali and evening bus journes to Delhi overnight 14 hours
We enjoy the lazy day in Manali until we return to Delhi in the evening. (Overnight stay on bus) B/-/-
Day 12 Arrival in Delhi and drive to Jaipur
We are on our way to Jaipur. After 3- 4 hours drive we reach the "Pinke City" and capital of Rajasthan. On the way we stop at Amber Fort, a huge palace complex.
The rest of the day is for a visit to the City Palace and the Jantar Mantar Observatory. We can watch an original Bollywood movie at Rajmandir Cinema and watch the sunset from Tiger Fort. (Overnight stay at the hotel) B/-/-
Day 13 Sightseeing in Jaipur by bike and drive to Agra
Today we visit Jaipur in a very special way: by bike! This is how we see corners of the city, where no other tourist comes, and get to know the city life quite authentically. Then we continue by car to Agra.
On the four-hour drive to Agra we can stop at Keoladeo National Park in Barathpur. The bird park, with over 364 different bird species, invites you to visit by car rickshaw. Waterfowl from Afghanistan, Turkmenistan, China and Siberia hibernate in the swamp landscape. Originally, this area was used as a hunting ground for the Maharaja of Bharatpur. Afterwards we stop again in Fathepur Sikri, a magnificent, long-abandoned palace complex. (Overnight stay at the hotel) B/-/-
Day 14 Visit to the Taj Mahal and drive to Delhi
Early in the morning at sunrise we visit the famous Taj Mahal. The tomb was erected by the Mughal Prince Shah Jahan as a sign of his love for his wife Mumtaz Mahal, who died at the birth of his 14th child.
We return to Delhi (3 hours). From here it goes to the airport or for another night to the hotel. B/-/-
Services
1 night in Delhi with breakfast
2 nights in Manali with breakfast
1 night in Agra with breakfast
1 night in Jaipur with breakfast
Volvo Bus Delhi-Manali/Manali-Delhi
7 days trekking tour with full catering, complete equipment and staff
2 days Jeep Safari with accommodation in a tent and full catering
3 days car with driver for the tour "Golden Triangle"
Bicycle tour Jaipur
Taj Mahal, Amber Fort Entrance
International flight
Unmentioned meals/drinks
Unmentioned activities /admissions
Tour Guide (can be booked for extra charge)
Tips
Visa
Highlights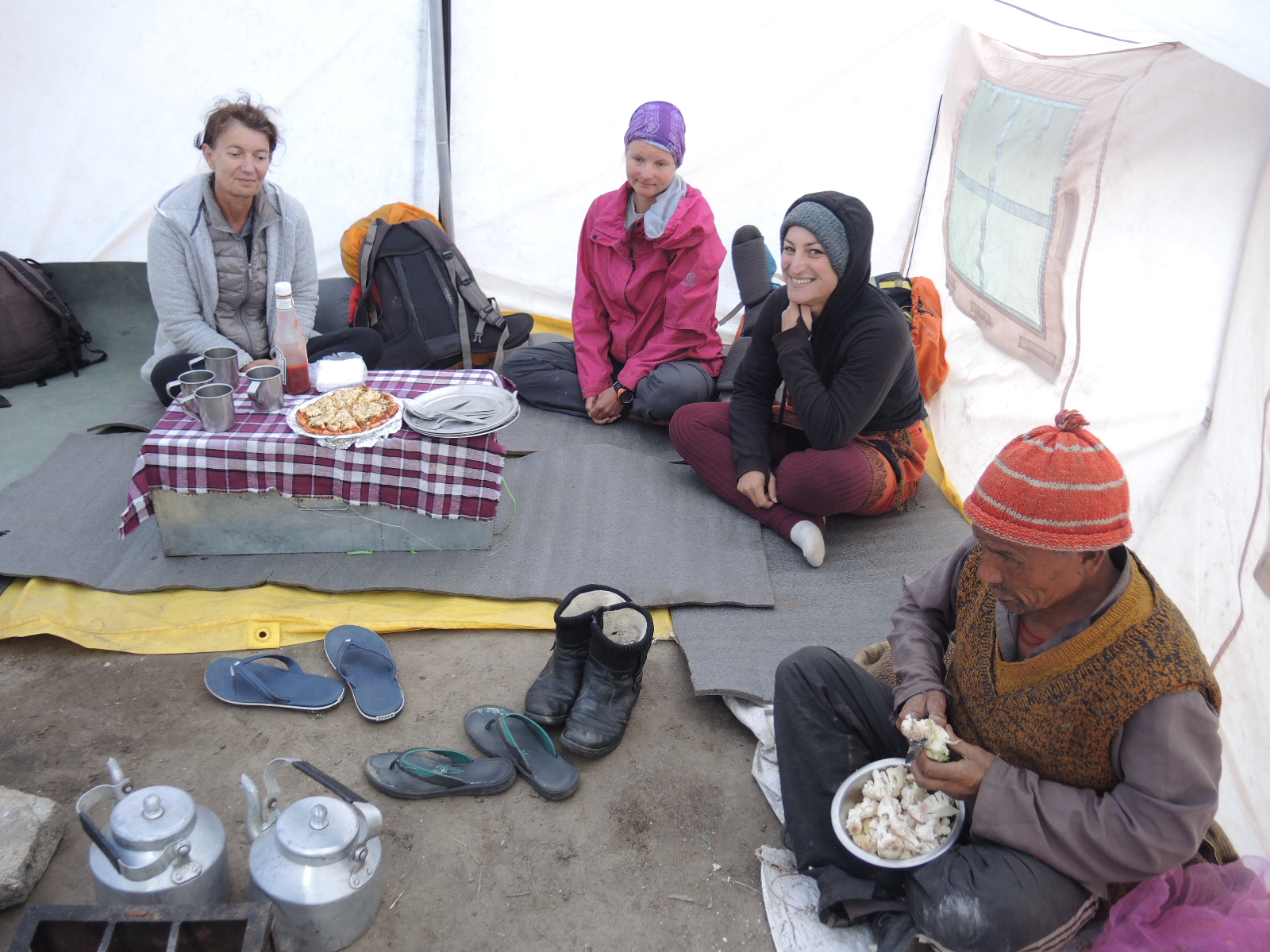 Prices and Dates
Possible as a private trip at any time
2 participants from 1299 € per person
3-4 participants from 1099 € per person
5-6 participants from 1049 € per person
300 € single room supplement for room/tent
Tour Info
Requirements
The Trek is a typically moderate trek in the Himalayas. The daily stages are never very long (4 to 6 hours). It goes steadily uphill towards Hamta Pass and you can feel the decreasing air pressure near the pass a little bit. From the pass it goes down relatively steeply.
Information about the Trekking Tours with Chalo! Travels
Mountain guide and trekking team
On all our treks we have at least one (for larger groups of 6 participants two) trained local mountain guide. Our mountain guides have all completed at least the Indian mountaineering training, many of them have also completed the advanced courses.
They are familiar with the trekking routes and know the terrain excellently. All our mountain guides speak English.
In addition, there is a local team consisting of a cook (if the group consists of only two participants, the mountain guide also takes over the tasks of the cook), helpers, horsemen with horses or Nepalese porters, depending on the type of trek.
All our team members have been working with us for years, are very friendly and always strive to provide our guests with a great trekking experience. Their English (besides of the Guide) is rather mediocre or non-existent, but this is not necessarily a hindrance to communicating with them.
Trekking routes
The trekking routes are designed according the skills of our guests and are all feasible for a person with a good fitness level, unless otherwise mentioned. The daily routes are between five and eight hours long (with breaks) and an average increase of around 500-800 metres of altitude is completed.
In between, rivers may have to be crossed. The paths are partly well developed, but sometimes also almost non-existent. On our trekking routes there are hardly any villages in between, so we will take enough food for the whole tour.
On our treks we cross passes, snow or glaciers. On steep slopes, we have safety equipment with us.
Daily routine (Depending on the length and intensity of the trek, the times may vary)
7: 00 am Get up with Tea
7:30-8:30 am Breakfast
7:00-9:30 am Dismantling of the camp
8:00- 9:30 am Start Trek
1:00 pm Lunch on the way
3:00-5:00 pm Arrival at the camp and camp construction
3:30-5:30 pm Snacks
7:00 pm Dinner
Altitude and altitude sickness
Altitude sickness is a very important topic that should not be underestimated, especially during our trekking tours in the Indian Himalayas. At altitudes above 3500 m, our body has to slowly get used to the low air pressure, which also causes less oxygen to enter our lungs. The first signs of altitude sickness are headaches, which are accompanied by dizziness, nausea, insomnia and loss of appetite. It becomes problematic when water accumulates in the lungs and brain and edema occurs. Then only the immediate descent to lower altitudes will help. To prepare for the heights on our treks, we will either spend a few nights at high altitudes before the trek or slowly ascend during the trek to acclimatize. If we notice that there are problems with our guests (each person is otherwise able to acclimatize, regardless of age, gender and fitness level), it may happen that either the entire group or the concerned participant descends/returns with a team. In addition, it makes sense to take an emergency drug for altitude sickness. For this, it is best to consult the pharmacy or the travel doctor. For certain treks we will also have oxygen with us.
Luggage
Each trekking participant is responsible for his own clothes and personal belongings. Depending on the trek, we are either with horses or porters. If we have load horses, one bag per participant can be loaded onto the horse. In the case of treks with porters, all personal luggage must be carried independently. Tents, sleeping bags, mattresses and food are carried by our porters.
For trekking tours with horses, a day backpack with space for the lunchbox, a water bottle and warm overcoat clothing should be taken with you. Here to the complete packing list for our trekking tours.
Packing list for trekking tours
sleeping bag at least -10°C
large backpack or soft carrying bag so that the load animals can carry the luggage
Small carrying backpack for the day approx. 30-40 l with rain protection
flashlight/headlamp
2 refillable water bottles
hiking poles
passport and passport copy
camera with spare battery and memory card
headgear as sun protection
Good Sunglasses
cap
Scarf, Buff
Gloves
wind-proof trekking pants
trekking pants
Functional Underwear Long
hiking boots
socks thick and thin
sneakers, sandals and/or slats
windbreaker
Warm Jacket
fleece sweater/jacket
Tshirts
sunscreen, lip balm min. Protection 40
fat cream
water purification tablets (boiled and filtered water is provided)
own medications for headaches, nausea, digestive problems, colds)
bubble patches and dressing material
own hygiene articles
Toilets Paper
hand disinfection
Meals
During the trek there will be a vegetarian full catering. Water is either boiled or we have a water filter with us.
Breakfast (daily selection):
Coffee/Tea
Oatmeal porridge/muesli/cornflakes/Indian porridge
Indian breakfast
Sliced fruit/vegetables
Lunch (mostly lunchbox), sometimes warm in the camp
Sandwiches/Indian (rice, chapati, vegetables)/potatoes
Juices
Chocolate
Fruit
Snacks
Tea/coffee
Cookies
French fries/Indian snacks
Soup
Dinner (depending on the length of the Trek mix of Indian/Chinese/Continental)
Vegetable dish
Lentil dish
Rice/noodles
Chapati
Salad
Dessert
Accommodation and camp
We have very comfortable and spacious two-man tents. Our mattresses are practical but simple if there are problems with sleeping on hard surfaces, please take your own mattress with you or order from us. Our sleeping bags are freshly washed and have a very good quality with comfort zone up to -5°C/extreme zone up to -20° C. It is recommended to bring personal indoor sleeping bags.
In addition, we have a spacious dining tent with tables and chairs, a kitchen tent for the team and a toilet tent. For treks up to 4 people, the kitchen tent can also act as a dining tent at the same time.
For trekking tours with porters, we will take our smaller, lighter tents with us and do without a toilet tent.
Weather
In the Himalayas, temperatures fluctuate widely. While it can get warm up to 25°C during the day and the sun is not only warming, but also very intense (sun protection is a must), it can also cool down significantly below the minus-grade at night, especially in the months end of September and October, as well as in June. There may also be weather changes with snow on the passes.
5

Golden Triangle & Hamta Pass Trek & Leh

I've been to India a few times and wanted to share my love for the country with my parents. It should be an active holiday, with some culture to get to know the country and its people. Sarah organized the whole trip perfectly. During the first days of sightseeing, we had a German-speaking tour guide in Delhi, Jaipur and Agra incl. Taj Mahal. By bus we went overnight to the mountains to Manali. We spent the day in the area. The hot springs and the delicious Tibetan food in Vashisht are highly recommended. Now the highlight of the trip began: the Hamta Pass Trek followed by a jeep tour to Leh in Ladakh. The Hamta Pass Trek is probably one of the most beautiful and varied treks in the area. Our German and English-speaking guides were excellent! A personal highlight was our little Momo cooking class with the team in the evening after the day hike. After the trek we drove by jeeps over the Chandratal to Leh. Leh is beautiful and with its numerous cultural offerings absolutely worth a trip. We had a great time thanks to the excellent organization of Sarah. my parents were thrilled and I have already planned my next trip to India – organized of course by Chalo! Travels..

5

Our "Incredible (North) India" Trip

In August 2014 we got to know the indescribable India. It seemed like a little trip around the world. Our 15-day program took us via Delhi, Agra, Manali, Hampta Pass and Chandra Taal Lake to Leh. The trip was arranged for us individually by Chalo Travels and well organized in advance. Our journey began in Berlin, and after our flight, through the time zones we were able to sleep in hot Delhi at 3 am. On the first morning, a taxi sightseeing tour was planned. Unfortunately, you can't get to know Delhi in one day. However, we have been able to visit the most interesting things, such as the India Gate, Raj Ghat, Qutub Minar and Birla Mandir. A good lunch and a small shopping tour rounded off the incredibly impressive day. The next day we had a tight program ahead of us. At sunrise we drove 3.5 h to Agra to visit the Taj Mahal for about an hour. In the evening we had to get our bus from Delhi to Manali. But what do you not do to visit such a well-known and dreamlike building. Immediately afterwards, a 16-hour bus ride through the night awaited us. The ride was tolerable – we had imagined it worse. Arriving in Manali, we moved into our quarters and then explored the area. We were particularly impressed by the forest between Old and New Manali. On the second day we did a Bike tour towards Solang Valley. It is a rather strenuous bike ride of two hours, if you are not used to it. The third day did not leave many possibilities open to us, because the weather was very changeable and we finally got a strong monsoon rain in the afternoon. We walked to the Hadimba Temple to New Manali and actually wanted to go on to the Vaschisht Waterfall. Unfortunately, the "Monsoon Waterfall", which turned the streets into a river, has made a dent in our bill. But a hairdresser was so nice and gave us shelter before we made our way home in a motor rikshaw. Luckily, this was the only "bad weather day" of the entire trip. And it was the middle of Monun Time! We used our last day in Manali for climbing in bright sunshine. There we already met our two new Indian friends and our friendly guide for the Hampta Pass Trek. After four hours we finished the climbing tired, but happy. In Manali we found some beautiful restaurants where we liked to stay and could eat very well. We spent a lot of time in the common office of Chalo-Travels and Himalayan Trails – for chatting, drinking tea and simply enjoying. After the eventful and varied days in Manali, four days of trekking and a jeep ride to Lake Chandra Taal were planned. So we and our three "friends" started the tour. The trek was the perfect mix of effort, fun, indescribable natural impressions, always fresh and varied food and interesting conversations about our different cultures. On the way to the first camp, the landscape along the rivers was already very beautiful. This beauty increased from day to day. Through the springwater, we always had enough to drink. Arriving in Chhatru, the destination of the trekking tour, we got into the jeep, which took us in 3 hours on the worst road to the Chandra Taal Lake about 40 km away. For a long time, we could enjoy the beauty of the lake before sunset. The last time we enjoyed the "camp food". The next morning we went fo an ice-cold swim in the lake. Now the jeep trip to Leh began. On the way to Gramphu we took a involuntary break, as boulders blocked the road and they had to be blown away. In Gramphu we said goodbye to our new friends and continued with our driver to Leh. About 8 hours we drove, accompanied by Indian music, to our stopover Sarchu. The next morning we went on to Leh for about 8 more hours. The landscapes of the previous day were topped again. It is astonishing how these can change fundamentally in a short time: washed-out valleys, then red mountains, later grey gorges, red-brown rock layers of the earth's crust, washed-out areas like in the Grand Canyon and suddenly desert with a very good road. After crossing the Tanglang La, the second highest pass in the world at 5,317 meters altitude, we finally reached Leh Ladakh. The 2.5 days in Leh we let go quietly. In addition to a stroll through the city, we climbed to Leh Palace, Tsemo Castle and the many steps to Shanti Stupa. We always ended the evenings in a cozy restaurant. The next morning we went by plane from Leh back to Delhi. With cloudless skies we were able to enjoy the great views again and finally say goodbye to the Himalayas. All in all, it was an incredible trip to India! – A journey full of contrasts, especially with regard to the most diverse cultural and religious circles (Hinduism, Islam, Sikhism and Buddhism) and the landscapes (city life, the green Himalayas to the desert landscape). Only those who travel to India can understand what and how much you can experience in such a short time! We still rave about the delicious food, so we've already started to cook some dishes. Many thanks to Chalo Travels for this exemplary, flexible and smooth planning!
The Golden Triangle and Himalaya Trekking