Sport & Abenteuer Reisen
Reise Bausteine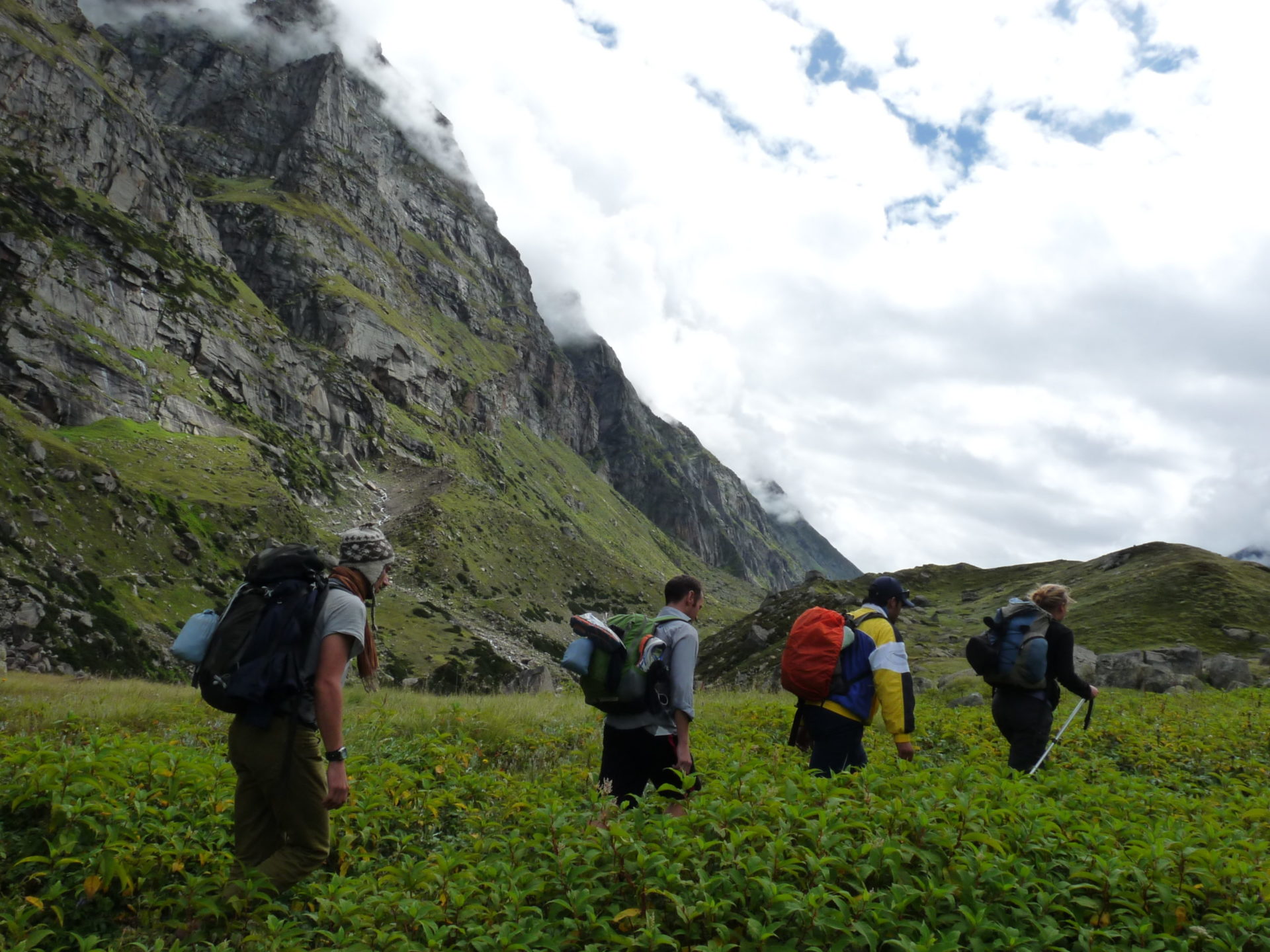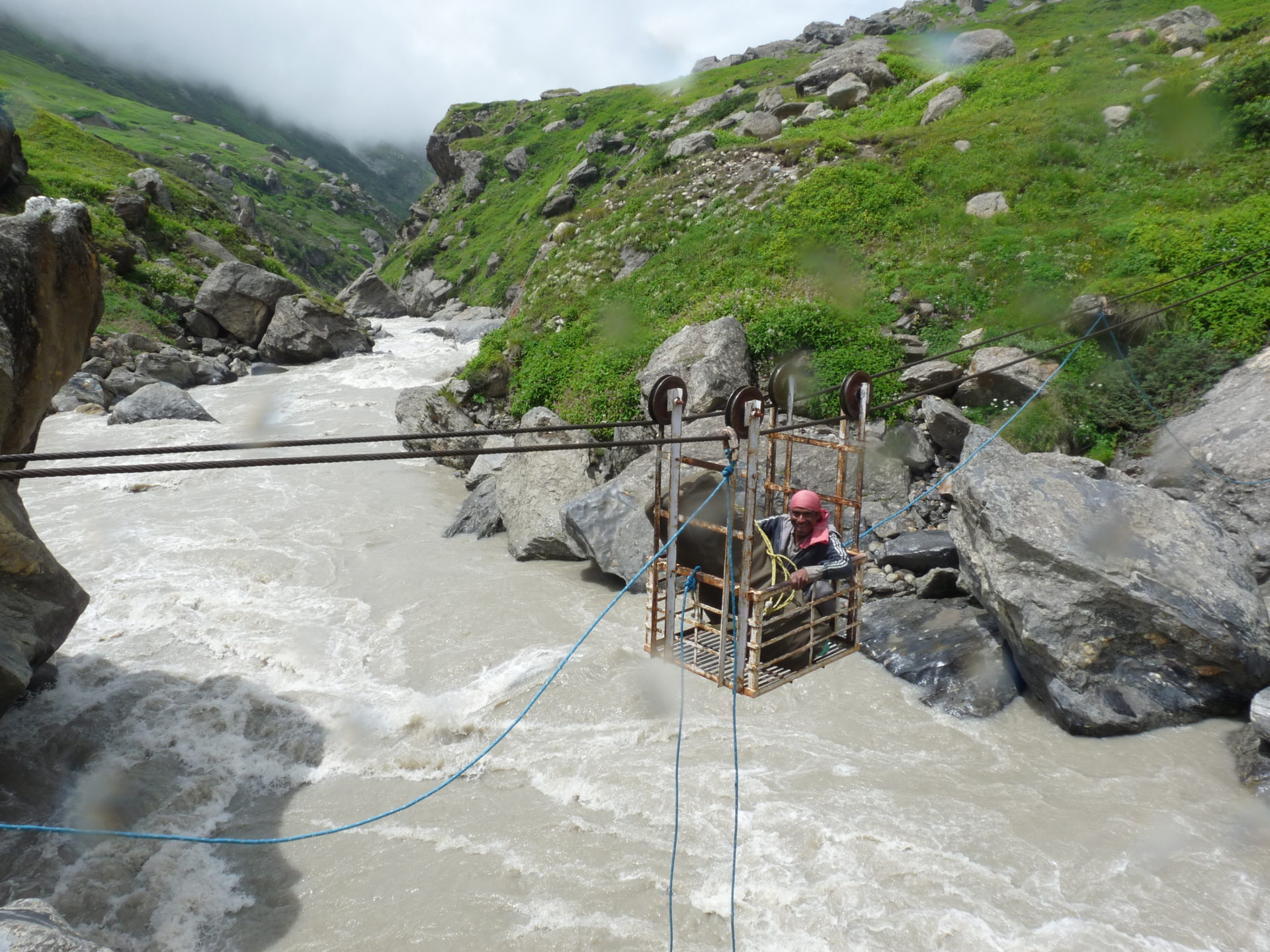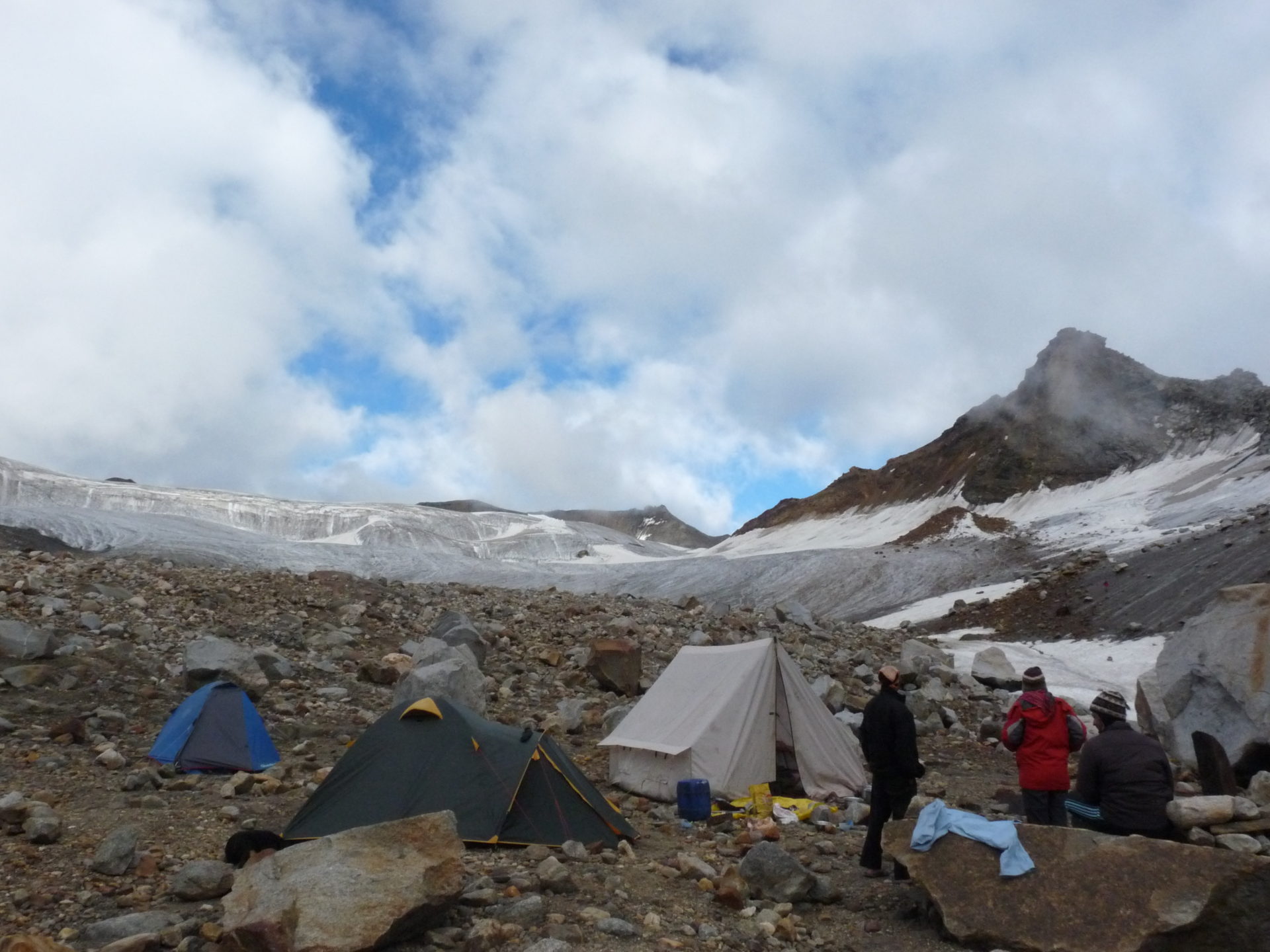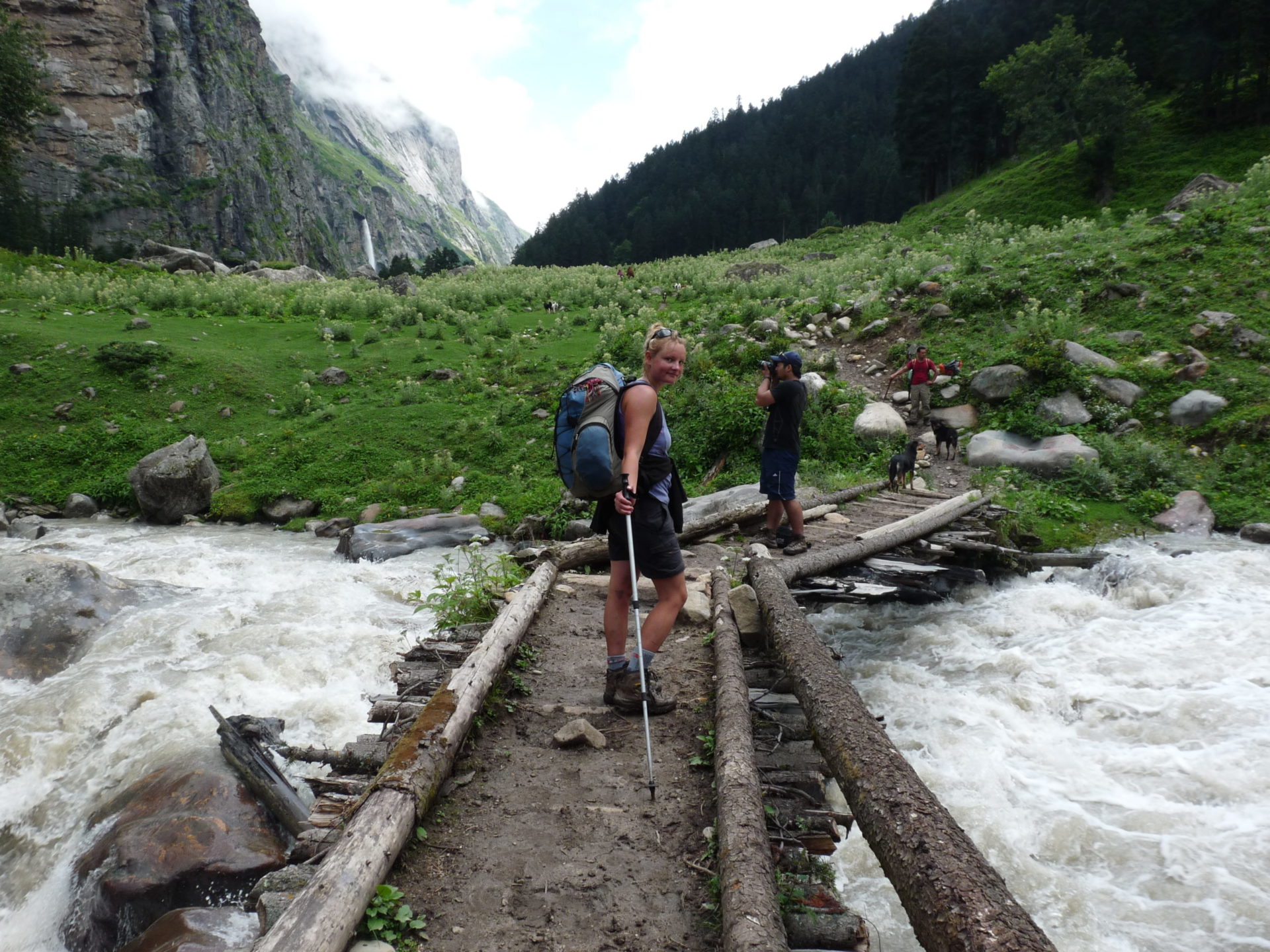 Overview
The Pin Parvati Trek takes us from the Parvati valley in Kullu to the Pin Valley in Spiti via the 5319 meter high Pin Parvati Pass. You have to be extremely fit and well prepared, as there is no settlement or village along the tour. Only shepherds with their herds can be met or maybe a bear or snow leopard? If someone wants to do a trek in the Indian Himalayas, they should choose this trip. the Spiti Valley is one of the most spectacular valleys in the Himalayas: wild, rough and high! With its Buddhist culture, it offers a great insight into the traditional life, both: of the villagers and the monks in their monasteries.
This trek can also be booked as a complete trip from/to Delhi. Please click here!
Program
Day 1 Manali to Barsheni (2400 m) 4 hours drive 100 km/ Trek to Khir Ganga (2960 m) 4 hours
Today we start early by car from Manali to Barsheni. From here our four-hour trek to Khir Ganga starts. A peaceful place with hot sulfur springs that invite you for a bath. The route is only slightly ascending. The last section is a long ascent through pine forests. Here we have a great view of a waterfall. (Overnight in the tent) -/L/D
Day 2 Khir Ganga to Tundabhuj (3285 m) 5-6 hours
Our path leads us through fields of wild flowers. The campsite is beautiful, with lovely waterfalls and deep gorges on one side and steep cliffs and streams on the other. (Overnight in a tent) B/L/D
Day 3 Tundabhuj to Thakurkuan (3560 m) 5- 6 hours
We walk along the Parvati River, which we have to cross over a shaky bridge. It continues over pastures and flower meadows. The climb is not steep. Only gradually we gain altitude until it goes down again to the river. Now it gets exciting: With the help of a small cable car we reach the other shore. We reach our camp via small streams and partly dense bushes. (Overnight in a tent) B/L/D
Day 4 Thakurkuan to Udi Tach (3800 m) 5 hours
The trekking route is still relatively easy. Further, it continues leisurely along the valley, whereby the scenery with snow-capped mountains on all sides becomes more and more impressive. We pass shepherd's huts before crossing the raging river over a bridge of rocks. There is a bit of climbing to be done. It takes some time for each participant to be on the other side of the river. Now comes a short steep section and we can now clearly feel the decreasing oxygen content of the air. Afterwards we go on a flat track to our camp, which is surrounded by large boulders. (Overnight in a tent) B/L/D
Day 5 Udi Tach to Lake Mantalai (4116 m) 5 – 6 hours
Today, the daily stage is slightly longer than the previous ones. At first, still on a flat track, we have to cross many river arms and streams. The flower meadows give us great pleasure and we meet a lot of shepherds with their herds of sheep and goats. It always goes in the direction of the moraine, which we climb up on the left until we get to the shore of Lake Mantalei.
The lake is sacred and the local guides and porters will use the place for a prayer for the success of the trek. Then we continue to the other side of the lake. (Overnight in a tent) B/L/D
Day 6 Mantalai to Camp 1 (4700 m) 7 hours
We leave the beautiful campsite and first have to cross a wide river barefoot. After all shoes are put on again, we have a steep, long march to cope with. It goes up on the right side of the valley and every few minutes we have to take a break to calm our breath. We enjoy the great view of countless glaciers. Then we continue over boulders and through another river until we reach the stony camp at the glacier. (Overnight in a tent) B/L/D
Day 7 Camp 1 to Camp 2 (4750 m) over Pin Parvati Pass (5319 m) 7 hours
Today we have a long day ahead of us, which is why we start early. The path leads over the glacier and it can get a little slippery and we have to pay attention to glacial crevices. If we are lucky and the sky is clear, we can enjoy the unique mountain panorama throughout the ascent. The descent becomes a bit arduous. Now the clear change of landscape from the green Parvati valley to the dry Pin valley is clearly visible. (Overnight in a tent) B/L/D
Day 8 Camp 2 to Chinapatta Maidan (3900 m) 5 hours
Again, the path is difficult to see, but we stay on the left side of the river. We meet shepherds and camp on a flat place with a magnificent view. (Overnight in a tent) B/L/D
Day 9 Chinapatta Maidan to Mud (3600 m) 6 – 7 hours
The last day of our trek! It goes relatively flat on a wide path to the last village in the Pintal: You can see the village of Mud from a far distance, but it takes some time until we are finally there. Arriving in the suburb, we visit the traditional small village and rest a little. We camp a little outside of the village, next to a green pea field. (Overnight in a tent) B/L/D
Day 10 drive to Ki Monastery and Kibber village (4200 m), then to the camp near Kunzum Pass (130 km)
Today we visit the famous Ki Monastery. It is the largest monastery in Spiti and it is worth taking part in the daily morning prayer and tasting the butter tea! Kibber was for a long time the highest permanent village, which had electricity and was connected by road. On the way we stop briefly in Kaza, the district capital of Spiti. We camp near Kunzum Pass. (Overnight in a tent) B/L/D
Day 11 Drive to Manali 135 km
First we drive up the 45451 m high Kunzum Pass. We drive along the raging Chandra River and enjoy the view of the Shigri Glacier, the largest here in the area. It goes up the Rothang Pass (3950), the gate to Spiti, Lahaul and Kullu. The green Kullu valley stretches out in front of our eyes. We reach Manali. (B/L/-)
Services
Trained trekking guide (English speaking)
Cook and helper
Carrier
9 nights in 2-man tents
Kitchen tent
Dining and staying tent
Toilet tent
11 days full board (breakfast, lunch packages, dinner and snacks)
Transport from Manali to the start of the trek
2 days jeep safari from the end of the trek to Manali, on the way visit the Ki Gompa and the Kibber village
Arrival and departure to and from Manali at an extra cost possible
Accommodation before and after the trek
Highlights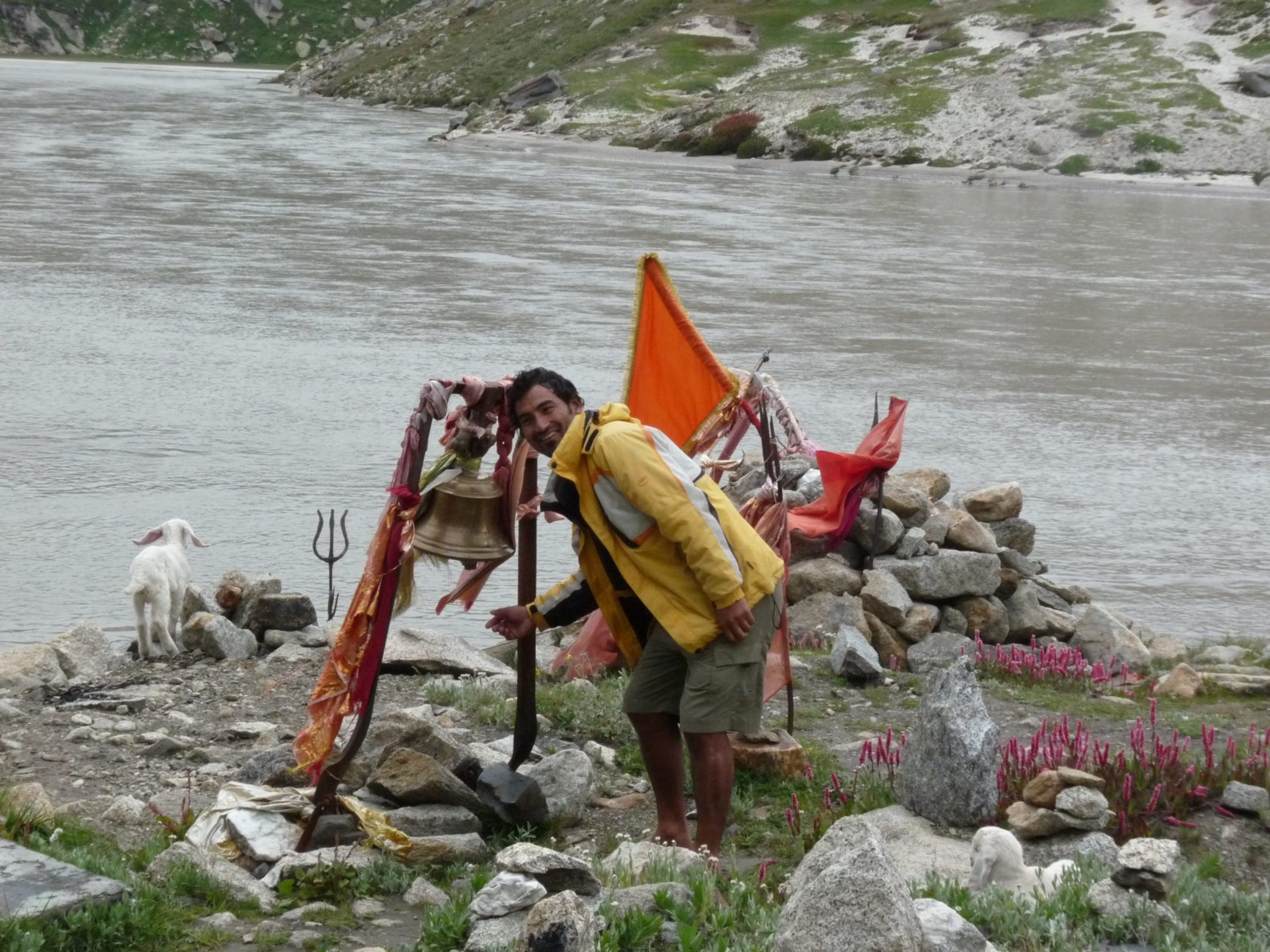 Prices and Dates
This trek is possible from mid-July to mid-September
1 participant 1749 € per person
2-3 participants 1249 € per person
4-5 participants from 1050€ per person
ab 6 participants from 849 € per person
Tour Info
Requirements
Due to the height up to a maximum of 5319 m, this trek is quite demanding. In order to acclimatize well, the first trekking days are a little shorter and the ascent only moderate. After few days it gets steeper and the stages are longer. You need good tread safety and vertigo. Sometimes it can get quite cold at night, especially near the pass.
Information about the Trekking Tours with Chalo! Travels
Mountain guide and trekking team
On all our treks we have at least one (for larger groups of 6 participants two) trained local mountain guide. Our mountain guides have all completed at least the Indian mountaineering training, many of them have also completed the advanced courses.
They are familiar with the trekking routes and know the terrain excellently. All our mountain guides speak English.
In addition, there is a local team consisting of a cook (if the group consists of only two participants, the mountain guide also takes over the tasks of the cook), helpers, horsemen with horses or Nepalese porters, depending on the type of trek.
All our team members have been working with us for years, are very friendly and always strive to provide our guests with a great trekking experience. Their English (besides of the Guide) is rather mediocre or non-existent, but this is not necessarily a hindrance to communicating with them.
Trekking routes
The trekking routes are designed according the skills of our guests and are all feasible for a person with a good fitness level, unless otherwise mentioned. The daily routes are between five and eight hours long (with breaks) and an average increase of around 500-800 metres of altitude is completed.
In between, rivers may have to be crossed. The paths are partly well developed, but sometimes also almost non-existent. On our trekking routes there are hardly any villages in between, so we will take enough food for the whole tour.
On our treks we cross passes, snow or glaciers. On steep slopes, we have safety equipment with us.
Daily routine (Depending on the length and intensity of the trek, the times may vary)
7: 00 am Get up with Tea
7:30-8:30 am Breakfast
7:00-9:30 am Dismantling of the camp
8:00- 9:30 am Start Trek
1:00 pm Lunch on the way
3:00-5:00 pm Arrival at the camp and camp construction
3:30-5:30 pm Snacks
7:00 pm Dinner
Altitude and altitude sickness
Altitude sickness is a very important topic that should not be underestimated, especially during our trekking tours in the Indian Himalayas. At altitudes above 3500 m, our body has to slowly get used to the low air pressure, which also causes less oxygen to enter our lungs. The first signs of altitude sickness are headaches, which are accompanied by dizziness, nausea, insomnia and loss of appetite. It becomes problematic when water accumulates in the lungs and brain and edema occurs. Then only the immediate descent to lower altitudes will help. To prepare for the heights on our treks, we will either spend a few nights at high altitudes before the trek or slowly ascend during the trek to acclimatize. If we notice that there are problems with our guests (each person is otherwise able to acclimatize, regardless of age, gender and fitness level), it may happen that either the entire group or the concerned participant descends/returns with a team. In addition, it makes sense to take an emergency drug for altitude sickness. For this, it is best to consult the pharmacy or the travel doctor. For certain treks we will also have oxygen with us.
Luggage
Each trekking participant is responsible for his own clothes and personal belongings. Depending on the trek, we are either with horses or porters. If we have load horses, one bag per participant can be loaded onto the horse. In the case of treks with porters, all personal luggage must be carried independently. Tents, sleeping bags, mattresses and food are carried by our porters.
For trekking tours with horses, a day backpack with space for the lunchbox, a water bottle and warm overcoat clothing should be taken with you. Here to the complete packing list for our trekking tours.
Packing list for trekking tours
sleeping bag at least -10°C
large backpack or soft carrying bag so that the load animals can carry the luggage
Small carrying backpack for the day approx. 30-40 l with rain protection
flashlight/headlamp
2 refillable water bottles
hiking poles
passport and passport copy
camera with spare battery and memory card
headgear as sun protection
Good Sunglasses
cap
Scarf, Buff
Gloves
wind-proof trekking pants
trekking pants
Functional Underwear Long
hiking boots
socks thick and thin
sneakers, sandals and/or slats
windbreaker
Warm Jacket
fleece sweater/jacket
Tshirts
sunscreen, lip balm min. Protection 40
fat cream
water purification tablets (boiled and filtered water is provided)
own medications for headaches, nausea, digestive problems, colds)
bubble patches and dressing material
own hygiene articles
Toilets Paper
hand disinfection
Meals
During the trek there will be a vegetarian full catering. Water is either boiled or we have a water filter with us.
Breakfast (daily selection):
Coffee/Tea
Oatmeal porridge/muesli/cornflakes/Indian porridge
Indian breakfast
Sliced fruit/vegetables
Lunch (mostly lunchbox), sometimes warm in the camp
Sandwiches/Indian (rice, chapati, vegetables)/potatoes
Juices
Chocolate
Fruit
Snacks
Tea/coffee
Cookies
French fries/Indian snacks
Soup
Dinner (depending on the length of the Trek mix of Indian/Chinese/Continental)
Vegetable dish
Lentil dish
Rice/noodles
Chapati
Salad
Dessert
Accommodation and camp
We have very comfortable and spacious two-man tents. Our mattresses are practical but simple if there are problems with sleeping on hard surfaces, please take your own mattress with you or order from us. Our sleeping bags are freshly washed and have a very good quality with comfort zone up to -5°C/extreme zone up to -20° C. It is recommended to bring personal indoor sleeping bags.
In addition, we have a spacious dining tent with tables and chairs, a kitchen tent for the team and a toilet tent. For treks up to 4 people, the kitchen tent can also act as a dining tent at the same time.
For trekking tours with porters, we will take our smaller, lighter tents with us and do without a toilet tent.
Weather
In the Himalayas, temperatures fluctuate widely. While it can get warm up to 25°C during the day and the sun is not only warming, but also very intense (sun protection is a must), it can also cool down significantly below the minus-grade at night, especially in the months end of September and October, as well as in June. There may also be weather changes with snow on the passes.
5

Perfect Himalaya Trek

My sister and I went to the Pin Parvati pass Trek. Even before the start of the trip everything was super organized and Sarah was always available with advice and deeds for every question, be it regarding visa, trouser length or sleeping bag thickness. Also on site, everything went smoothly. We always had a contact person for everything and could spontaneously adapt the itinerary to any circumstances. The tour itself was a unique experience that should not be missed. Guide and Porters were very friendly and despite the (partially existing) language barrier, it was more of a friendly relationship than a staff -client relationship. I can really recommend going that trek!!! I would always travel with Chalo Travels again  :-)
9 Days Pin Parvati Pass Trek with 2 Days Jeep Safari through the Spiti Valley