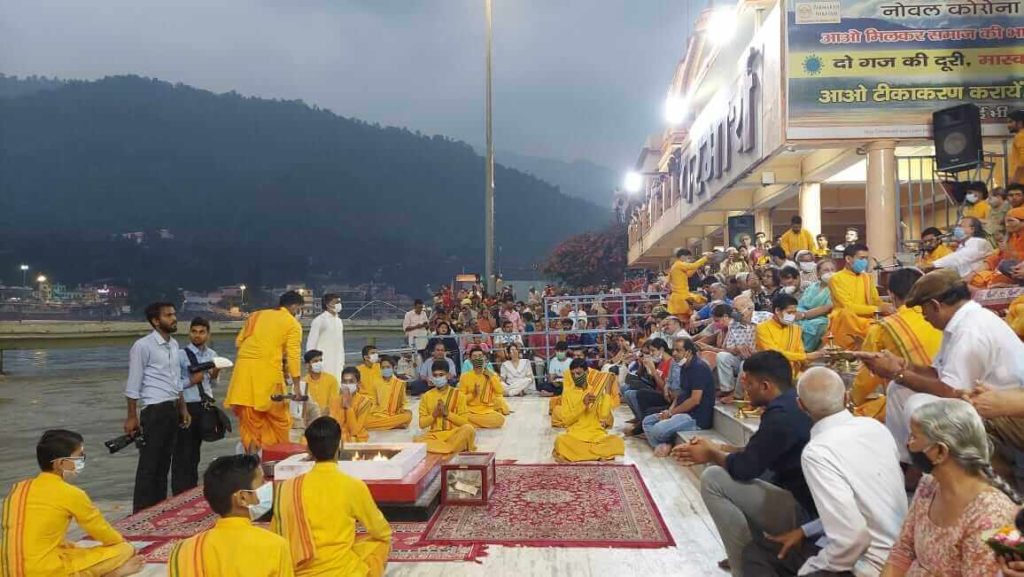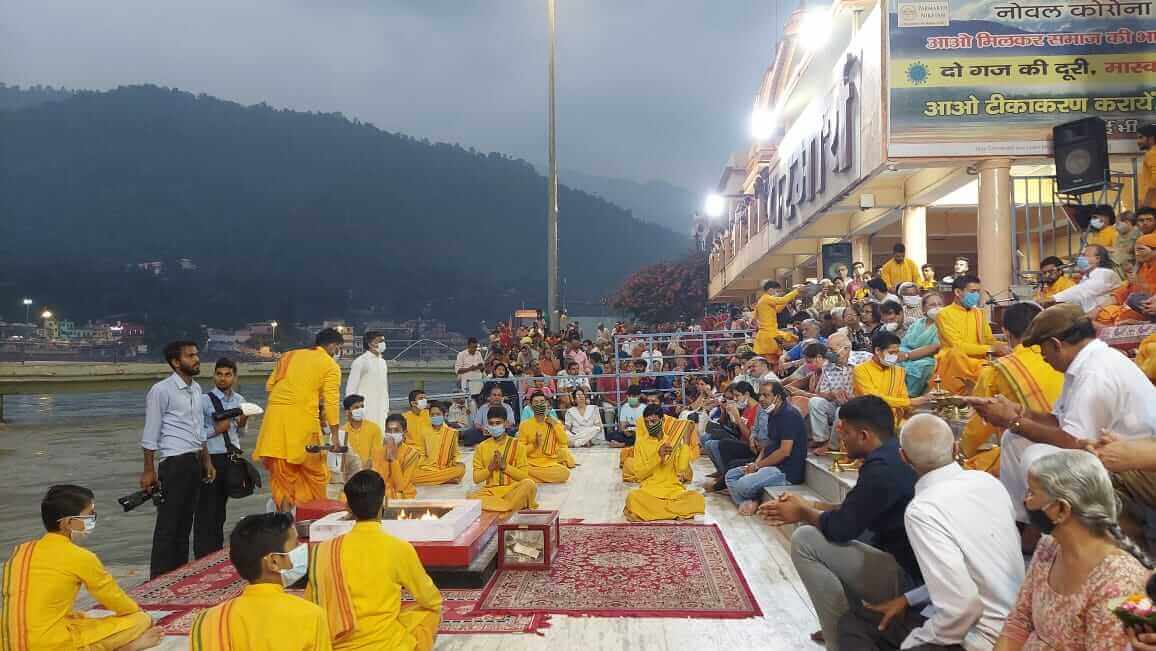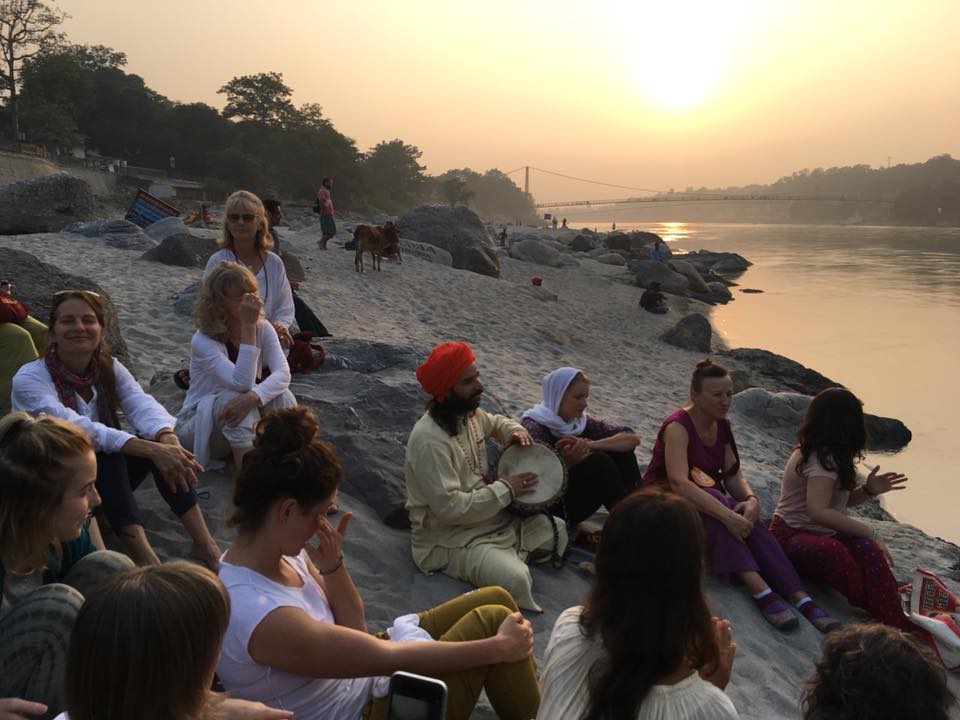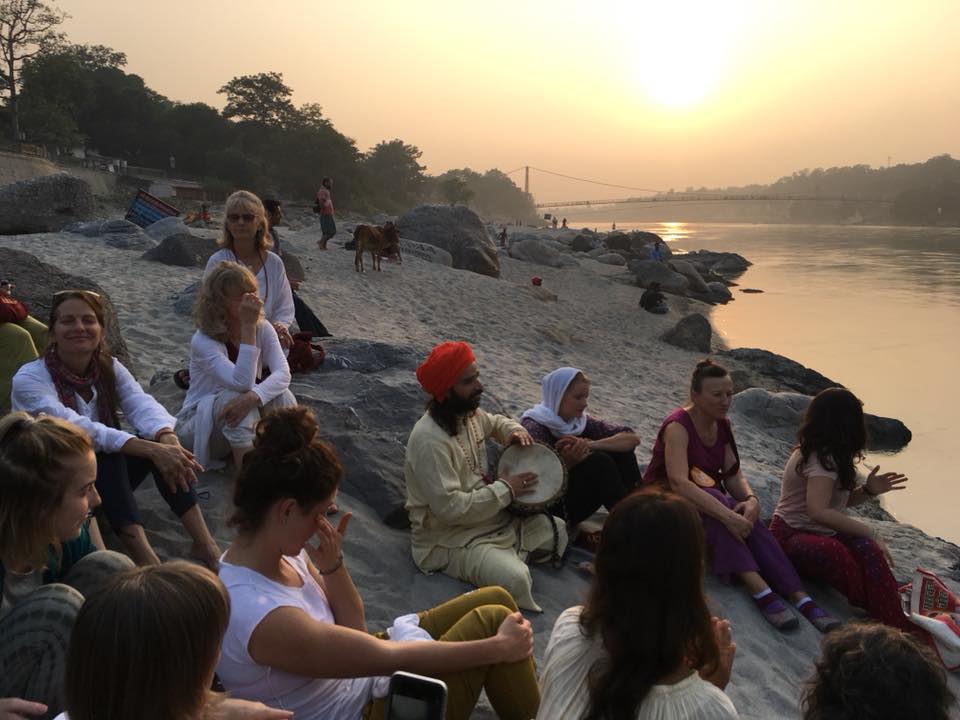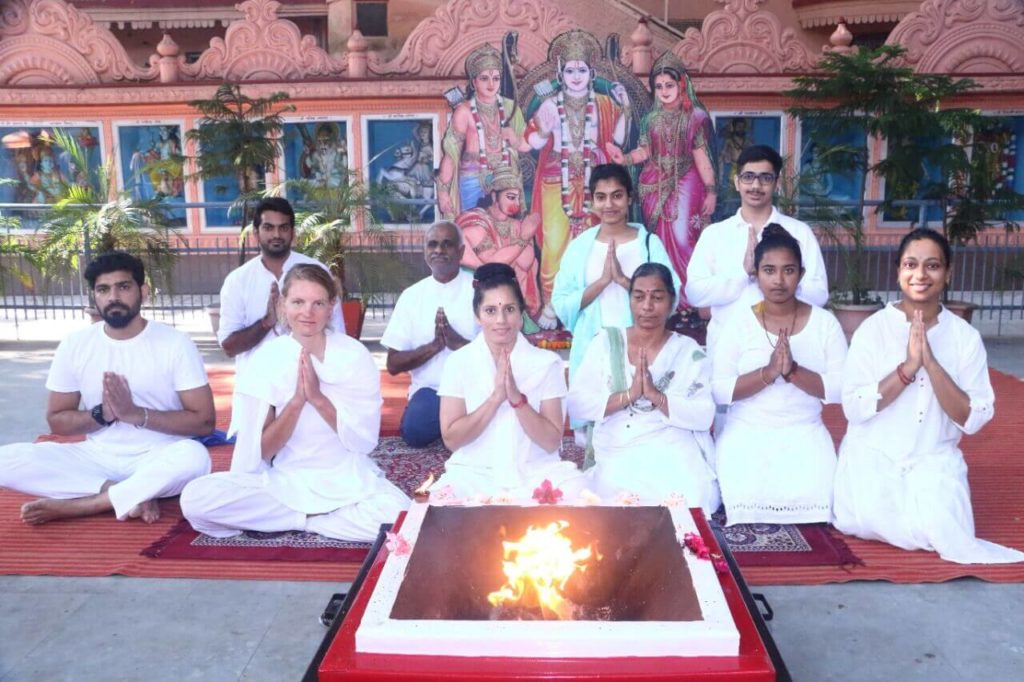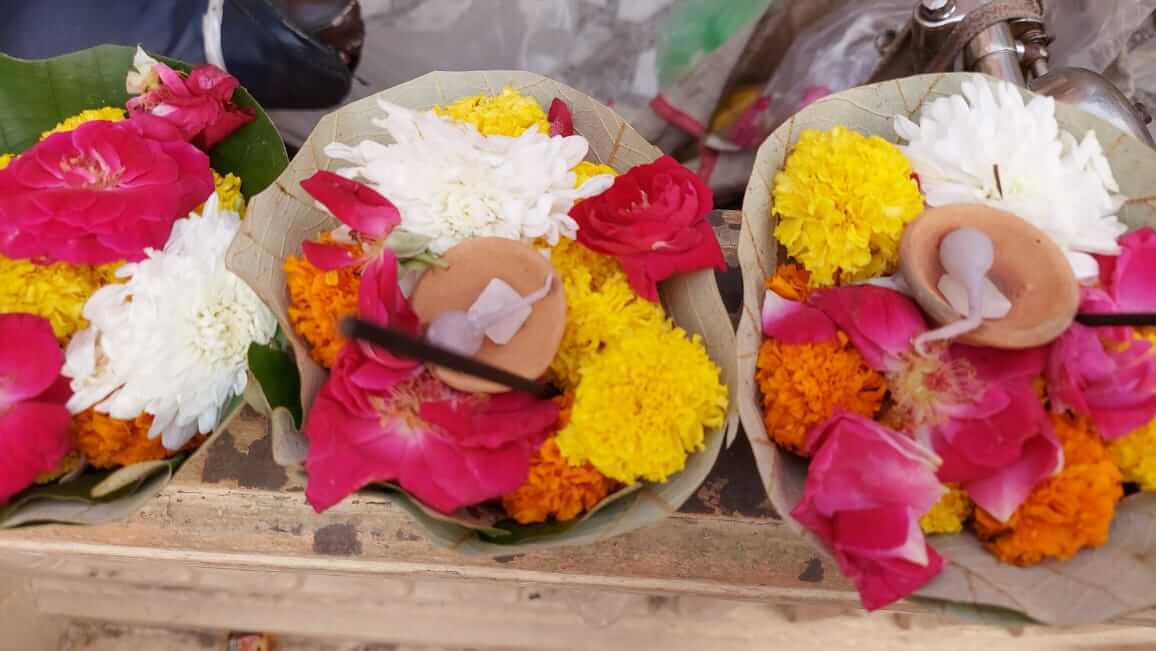 Overview
The spiritual place Rishikesh is located on the holy Ganges at the foot of the Himalayas. Framed by forest and mountains, the village consists of a colourful collection of temples, ashrams and yoga schools. Every day pilgrims come from all over India to take a holy bath in the Ganges and take part in the ceremonial ceremonies. Baba ji's (holy men) sit in deep meditation on small rocks on the bank of the Ganges, glowing candles float on the river for the fire ceremony every evening and Hindu prayers and mantras sound from everywhere.
The lived spirituality is contagious and very quickly one becomes a part of it and develops an intensive yoga practice in a structured everyday life.
In this wonderful energized place is the Anand Prakash Yoga Ashram. This small ashram will be our home for the next few days.
Here all aspects of yoga and spiritual life are brought together into one unit and the two daily yoga lessons are a wonderful combination of asanas, pranayama, mantra, mudra, philosophy and meditation, in which the focus is brought to the inside and often magical moments arise.
The ashram offers a good framework for a healthy yogic lifestyle with a regular daily routine, delicious and vegetarian meals, yoga classes and ashram events such as the morning fire puja (prayer) and kirtan singing.
This retreat is suitable for anyone who wants to dive deeper into their own yoga practice, experience Indian yoga and experience the conscious life of a yogi in an ashram for two weeks.
Program
Day 1 (Sa) Independent arrival from Germany
Day 2 (Sun) Arrival in Delhi and transfer to the hotel / flight to Rishikesh and entry into the ashram.
You will be met by us at the airport and brought to the hotel. After some rest and relaxation, our journey to Rishikesh continues by cab ride. In the evening we arrive for dinner at the Ashram. (Overnight in Ashram B / L / D)
Day 3 (Mon) to 14 (Fri) Yoga retreat in the ashram
We enjoy the next 12 days in the ashram with daily morning meditation, two yoga classes, the fire ceremony, three healthy yogic meals and an evening ashram program. (Kirtan, Satsang, Meditation, Aarti)
For the morning and afternoon, there is a varied daily offer consisting of yoga workshops or excursions. (Overnight in Ashram B / L / D)
Daily program (subject to change):
5:20-5:50 – Meditation
6:00-7:30 – Yoga hour with asana practice, pranayama and meditation.
8: 00-8: 30 a.m. – Yagna fire ceremony
8:30-9:00 am – Breakfast
9:30-12:30-Free time/excursions/workshops/massages
12:30 – 14:00 – Lunch
14:00-16:30 – free time/excursions/workshops/massages
16:30-18:00 – Yoga hour with mantra chanting, philosophy, gentle asanas, relaxation, meditation.
18:30 – dinner
Afterwards evening program and free time (Kirtan singing, Satsang, relaxation exercises, meditation)
Day 15 (Sat) departure
Optionally we take a vehicle or the train back to Delhi. Then independent departure from Delhi.
In addition, there is the option to participate in a subsequent yoga trek or to visit the holy city of Varanasi.
Included services
1 x hotel room with breakfast in Delhi (double room)
German-speaking travel companion
total transport
Ashram in Rishikesh:
14 x nights in a double room with attached bathroom
3 x daily healthy, vegetarian meals
2 x daily yoga classes
Participation in ashram activities (Kirtan, Chanting, Fire Ceremony, Meditation)
daily changing offer of workshops and excursions in Rishikesh
filtered water
Visa
International flight
unmentioned meals
Highlights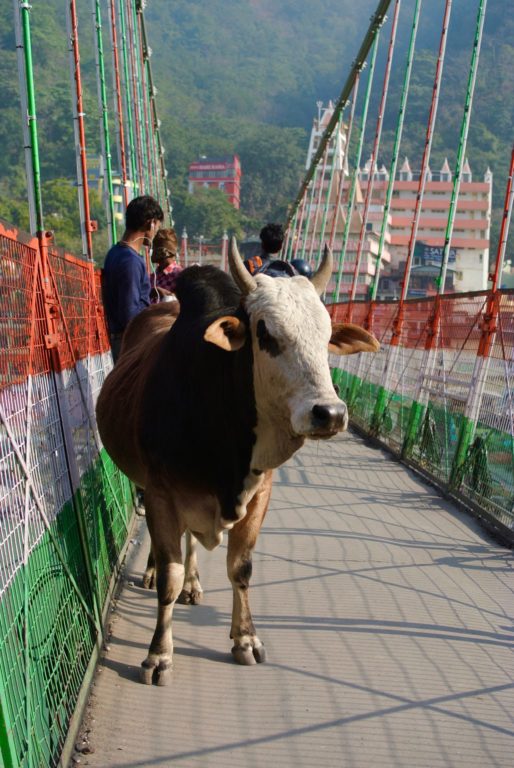 Prices and dates
(Also possible as a one-week retreat or in combination with a Yoga Trek.
16.09.2023 – 30.09.2023
23.03.2023 – 06.04.2024
07.09.2024 – 21.09.2024
As a group tour from 4-16 persons: 1450 € in a double room
Single room surcharge: € 350
Also possible as a private trip all year round
Travel info
requirements
The yoga lessons are suitable for all levels and ages, but can be very demanding both physically and mentally.
Here, please take ownership and get out of the attitudes at an early stage.
More information en
Clothes
Please make sure that your clothes cover your shoulders and knees. White clothing can be comfortable during the retreat.
Kurtas, wide, loose trousers or leggings are recommended.
Suitable clothing can also be purchased cheaply in Rishikesh.
The Yoga Lessons
Sarah will teach the yoga classes. Every now and then the teachers of the ashram will also teach or we will visit teachers in other ashrams.
The classes are characterized by traditional yoga and a combination of asanas, pranayama, relaxation, meditation, mantra, mudra and philosophy. All levels are welcome.
The Journey and Guide and Yoga Teacher
The journey is accompanied by Sarah Appelt. She herself has been living in India for several years and is a trained and 1000+ hour certified yoga teacher and experienced tour guide. She knows India very well and will help you to understand and get to know Indian culture.
Furthermore, she will give some yoga lessons and lead workshops and accompany you on the excursions.
At the same time, Sarah can be available during the retreat in case of translation and mediation problems.
The journey begins and ends in Delhi at the international airport.
Workshops, massages, leisure and excursions
During the day there is a varied offer that you can choose to take part in.
Overall, you included an Ayurvedic massage.
Included excursions:
City walk
Day hike to Neelkhant Temple
Excursion to Kunjapuri Temple with optional hike down to Rishikesh
Visit to the Ganga Arti at Triveni Ghat and Parmarth Niketan Ashram
Neel waterfall
Visit to Parmarth Niketan Ashram
Excursion to Haridwar
Visit Vashishta Meditation Cave
Holy bath in the Ganges
Beatles Ashram
Offered workshops and lectures (among other things, desired topics are possible):
make your own mala
Vedic chanting
Lecture: the eightfold path
Lecture: Different Yoga Paths
Chakra workshop
Consultation with Ayurvedic doctor
Lecture Ayurveda Basics
Workshop Ayurvedic spices and cooking
Harmonium Workshop
uvm.
What to bring
Loose and light clothing (knee and shoulder covered, preferably white or bright colours)
a scarf
thick socks
Sweater
Flipflops
Towels
Sunglasses
Toiletries (sunscreen) and small medical equipment (in Rishikesh you can get everything)
Passport (copy), credit or debit card, some cash in your currency (approx. € 50-100),
Mobile phone, camera, charger (no adapter), maybe laptop
notebook, writing material
a lot of curiosity and excitement
5

Rishikesh Ashram- Thank you!

Hello Sarah, I am now back home and have to get used to the fact that there are no cows on the street (I miss them a bit :-) ) Thank you again for taking care of everything so great! That made my entry into India very easy and I will definitely return to this crazy, great country one day. Then I like to come back to you :-) Dear Greetings Christiane
Diverse Yoga Retreat in an Ashram in Rishikesh