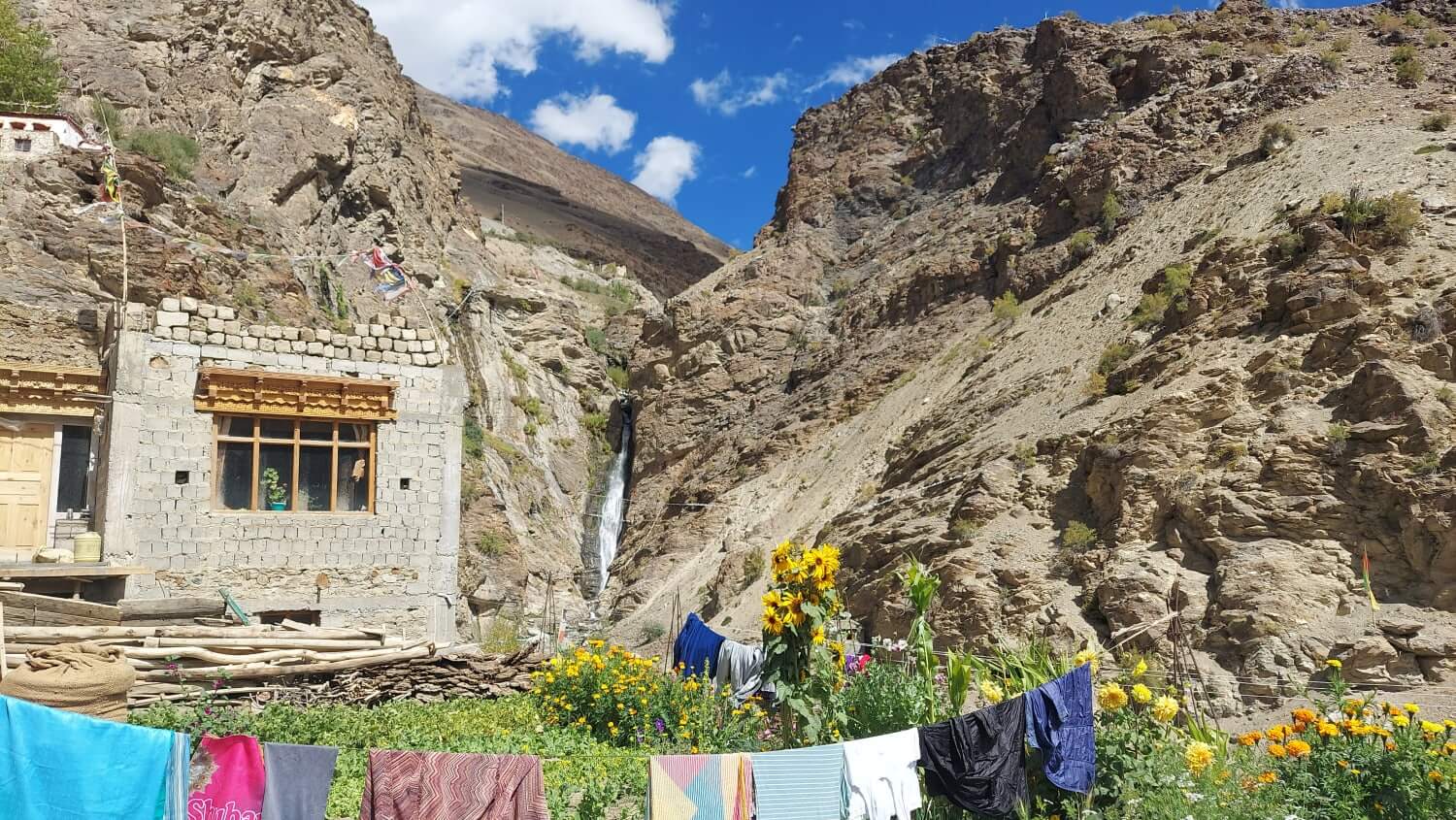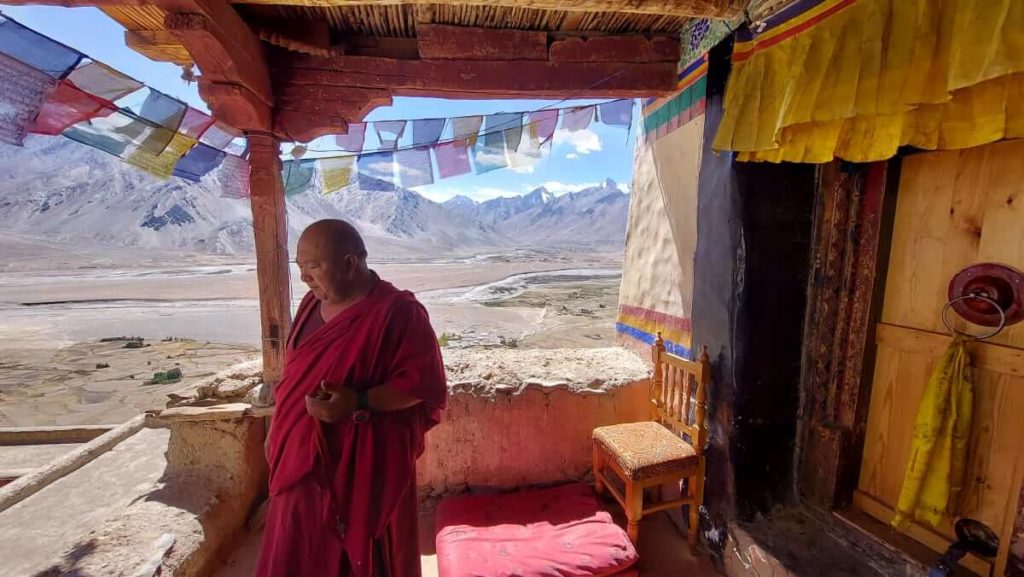 Overview
For a long time the former 28-day Darcha-Lamayuru Trek in the far north of India was one of the most breathtaking trekking tours ever. It led across the remote Buddhist mountainous region of Zanskar in Ladakh on the Tibetan border. The demanding route connected the many small villages and was the only way to get in or out of the Zanskar Valley.
Over the years, constant efforts have been made to connect the remote region and its people with the outside world. Sections of the trekking route have steadily become jeep slopes and the entire route from Darcha to Lamayuru has been passable since 2021, although it is still being expanded.
The trekking classic Darcha Lamayuru no longer exists. In return, the locals, who until recently led a very secluded life as farmers or monks, now have access to the outside world, better opportunities for education and, step by step, even electricity and a telephone network. While their traditional way of life has been almost completely preserved to this day, it will slowly modernize.
For us travelers there are now completely new possibilities: many new shorter trekking routes are now feasible and the Darcha-Lamayuru route itself is a highlight for every touring cyclist and motorcyclist and provides an alternative route to the popular Manali-Leh Highway with a cultural bonus.
The route will be paved more and more. But in the next one or two years many sections will still be real jeep routes with a guaranteed off-road factor. 3 high passes, all between 4700 and 5100 m, can be crossed while enjoying the spectacular views of countless peaks and glaciers.
We cycle along mighty rivers, among them the Zanskar River, which freezes over completely in the winter months.
The many villages along the way offer an authentic insight into the life of the locals and we have the opportunity to visit Buddhist monasteries that are thousands of years old. The 2500 year old Phuktal Monastery can only be reached on foot on a one-hour narrow path.
In summary: This bike tour is physically demanding due to the terrain and the altitude and at the same time offers unique cultural and scenic highlights of the high Himalayan region.
During the tour we spend the night in camps, sometimes with connection to homestays before and afterwards in inns and hotels.
In 2022 we will open this trip to our guests for the first time. Please be open and flexible for spontaneous changes in the tour program of this pilot tour.
Program
Day 1 Arrival and arrival in Delhi, transfer to the hotel
We'll pick you up from the airport. Hopefully you can recover from your journey in the hotel. Overnight stay at the hotel (-/-/-)
Day 2 Sightseeing in Delhi, overnight bus to Manali
A visit to Delhi is on the program. In addition to an exploration tour of Old Delhi, we will also visit New Delhi.
In the evening, take the night bus to Manali. The trip will take 14 hours. Overnight on the bus (B / -/ -)
Day 3 Acclimatization in Manali 2050 m
On a short walk we explore the green Kullu Valley with its tranquil villages, waterfalls and temples. In addition, the bikes are distributed and checked. Overnight stay in the inn (B/-/-)
Day 4 Start of the bike tour: Manali to Sissun, 3100 m, 32 km via Rothang Tunnel, 1100 m climb
Our first day on the bike starts with a 30 km continuous ascent from 100 m to 3000 m to the Rothang Tunnel. On this part of the route, it can still happen that we get caught in a monsoon rain. We first drive on a small village road through apple orchards until we turn 9 km onto the highway. We pass the Solang valley and finally reach the tunnel. The new 9 km long tunnel represents an extreme advantage for the locals of the Lahaultal, who are no longer cut off from the rest of the world during the long winter. Arriving at the other end, a completely different mountain world appears before our eyes: The lush green of the Kullu Valley is now being replaced by pastel colors. The mountains here are a bit higher, the sky suddenly wide and clear. We are now on the Manali-Leh Highway. The road is very well developed and yet quiet. We roll in light waves through the fascinating landscape consisting of small villages, cabbage fields, waterfalls and glacier peaks. Overnight stay at the hotel (B/L/D)
Day 5 Sissu to Keylong (3100 m), with acclimatisaction right towards Udaipur, 70 km, 1000 m climb
Today we further try to acclimatise while staying on 3000 m, but doing a gentle ride into an interesting side valley of Lahaul. Today it is up to us, how far we are going to ride. Maybe we will go all the way to the holy places of Triloknath and Udaipur and take the back up vehicle back to Keylong. Or we only ride a few kilomters in and out the valley. Tonight we stay in Keylong, the discrict center of Lahaul Valley. Overnight stay at the hotel (B/L/D)
Day 6 Keylong to Zanskar Sumdo, (3920 m), 50 km, 1000 m climb
The first 30 kilometers are uphill and downhill on the Manali-Leh Highway along the Bhaga River to Darcha. After the checkpoint we leave the highway and turn towards Zanskar. Up to Zanskar Sumdo it is an easy but steady ascent along a river. Every now and then we drive past small villages. We set up our first camp in Zanskar Sumdo, a confluence of streams. Today we are still driving on a very good new paved road. We spend the night at an altitude of almost 4000 m. Overnight in the camp (B/L/D)
Day 7 Zanskar Sumdo to Conbo Rangjion (4130 m) via Shingo La (5090 m) approx. 35 km, 1500 m climb
Today we have to cross our first and highest (!) Pass. The good news: The 18 km up to the pass is steadily uphill, but most of the ascent is freshly paved. The snow-covered giants rise up around us – all over 6000 m high! After we have crossed the pass, we enjoy the fast off-road piste to the tea house on the north side of the pass. The first yaks can be spotted. After refreshment, we cross a river and cycle 5 km more to our camp with a view of the Conbo Rangjon rock, which rises steeply in front of us.
Overnight in the camp (B/L/D)
Day 8 Conbo Rangjion to Purne (3950 m) 35 km, 340 m climb, and 12 km hike Phuktal monastery (4300 m) 3 hours
The apparently short 22 km drag on, because it continues on the undeveloped jeep track, sometimes uphill, sometimes uphill. It's good that the many small villages distract us while we cycle along the Kurgiak Chu River. At noon we reach the village of Purne, which consists of only three houses. We will have a traditional lunch with a host family before going on a small afternoon excursion to the spectacular 2500 year old Phuktal Monastery. The 5 km long path leads us to the monastery, which was built into a rock. Even today the monastery can only be reached on foot. While we're on the road, our team sets up our camp in the fields of our host family. Overnight in the camp (B/L/D)
Day 9 Purne to Padum (3559 m) 80 km, 1000 m climb
We continue by bike to Padum, the administrative center of Zanskar. At the beginning we have a short ascent, otherwise the jeep track leads us mostly downhill, partly along a deep gorge. The last few kilometers we switch to a paved road and enjoy rolling to Padum. The valley is now wide and green.
We visit the Karsha Monastery and the Sani Lake and the waterfall in the village of Sheela are also worth a visit. Overnight in the camp or guest house (B/L/D)
Day 10 Padum to Margum La Base (3400 m), 70 km, 600 m climb
Today we have an impressive route along the Zanskar River ahead of us. The first thirty kilometers are through the wide Padum valley on a paved road. Then the valley and the road become narrower and we cycle through the Zanskar gorge, sometimes uphill, sometimes downhill. Today we won't come across any more settlements, but with a bit of luck we will spot blue sheep and ibexes.
After a few kilometers after leaving the Zanskar Gorge, we set up our camp at the foot of the Margum La Pass. Overnight in the camp (B/L/D)
Day 11 Margum La Base to Margum La (4400 m), to Singge La (5009 m), to Singge Base (4300 m), 45 km, 1650 m climb
Today we probably have the queen's stage ahead of us: There are two passes to cross. The 10 km high to Margum La are impressive and over a very sandy slope. You actually think you're in a desert. From the not too high pass we have a nice view of the Lingshid village. Up to the base of the next pass, it first goes into a small hollow. Here in a village we rest in the tea tent. Then it goes steadily uphill again to the 5009 meter high Singge La Pass. The view is impressive. The descent to the camp at a bridge is really fun again. Overnight in the camp (B/L/D)
Day 12 Singge Base via Sir Sir La (4832 m) to Hanupatta village (3715 m), 50 km, 870 m climb
First it goes up to Photoksar first slightly uphill and then downhill. From Photoksar we then drive up our last pass, de Sri Sri La.
Then finally we just roll downhill. In Hanupatta, our first village in Ladakh, we set up camp by the stream and enjoy the greenery around us. Overnight in the camp or hoemstay (B/L/D)
Day 13 Hanupatta via Wanla to the end point, 25 km (3100 m), 300 m climb, visit the Lamayuru monastery (3500 m) and drive by jeep via Alchi to Leh, 140 km by jeep
The last kilometers on the Darcha – Lamayuru route we roll down through a fascinating gorge to the end of the road. We cross the village of Wanla. Here we change to our vehicle and drive for seven kilometers towards Kargil to see the Lamayuru monastery. Then it goes over the Alchi monastery to Leh. A soft bed and dinner in the restaurant await us here. Overnight stay at the hotel (B/L/-)
Day 14 Sightseeing Leh
We visit Leh on foot. We visit the Leh Palace, Leh's markets and the Shanti Stupa. Overnight in the hotel (B/ L /-)
Day 15 end of the tour (B /-/-)
Possible options:
Flight to Delhi
Vacation days in Leh, Ladakh
Followed by a bike tour Ladakh into the Nubra valley and to the Pengong and Tsokar lakes
Followed by a bike tour to Manali via the Manali Leh Highway
Trekking in Ladakh
rafting
Services
Airport transfer from Delhi Airport
Sightseeing tour in Delhi
Volvo Bus Delhi Manali
Sightseeing Leh
Before and after the bike tour (Delhi, Manali, Leh) typical middle class hotel with breakfast
All accommodation during the bike tour (in a comfortable two-man tent, guest houses or hoemstay)
During the bike tour full catering
Support vehicle for luggage and cyclists
Local guide, driver, cook, helper during the bike tour
Kitchen tent, toilet and lounge tent
filtered water during the bike tour
Mountain bike, you can also travel with your own bike (150 € discount)
/ English speaking guide
international flight
Flight from Leh
Visa
unmentioned meals and drinks
Tips
Highlights
Prices and Dates
Fixed dates:
20.07.2024-03.08.2024
This tour can also be done privately according to your own date and in variation!
1 participant from 3150 € per person
2-3 participants from 2200 € per person
from 4 to 16 participants 2050 € per person
250 Euro single room and one-man tent surcharge (not valid for only one participant)
Travel Info
requirements
The route is never steep, but always goes continuously uphill or downhill, nevertheless the climbs are sometimes very long and you need good endurance. In addition, a large part of the route is on an unpaved jeep track. Due to the altitude, the tour will be particularly difficult for us. The "thin air" is clearly felt and symptoms such as mild headaches and deep breathing can occur. In case of more severe symptoms of altitude sickness, measures such as cancellation of the tour must be considered.
The descents can sometimes be quite fast and you should exercise caution. This tour is suitable for anyone who enjoys safe, enjoyable and persistent cycling. Knowledge of mountain biking is not necessary.
Information about our bike tours in the Himalayan region
Guide and team
On all our bike tours we have at least one (for larger groups of 6 participants two) mountain bike guides/bicycle mechanics with us, who take care of our guests and their bicycles.
Our guides all speak English.
In addition, there is a local team consisting of a chef, helpers, drivers.
All our team members have been working with us for years, are very friendly and always strive to prepare our guests for a great Himalayan experience. Their English is rather mediocre or non-existent, but this is not necessarily a hindrance to communicating with them.
2. Bicycle routes
The bike routes are designed for the skills of our guests and are all feasible for a person with a good fitness level, unless otherwise mentioned. The daily routes are between five and eight hours long (with breaks) and an average increase of around 500-800 metres of altitude is completed.
In between, rivers may have to be crossed or crossed. The roads range from well-developed asphalt roads to stony jeep slopes. The ascents are moderate, but long, with the long descents up to 50 km one should exercise caution. The roads are connecting roads and are also used by tourists in cars, motorcyclists and trucks. Traffic is moderate, but you should be careful. In India, the left-wing driving commandment applies, as well as the unwritten law "The greater wins". So it would be better to give priority to all other road participants.
3. Bicycles
We provide you with our own trek or Scott bikes. These bicycles are rental bicycles. We have bicycles in the sizes "Small" and "Medium" and also some bikes with a large frame. All bikes have hydraulic brakes and nine-fold switchgear. Otherwise, you can of course also use your own bike. Helmets are mandatory.
4th daily routine
7: 00 Get up with tea
7:30-8:30 Breakfast
7:00-9:30 a.m. Dismantling of the camp
8:00 a.m. – 9:30 a.m. Tour start
13:00 Lunch on the way
15:00-17:00 Arrival at the camp and camp construction
15:30-17:30 Snacks
19:00 Dinner
5. Altitude and altitude sickness
This is a very important topic that should not be underestimated, especially during our bike tours in the Indian Himalayas. At altitudes above 3500 m, our body has to slowly get used to the low air pressure, which also causes less oxygen to enter our lungs. The first signs of altitude sickness are headaches, which are accompanied by dizziness, nausea, insomnia and loss of appetite. It becomes problematic when water accumulates in the lungs and brain and edema occurs. Then only the immediate descent to lower altitudes will help. In order to prepare for the heights on our tours, we will either spend a few nights at high altitudes before the tour or slowly climb up during the tour to acclimatize. If we notice that there are problems with our guests (each person is otherwise able to acclimatize, regardless of age, gender and fitness level), either the entire tour group or the participant returns with a team member. In addition, it makes sense to take an emergency drug for altitude sickness. For this, it is best to get advice from the pharmacy or the travel doctor. We will also have oxygen with us.
6. Luggage
Each tour participant is responsible for taking personal clothes and items with him. We are travelling with escort vehicles and the luggage will be transported with it. A small day backpack for the camera and something to cover can make sense. The escort vehicle will always be close to us. Click here for the packing list for our bike tours in the Himalayas.
7. Meals
During the tour there will be a vegetarian full catering. Water is either boiled or we have a water filter with us.
Breakfast (daily selection):
Coffee/Tea
Oatmeal porridge/muesli/cornflakes/Indian porridge
Indian Breakfast/Toast/Eggs/Jam/Butter/Cheese/Honey/Chocolate Spread
Sliced fruit/vegetables
Lunch (mostly lunchbox), sometimes warm in the camp
Sandwiches/Indian (rice, chapati, vegetables)/eggs/potatoes
Juices
Chocolate
Fruit
Snacks
Tea/coffee
Cookies
French fries/Indian snacks
Soup
Dinner ( Mix of Indian/Chinese/Continental)
Vegetable dish
Lentil dish
Rice/noodles
Chapati
Salad
Dessert
8. Accommodation and Camp
We have very comfortable and spacious two-man tents. Our mattresses are real bed mattresses and about 20 cm thick. Our sleeping bags are freshly washed and have a very good quality with comfort zone up to -5°C (extreme zone -20°C). It is recommended to bring personal indoor sleeping bags.
In addition, we have a spacious dining tent with tables and chairs, a kitchen tent for the team, a toilet tent, and a shower tent.
9. Weather
In the Himalayas, temperatures fluctuate widely. While it can get warm up to 25°C during the day and the sun is not only warming but also very intense (sun protection is a must), it can also cool down significantly below the minus degrees at night, especially in the months end of September and October, as well as in June. There may also be weather changes with snow on the passes. Sometimes it can also get very windy.
Great Zanskar Bicycle Expedition