Yoga Reisen
Trekking Reisen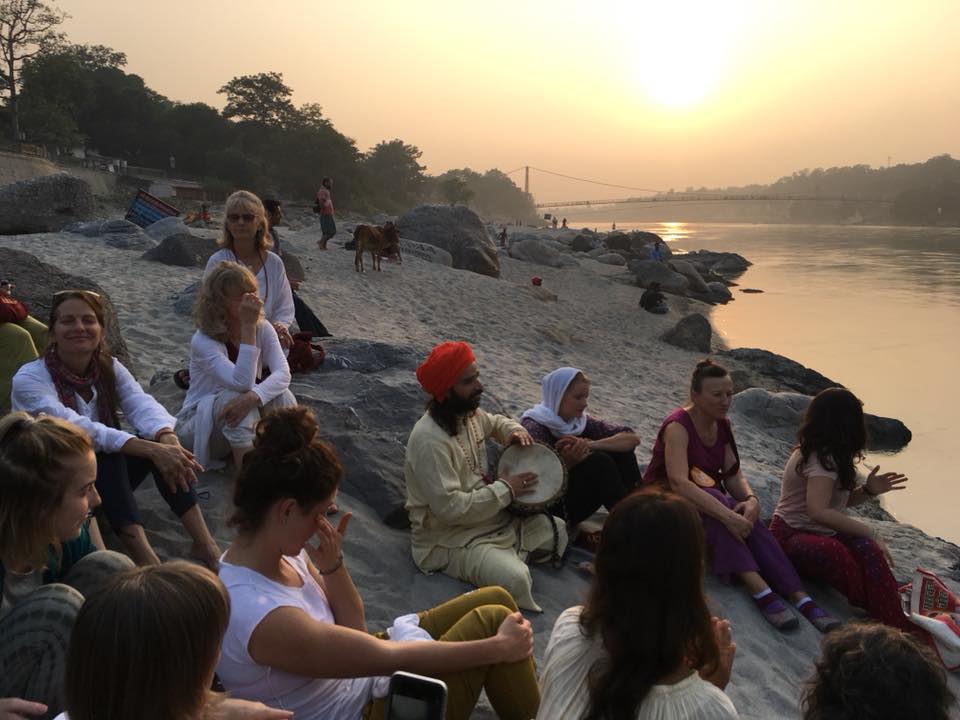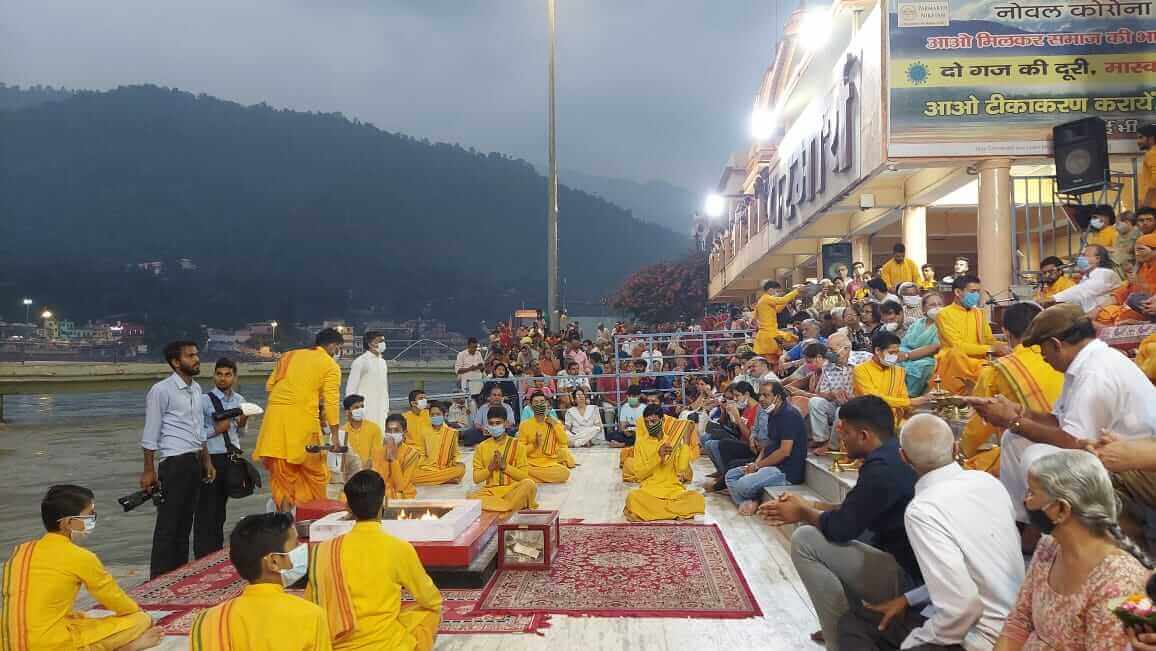 Overview
A yoga trip in India where we combine two highlights: A multi-day ashram stay in Rishikesh followed by a Himalayan yoga trek.
The spiritual place Rishikesh is located on the holy Ganges at the foot of the Himalayas. Framed by forest and mountains, the village consists of a colourful collection of temples, ashrams and yoga schools. Every day pilgrims come from all over India to take a holy bath in the Ganges and take part in the ceremonial ceremonies. Baba ji's (holy men) sit in deep meditation on small rocks on the bank of the Ganges, glowing candles float on the river for the fire ceremony every evening and Hindu prayers and mantras sound from everywhere.
The lived spirituality is contagious and very quickly one becomes a part of it and develops an intensive yoga practice in a structured everyday life.
In this wonderful energized place is the Anand Prakash Yoga Ashram.
Here all aspects of yoga and spiritual life are brought together into one unit and the two daily yoga lessons are a wonderful combination of asanas, pranayama, mantra, mudra, philosophy and meditation, in which the focus is brought to the inside and often magical moments arise.
The ashram provides a good setting for a healthy yogic lifestyle with a regular daily routine, delicious and vegetarian meals, yoga classes and ashram events such as the morning fire puja (prayer) and statsang.
The beautiful village trek at Mcleod ganj, has everything that makes a good trek: great scenery with beautiful, beautiful camps, small mountain villages and sacred lakes. It is ideal for yoga trekking with two yoga lessons a day in the morning and evening.
Before and after the trek, we have a day each to explore the mountain resort of Mcleod Ganj – the exiled home of the Dalai Lama and his Tibetan refugee community.
Program
Day 1 (Sat) Independent arrival from Germany
Day 2 (Sun) Arrival in Delhi and transfer to the to the ashram in Rishikesh
After gathering at the hotel, we take a cab to Rishikesh to the ashram. (Overnight stay in ashram (F/-/A)
Day 3 (Mon) to 7 (Fri) 5 days yoga retreat in ashram
We enjoy the next 5 days in the ashram with daily morning meditation, two yoga classes, the fire ceremony, three healthy yogic meals and an evening ashram program. (Ganga Arti, Kirtan, Satsang, Singing Bowl Concert)
For the morning and afternoon, there is a varied daily offer consisting of yoga workshops or excursions. (Overnight in Ashram B / L / D)
Daily program (subject to change):
5:20-5:50 – Meditation
6:00-7:30 – Yoga hour with asana practice, pranayama and meditation.
8: 00-8: 30 a.m. – Yagna fire ceremony
8:30-9:00 am – Breakfast
9:30-12:30-Free time/excursions/workshops/massages
12:30 – 14:00 – Lunch
14:00-16:30 – free time/excursions/workshops/massages
16:30-18:00 – Yoga hour with mantra chanting, philosophy, gentle asanas, relaxation, meditation.
18:30 – dinner
Day 8 (Sat) Transfer to Mcleod Ganj by cab 10 hours
After breakfast we will drive to the Himalayas to Mcleod Ganj.(Overnight stay at Yoga House, B/-/-).
Day 9 (Sun) Exploring Mcleod Ganj`s
Today we will use the day to explore the mountain village of Mcleod Ganj with the Dalai Lama Temple. (Overnight stay at Yoga House, -/-/-)
Day 10 (Mon) to 13 (Thu) 4 Days Yoga Trek
For four days we are on the road in the Himalayas. With them is a trekking team consisting of mountain guide, cook and horse man with his pack horses. We hike to a new camp every day. Here we enjoy yoga classes in the afternoon and morning. This tranquil trek takes you through the pre-Himalayas, to sacred lakes and small mountain villages. The trek starts and ends in Mcleod Ganj. (Overnight stay in tent, on the last day arrival in Mcleod Ganj and overnight stay in the Yoga House, full board)

Day 14 (Fri) Relaxing day in Mcleod Ganj, in the evening night drive to Delhi.
We enjoy the last day in the mountains. A morning guided Buddhist meditation is on the program. The rest of the day can be used for shopping and relaxing. In the evening we take the night bus to Delhi (10 hours). (Overnight stay in the bus, -/-/-)
Day 15 (Sat) Departure home
After arrival in Delhi in the early morning flight back home. A hotel room is at your disposal.
or
Additional tour:
We continue our journey to Agra by train or cab. In Agra we enjoy a chai at Sheroes, a café run by women who became acid victims, the sunset at the Taj Mahal and a street food tour. (Overnight stay in hotel, -/-/D)
Day 16 (Sun) Taj Mahal and Delhi
In the early morning we will visit the Taj Mahal, then enjoy a good hotel breakfast and maybe take a dip in the pool?
After that we will leave for Delhi. In Delhi we will see what time allows: some more sightseeing, shopping or just a good dinner? At night or next day flight back home (overnight in hotel, B/-/-).
Included services
1 x hotel room with breakfast in Delhi (double room)
tour guide and yoga teacher
entire transport as advertised
Ashram in Rishikesh:
6 x nights in single or double room with attached bathroom with full board, yoga classes and ashram program
filtered water
3 x hotel rooms in the Yoga House in Mcleod Ganj (double room)
3 nights in a two-man tent with full board and yoga 2 times a day during the trek
Guide, porter, cook, complete equipment during the trek
Hotel Delhi on the last day
Visa
International flight
unmentioned meals
Hotel room in Delhi on day 21 (50 € extra charge)
Connection tour Agra
Highlights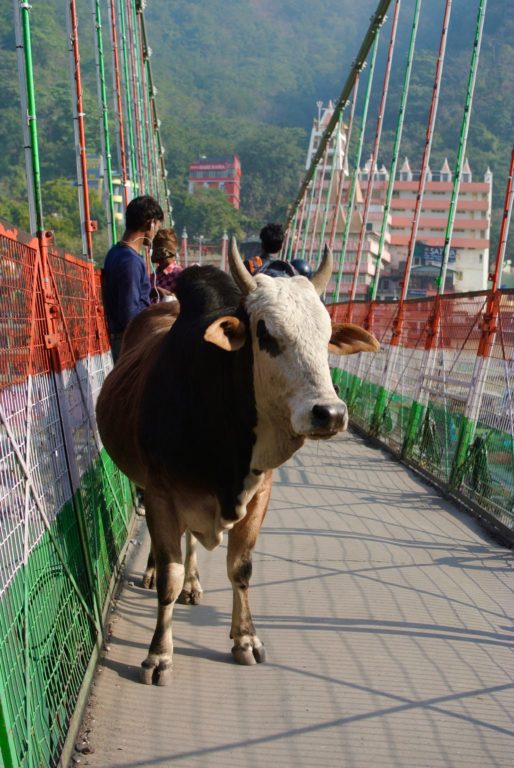 Prices and Dates
23.09.2023 – 07.10.2023
30.03.2024 -13.04.2024 (also possible with two weeks Ashram stay and start from 23.03.2024), then 2200 €
14.09.2024 – 28.09.2024 (also possible with two weeks Ashram stay and start from 07.09.2024), then 2200 €
From 2 persons: 1650 €
From 4 people: 1450 €
Single room supplement: 350 € (Delhi, Mcleod Ganj, tent)
Also possible as a private trip all year round
Connecting trip Agra: (2 x hotel nights, cab transfer, Taj Mahal entrance fee, street food and sunset tour): 250 €
Travel Info
requirements
The yoga classes are suitable for all levels and ages.
The yoga trek is a moderate trekking tour. Those who like to hike and spend time in nature will have no problem with the daily hikes of around 5 hours.
More information en
Clothes in the ashram
Please make sure that your clothes cover your shoulders and knees. White clothing can be comfortable during the retreat.
Kurtas, wide, loose trousers or leggings are recommended.
Suitable clothing can also be purchased cheaply in Rishikesh.
The Yoga Lessons
Sarah will teach the yoga classes. Every now and then the teachers of the ashram will also teach or we will visit teachers in other ashrams.
The classes are characterized by traditional yoga and a combination of asanas, pranayama, relaxation, meditation, mantra, mudra and philosophy. All levels are welcome.
The Journey and Guide and Yoga Teacher
The journey is accompanied by Sarah Appelt. She herself has been living in India for several years and is a trained and 1000+ hour certified yoga teacher and experienced tour guide. She knows India very well and will help you to understand and get to know Indian culture.
Furthermore, she will give some yoga lessons and accompany you on the yoga trek
At the same time, Sarah can be available during the retreat in case of translation and mediation problems.
The journey begins and ends in Delhi at the international airport.
What to bring for the ashram stay:
Loose and light clothing (knee and shoulder covered, preferably white or bright colours)
a scarf
thick socks
Sweater
Flipflops
Towels
Sunglasses
Toiletries (sunscreen) and small medical equipment (in Rishikesh you can get everything)
Passport (copy), credit or debit card, some cash in your currency (approx. € 50-100),
Mobile phone, camera, charger (no adapter), maybe laptop
notebook, writing material
a lot of curiosity and excitement
Information about trekking in the Indian Himalayas with Chalo! Travel
Mountain guide and trekking team
On all our treks we have at least one (for larger groups of 6 participants or two) trained local mountain guides. Our mountain guides have all completed at least the Indian mountaineering training, many of them have also taken part in the advanced courses.
You are familiar with the trekking routes and know the terrain excellently. Our mountain guides all speak English.
In addition, there is a local team consisting of a cook (if the group consists of only two participants, the mountain guide also takes over the tasks of the cook), helpers, horsemen with horses or Nepalese carriers, depending on the type of trek.
All our team members have been working with us for years, are very friendly and always strive to provide our guests with a great trekking experience. Their English is rather mediocre or non-existent, but this is not necessarily a hindrance to communicating with them.
Trekking routes
The trekking routes are designed for the skills of our guests and are all feasible for a person with a good fitness level, unless otherwise mentioned. The daily routes are between five and eight hours long (with breaks) and an average increase of around 500-800 metres of altitude is completed.
In between, rivers may have to be crossed or crossed. The paths are partly well developed, but sometimes also almost non-existent. On our trekking routes there are hardly any villages in between, so we will take enough food for the whole tour.
On our treks you can cross passes, snow or glaciers. On steep slopes, we have safety equipment with us.
Daily routine (Depending on the length and intensity of the trek, the times may vary)
7: 00 Get up with tea
7:30-8:30 Breakfast
7:00-9:30 a.m. Dismantling of the camp
8:00- 9:30 Start Trek
13:00 Lunch on the way
15:00-17:00 Arrival at the camp and camp construction
15:30-17:30 Snacks
19:00 Dinner
Altitude and altitude sickness
Altitude sickness is a very important topic that should not be underestimated, especially during our trekking tours in the Indian Himalayas. At altitudes above 3500 m, our body has to slowly get used to the low air pressure, which also causes less oxygen to enter our lungs. The first signs of altitude sickness are headaches, which are accompanied by dizziness, nausea, insomnia and loss of appetite. It becomes problematic when water accumulates in the lungs and brain and edema occurs. Then only the immediate descent to lower altitudes will help. To prepare for the highs on our treks, we will either spend a few nights at high altitudes before the trek or slowly ascend during the trek to acclimatize. If we notice that there are problems with our guests (each person is otherwise able to acclimatize, regardless of age, gender and fitness level), it may happen that either the entire tour group or the participant descends/returns with a team. In addition, it makes sense to take an emergency drug for altitude sickness. For this, it is best to consult the pharmacy or the travel doctor. For certain treks we will also have oxygen with us.
Luggage
Each trekking participant is responsible for his own clothes and personal belongings. Depending on the trek, we are either on the road with horses or carriers. If we have load horses, one bag per participant can be loaded onto the horse. In the case of treks with carriers, all personal luggage must be carried independently. Tents, sleeping bags, mattresses and food are carried by our porters.
For trekking tours with horses, a day backpack with space for the lunchbox, a water bottle and warm overcoat clothing should be taken with you. Here to the complete packing list for our trekking tours.
Packing list for trekking tours
Sleeping bag at least -10 ° C
large backpack or soft tote bag so that the pack animals can carry the luggage
Small backpack for the day approx. 30-40 l with rain cover
Flashlight / headlamp
2 refillable water bottles
Walking sticks
Passport and passport copy
Camera with spare batteries and memory card
Headgear as sun protection
Good sunglasses
Cap
Scarf, buff
gloves
Windpants
Trekking pants
Functional underwear long
Walking shoes
Socks thick and thin
Sneakers, sandals and / or slippers
Windbreaker
Warm jacket
Fleece pullover / jacket
Tshirts
Sun cream, lip balm min. Protection 40
Fat cream
Water purification tablets
(boiled and filtered water is provided)
own medication for headaches, nausea, digestive problems, colds)
Blister plasters and bandages
own hygiene article
Toilet paper
Hand disinfection
Meals
There will be full vegetarian sattvik meals during the trek. Water is either boiled or we have a water filter with us.
Breakfast (daily selection):
Tea
Oatmeal porridge / muesli / Indian porridge
Indian breakfast
Sliced fruit/vegetables
Lunch (mostly lunchbox), sometimes warm in the camp
Indian (rice, chapati, vegetables)
Juices
Fruit
Snacks
Soup
Dinner
Vegetable dish
Lentil dish
Rice/noodles
Chapati
Salad
Dessert
Accommodation and camp
We have very comfortable and spacious two-man tents. Our mattresses are practical but simple if there are problems with sleeping on hard surfaces, please take your own mattress with you or order from us. Our sleeping bags are freshly washed and have a very good quality with comfort zone up to -5°C/extreme zone up to -20° C. It is recommended to bring personal indoor sleeping bags.
In addition, we have a spacious dining tent with tables and chairs, a kitchen tent for the team and a toilet tent. For treks up to 4 people, the kitchen tent can also act as a dining tent at the same time.
For trekking tours with porters, we will take our smaller, lighter tents with us and do without a toilet tent.
Weather
In the Himalayas, temperatures fluctuate widely. While it can get warm up to 25°C during the day and the sun is not only warming, but also very intense (sun protection is a must), it can also cool down significantly below the minus-grade at night, especially in the months end of September and October, as well as in June. There may also be weather changes with snow on the passes.
15 Days Rishikesh Ashram and Yoga Trek Combo Trip