Aktive Kultur Reisen
Reise Bausteine
Multi Aktiv Reisen
Backpacker Reisen
Kultur Reisen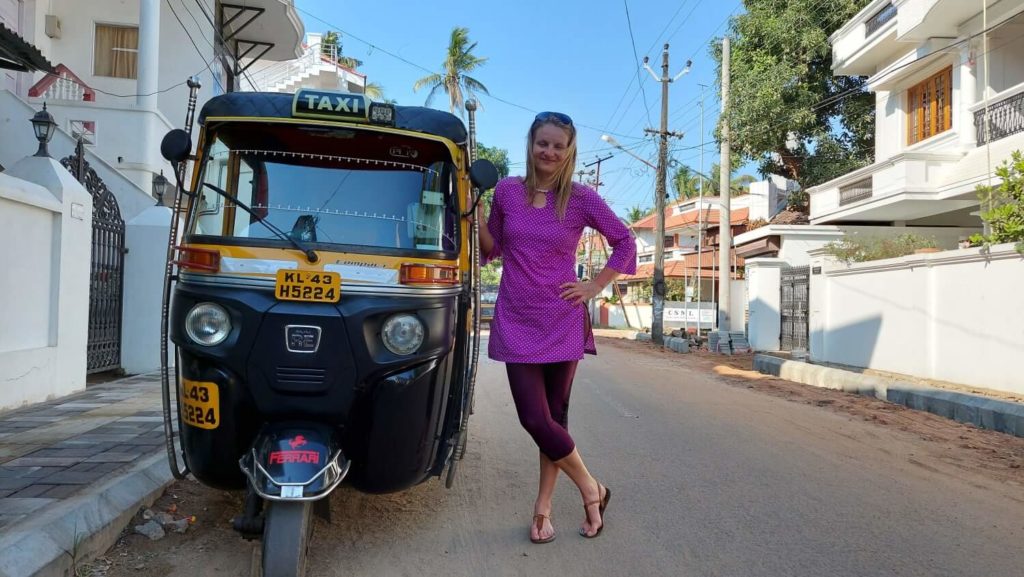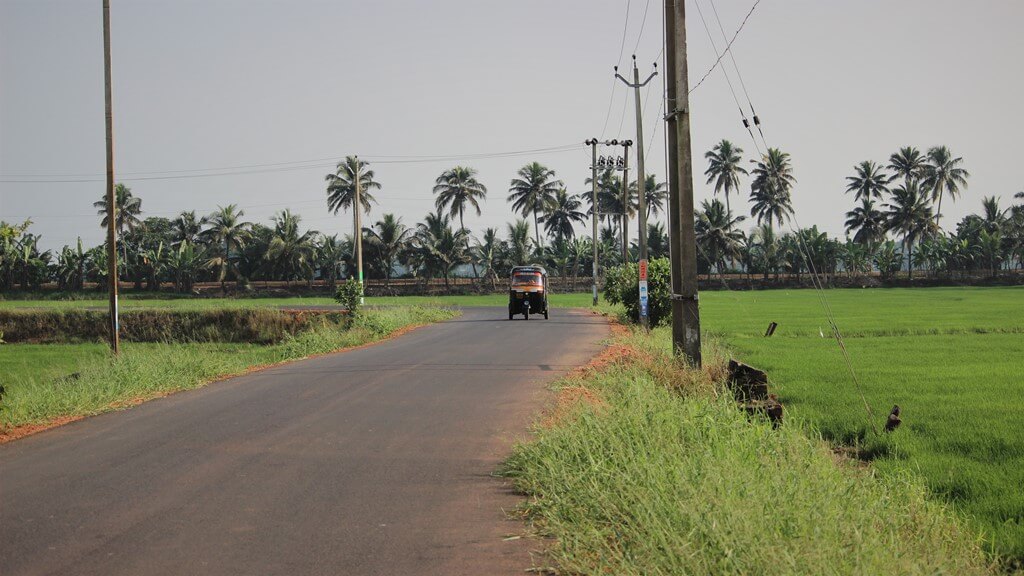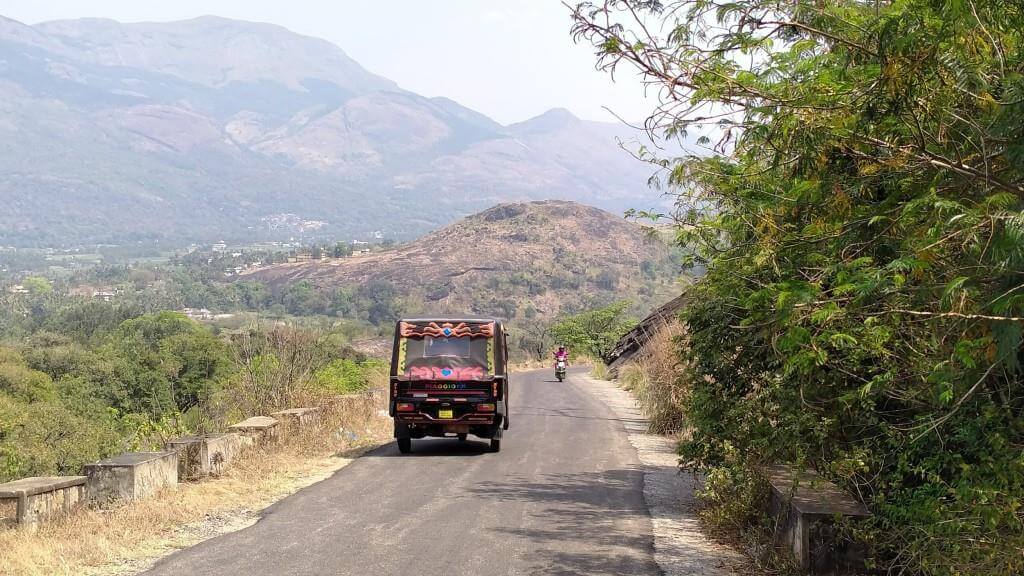 Overview
Explore Kerala – the land of spices in the famed Tuk Tuks. Fall in love with the stunning landscapes, rejuvenating nature, misty mountains, myriad backwaters and the pristine beach. Active experiences like trekking, kayaking and walks enable you to immerse deeper into the complexities of God's own land. You will be staying at plantation bungalows, tented camps, B&B Inns, and traditional homestays. In addition, the temple visits, cooking experiences, traditional art performances and interaction with local people complete your journey of Kerala more innately. You will be riding across Kerala in one of the favorite means of transport – the Tuk Tuks. The amusing yet immersive drive offers a panoramic view and takes us closer to the immediate surroundings. Also, the tailor-made local experiences will amaze your senses. Meanwhile, our team of mechanics and Tour leaders help you to run your adventure Tuk Tuks in the best condition throughout the tour.
We start our drive from the Colonial city of Fort Kochi towards the plantation resort at Kallar. En route, we will visit the Salim Ali bird's sanctuary nestled in the lowland forests of Thattekkad. The next morning, we drive to the base camp for a challenging trek to the Meesapulimala peak through high-altitude shola forests and grasslands and wind down at a camp. Morning, we set out to the wilderness of Thekkady for Boating Safari in Periyar Wildlife Sanctuary followed by a spice plantation visit and cooking class in the late evening. It's time to drive to the backwaters and kayak through its winding, narrow intrinsic canals penetrating deep into the paddy cultivating lands of Kuttanad. After visiting the Mannarasala Snake Temple in the morning, we head towards the pristine Marari beach for well-deserved leisure. Morning, we drive back to Fort Kochi via fishermen villages and coastal roads to wind up the week-long Kerala Autorickshaw Tour.
Program
Day 1: The colonial city of Fort Kochi
History tour on Tuk Tuks and Cultural Show
Our guide will meet you at Fort Kochi with the Tuk Tuks near St Francis Church in the morning. After a brief introduction to the Kerala Tuk Tuk Tour and lessons on how to drive the Tuk Tuk, you will have your hands on the Autorickshaw for a familiarisation drive. You will be able to handle the tuk-tuks with a little interest and prior basic driving skills of a scooter with a gasoline-powered engine. Once you are confident with the new tuk-tuks, afternoon, we will go out for the History tour of Fort Kochi to know more about its colonial heritage. Once been a major port and trade center, it evolved as a settlement hotspot for numerous merchants from across the world. The gradual intermingling of their cultures for centuries has made Fort Kochi a unique heritage city to visit. We will walk through the Jew street, flea market, watch the creaking Chinese fishing nets and the sunset. Further, we will also witness the traditional dance performance – Kathakali. It will be nice to check out a local restaurant for dinner before winding up in a comfy homestay.
Property
Meal
Activities for the day
Approx. Distances & Duration
The Nest Homestay
–
Tuk Tuk familiarisation and sightseeing
Kathakali dance performance
Tuk Tuk familiarisation one hour, Kathakali one hour
Day 2: Drive to Kallar Valley
Visit Thattekkad Bird Sanctuary and drive to the scenic tea cultivating valley
Time's up for the practice sessions and it's time to hit the road. Our guide will navigate you through the city to the outskirts. We will reach the quiet countryside to start the drive. We will drive through flat backroads along irrigation canals through the village. You can see local cultivates of rubber, pepper, nutmeg, banana and pineapple plantations along the route. We will drive towards the lowland forest of Thattekkad a prime biding hotspot in South India. The place along the banks of the Periyar River is the prime habitat for several species of birds including many water birds. After an en-route lunch, we visit the famous Salim Ali Bird Sanctuary to look out for the endemic birds around. We can also stroll through nearby plantations and the countryside to meet the local cultivators here. After the visit, we will drive towards the offbeat destination of Kallar Valley through village roads and stretches of highway with hilly and undulating terrain. You will drive with the refreshing view of Periyar river, lush rainforest, small waterfalls and streamlets, chirruping birds and lurking bonnet macaques watch your way. You will also pass along patches of rubber, pineapple and Cashew plantations along the route. Towards the end of the drive, we will reach a serene farm resort in Kallar valley. Evening, we can also go for a small nature walk at the vast plantation here.
Property
Meal
Activities for the day
Approx. Distances & Duration
Dew Drops
B D
Drive from Kochi to Kallar
Enroute visit Thattekad bird sanctuary
Evening plantation walk
Total – 125km 4 hours, Bird sanctuary walk 1.30 hours, Plantation walk one hour
Day 3: Meesapulimala Trek
Drive to Base camp and trek the second highest peak of South India
Early morning, leaving the valley behind, we will drive to the high-altitude tea-growing hills of Munnar. The terrain again will be hilly and undulating as we drive through the manicured tea plantations, with a view of the misty and scenic valleys. You will park the Tuk Tuks and hop on to the Jeeps for the drive towards the Base Camp, the trek start point. En route, we will be clearing the documentation at a forest checkpoint. After alighting from the jeeps, we will start hiking to the Meesapulimala Base Camp first. Further start hiking through the picturesque landscapes along streams and patches of Shola forest to reach Rhodo Valley – a scenic valley with grassland, pine trees, flowers and small rivulets. Meesapulimala, the second highest peak in South India is well known for the typical Shola Forest and grassland ecosystem. You will witness pine, rhododendron trees, blooming flower beds and patches of the forest while the trek. You can view the Nilgiri Thar, endemic birds, butterflies and small rivulets with fresh water on your way. While summitting the peak, huge waves of mist will blow upon you and the vibrant morning colors of the sun can be seen from above the clouds. After spending a comfortable time, we will descent all the way back to the Base Camp for an overnight stay and our guide will do arrangements for your dinner. You can also stargaze from the valley on a clear night sky or enjoy a peaceful night away from the monotonous urban dwelling.
Property
Meal
Activities for the day
Approx. Distances & Duration
Camping
B (L) D
Drive to Trek Start Point
Meesapulimala Trek through Shola Forest and Grasslands
Camping at Base Camp
Drive to start point 40km 1.30 hours, trek 14km (Altitude: 1600 – 2640 metres) 6 hours
Day 4: Drive to the wilderness destination – Thekkady
Drive through the cardamom hills and boating in Periyar Tiger Reserve
Morning, it's time to set course to Thekkady. To start with the vast tea plantations of Suryanelli, you will navigate on a combination of uphill, downhill and undulating hilly roads. We will pass along the picturesque Anaerangal lake and numerous viewpoints. Anaerangal lake with a small earthen dam is the centrally located lake between the hillocks of Suryanelli. It is the key source of water for the wildlife especially for elephant herds and the villages in this remote hilly region. Further, we drive through the cardamom forest roads of Shantanpara. You will start to see various spice plantations like cardamom and pepper and patches of tea and coffee plantations en route. The wet and cold climate here is ideal for wild cardamom and supports other cash crops like pepper and coffee. We reach Thekkady, and go for a boat safari in the Periyar national park to spot the unique wildlife of the Western Ghats. The biodiverse forest reserve is abundant in flora and fauna with 35 species of Mammals including the majestic Bengal Tiger and the Asiatic elephant, more than 260 Bird species including the Great Indian Hornbill. This abundant forest is also home to many species of Amphibians, reptiles, insects, fishes etc. Done with the forest activities, we head to a peaceful and comfortable homestay with a welcoming and warm-hearted host. After freshen up, we go for a cooking class to learn how to prepare a few traditional Keralan dishes and have them for dinner at the place.
Property
Meal
Activities for the day
Approx. Distances & Duration
Green View
B D
Drive to Thekkady
Boating at Periyar Wildlife Sanctuary
Spice plantation visit, Cooking Class
Total 110km 4 hours, Boating 2.30 Hours, Spice plantation 1hour
Day 5: Drive to placid Backwaters of Alappuzha
Drive through scenic valleys, lowlands, agrarian villages and backwater Kayaking
Today, we drive through the final stretch of Western Ghats during the tour. The terrain will be a combination of inclined and undulating winding roads through cardamom and tea plantations with the view of scenic hills and valleys with dancing meadows in the refreshing breeze. You will pass through small settlements and small towns of Vandiperiyar and Elapara towards the midlands. Further, we drive through the rubber country of Pala and the agrarian village of Erattupetta along valleys of rubber, spices and pineapple plantations, small temples and churches towards our next destination, remote into the meandering water world. You will drive the final stretch along the lush green paddy fields, fish and duck farms, coconut lagoons and canals to reach Champakulam Village. Here, you will be greeted by the friendly host at the traditional homestay situated right on the banks of Vembanad lake. A visit to the backwaters is incomplete without a kayaking adventure through its narrow intrinsic canals. Afternoon, we will hop on to the kayaks to paddle lazily across the small islands and wetlands to see up close, how the village life wakes up to life with the golden lights of the sun. You can see toddy tappers climbing up the high coconut tree, the local fishermen harvesting clamshells and pearl spot fishes on their canoe, women washing clothes and children walking to the school, while flocks of ducks paddling across the narrow canals, the patient kingfishers, egrets and cormorants keeping a watchful eye on their next catch.
Property
Meal
Activities for the day
Approx. Distances & Duration
Ayana's Pampatheeram
B D
Drive to Champakulam
Afternoon Kayaking in Backwaters
Total 130km 4 hours, Kayaking 2 hours
Day 6: Drive to the pristine beach of Marari
Snake Temple visit, drive through fishermen villages and coconut groves
Before winding up the rustic experiences of the backwater village, we drive to the ancient Snake Temple of Mannarasala. The serpent god Nagaraja is worshipped here and the history of the temple is old as the land of Kerala itself. After the temple visit, we drive towards the pristine beach destination of Marari. The road will again be flat with some high bridges over the backwater canals. You will be passing along paddy fields and coconut lagoons. We will visit the coir factory en-route to know how various products are made out of coir fiber. The coir cottage industry was once a prime source of income for the locals, men and women alike. At the factory, you will get to know how every part of a coconut tree is used for various purposes and has been blended into the culture of the land. We will end our drive at a serene beach homestay, close by the Marari beach. The rest of the day can be spent at leisure along the beach or we can walk to the fishermen's village nearby and meet the brave sea warriors trying to know more about their intense life. Afternoon, we will have a martial art (Kalari-payettu) workshop at a traditional Kalari School nearby or a yoga session at the quaint beach.
Property
Meal
Activities for the day
Approx. Distances & Duration
Marari Secret Beach
B D
Morning Snake Temple Visit
Drive to Marari
Martial Art Show
Total 75km 2.30 hours, Temple visit 1hour
Day 7: Tour ends at Fort Kochi
Drive back to Fort Kochi on scenic coastal road along the beach and wetlands
After breakfast, we will start our drive toward the colonial city of Fort Kochi. The road will be mostly flat throughout with a view of the Arabian Sea. You will be riding along the Fishing Harbour of Andhakaranazhi through coconut groves, patches of wetlands and coastal villages of Chellanam and Ezhupunna to arrive back at Fort Kochi. It's time, we leave our Tuk Tuks to say Adieu, with fond memories of the Kerala Tuk Tuk Adventure drive.
| | | | |
| --- | --- | --- | --- |
| Property | Meal | Activities for the day | Approx. Distances & Duration |
| – | – | Drive back to Fort Kochi, Tour Ends | Total 45 km 1.30 hours |
Services
Accompanying English Speaking Guide
Self Drive Rikshaw (2 to 3 people sharing) with fuel, tolls and parking fees
Tuk-Tuk mechanic
Accommodation in Twin Room (Budget)
Meals as mentioned
Activities as mentioned with entry fees
Government Taxes
Visa
International Flight
Tips (approx. 30 €)
Expense on Additional Services availed en-route and at Properties
Personal Expenses including Camera Fees
Travel Insurance & Medical Expenses
Driver for Tuk Tuk (can be booked on additional cost)
Spare parts and Repair cost if Tuk Tuk got damaged due to own fault
Highlights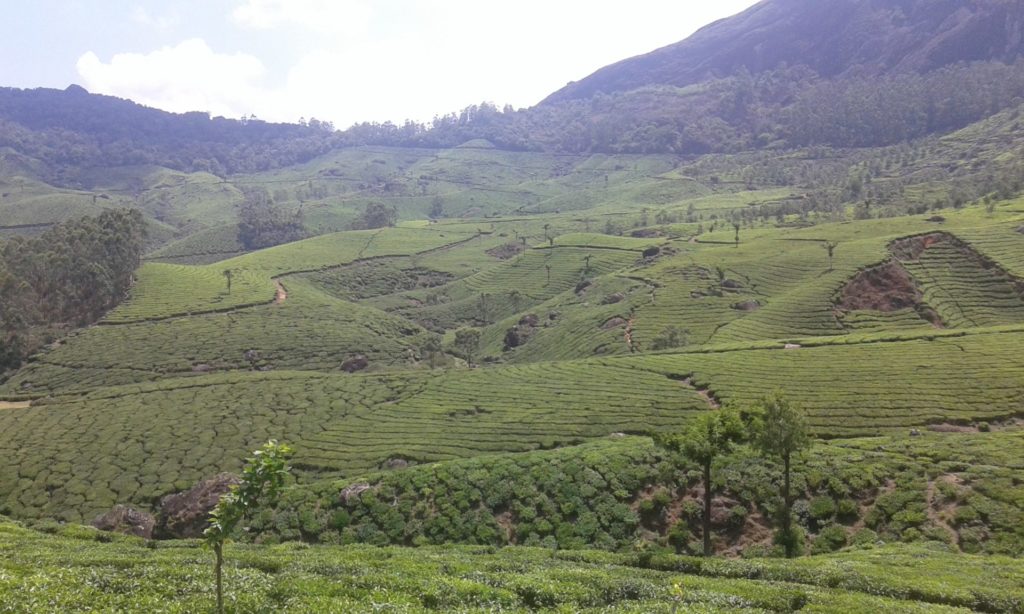 Prices and Dates
Private Tour:
2-3 participants: from 950 € per person
4-7 participants: from 900 € per person
From 8 percipients 800 € per person
Single room supplement: 150 € (room only)
Single Tuk Tuk Supplement: 250 €
Self Guided Tour with Local Guides (without guide, mechanic, fuel, toll and parking fees):
2-3 participants: from 700 € per person
4-7 particpants: 650 € per person
Note:
15 December to 15 January Peak Season Supplement Surcharge
Accommodation depends on availability
Tour Info
Requirements
For this tour an international Driving Licence is compulsary. You can easily apply for it in your home country. Indian traffic can be challenging and unpredictable. also we will try to be mainly on smaller roads, some routes on bigger roads and through towns can't be avoided. Please take special precautions and follow your guide. On the first day you will have a trainings session in handling the Tuk Tuk.
Stay
We stay in simple yet clean and nice budget accommodations, mainly homestays.

Arrival
The tour starts and ends in Fort Kochi.
Frequently asked Questions
Do I need an adapter in India?
Yes, an adapter is necessary, as in India most of the plugs are used. More information here.
What is the climate in Southern India?
The climate is subtropical. In July/August is monsoon season, which manifests itself in short showers. The best time to travel is October to March.
In the south of the country, the sun's irradiation is particularly intense due to its proximity to the equator. In order to avoid unpleasant and long-term dangerous sunburns, care must be taken to ensure good sun protection and adequate fluid absorption.
Dangerous currents continue to lead to bathing accidents on the coasts. Warnings on the beaches are essential.
What language is spoken in India?
The official national languages are English and Hindi. In Kerala, however, Malayalam is spoken. In addition, there are numerous regional national languages, all of which differ in word and writing, and there are also over a hundred dialects.
Is there a time difference?
Yes, there are: (CET) + 4.5 hours, during European daylight saving time it is + 3.5 hours.
Notes on money/currency:
The local currency rupee may not be entered or exported. Travellers wishing to import more than 5000 cash or traveller's cheques must indicate this on the currency declaration form you receive upon your entry. We recommend taking euros with you. It is easily possible to exchange money in hotels or banks and bureaux de change, with the exchange rate being uniform. It is recommended to keep the receipt to ensure a return at the airport. International credit cards are accepted by most hotels in major cities and tourist centres.
Notes on additional costs and tipping:
For meals, drinks and snacks not included in the price of the trip, you should calculate approx. 15,- (Euro) per day.
Tips are a voluntary service, which everyone should decide for themselves. Please note, however, that tipping is common in many cultures and is an important part of income due to the relatively low wage level. As a rule of thumb, 5-10% of the invoice amount is appropriate. India is a travel country where a tip is expected for each service. Be it the luggage carrier, the service staff in the restaurant and hotel, for the toilet or the rickshaw ride.
Here is a detailed orientation. Menus often include a surcharge indicated as a service batch. However, the waiters usually see little of this. An additional tip of 5-10% is appropriate. Porters, drivers and guides also expect tipping. For racks 20-30 Rs per bag is attached, for maids 20-30 Rs per day. Your tour guide will be happy to advise you.
Tip: Talk to your fellow travellers. It has often been proven that one of the group gives a reasonable tip on behalf of the whole group (e.g. for the tour guide and driver). Experience has shown that each traveller will receive a tip of around 60 € for the entire trip. But: Tips are voluntary and please communicate with the group on site how you want to deal with it.
Notes on vaccination:
There are no vaccination regulations for direct entry from Germany. The Foreign Office recommends checking the standard vaccinations when travelling to India. These include vaccinations against tetanus, diphtheria, pertussis, polio, mumps, measles, rubella and influenza, as well as pneumococci.
Vaccinations against hepatitis A and typhoid, long-term stays or special hazards are also recommended for travel vaccinations against hepatitis B, rabies, meningococcal meningitis ACWY and Japanese encephalitis.
Please keep in mind that vaccination regulations may change in the short term. In addition to the family doctor, individual information is also provided by the health offices or tropical institutes.
What equipment you should think of?
Passport
Printing of the electronic tourist visa (e-TV)
Cash/EC card/credit card
Photocopies of the most important documents (keep separate from originals). Send a copy via PDF to your own email in advance.
Travel documents
Day backpack
comfortable shoes and clothes for smaller walks and activities
light sneakers or sandals (for aerating the feet)
Long trousers and sweater/jacket (for the evening and/or rooms with air conditioning)
Photo equipment
bathing suits, bath towel
Sun protection and headgear (cap, hat or headscarf, sunglasses, sunscreen)
Travel pharmacy, first aid kit, possibly personal medications, insect repellent
Due to different socket types, we recommend taking an international adapter set with you.
Kerala on Tuk Tuks – Kerala Rikshaw Tour