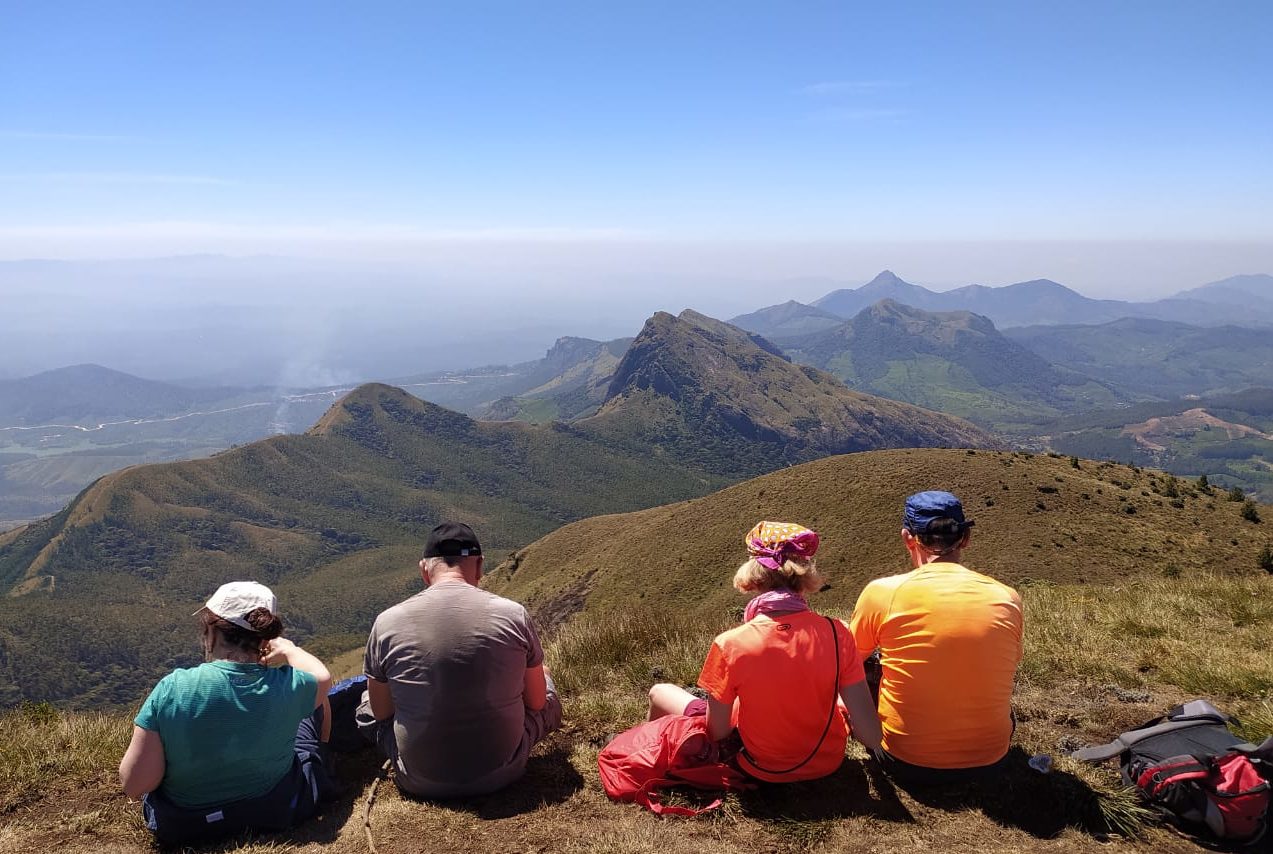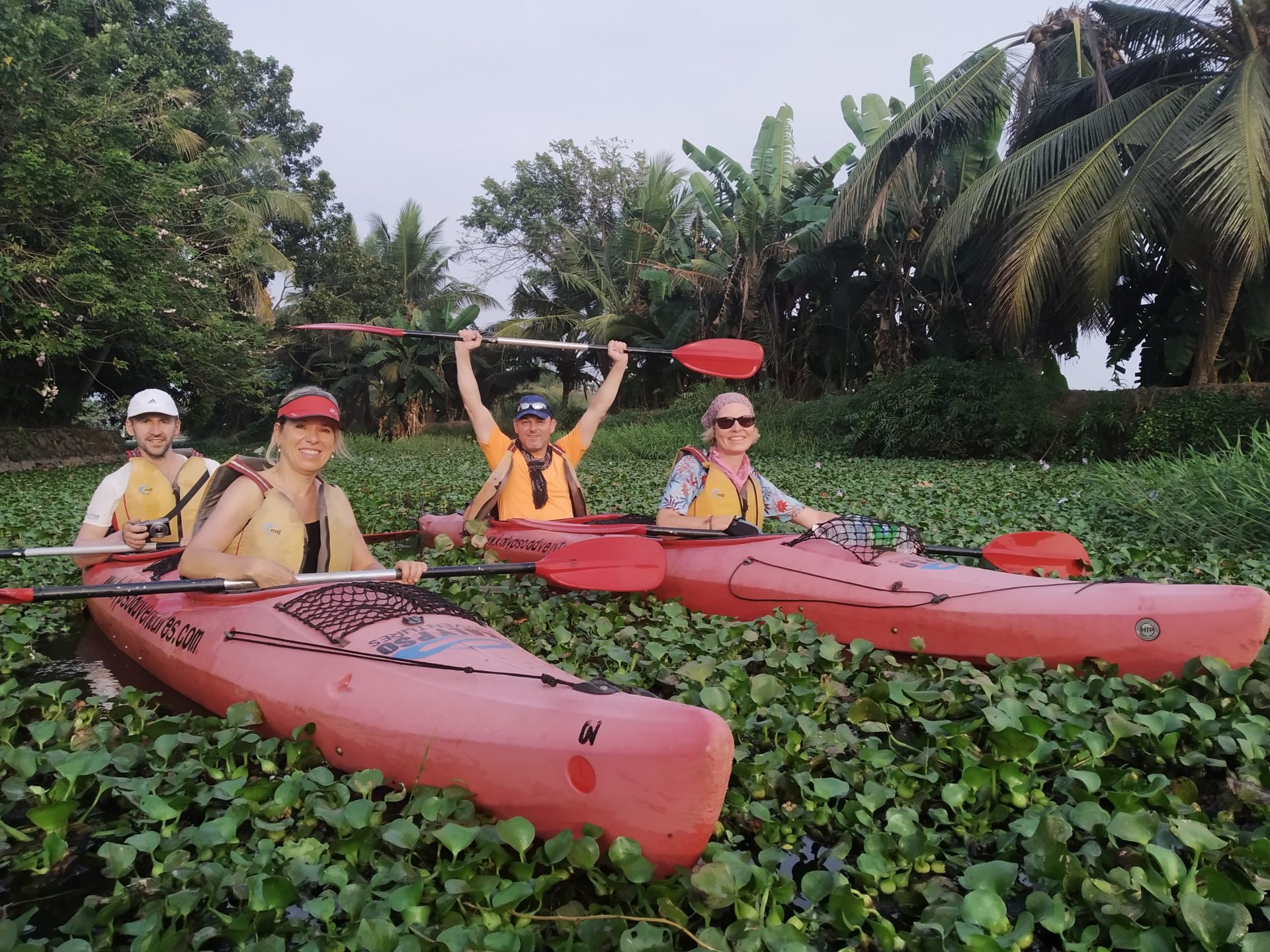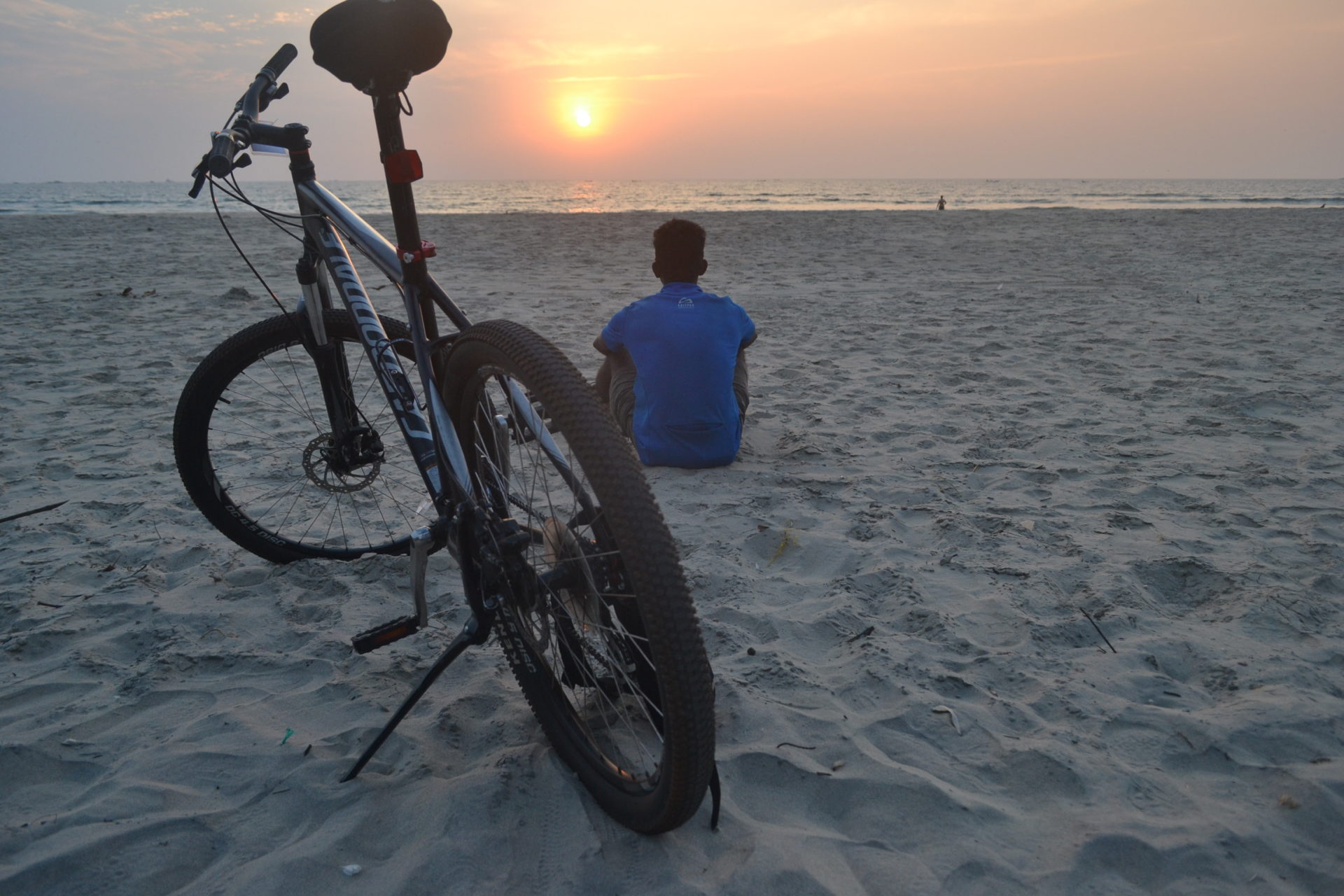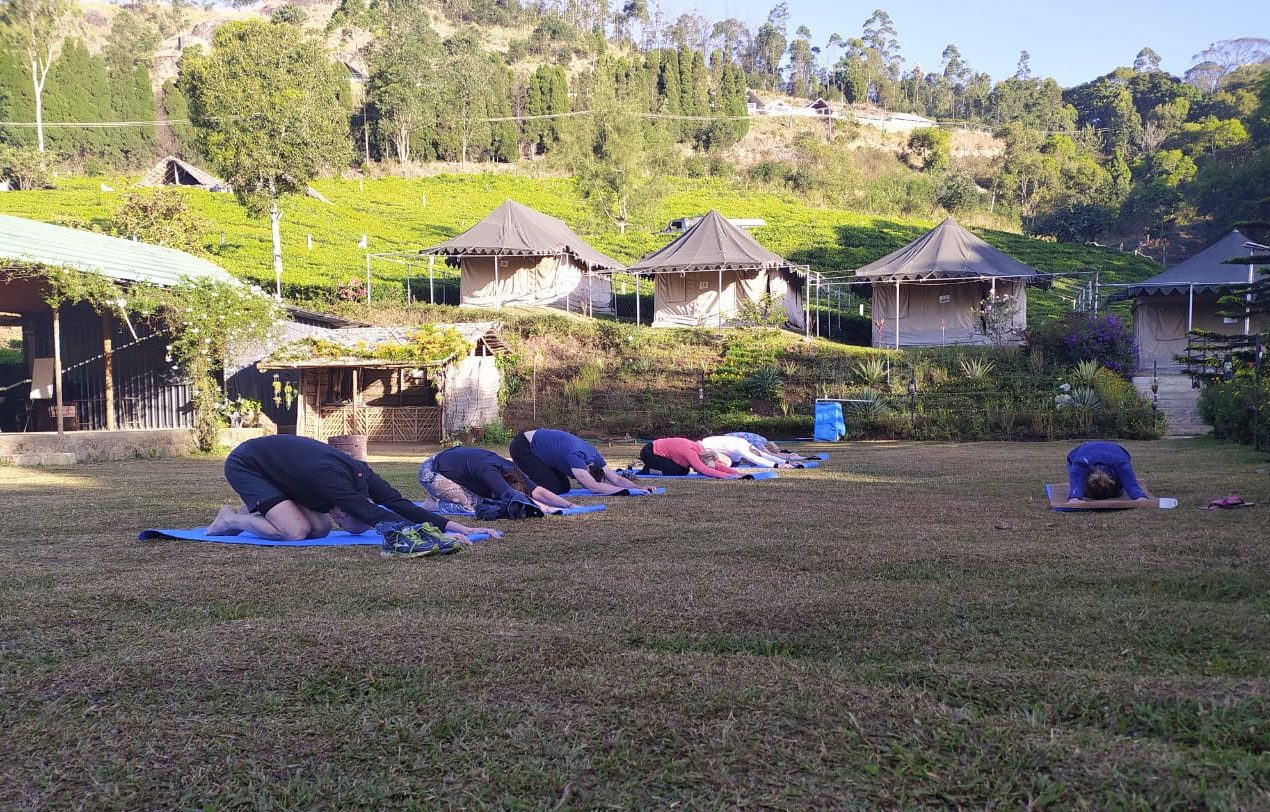 Overview
We immerse ourselves in the tranquil life of Kerala, marvel at gigantic temples, hike in the shadow of the highest South Indian mountain massif, learn a lot about spices and tea, drift in a kayak through the world-famous backwaters of Kerala and relax with yoga on the endless white sandy beaches of Marari.
Temples, Tea & Tropical Landscapes
India is colourful, fairytale-like and mysterious, but at the same time shrill and sometimes overwhelming, an emerging country full of dynamism.
As diverse as the country, so varied and high-contrast is this trip: lots of variety, exciting and wonderfully relaxed. Kerala in southern India is a tropical paradise and, surprisingly, a hiking paradise. The exotic foreign cities are full of life, with varied history, ancient traditions and a rich religious life. History has produced a multifaceted mixed culture in which Hindus, Christians and Muslims live together peacefully.
Western ghats. We cross the mountain range between the states of Kerala and Tamil Nadu on foot and by bicycle. In the tropical forest grow coffee, cocoa, tea and spices such as pepper, ginger, turmeric, cardamom, nutmeg and vanilla. Life here is leisurely and relaxed. Original villages and their warm inhabitants meet us on the way. During the hikes we live in tents at a beautiful campsite surrounded by nature. It also goes through the green sea of tea. Here you will find tea plantations on tea plantations and interesting stories about it. Last but not least, we visit the Periyar National Park and who knows, maybe we are lucky and spot wild elephants from the boat.
Madurai. For two days we make a detour to the land of the temple Tamil Nadu. Here in Madurai visit the Meenakshi Temple – one of the most beautiful and impressive temples in India.
The backwaters of Kerala. We get into the kayaks and dive into the leisurely life on the water for a day. At a quiet pace we pass beautiful landscapes and fishing villages. People build their homes directly on the riverbank. The peace and deceleration provide pure relaxation.
The Malabar Coast. The Arabian Sea and the Malabar Coast must not be missed on a journey through southern India. Paradise beaches and relaxing days with Ayurveda and yoga await you in our Resort at Marari Beach.
Program
Day 1 Arrival in Kochi
In the evening you land in Kochi. You will be welcomed by your guide. At the nearby hotel there is a dinner and the well-deserved rest from the long day of arrival.
Catering incl.: D
Day 2 Bike Tour to Thattekad (50 km) and Kayak Tour
After breakfast we start with our first Biktour to the bird reserve Thattekad. On small roads we meander tranquilly through green rice and spice plantations and experience the rural life of Kerala from the saddle. On the banks of the Periyar River and the foreshore of the West Gaths is our camp. The afternoon is free. The surrounding area is ideal for a smaller plantation walk or a kayak tour.
Accommodation is in fixed tents with beds and private bathrooms.
Distance: 50 km, 200 hm
Catering incl.: B, L, D
Day 3 Bike Tour to Munnar – the city of tea and round trip through the tea (approx. 50 km)
First we cycle along the Periyar River through the forests of Neriyamanagalam. From the reeds of the forests, local baskets and mats are braided. We enjoy the beautiful view of the surrounding mountains. The climb high to Munnar is crisp. Therefore, after about 30 km, we change to our escort vehicle and drive up to Munnar. Munnar is located at an altitude of 1,600 meters and is surrounded by tea plantations, national parks and numerous hiking trails. Munnar used to serve as a retreat for British colonial rulers during the hot summer months. An enchanting and deep green landscape awaits us. Of course, strong cyclists can also ride this route with one of our guides on their own. After lunch in Munnar we go on a wonderful bike tour through the tea for about 20 km. We meet the tea pickers and learn a lot about the tea on the tour. In the evening we can stroll through the small market of Munnar before we rest in the hotel and have dinner.
Route: 50 km, 800 Hm, transfer approx. 50 km, 1, 5 hours
Catering incl.: B, L, D
Day 4 Hike to Meesapulimala 2640 m, transfer to Suryanelli (10 km /6 hrs)
Today we take the Mathikettan Shola Rain Forest hike. The Trek is an exciting and challenging trekking route that starts about 1.5 hours by jeep from Munnar. The day starts early, as we have to climb to an altitude of 2,640 meters, to the summit of Meesapulimala. Meesapulimala is the second highest peak in the Western Ghats. We cross forests with low-hanging cloud fields and hike over wide grasslands to the summit. Along the way we will see exceptionally beautiful grassland, extensive forests and mountains that offer spectacular views of the vastness of Tamil Nadu. Here you have a wide view over the green forests and valleys with their tea plantations. Afterwards we hike back and take a transfer to the small village of Suryanelli and stay at Suryanelli Camp in fixed tents with beds and shared bathroom. Here we end the day comfortably by the campfire.
Hiking route: 14 km, walking time about 6 hours, transfer total approx. 3-4 hours, 80 km
Catering incl.: B, L, D
Day 5 Circular Hike in the butterfly forest and cardamom plantations (14 km/ 6 hours)
We are certainly awakened by the melodic singing of the native throttle species "Malabar Whistling Thrush", which chirps early in the morning in the cloud forest next to our camp. Today, the ascent to Phantom's Head is on the agenda. It will be a beautiful day with an unforgettable view of the Papathy Shola (Butterfly Forest), which is known for the mass migrations of butterflies in October and November. The high, dense cloud forests offer an ideal environment not only for butterflies, but also for birds and other wildlife. We have the opportunity to visit a tribal village of the Muduvan, a tribe that for centuries colonized the upper reaches of the Western Ghats. Back to the camp we go through deep green cardamon plantations.
Hiking route: 14 km, walking time about 6 hours
Catering incl.: B, L, D
Day 6 Madurai – City of Temples
One last breakfast in the camp before a transfer brings us to Madurai in the state of Tamil Nadu.
A short guided tour leads us to Thirumalai Nayak Palace and we explore the colourful markets of the old town. Our destination is the Meenakshi Temple, the heart of Madurai and certainly one of the highlights of a south India trip. Its twelve gigantic temple towers dominate the cityscape from every direction. They are littered with hundreds of thousands of colored god figures, demons, ascetics, temple guards, animals, and mythical creatures. As the center of many rites and festivals, the temple is always filled with life. We have the opportunity to participate in a nightly ceremony.
Transfer: 130 km, approx. 3 hours drive
Catering incl.: B
Day 7 Bike Tour between mangoes, grapes and vegetables (30 km)
Today we take the minibus back to Kerala from Tamil Nadu. The last 30 km we do with the bike. The journey through the flat plain with mango, vegetable and grape plantations is interesting, as it shows us a completely different India than in the days before. The last 15 km is continuously uphill again. Around noon we reach Kumily at Periyar National Park, in the mountains of the Western Ghats. About 75% of the total area of the dense tropical rainforest is considered completely untouched. The exceptionally wooded and species-rich area around Lake Periyar is located at an altitude between 900 and 2,000 metres and is home to many unique animals and plants. Today we take our lunch on banana leaves in a very traditional way and then visit a spice plantation. In the evening you can optionally visit a traditional martial arts show or just relax.
Journey: 30 km, 600 Hm (transfer 150 km approx. 4 hours)
Catering incl.: B, L
Day 8 In Periyar National Park and cooking class
Today we spend in the Periyar National Park. In the morning we explore this beautiful place on foot and by boat and thus increase our chance to sight wild elephants.
The afternoon is free for strolling or for massages. In the evening we take part in a convivial cooking course.
Catering incl: B, D
Day 9 Bike Tour to Vagamon (approx. 55 km) and transfer to the Backwaters
A wonderful bike stage up and down through the hilly landscape on small roads past spices, tea and small villages. Arriving in the spa town of Vagamon we enjoy a lunch and a fast descent. Here we change into our escort vehicle and continue into the backwaters – a wide-branched canal system. The afternoon invites you to relax in the greenery, a walk or fishing with the local children.
Journey: 55 km, 1100 Hm, transfer approx. 75 km, 2 hours
Catering: B, L, D
Day 10 Kayak Tour through Keralas Backwaters
In the morning we bored our kayaks to navigate some of the many branched water channels. By kayak we can glide through particularly small and remote canals and comfortably explore the extensive waterways with countless lakes, rivers and lagoons. Through narrow canals we reach beautiful landscapes and reach fishing villages. Deceleration pure. In the afternoon, a bike tour is possible to experience the backwaters from a different perspective.
Catering incl.: B, L, D
Day 11 Bike Tour to Marari Beach (30 km) and yoga on the beach
It is about 30 km from the backwaters to the beach of Marari. We drive along a small coastal road. Arrived at Marari beach, we move into our cottages at Ayurveda Resort. The afternoon is free. We'd be doing it with yoga on the beach? Or an Ayurvedic application (optional prices from 25,-).
Travel distance 30 km
Catering incl.: B
Day 12 Relaxation on the beach of Marari
We can sunbathe, swim and relax on the beach. The day is completely free for us. Only the yoga class on the beach or a few moves in the pool or sea can challenge us a little physically. Optionally a Workshop in Martial Arts or traditional Dancing is possible.
Catering incl.: B
Day 13 Bike Tour (50 km) to Fort Kochi
The last stage by bike is a leisurely tour along the coast directly to the port city of Fort Kochi.
Due to its exposed location on the Malabar coast, the portuguese colonial buildings and the nearby magnificent palm-fringed beaches, Kochi is one of the most fascinating cities in India – but it is still a very special insider tip! Arriving in Kochi we first drive to the peninsula of Fort Kochi, the oldest and most beautiful district of Kochi, located directly on the sea. After check-in at the hotel, we embark on a small exploration tour. We stroll through the small alleys, visit the Jewish quarter and the spice market and observe the fishing technique with the Chinese fishing nets. We end the evening with a last dinner
Distance: 50 km
catering incl.: B
Day 14 Return flight from Kochi
Say goodbye. A shuttle takes us to the airport (1 hour). It is time for your flight home.
Services
13 Nights
Meals: 13x breakfast, 7x Lunch, 8x dinner as well as water and snacks on the bike and hiking days
Small cooking class followed by dinner
6 guided bike tours on mountain bikes (incl. accompanying vehicle with bicycle mechanic)
2 guided hikes
2x Kayak tour
2x Yoga on the beach
further program as described
Transfers and sightseeing by air-conditioned bus
Entrance fees according to the course of the trip
English-speaking tour guide
Local, English-speaking support team during the tour
Visa
private expenditure
unmentioned meals and drinks
Tips (approx. 50 €)
Highlights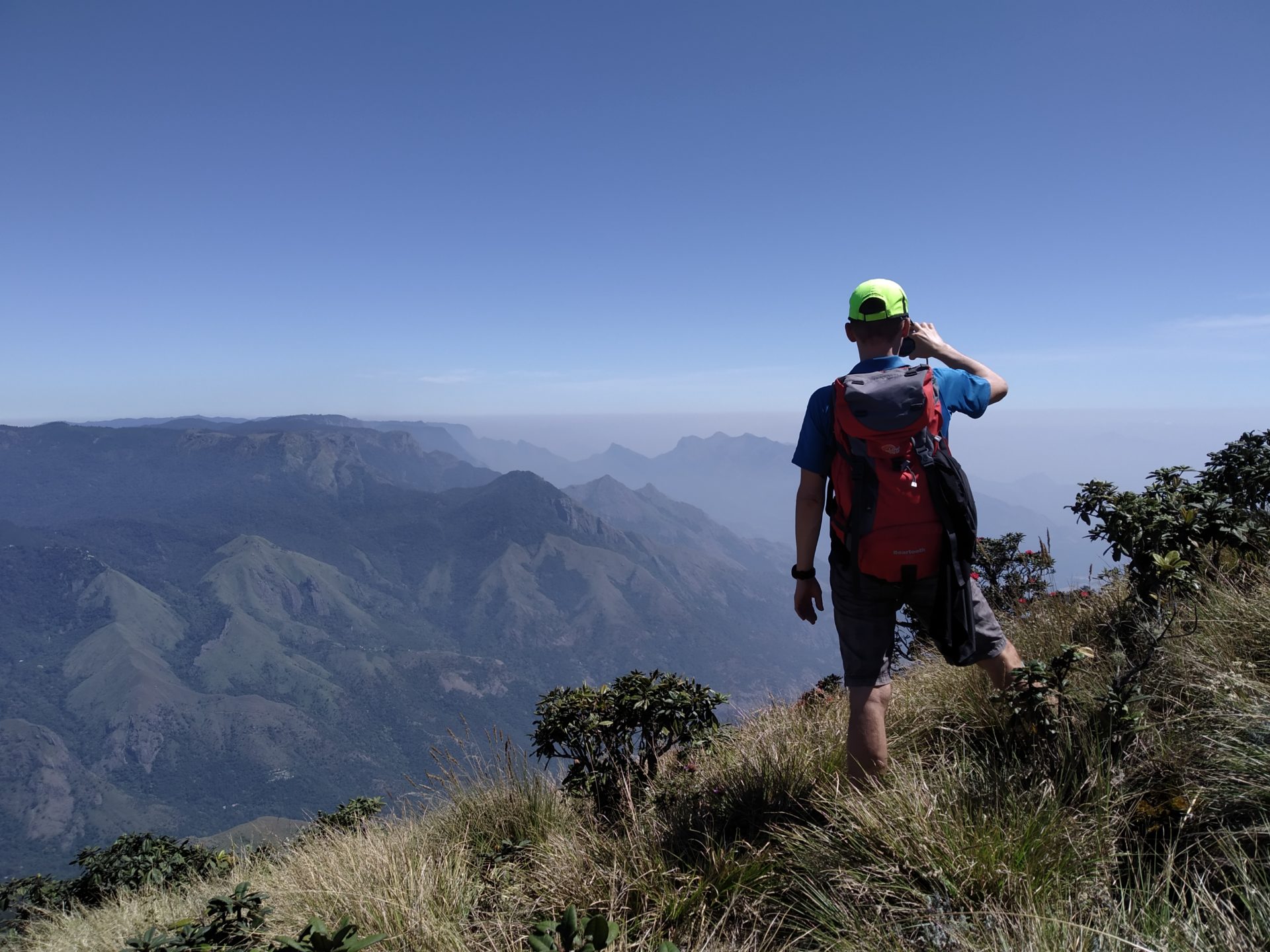 Prices and Dates
Fixed Dates:
03.12.2023 – 16.12.2023
18.02.2024 – 02.03.2024
01.12.2024 -14.12.2024
from 2 partcipants: 2250 € per person
from 4 participants: 2150 € per person
Single supplement: 400 €
Tour Info
Requirements
The hikes and bike tours require good endurance and fitness. You should be prepared to hike for several hours in the tropical climate with temperatures up to approx. 30°C and high humidity on partly unpaved paths in mountainous terrain. During the bike tours we have not only routes in the plain but also stages with steeper ascents and descents.
Stay
We stay in beautiful and well-kept middle-class hotels, tent camps and guesthouses. Especially the overnight stays in the family-run guesthouses, the so-called "homestays", are a particularly nice experience, as one gets a little closer to the life of the locals here.
The 2 nights during the trekking take place in a fixed tent camp with proper beds and shared bathrooms with warm water.
Arrival
Please book a flight to and from Airport Cochin with arrival Day on day 1 and Departure Day on Day 14. We will welcome you at the airport.
Frequently asked Questions
Do I need an adapter in India?
Yes, an adapter is necessary, as in India most of the plugs are used. More information here.
What is the climate in Southern India?
The climate is subtropical. In July/August is monsoon season, which manifests itself in short showers. The best time to travel is October to March.
In the south of the country, the sun's irradiation is particularly intense due to its proximity to the equator. In order to avoid unpleasant and long-term dangerous sunburns, care must be taken to ensure good sun protection and adequate fluid absorption.
Dangerous currents continue to lead to bathing accidents on the coasts. Warnings on the beaches are essential.
What language is spoken in India?
The official national languages are English and Hindi. In Kerala, however, Malayalam is spoken. In addition, there are numerous regional national languages, all of which differ in word and writing, and there are also over a hundred dialects.
Is there a time difference?
Yes, there are: (CET) + 4.5 hours, during European daylight saving time it is + 3.5 hours.
Notes on money/currency:
The local currency rupee may not be entered or exported. Travellers wishing to import more than 5000 cash or traveller's cheques must indicate this on the currency declaration form you receive upon your entry. We recommend taking euros with you. It is easily possible to exchange money in hotels or banks and bureaux de change, with the exchange rate being uniform. It is recommended to keep the receipt to ensure a return at the airport. International credit cards are accepted by most hotels in major cities and tourist centres.
Notes on additional costs and tipping:
For meals, drinks and snacks not included in the price of the trip, you should calculate approx. 15,- (Euro) per day.
Tips are a voluntary service, which everyone should decide for themselves. Please note, however, that tipping is common in many cultures and is an important part of income due to the relatively low wage level. As a rule of thumb, 5-10% of the invoice amount is appropriate. India is a travel country where a tip is expected for each service. Be it the luggage carrier, the service staff in the restaurant and hotel, for the toilet or the rickshaw ride.
Here is a detailed orientation. Menus often include a surcharge indicated as a service batch. However, the waiters usually see little of this. An additional tip of 5-10% is appropriate. Porters, drivers and guides also expect tipping. For racks 20-30 Rs per bag is attached, for maids 20-30 Rs per day. Your tour guide will be happy to advise you.
Tip: Talk to your fellow travellers. It has often been proven that one of the group gives a reasonable tip on behalf of the whole group (e.g. for the tour guide and driver). Experience has shown that each traveller will receive a tip of around 60 € for the entire trip. But: Tips are voluntary and please communicate with the group on site how you want to deal with it.
Notes on vaccination:
There are no vaccination regulations for direct entry from Germany. The Foreign Office recommends checking the standard vaccinations when travelling to India. These include vaccinations against tetanus, diphtheria, pertussis, polio, mumps, measles, rubella and influenza, as well as pneumococci.
Vaccinations against hepatitis A and typhoid, long-term stays or special hazards are also recommended for travel vaccinations against hepatitis B, rabies, meningococcal meningitis ACWY and Japanese encephalitis.
Please keep in mind that vaccination regulations may change in the short term. In addition to the family doctor, individual information is also provided by the health offices or tropical institutes.
What equipment you should think of?
Passport
Printing of the electronic tourist visa (e-TV)
Cash/EC card/credit card
Photocopies of the most important documents (keep separate from originals). Send a copy via PDF to your own email in advance.
Travel documents
Day backpack (approx. 25l volume if possible with integrated rain cover) for food and drinks on the go
For the hikes/trekking we recommend: ankle-high hiking boots with profile and well run-in; breathable sportswear (e.g. functional shirt/quick-drying; light long hiking trousers) and 2-3 pairs of hiking socks.
Hiking poles/trekking poles
Cycling clothes, helmet, drinking bottle, cleat Pedales, if required
light sneakers or sandals (for aerating the feet)
A pocket/headlamp is recommended for overnight stays in the tent.
Drinking bottle or field bottle (minimum 1 liter)
Wind and rain protection (e.g. breathable rain jacket)
Long trousers and sweater/jacket (for the evening and/or rooms with air conditioning)
Towel
Handkerchiefs (possibly also wet handkerchiefs for body hygiene)
Photo equipment
Field cutter/remote glass if necessary
bathing suits, bath towel
Sun protection and headgear (cap, hat or headscarf, sunglasses, sunscreen)
Travel pharmacy, first aid kit, possibly personal medications, insect repellent
Due to different socket types, we recommend taking an international adapter set with you.
5

India for Beginners

Dear Sarah, we are a bit older, but India has always been a great longing for me. Visiting the home of Mahatma Ghandi and Rabindranath Tagore is a long cherished dream. Your travel company was ideal for our wish to travel: actively in beautiful nature, meet the people of the travel country with respect and respect, experience culture and also gain experience ourselves. We particularly appreciated your flexibility to deviate from the plan. You will also receive an additional asterisk for the morning yoga exercises. Thank you, hopefully there will be tourism in India again soon, then we'd love to come back. Thomas and Kathrin
Multi Active Tour South India – Green Highlands and the Silence of the Backwaters