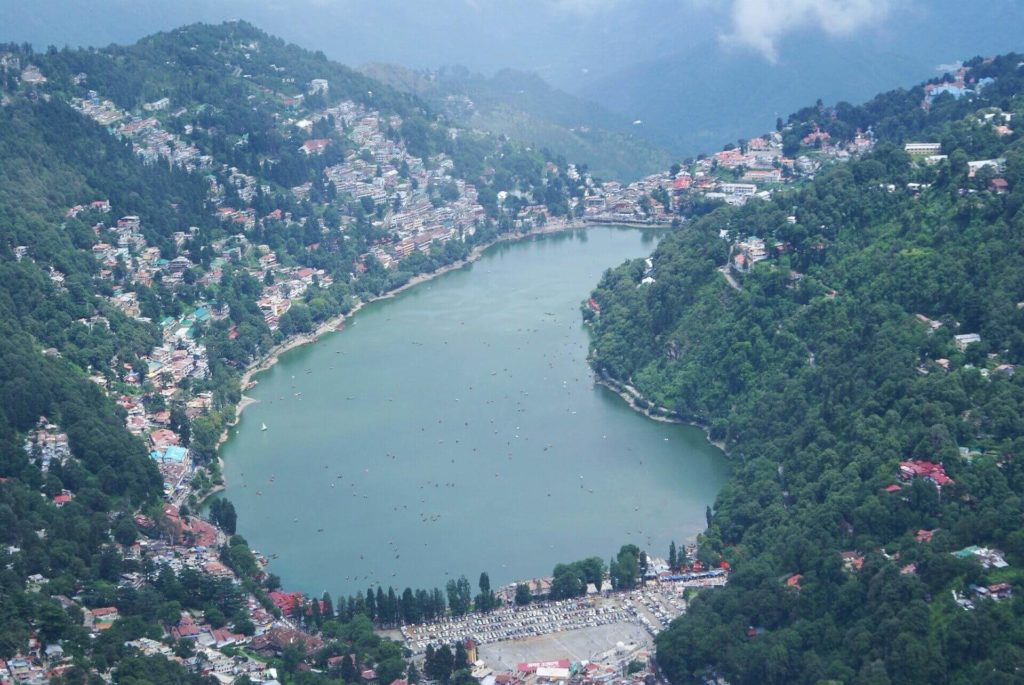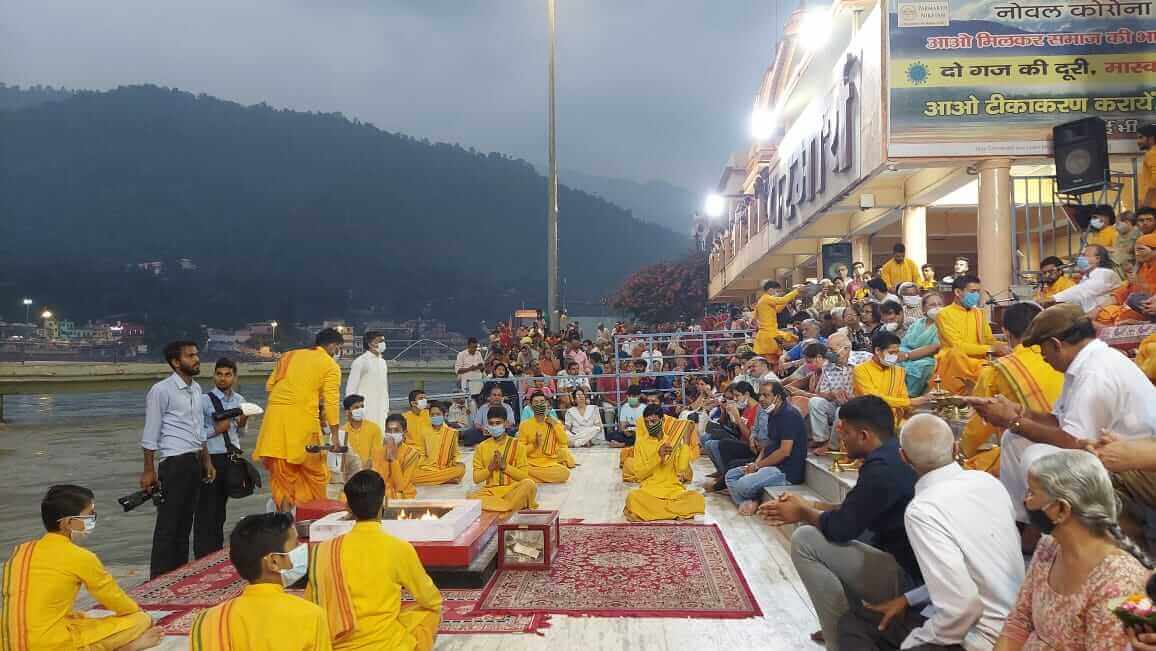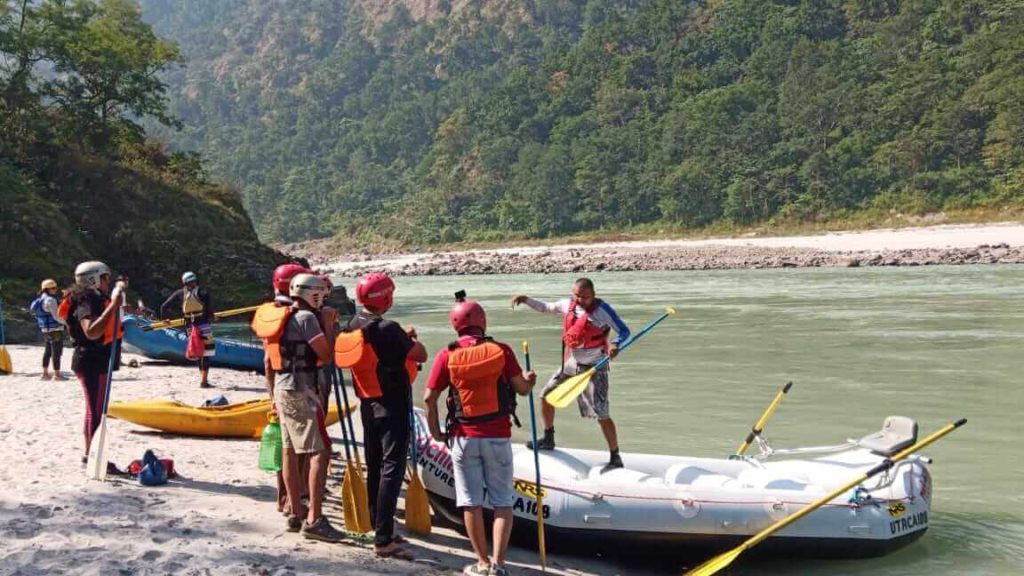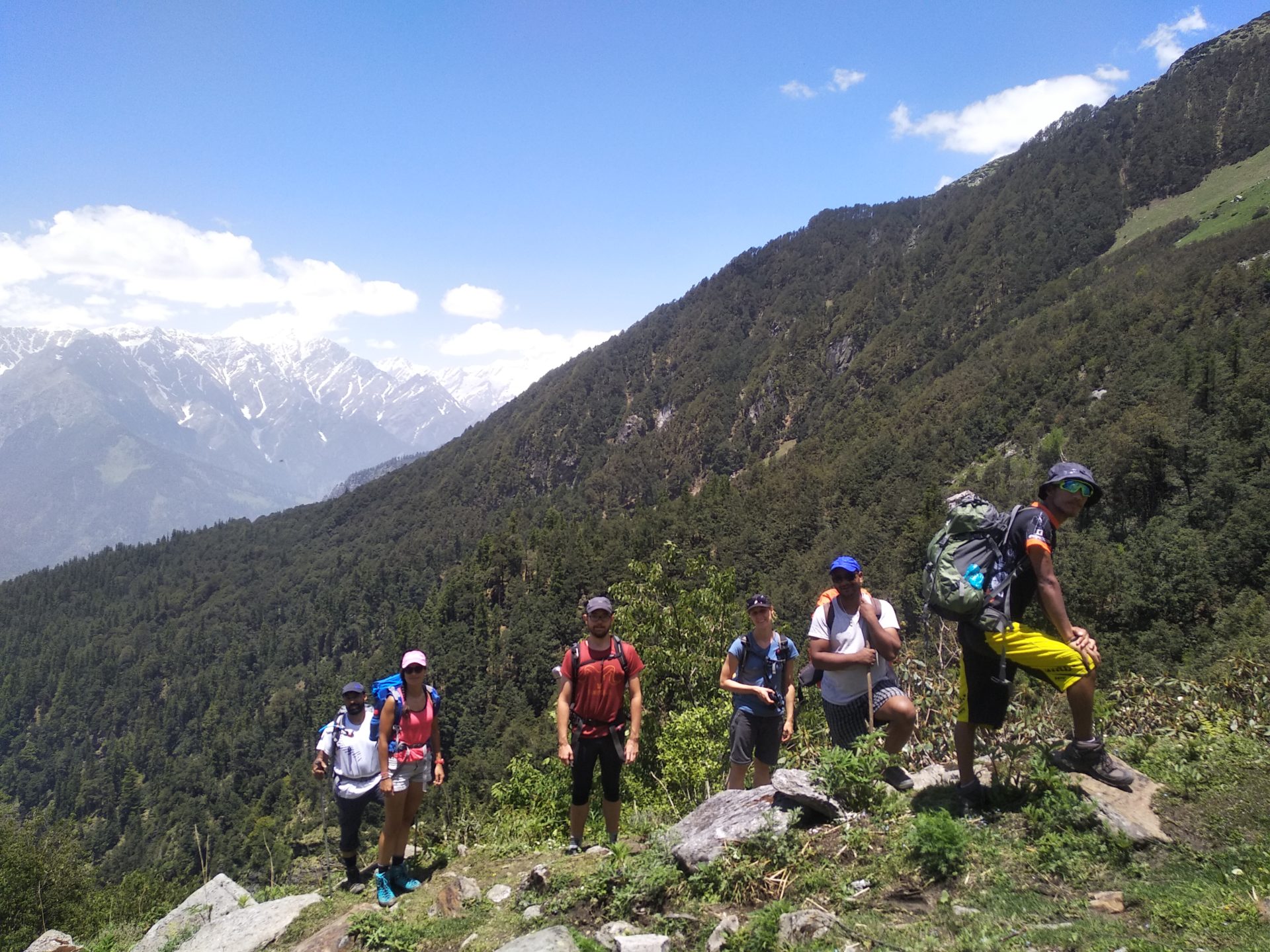 Overview
No Indian state is better suited for a varied active trip than the mountainous state of Uttarakhand: numerous trekking tours, bicycle tours, rafting expeditions and safaris in national parks make the heart of every active traveler beat faster.
Small villages, untouched nature, high snow-capped giants of the Himalayas and raging rivers make the mountain state also a travel destination for nature lovers.
The animal world with wild tigers, elephants, bears and leopards is also impressive.
But Uttarakhand, known as "Dev Bhoomi", the land of the gods, also has a very deep culture that is very closely linked to Hindu beliefs and spirituality. Hundreds of holy mountain places are visited by thousands of pilgrims every year, including Rishikesh. Translated as "the place of the saints", Rishikesh is one of the most important Hindu pilgrimage sites and is considered the world yoga capital.
This multi-activity trip is ideal if you want to actively relax and gain deep cultural insights into the people of the mountainous state of Uttarakhands during a varied holiday in nature.
Program
Day 1 Departure from Germany and arrival in Delhi. Overnight stay at the hotel (-/-/-)
International flights usually reach Delhi in the middle of the night. We will pick you up from the airport and bring you to your hotel. Overnight stay at the hotel (-/-/-)
Day 2 Visit of Delhi and in the evening a four-hour train ride to Ramnagar
After a restful night we visit Old and New Delhi together by rickshaw, on foot and by metro. In the afternoon we take the four hour train to Ramnagar to the Corbett National Park. We reach Ramnagr around 9 p.m. and check into our resort. A light dinner is served on the train. Overnight stay at the resort (F/-/A)
Day 3 Corbett National Park Safari and transfer to Nainital
Early in the morning we go on a jeep safari. With a bit of luck we will spot tigers and elephants living in the wild. After breakfast and some relaxation in the resort, in the afternoon we go up to Nainital at 2100 m, on the way we pass a waterfall. From our accommodation, which is shaped by the British colonial era, we have a great view of Lake Nainital. We distribute and check the bikes before we have dinner together. Overnight stay at the hotel (F/-/A)
Day 4 Bike tour to Mukteshwar (2172 m), 50 km
On a contemplative bike tour you go up and down on small back roads through the gentle mountains of the pre-Himalayas. We pass many smaller villages. Mukteswar itself is one of them. Here we spend the night in a beautiful camp in an orchard. Together with the family who runs the camp, we explore the village. In the evening we enjoy the delicious local dishes around the campfire (overnight stay in a tent, shared showers and toilets available) B / L / D
Day 5 Bike tour to Kasar Devi (2116 m), 55 km
It continues to Kasar Devi with again longer uphill and downhill runs. Kasar Devi describes the area on an elevation around the Kasar Devi Temple. An important Hindu temple where even Swami Vivekananda is said to have meditated. In this idyllic place with wonderful views of the high Himalayan mountains, such as the Nanda Devi (7816 m) and the city of Almora, a small hippi community had formed years ago, which still exists today. Bob Dylan and Timothy Leary also visited this place. Today we are staying at the beautiful Imperial Heights Hotel and in the afternoon we can also visit the Binsar Nature Reserve on foot. With a little luck we might spot a leopard. (Overnight stay at the hotel) F/M/A
Day 6 Bike tour to Kausani (1890 m), 55 km
It is tranquil as far as Kausani, a popular excursion destination among Indians with the most beautiful views of the Himalayan mountain range! After our arrival at the hotel, we explore village life. We will have our lunch with locals and then take us on a tour through their rural working life (overnight stay in the Hotel Best Inn) B / L / D
Day 7 Bike tour to Lohajung (2300 m), 83 km
A wonderful bike route over a small village street. Since we have our last day on the bike today, the section is a little longer. You are welcome to transfer to the support vehicle at any time. Wan is a small village and the starting point for our four-day Brahma Valley-Lake Trek. (Overnight in a simple guest house) F/M/A
Day 8 Start of the Brahma Valley Trek
The mythical Brahma Valley is a lake in the depths of the Uttarakhand Himalayas. It is said that the god Brahma meditated at this lake. There are many attractions on this hike – changing views, from deep and shady forests with oaks and rhododendrons to snow-covered meadows, camping on the lakeshore in the Bekaltal, the alpine Brahmatal lake proximity and a climatic vision of fabulous high peaks that shine in front of you Sky shine! The view of the Garhwal snow line is all the more special from here, as there are seldom colossal ice-covered peaks like Mt. Nanda Ghunti and Mt. Trishul on a trek like this one. Due to the gradually rising gentle slopes, the Brahmatal Trek route is considered suitable for beginners and less experienced trekkers. Much of the hike is under forest cover, which reduces the likelihood of altitude sickness. Nevertheless, the trek will give you a thoroughly exciting experience and also offers the opportunity for morning and evening yoga lessons in the camps.
Lohajung to Bekaltal (2900 m), 4 hours trek, 6 km
The 5-hour hike on the first day begins in Lohajung on a winding path that leads into the forest. After a short while the forest gives way to a small village called Mandoli on our left. The path continues in mostly gradually increasing curves. A little further up we come across the valley in which the two mountain rivers Kali and Pindari flow together. We continue walking and come across a cluster of mud huts. Here we find a grove with rhododendrons, which shines in full splendor from February to March.
After crossing a stream we reach Begum – a cozy resting place on the slopes from which we can see a wide area of Bugyals in the distance. From here the path turns to two more babbling brooks, the last of which is the Gujrani brook. After crossing the last brook, after about an hour's hike, we reach the beautiful Bekaltal, which shimmers peacefully in summer.
We will camp near Lake Khopdaliya. Enjoy the silence and tranquility of this place with the thick oak forests that surround us. Mt. Nanda Ghunti and Mt. Trishul can be seen from the camp. Overnight in tents. Yoga possible F / L / D
Day 9 Bekaltal to Brahmatal (3185 m), 5 hours trek, 7 km
Today's hike takes us for a while through oak and rhododendron thickets over steep slopes before we finally come to a meadow. This is Telandi's meadow.
The meadow is at 3500 m – the highest point for today, from where a slow descent to the Brahmatal begins. To the left of here is a small temple with bright yellow flags. We hike down the slope to the temple and find the path that meanders down to Lake Brahma, about 500 meters from the temple. The Almora and Nainital valleys rise and fall around us as we move on. The peaks of Trishul, Nanda Ghunti and other peaks of the Great Himalayas can be seen far in the sky. We descend a little to the Brahma Valley Lake, where we set up camp. Overnight in tents. Yoga possible F / L / D
Day 10 Brahmatal to Tilbudi over the Brahmatal pass (3718 m) and on to Wan, 8 hours, 11 km
We start the day early in the morning as we make our way up to the Brahmatal Pass. On the way there we are greeted by oaks and rhododendron trees, which have their own charm. After a while the path zigzags up to the pass. On a bright day, the lake looks charismatic and the sunlight makes it look even more artful. After we have walked for a while and crossed the meadow, the last ascent to the pass begins.
Getting there is tough, but once we get to the highest point we will be greeted with a magnificent view of Mt. Trishul and Mt. Nanda Ghunti rewarded. As soon as we begin the descent, we will find that the path is different from the one that brought us up. We will witness a 180 degree view of the entire Himalayan range and peaks such as Chaukhambha, Mandi, Mana, Nilgiri, Neelkanth, Trishul, Nanda Ghunti and Maitoli will be visible. As we continue to descend, after an hour we reach a clearing that is surrounded by trees on all sides, Tilbudi.
The descent takes us further to Wan, a path full of oaks and rhododendron trees. This is a very beautiful way that allows us to take a lot of beautiful pictures. After a certain distance we come across a water source at Chota Tilbundi.
Half an hour later we can see the village of Wan, which is below the path. From here it will take another half an hour to reach the road. Here we stay in the guest house (B / L / D)
Day 11 Drive to Kaudiyala
Today's drive by car is a pleasant change after the days on foot and on the bike. In the evening we reach a beautiful camp. Our rafting expedition starts here tomorrow. Overnight stay in luxury camp with attached bathroom (B / – / D)
Day 12 Rafting Tour to Rishikesh
Today we cover the last 35 km to Rishikesh on the Ganges. After a briefing, it starts. We raft for about 4 to 5 hours, going through 12 rapids up to level III +. There is a bit of a thrill! A safety kayak is also included. But in the worst case, we just fall into the river. Those who prefer it a little gentler can get into the raft a little later or cover the distance by car. Arrived in Rishikesh, we check into our yoga hotel directly from the river. Overnight stay at the hotel (F/-/-)
Day 13 Rishikesh
Today we explore the holy Rishikesh after the morning yoga class. We stroll along the bathing hats and see how devout Hindus take their cleansing baths or take part in ceremonies. In the afternoon we can take part in a yoga class in an ashram and we visit the light ceremony on the Ganges. (Overnight stay at the hotel) F/-/-
Day 14 Free time in Rishikesh
A whole day at leisure. It is ideal for yoga, shopping or an Ayurvedic massage, you can take part in various ashram programs or even go on a day hike. (Overnight in hotel) B / – / –
Day 15 Domestic flight from Dehradun to Delhi and departure
From Dehradun, which is an hour away, you take the one-hour flight to Delhi. Independent departure from here. F / – / -)
Services
entire transfer within India by train, vehicle, domestic flight: Dehradun Delhi
all overnight stays as mentioned
Meals as mentioned: B: breakfast, M: lunch, A: dinner
All activities including entrance fees and fees
1 x Jeep Safari in the Corbett National Park
4 days bike tour with support vehicle, mechanic, spare parts (for a fee), guide
4 days of trekking complete with equipment, tents, sleeping bag, mattress, dining tent, toilet tent, guide, cook, porter, helper, full board and yoga lessons
1 day rafting
2 x yoga in Rishikesh
Tour Guide
international flight
Visa
unmentioned meals
Tips
Activities not mentioned
Highlights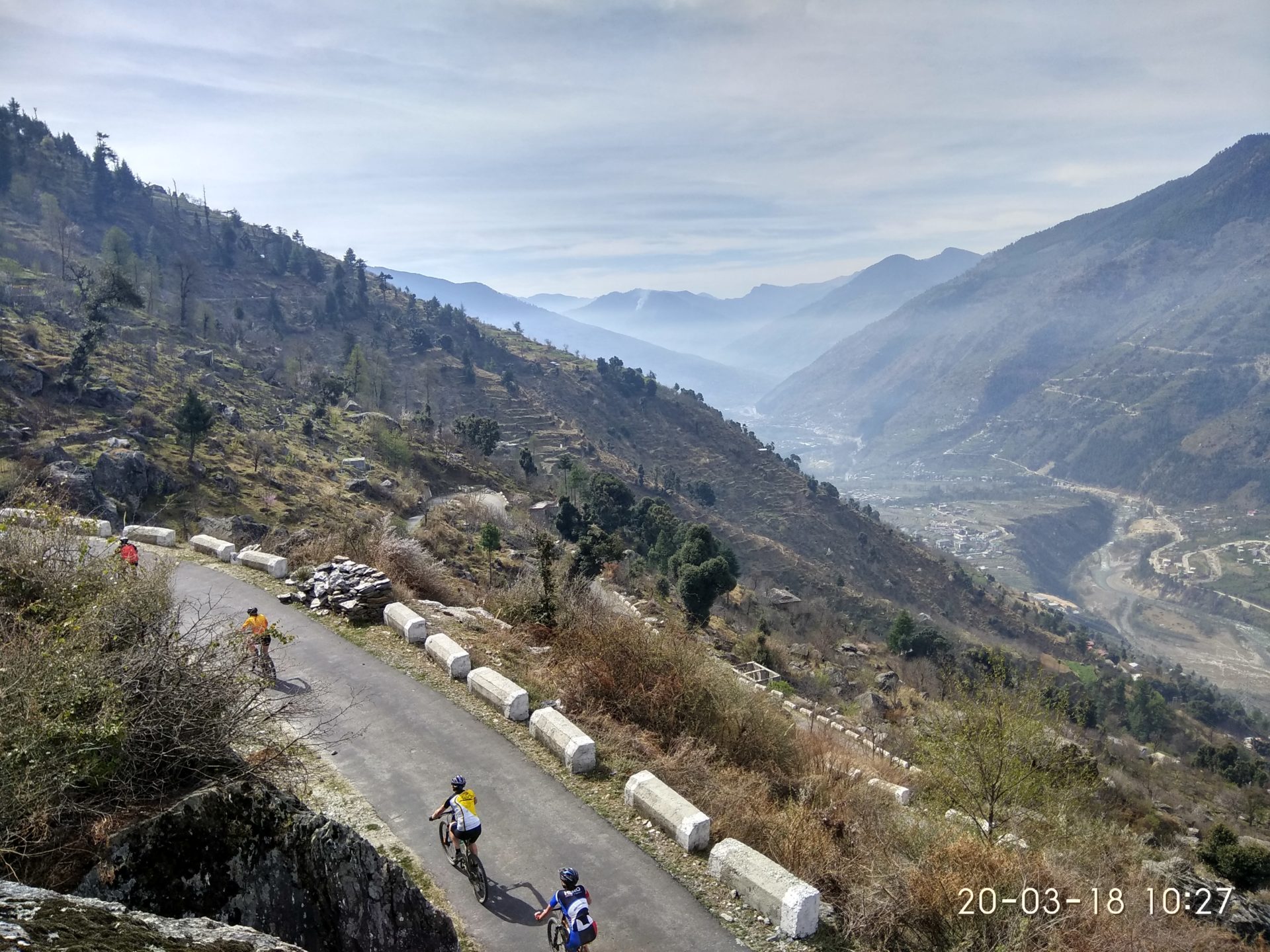 Prices and Dates
Price for 4 to 12 participants: 1850 € per person
This tour is also possible as a private trip in the months of January to June and November to December.
Price for 2 people: 2350 € per person
350 € single room and one-man tent surcharge
A day trip to Agra can be booked from € 89 per person (including admission and guide for the Taj Mahal and transport)
Travel Info
Requirements
The hikes and bike tours require good endurance and fitness. You should be prepared to hike for several hours on partially unpaved trails in mountainous terrain. Tread safety is also important, especially for the longer sections downhill and in case of possibly softened and muddy ground. During the bike tours we have not only routes in the plain but also stages with steeper ascents and descents. The rafting tour has the level up to III / III +, which can cause a little thrill, but is not dangerous. A professional team, as well as a life jacket and safety kayak are included.
Reside
We live in beautiful and well-kept middle-class hotels, tented camps and guest houses and resorts. Especially the overnight stays in the family-run guesthouses, the so-called "homestays", are a particularly nice experience, as one gets a little closer to the life of the locals here.
Arrival and departure
The journey to and from Delhi takes place independently. We are waiting for you at the airport. The trip ends with the flight from Dehradun to Delhi.
Frequently asked questions
Do I need an adapter in India?
Yes, an adapter is necessary, as in India most of the plugs are used. More information here.
What is the climate like in Uttarakhand?
In November it is warm during the day and mostly dry and sunny and cools down in the evening hours. Especially at altitudes above 2000 m, it will be cool at night.
What language is spoken in India?
The official national languages are English and Hindi. The dialects Gahrwali and Kumaon are spoken in Uttarakhand.
Is there a time difference?
Yes, there are: India versus Germany (CET) + 4.5 hours, during European daylight saving time it is + 3.5 hours.
Notes on money/currency:
The local currency rupee may not be entered or exported. Travellers wishing to import more than 5000 cash or traveller's cheques must indicate this on the currency declaration form you receive upon your entry. We recommend taking euros with you. It is easily possible to exchange money in hotels or banks and bureaux de change, with the exchange rate being uniform. It is recommended to keep the receipt to ensure a return at the airport. International credit cards are accepted by most hotels in major cities and tourist centres.
Notes on "additional costs" and tipping:
For meals, drinks and snacks not included in the price of the trip, you should calculate approx. 15,- (Euro) per day.
Tips are a voluntary service, which everyone should decide for themselves. Please note, however, that tipping is common in many cultures and is an important part of income due to the relatively low wage level. As a rule of thumb, 5-10% of the invoice amount is appropriate. India is a travel country where a tip is expected for each service. Be it the luggage carrier, the service staff in the restaurant and hotel, for the toilet or the rickshaw ride.
Here is a detailed orientation. Menus often include a surcharge indicated as a service batch. However, the waiters usually see little of this. An additional tip of 5-10% is appropriate. Porters, drivers and guides also expect tipping. For racks 20-30 Rs per bag is attached, for maids 20-30 Rs per day. Your tour guide will be happy to advise you.
Tip: Talk to your fellow travellers. It has often been proven that one of the group gives a reasonable tip on behalf of the whole group (e.g. for the tour guide and driver). Experience has shown that each traveller will receive a tip of around 60 € for the entire trip. But: Tips are voluntary and please communicate with each other on site how you want to deal with it.
Vaccination instructions:
There are no vaccination regulations for direct entry from Germany. The Foreign Office recommends checking the standard vaccinations when travelling to India. These include vaccinations against tetanus, diphtheria, pertussis, polio, mumps, measles, rubella and influenza, as well as pneumococci.
Vaccinations against hepatitis A and typhoid, long-term stays or special hazards are also recommended for travel vaccinations against hepatitis B, rabies, meningococcal meningitis ACWY and Japanese encephalitis.
Please keep in mind that vaccination regulations may change in the short term. In addition to the family doctor, individual information is also provided by the health offices or tropical institutes.
For more information, visit www.auswaertiges-amt.de orwww.crm.de
What equipment should you think of?
Passport
Printing of the electronic tourist visa (e-TV)
Cash/EC card/credit card
Photocopies of the most important documents (keep separate from originals). Send a copy of the PDF to your own email in advance
Travel
smaller daypack
Backpack (approx. 40 l volume, if possible with an integrated rain cover) for the four-day trekking tour (clothing, hygiene products, water bottle)
For the hikes/trekking we recommend: ankle-high hiking boots with profile and well run in; breathable sportswear (e.g. functional shirt/quick-drying; light long hiking trousers) and 2-3 pairs of hiking socks.
Hiking poles / trekking poles
Bicycle clothing, water bottle, helmet, possibly clipless pedals
light sneakers or sandals (to ventilate the feet)
A flashlight / headlamp is recommended for overnight stays in the tent
Drinking bottle or field bottle (minimum 1 litre)
Wind and rain protection (e.g. breathable rain jacket)
Long trousers and sweater/jacket (for the evening and/or rooms with air conditioning)
Towel
Handkerchiefs (possibly also wet handkerchiefs for body hygiene)
Don't forget your photo equipment
Field cutter/remote glass if necessary
bathing suits, bath towel
Sunprotection and headgear (cap, hat or headscarf, sunglasses, sunscreen)
Travel pharmacy, first aid kit, possibly personal medications, insect repellent
Due to the different socket types, we recommend that you bring an international adapter set with you
Information about trekking in the Indian Himalayas with Chalo! Travel
Mountain guide and trekking team
On all our treks we have at least one (for larger groups of 6 participants or two) trained local mountain guides. Our mountain guides have all completed at least the Indian mountaineering training, many of them have also taken part in the advanced courses.
You are familiar with the trekking routes and know the terrain excellently. Our mountain guides all speak English.
In addition, there is a local team consisting of a cook (if the group consists of only two participants, the mountain guide also takes over the tasks of the cook), helpers, horsemen with horses or Nepalese carriers, depending on the type of trek.
All our team members have been working with us for years, are very friendly and always strive to provide our guests with a great trekking experience. Their English is rather mediocre or non-existent, but this is not necessarily a hindrance to communicating with them.
Trekking routes
The trekking routes are designed for the skills of our guests and are all feasible for a person with a good fitness level, unless otherwise mentioned. The daily routes are between five and eight hours long (with breaks) and an average increase of around 500-800 metres of altitude is completed.
In between, rivers may have to be crossed or crossed. The paths are partly well developed, but sometimes also almost non-existent. On our trekking routes there are hardly any villages in between, so we will take enough food for the whole tour.
On our treks you can cross passes, snow or glaciers. On steep slopes, we have safety equipment with us.
Daily routine (Depending on the length and intensity of the trek, the times may vary)
7: 00 Get up with tea
7:30-8:30 Breakfast
7:00-9:30 a.m. Dismantling of the camp
8:00- 9:30 Start Trek
13:00 Lunch on the way
15:00-17:00 Arrival at the camp and camp construction
15:30-17:30 Snacks
19:00 Dinner
Altitude and altitude sickness
Altitude sickness is a very important topic that should not be underestimated, especially during our trekking tours in the Indian Himalayas. At altitudes above 3500 m, our body has to slowly get used to the low air pressure, which also causes less oxygen to enter our lungs. The first signs of altitude sickness are headaches, which are accompanied by dizziness, nausea, insomnia and loss of appetite. It becomes problematic when water accumulates in the lungs and brain and edema occurs. Then only the immediate descent to lower altitudes will help. To prepare for the highs on our treks, we will either spend a few nights at high altitudes before the trek or slowly ascend during the trek to acclimatize. If we notice that there are problems with our guests (each person is otherwise able to acclimatize, regardless of age, gender and fitness level), it may happen that either the entire tour group or the participant descends/returns with a team. In addition, it makes sense to take an emergency drug for altitude sickness. For this, it is best to consult the pharmacy or the travel doctor. For certain treks we will also have oxygen with us.
Luggage
Each trekking participant is responsible for his own clothes and personal belongings. Depending on the trek, we are either on the road with horses or carriers. If we have load horses, one bag per participant can be loaded onto the horse. In the case of treks with carriers, all personal luggage must be carried independently. Tents, sleeping bags, mattresses and food are carried by our porters.
For trekking tours with horses, a day backpack with space for the lunchbox, a water bottle and warm overcoat clothing should be taken with you. Here to the complete packing list for our trekking tours.
Packing list for trekking tours
Sleeping bag at least -10 ° C (will be provided by us)
large backpack or soft tote bag so that the pack animals can carry the luggage
Small backpack for the day approx. 30-40 l with rain cover
Flashlight / headlamp
2 refillable water bottles
Walking sticks
Passport and passport copy
Camera with spare batteries and memory card
Headgear as sun protection
Good sunglasses
Cap
Scarf, buff
gloves
Windpants
Trekking pants
Functional underwear long
Walking shoes
Socks thick and thin
Sneakers, sandals and / or slippers
Windbreaker
Warm jacket
Fleece pullover / jacket
Tshirts
Sun cream, lip balm min. Protection 40
Fat cream
Water purification tablets
(boiled and filtered water is provided)
own medication for headaches, nausea, digestive problems, colds)
Blister plasters and bandages
own hygiene article
Toilet paper
Hand disinfection
Meals
There will be full vegetarian sattvik meals during the trek. Water is either boiled or we have a water filter with us.
Breakfast (daily selection):
Tea
Oatmeal porridge / muesli / Indian porridge
Indian breakfast
Sliced fruit/vegetables
Lunch (mostly lunchbox), sometimes warm in the camp
Indian (rice, chapati, vegetables)
Juices
Fruit
Snacks
Soup
Dinner
Vegetable dish
Lentil dish
Rice/noodles
Chapati
Salad
Dessert
Accommodation and camp
We have very comfortable and spacious two-man tents. Our mattresses are practical but simple if there are problems with sleeping on hard surfaces, please take your own mattress with you or order from us. Our sleeping bags are freshly washed and have a very good quality with comfort zone up to -5°C/extreme zone up to -20° C. It is recommended to bring personal indoor sleeping bags.
In addition, we have a spacious dining tent with tables and chairs, a kitchen tent for the team and a toilet tent. For treks up to 4 people, the kitchen tent can also act as a dining tent at the same time.
For trekking tours with porters, we will take our smaller, lighter tents with us and do without a toilet tent.
Weather
In the Himalayas, temperatures fluctuate widely. While it can get warm up to 25°C during the day and the sun is not only warming, but also very intense (sun protection is a must), it can also cool down significantly below the minus-grade at night, especially in the months end of September and October, as well as in June. There may also be weather changes with snow on the passes.
2 Weeks Multi-Active Tour Uttarakhand