Aktive Kultur Reisen
Yoga & Ayurveda Reisen
Yoga Reisen
Trekking Reisen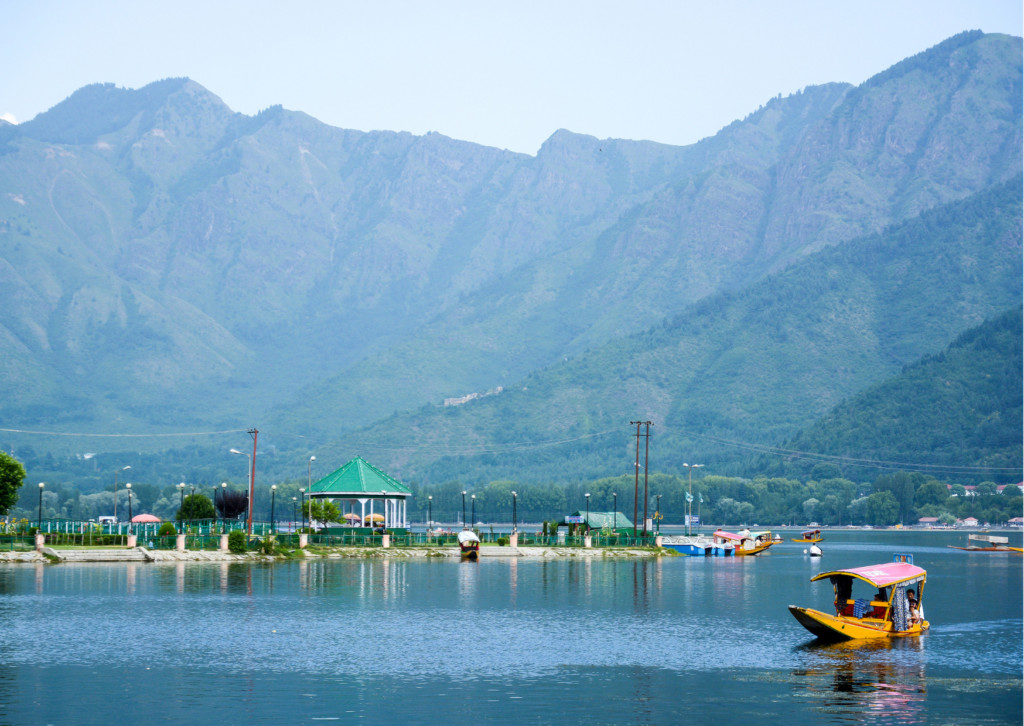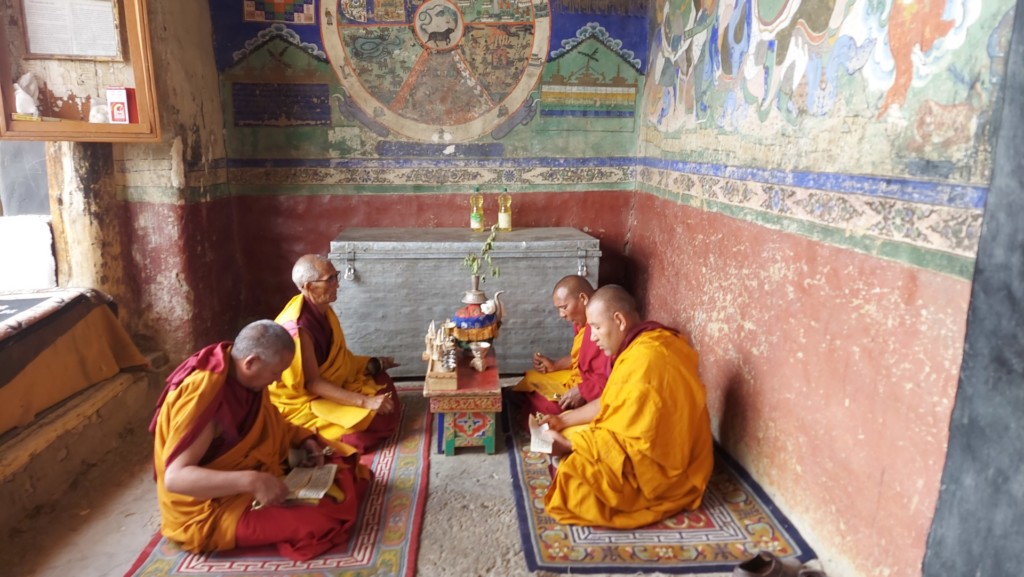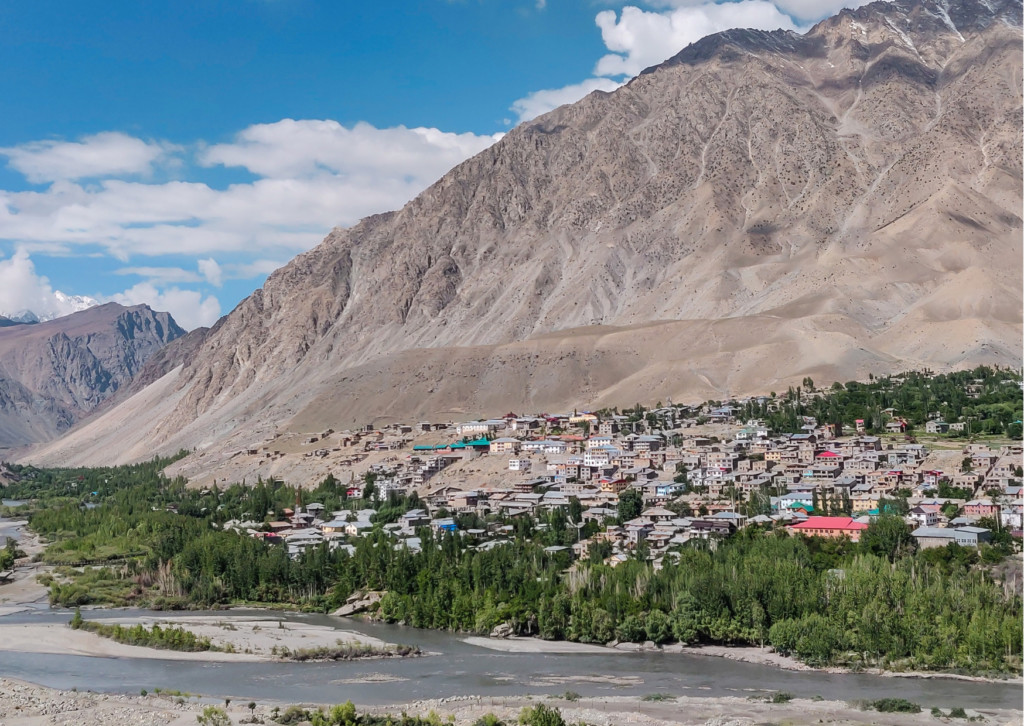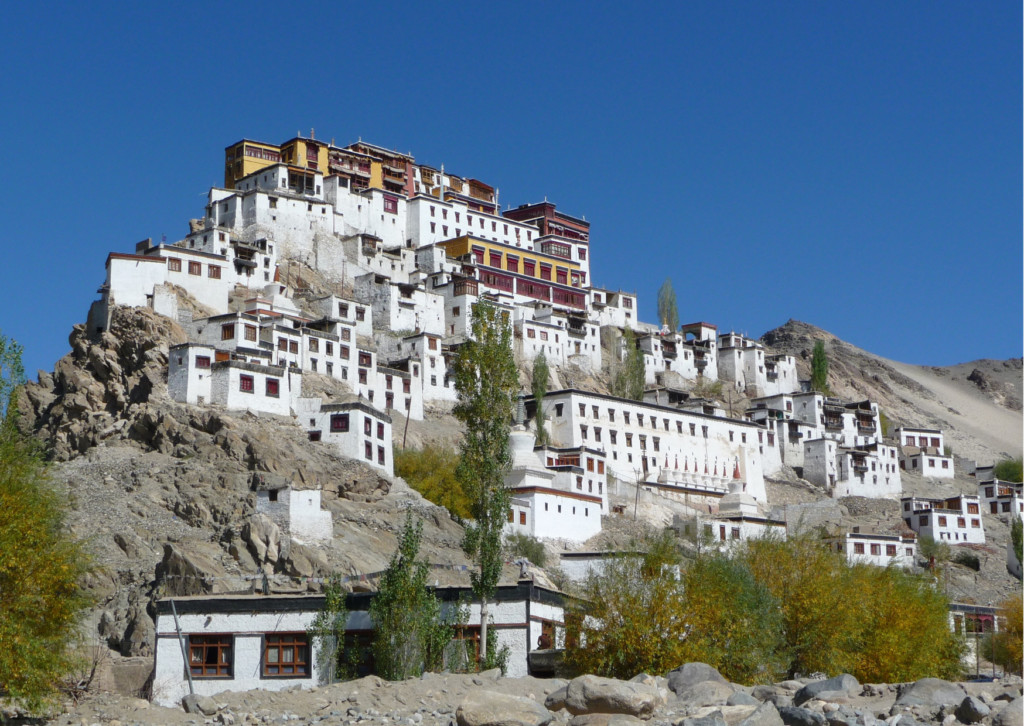 Overview
A very special Himalayan journey, which has probably not yet existed in this form. We travel to the remote mountain regions of Kashmir and Ladakh. The two neighbors in the northern Himalayas could hardly be more different in every respect, and yet they are united by their uniqueness in natural areas, lifestyles and religion. We will experience these on this trip as well as ourselves. During the sightseeing, as well as the interactions with the locals, the yoga classes during the four-day trek, and the final three-day Buddhist meditation retreat in Leh.
Kashmir
The region is surrounded by majestic mountains, green valleys and clear lakes. The foothills of the Himalayas stretch across the entire region, offering spectacular views of the surrounding peaks. The bonus: The monsoon rains do not reach this far!
The tradition and culture of Kashmir are characterized by their diversity and uniqueness. The region has experienced a mixture of Hindu, Buddhist and Islamic influences throughout history, which are expressed in the region's art, music and architecture. Kashmiri craftsmanship is known worldwide for its high quality products made of wood, ceramics and especially cashmere wool. Kashmiri cuisine is known for its rich aromas and flavors created through the use of spices such as saffron, cinnamon and cardamom. The people of Kashmir are known for their hospitality and warmth, and their traditional festivals and celebrations are colorful and lively.
Ladakh
The region is considered the Tibet of India, as it is identical to its eastern neighbor in terms of landscape, culture, people and religion. At over 3500 m, the dry high mountain region is characterized by barren beauty. Thousands of years old Buddhist monasteries nestle in the rugged cliffs and among green fields the locals still live their old traditions in their small villages.
The trip
Srinagar
The journey starts in Kashmir's capital Srinagar. The town is located on the shore of the picturesque Dal Lake and is surrounded by mountains and hills. Srinagar is known for its beautiful gardens such as the Shalimar Bagh and Nishat Bagh, which were created by the Mughal rulers in the 17th century. Another highlight of Srinagar is the floating gardens, a unique attraction where vegetables and flowers are grown on floating islands on Dal Lake. The city is also known for its traditional handicraft products made of wood, ceramics and cashmere wool, which are sold in local markets.
3 days Gentle Yoga Trekking to Gangbal Lake (3650 m)
We then experience the lush mountains of Kashmir in the form of a three-day yoga trek. During the contemplative tour we will walk from Chattergul village to Kolesar and Gangbal lakes and end in Naranag village, where we will experience traditional family life in a homestay. At our 2 tented camps we will enjoy a yoga class in the morning and evening.
Drive via Kargil to Leh, Ladakh
In two days we will drive the 340 km from Sonamarg to Leh on the spectacular Srinagar-Leh Higway. We will also cross the 3500 m high Zoji La pass, visit the Buddhist monasteries of Lamayuru and Alchi and spend one night in Kargil.
The city of Kargil is known for its historical significance during the Kargil War between India and Pakistan in 1999. Tourist highlights include the Kargil War Memorial, the Drass War Memorial and the Suru River, a picturesque river that meanders through the Suru Valley, as well as the Mulbekh Monastery and the Rangdum Monastery.
Leh and three-day Buddhist retreat at Mahabodhi Meditation Center
Once in Leh, we will enjoy the flair of the small Ladakhi town, explore the surroundings and participate in a three-day Buddhist retreat. In addition to guided meditations and yoga classes, there are also small theory sessions, walks and guided disscussions. Lots of new input that will surely unfold after this India trip.
Program
Day 1 Departure from abroad and arrival in Delhi, India
Depending on arrival, a hotel room in Delhi is included for today
Day 2 Flight to Srinagar, overnight in houseboat on Dal Lake
We reach Srinagar in the morning and move into our houseboat. Afterwards we will go on a sightseeing tour including Moghul gardens, mosques, the old town and a Paschmina Schal factory. We end the evening with a delicious dinner on the houseboat. (Overnight stay on the houseboat) -/-/A
Day 3 Visit the floating markets and sightseeing
In the early morning we will take a boat trip on the classic Shikara to visit the floating markets. We enjoy the day in Srinagar and visit the old town . (Overnight on the houseboat) F/-/A
Day 4 to 6 Three day yoga trekking to Gangbal Lake
A three day gentle trekking tour through the magnificent mountains of Kashmir. Our trekking tour will start from Chhattergul village at 2210m. It will go up to a maximum of 3650 m to the gangbal lake. Every day we will hike for about 5 to 7 hours. On the last day we will spend the night in naranag village in a homestay. (2 x nights in tent, 1 x night in homestay) F/M/A
Day 7 and 8 Drive on Srinagar Leh Highway via Kargil to Leh, 340 km, approx. 4 -5 hours/day
After so much movement, it is almost comfortable to drive now in two days to Leh, in the Ladakh region. We will cross the spectacular 3500 m high Zojila Pass, visit Kargil and some worth seeing Buddhist monasteries on the way, like Lamayuru and Alchi. (Overnight stay in hotels) F/- /(A in Kargil)
Day 9 Leh
On foot we explore the small capital of Ladakh. We walk to the Shanti Stupa and further through small gardens to the Leh Palace, then through the narrow streets of the old town to the market. In the process, we taste delicious momos. The stuffed dumplings are specialty here (overnight in hotel) F/-/-
Day 10 Free time and visit to Kong Fu nuns
Today is open for free arrangement. Who likes can join the group and visit the palaces and monasteries in the vicinity the "Kong Fu Nuns" of the Drukpa Order. (Overnight stay at the hotel) F/-/-
Day 11 and 12 Two days trekking with overnight stay in a homestay in a Ladakhi village.
During these two days we will not only explore the Ladakhi dry high mountain region on foot, but above all get an insight into the traditional rural life of the Ladakhis. (1 night in homestay, 1 x night in retreat center)
Day 13-15 Shangrila Meditation Retreat
The Shangrila Meditation Retreat at Mahabodhi Center in Leh is a three-day course designed to give participants an introduction to various meditation practices and help them develop a deeper understanding of inner peace and mindfulness.
The course content of the retreat includes a combination of sitting and walking meditation, breathing exercises and guided meditations led by experienced meditation teachers. The focus of the course is on developing mindfulness and compassion, and strengthening the mind through the cultivation of inner peace and serenity.The course is led by Bhikkhu Sanghasena.
The Mahabodhi Center offers a beautiful and tranquil environment that allows participants to focus on their practice and dive deep into their meditation. There are comfortable rooms and healthy vegetarian cuisine. (Overnight stay at the retreat center) F/M/A The retreat closes in the evening of the last day (overnight at hotel (F/M/-).
Day 16 Flight to Delhi and onward journey back home
Today we are heading back home. The spectacular Himalayan flight offers a worthy conclusion to this. F/-/-
Extension days in Leh or all India are possible.
Included services
all nights as advertised
Complete transportation as advertised, including 2 x flight Delhi-Srinagar/Leh-Delhi
Meals as advertised (F: Breakfast, M: Lunch, A: Dinner)
Tour guide and yoga teacher for the whole trip
three-day trek with:
3 nights in a tent (sleeping bag, mattress)
Mountain Guide, Cook, Helper
Last horses with horse guide
two day Ladakh trek with:
1 homestay overnight stay
Guide
three-day meditation retreat with:
Accommodation
Meditations, Yoga, Lessons, Discussions
International flight
Overnight stay in Delhi at the end of the trip
Visa
Unmentioned food and beverages
Highlights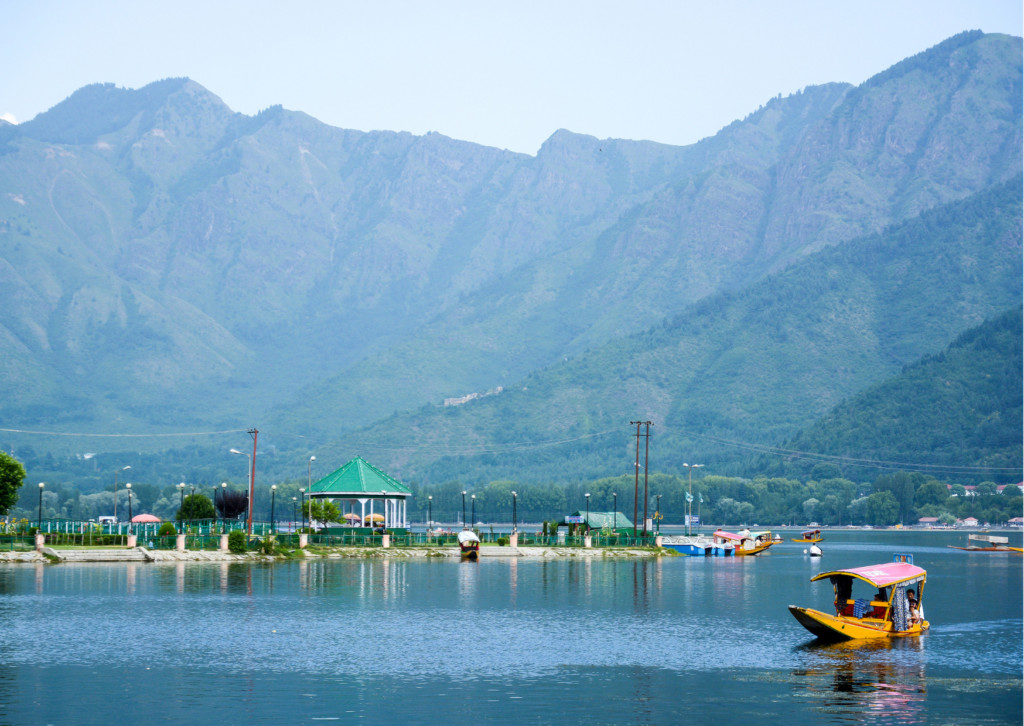 Prices and dates
Fixed date:
14.07.2023 -29.07.2023
1900 € per person (4-12 participants) single supplement 350 €
Travel info
Security Situation
In Kashmir, insecurity is always looming in the form of insurgencies, conflicts with the military and attacks. At the moment, the situation is very calm and seems stable. The locals are also keen on this: The Kashmiris are happy about the steadily growing tourism. We keep ourselves informed and reserve the right to make changes in the program.
Yoga
The yoga classes are suitable for all levels and include a coherent blend of asana practice, pranayama, meditation and relaxation.
3 days Shangrila Meditation
The retreat will be conducted in English, but a German-speaking translator will be present.
More information about the retreat is available here as a PDF:
Requirements of the trek
We will climb to over 4000 meters during the trekking tour and spend the night at 3600 meters. Not only is a moderate fitness level necessary, but also the ability to acclimatize to the altitude. We will be happy to advise you before the tour what can be done in terms of preparation for the trekking tour. High altitude training prior to the trip may be recommended.
Information about trekking in the Indian Himalayas with Chalo! Travel
Mountain guide and trekking team
On all our treks we have at least one (for larger groups of 6 participants or two) trained local mountain guides. Our mountain guides have all completed at least the Indian mountaineering training, many of them have also taken part in the advanced courses.
You are familiar with the trekking routes and know the terrain excellently. Our mountain guides all speak English.
In addition, there is a local team consisting of a cook (if the group consists of only two participants, the mountain guide also takes over the tasks of the cook), helpers, horsemen with horses or Nepalese carriers, depending on the type of trek.
All our team members have been working with us for years, are very friendly and always strive to provide our guests with a great trekking experience. Their English is rather mediocre or non-existent, but this is not necessarily a hindrance to communicating with them.
Trekking routes
The trekking routes are designed for the skills of our guests and are all feasible for a person with a good fitness level, unless otherwise mentioned. The daily routes are between five and eight hours long (with breaks) and an average increase of around 500-800 metres of altitude is completed.
In between, rivers may have to be crossed or crossed. The paths are partly well developed, but sometimes also almost non-existent. On our trekking routes there are hardly any villages in between, so we will take enough food for the whole tour.
On our treks you can cross passes, snow or glaciers. On steep slopes, we have safety equipment with us.
Daily routine (Depending on the length and intensity of the trek, the times may vary)
7: 00 Get up with tea
7:30-8:30 Breakfast
7:00-9:30 a.m. Dismantling of the camp
8:00- 9:30 Start Trek
13:00 Lunch on the way
15:00-17:00 Arrival at the camp and camp construction
15:30-17:30 Snacks
19:00 Dinner
Altitude and altitude sickness
Altitude sickness is a very important topic that should not be underestimated, especially during our trekking tours in the Indian Himalayas. At altitudes above 3500 m, our body has to slowly get used to the low air pressure, which also causes less oxygen to enter our lungs. The first signs of altitude sickness are headaches, which are accompanied by dizziness, nausea, insomnia and loss of appetite. It becomes problematic when water accumulates in the lungs and brain and edema occurs. Then only the immediate descent to lower altitudes will help. To prepare for the highs on our treks, we will either spend a few nights at high altitudes before the trek or slowly ascend during the trek to acclimatize. If we notice that there are problems with our guests (each person is otherwise able to acclimatize, regardless of age, gender and fitness level), it may happen that either the entire tour group or the participant descends/returns with a team. In addition, it makes sense to take an emergency drug for altitude sickness. For this, it is best to consult the pharmacy or the travel doctor. For certain treks we will also have oxygen with us.
Luggage
Each trekking participant is responsible for his own clothes and personal belongings. Depending on the trek, we are either on the road with horses or carriers. If we have load horses, one bag per participant can be loaded onto the horse. In the case of treks with carriers, all personal luggage must be carried independently. Tents, sleeping bags, mattresses and food are carried by our porters.
For trekking tours with horses, a day backpack with space for the lunchbox, a water bottle and warm overcoat clothing should be taken with you. Here to the complete packing list for our trekking tours.
Packing list for trekking tours
Sleeping bag (will be provided by us)
large backpack or soft tote bag so that the pack animals can carry the luggage
Small backpack for the day approx. 30-40 l with rain cover
Flashlight / headlamp
2 refillable water bottles
Walking sticks
Passport and passport copy
Camera with spare batteries and memory card
Headgear as sun protection
Good sunglasses
Cap
Scarf, buff
gloves
Windpants
Trekking pants
Functional underwear long
Walking shoes
Socks thick and thin
Sneakers, sandals and / or slippers
Windbreaker
Warm jacket
Fleece pullover / jacket
Tshirts
Sun cream, lip balm min. Protection 40
Fat cream
Water purification tablets
(boiled and filtered water is provided)
own medication for headaches, nausea, digestive problems, colds)
Blister plasters and bandages
own hygiene article
Toilet paper
Hand disinfection
Meals
During the trek there will be a vegetarian full catering. Water is either boiled or we have a water filter with us.
Breakfast (daily selection):
Coffee/Tea
Oatmeal porridge/muesli/cornflakes/Indian porridge
Indian breakfast
Sliced fruit/vegetables
Lunch (mostly lunchbox), sometimes warm in the camp
Sandwiches/Indian (rice, chapati, vegetables)/potatoes
Juices
Fruit
Snacks
Tea/coffee
Cookies
Indian snacks
Soup
Dinner
Vegetable dish
Lentil dish
Rice
Chapati
Salad
Dessert
Accommodation and camp
We have very comfortable and spacious two-man tents. Our mattresses are practical but simple if there are problems with sleeping on hard surfaces, please take your own mattress with you or order from us. Our sleeping bags are freshly washed and have a very good quality with comfort zone up to -5°C/extreme zone up to -20° C. It is recommended to bring personal indoor sleeping bags.
In addition, we have a spacious dining tent with tables and chairs, a kitchen tent for the team and a toilet tent. For treks up to 4 people, the kitchen tent can also act as a dining tent at the same time.
For trekking tours with porters, we will take our smaller, lighter tents with us and do without a toilet tent.
Weather
In the Himalayas, temperatures fluctuate widely. While it can get warm up to 25°C during the day and the sun is not only warming, but also very intense (sun protection is a must), it can also cool down significantly below the minus-grade at night, especially in the months end of September and October, as well as in June. There may also be weather changes with snow on the passes.
Special trip summer 2023: Yoga trekking in Kashmir and Buddhist meditation retreat in Ladakh