Sport & Abenteuer Reisen
Aktive Kultur Reisen
Fahrrad & MTB
Multi Aktiv Reisen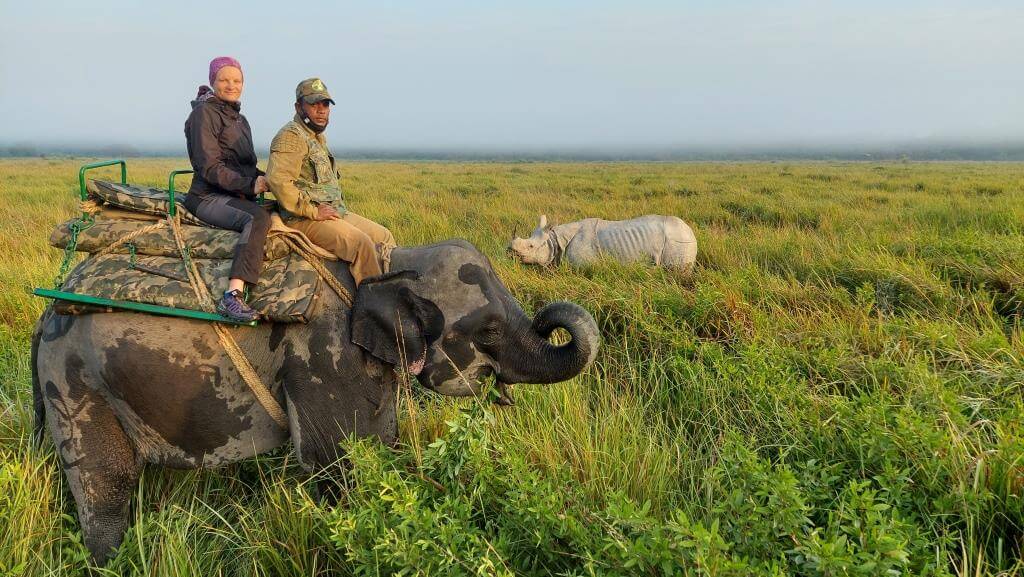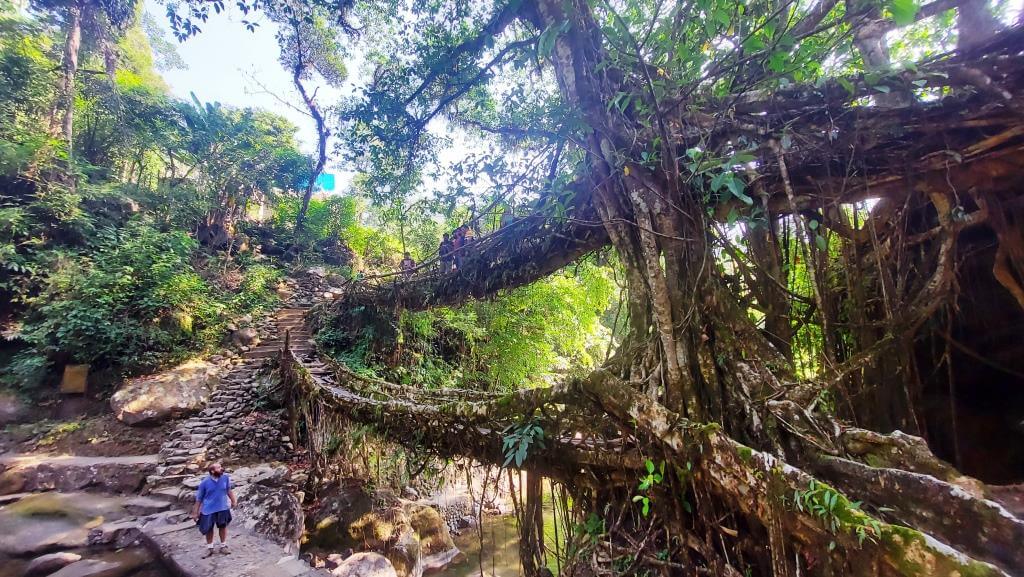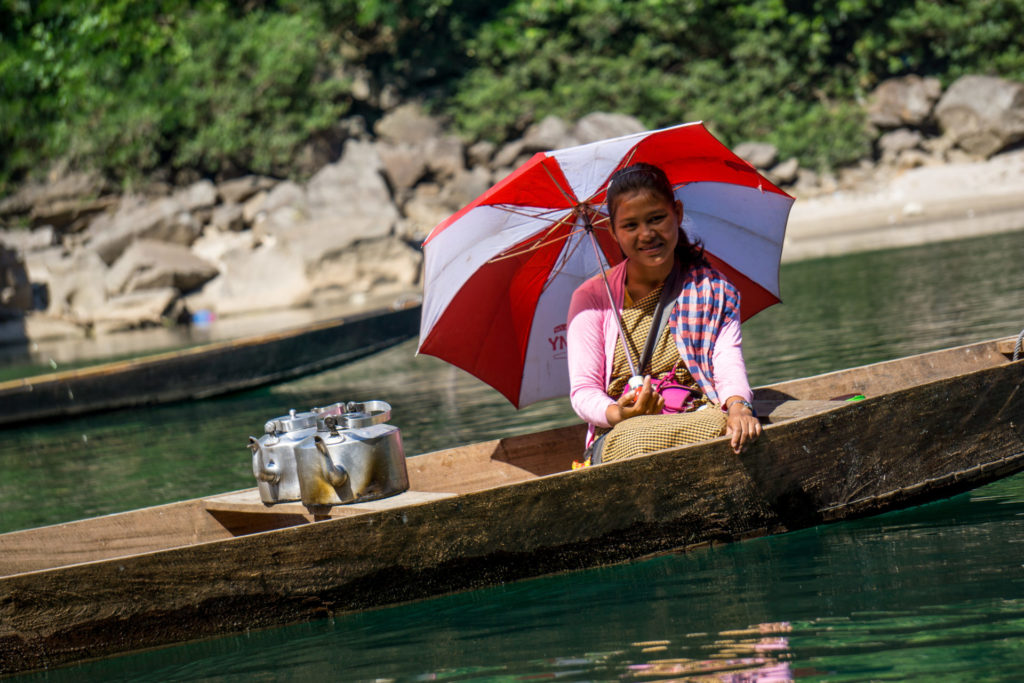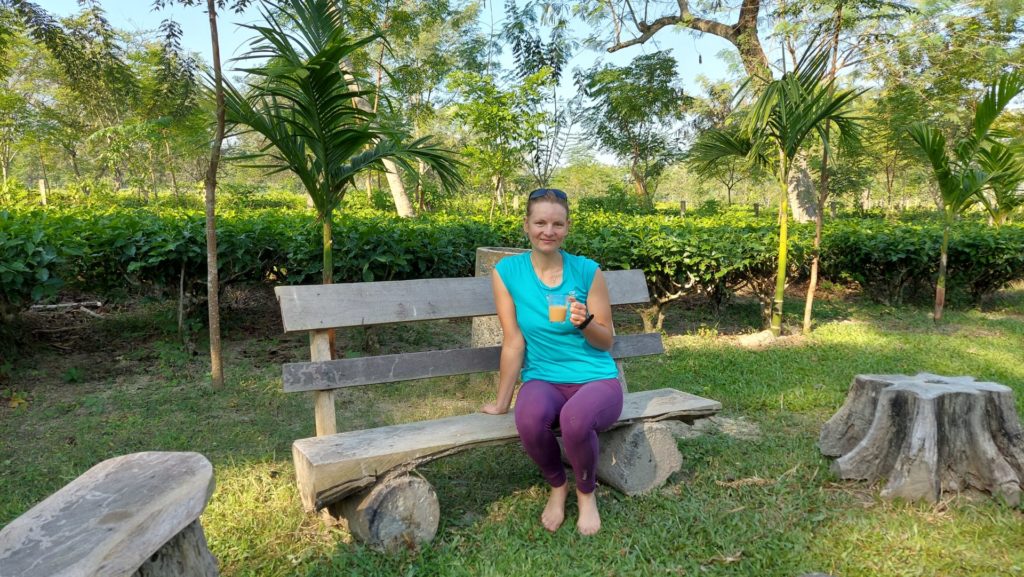 Overview
Duration: 21 days
States Covered: Meghalaya, Nagaland, Assam
Airport (In): Guwahati
Airport (Out): Guwahati
Travelling the remote and barely travelled North East States of India is always special. Both, nature and culture wise, this area is one of the finest tourist destinations in India and maybe even in the world. Indigenous people, dense forests with loads of wildlife, the Brahmaputra river and loads of spectacular waterfalls to name only a few highlights here.
But this three weeks tour tops it all. Every year in December all the tribes of Nagaland are meeting for 10 days to celebrate their customs and traditions during the infamous Hornbill festival.
We will go on a 6 days bicycle expedition from Shillong, the capital of Meghalaya, to Kohima, the capital of Nagaland. During these days we will ride through the beautiful remote piece of land, enjoy real interactions with the locals and stay overnight in our temporary tents. Our team will take best care of us and provide us with local delicacies.
For three days we will enjoy the festivities at the Hornbill festival with cultural rituals, art and dance performances and local cuisine.
But the North East India has so much more to offer. And since we already travelled so far, we will also visit the most beautiful Spots in Meghalaya and Assam.
We will hike to waterfalls, caves and above the living root villages, take a boat ride in the cleanest river on earth, enjoy an Elefant Safari at the Kaziranga Nationalpark to see rhinos, visit the biggest river Island in the Bramaputra, enjoy the tea plantations of Assam and learn all about silk.
Programm
Day 1. Departure from Home (via Kolkata or Delhi, we can assist with the flight booking)
Day 2. Arrival at Guwahati and transfer to Cherrapunjee (Sohra)
On our arrival at Guwahati our driver will meet as and drive us to Cherrapunjee. The distance of 180 Km will take about 5 hrs to cover. Our accommodation lies in the little village of Laitkensew overlooking the vast plains of Bangladesh. Enroute we will Visit Umiam Lake and Mawkdok Dympep Viewpoint.
Activity: Road Transfer – 180Km / 5 hrs
Overnight: Lodge
Meals: All meals
Day 3. Cherrapunjee Local
Living root bridges are unique to this area of Meghalaya; nowhere else in the world can you find them. The Khasi's have developed a means of crossing the fast-flowing streams that separate their villages by taking advantage of the growth habits of the native tree – Ficus elastica, which is endemic to the region and usually grows among rocks next to water. Some of these bridges are over 500 years old. We hike through these forested trails to the Double decker root bridge and swim in one of the numerous natural pools that dot this valley.
Activity: Hike- Root bridges / 2 hrs each way / Swim
Overnight: Lodge
Meals: All meals
Day 4. Cherrapunjee local
We start with a visit to Nohkalikai waterfalls, followed by Wei Sawdong, a three-step waterfall. Next we start with a 4hr long caving activity in the Krem Mawmluh cave complex. Krem Mawmluh is India's 4th longest cave spanning 7.2 kilometers. The cave complex is a maze of openings, with stalagmites, stalactites, columns, drapes and moon milk. Another prime feature is the pool formed from five different rivers that pass this cave.
Activity: Transfer – 130 Km, Local visits
Overnight: Homestay
Meals: All meals
Day 5. Cherrapunjee to Mawlynnong
Starting early, we drive to the village of Wakhen. Here starts the Bamboo Trek to U Mawryngkhang. According to Khasi legend, once there was a great battle between stones. In this unique battle, one mighty stone emerged the winner. It was Mawryngkhang and he became the King of Stones and came to be known as U Mawryngkhang. The Hike isn't very long taking about 1.5 hrs to cover each way (3 km each way). Upon returning to Wakhen ,we drive to Mawlynnong Village, touted as Asia's cleanest village.
Activities: Transfer 70km , Day hike, Local visits
Overnight: Homestay
Meals: All meals
Day 6. Mawlynnong to Shillong
Start the day with an hour-long boat ride on the Umgot river at Shnongpdeng. Following this, drive towards Shillong via the Jaintia Plateau. En route visit the beautiful Krangshuri Waterfalls. In Shillong visit the local Archer competition. Archery is deeply entwined with Khasi culture; it is a sport as well as a way of gambling. Towards the evening a walk around the local markets.
Activity: Transfer 130 km, Local visits
Overnight: Hotel
Meals: All meals
Day 7. Shillong to Jowai
The first day of cycling takes you to the periphery of Jowai perched on the Jaintia Plateau. We start the day from Shillong peak which is the highest point of Meghalaya and generally wind our way down towards Jowai, however there are numerous short and steep climbs along the way. Today we ride initially on the Khasi hills, towards the latter half of the day we enter the Jaintia Plateau. Our destination for this day is in the vicinity of Tyrshi Waterfalls.
Day cycling distance: 55 Km
Accommodation: Hotel
Meals: All meals
Day 8. Jowai to Kupli Reservoir
Post breakfast we start cycling, heading in a general easterly direction. Our destination for this day is the beautiful Kupli Reservoir perched close to the border of Assam. We will have a beautiful road condition for most of the way with phenomenal panoramas all around. We will camp overlooking the reservoir.
Day cycling distance: 61 Km
Accommodation: Camping on the banks of Kupli Reservoir
Meals: All meals
Day 9. Kupli Reservoir to Panimur
Post breakfast ride out towards Panimur waterfalls in neighboring Assam. Panimur waterfall is in the Dima Hasao district of Assam in the North Cachar hills. It is often called the Niagara of Assam and the resemblance cannot be overlooked. As you enter Assam the road conditions deteriorate as you ride through thick forests along the Kopili River. Enroute, we stop to take in the beauty of the Umrangso Lake. Tonight, we camp alongside the beautiful waterfalls.
Day cycling distance: 46 Km
Accommodation: Camping in the vicinity of Panimur Falls
Meals: All meals
Day 10. Panimur to Diphu
The longest day of the ride takes us to Diphu which is the district headquarters of the Karbi Anglong district. For most parts the roads are in very good condition, however, small and numerous undulations are the norm for the latter half of the day as you cycle through the forested tracts of Karbi Anglong.
Day cycling distance: 46 Km
Accommodation: Hotel
Meals: All meals
Day 11. Diphu to Dimapur
A fairly short day to give you some rest from the previous days exertions as well as from the next days climb. We take the little used route from Diphu to Dimapur via forests and scattered Karbi Villages. Our destination for this day is the city of Dimapur, which is the gateway of Nagaland as well as its largest city.
Day cycling distance: 45 Km
Accommodation: Hotel
Meals: All meals
Day 12. Dimapur to Kohima
Though not the longest, this is definitely the toughest as we climb from the sweltering plains to the Naga hills. The unending climb takes us from 200mts to 1400mts in altitude. The roads are generally in good condition with few patches of roadwork. We end the cycling about 5 Km before entering the city of Kohima. Check in to our respective homestays, freshen up and we drive to the Kisama Heritage village to enjoy the festivities.
Day cycling distance: 67 Km
Accommodation: Homestay
Meals: All meals
Day 13. Kohima
A day of Rest and Recuperation while enjoying the festivities at the Hornbill Festival.
Day Activities: Hornbill Festival
Accommodation: Homestay
Meals: All meals
Day 14. Kohima
Post breakfast we drive to Khonoma Village. Surrounded by lush green mountains and picturesque landscape, Khonoma is said to be India's first Green Village. Inhabited by the Angami tribe, Khonoma is famous for its fierce resistance to the British colonial rule, of late it has become well known for its conservation effort.
Following this visit we head back to Kisama heritage village to continue with the festivities of Hornbill festival. Rest of the day is spent at the heritage village is is the main location of the Hornbill festival. Culture events are lined up through the day. The venue also has numerous stall both of food and local handicraft.
Activities: Khonoma village visit, Hornbill festival
Overnight: Homestay
Meals: All meals
Day 15. Kohima
Start the day early with a jeep transfer to the roadhead for Dzukou Valley. Dzukou Valley sits high amongst the clouds, at 2,452 meters above sea level, straddling the border of Nagaland and Manipur. The initial part of the route involves a steep hour and a half climb, through thick ever green forests. Once the climb finishes, a six-kilometer traverse through stunning landscapes of dwarf bamboos will get us to the heart of the valley. Lunch here and we retrace our steps back to our waiting vehicle. Spend this last evening at the festival venue.
Day Activities: Dzukou Valley day trek, Hornbill Festival
Accommodation: Homestay
Meals: All meals
Day 16. Kohima to Majuli
Driving out of Kohima we head back to the Brahmaputra valley of Assam. our destination for this day is Majuli. It is one of the worlds largest river islands and also the cultural heart of Assam. The distance for this day is 240 km which should take us about 6-7 hrs to cover, we also have a ferry crossing across the Brahmaputra river.
Activity: Transfer 240 Km (6-7 hrs)
Overnight: Lodge
Meals: All meals
Day 17. Majuli
Majuli is the seat of Neo-Vaishnavite culture, a monotheistic offshoot of Hinduism. Since the 15th century, the followers of local Saint-Scholar Srimanta Sankardeva, who venerate the god Vishnu, have been building monasteries or satras here. There were more than 60 monastries, but the mighty Brahmaputra has washed away more than half of them.
We will visit some of these surviving satras. Many of the satras are centres for art, where drama and mask making are still practised and taught to the young monks. It is interesting to note that all the dramas, much like that of early England, are performed only by males.
In Majuli, the inhabitants regularly celebrate a series of festivals throughout different seasons of the year. Among those regular celebrations' Raas Leela' in Majuli is observed and celebrate at the different Satra institutions, permanent community halls and in temporary stage pendals arranged by the organizers.
Activity: Local visits
Overnight: Lodge
Meals: All meals
Day 18. Majuli to Kaziranga
Post breakfast drive out of Majuli and head towards Kaziranga National Park. Kaziranga National park's 430 square kilometer area sprinkled with elephant-grass meadows, swampy lagoons, and dense forests is home to more than 2200 Indian one-horned rhinoceros, approximately 2/3rd of their total world population. Formed in 1908 on the recommendation of Mary Curzon, the park is located in the edge of the Eastern Himalayan biodiversity hotspots. In the year 1985, the park was declared as a World Heritage Site by UNESCO. Upon reaching Kaziranga, check in to your hotel and have lunch. This after noon we have a Jeep Safari in the Central Range of the National Park.
Activity: 1 x jeep safari, Transfer 120 Km (3.5 hrs)
Overnight: Safari Lodge
Meals: All meals
Day 19. Kaziranga to Sapoi TE
Start early on a elephant back safari in the central range. The safari itself is about 1hr and takes you through the tall grass. Close spotting of Rhinos are assured. Return to Lodge for breakfast and drive to Sapoi Tea Estate. Enroute stop at the Bagori Range where we have another Jeep Safari. For the first time you will be crossing over to the north bank of the Brahmaputra via the Koliabhumura bridge at Tezpur.
Activity: 1 x Elephant, Transfer 120 Km (3.5 hrs)
Overnight: Tea Bungalow
Meals: All meals
Day 20. Sapoi TE
Sapoi Tea Estate setup in 1914 is a family run plantation covering about 800 hectares is a typical Assamese Tea plantation. Here you will have a guided tour of a tea factory and see the process of tea plucking. Start the day with a guided tour of a tea factory and see the process of tea plucking.
Activity: Tea Factory and Field visit
Overnight: Tea Bungalow
Meals: All meals
Day 21. Sapoi TE to Guwahati
Your port of departure is the Guwahati Airport. However enroute you visit Sualkuchi Village, which is know as the Silk Capital of Assam. Muga silk, Pat silk along with Eri silk and Endi cloth from this region is famous for its quality The weaving tradition in this hamlet can be traced to the 11th century when king Dharma Pal, of the Pala dynasty, sponsored the craft and brought 26 weaving families from Tantikuchi to Saulkuchi. The village took shape as a weaving village when the 'Shyams' occupied Sualkuchi defeating the Mughals in the mid-17th century.
Activity: Transfer 170 km (4.5hrs), Sualkuchi visit, Depart
Meals: All meals
Optional: Flight back via Kolkata and 1 to 3 extra days in Kolkata for Sightseeing and vsist of the Sunderbans Nationalpark to spot the Royal Tiger. Please inquire.
Services
Accommodation: 19 nights
Transportation
All meals during the tour, in Kolkata breakfast only and 1 x dinner
Refreshments and water during activities
Guide: English-speaking guide
all entry fees
Activities as mentioned
6 days group Cycling Tour with mountain bike rent and partly tented accomodation
all permits
Flights
Visa
unmentioned food and beverages
Highlights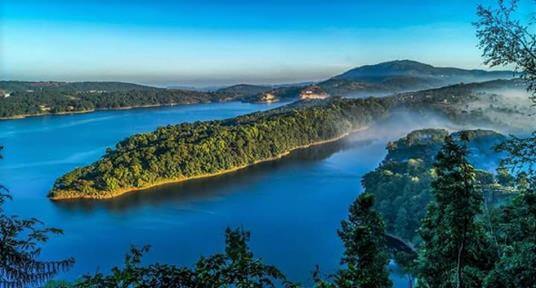 Prices and Dates
Fixed dates:
25.11.2023-15.12.2023
Prices:
from 2 participants per person 2880 €
from 4 participants per person 2450 €
from 6 participants per person 2350 €
Single Room Supplement Charges: please inquire
Tour Info
Requirements
Our activities are moderate, but a desire for movement and a little adventure is part of it. We will visit a region that is still relatively undeveloped for tourism. Tolerance and flexibility are required!
Further Information
We are located in a remote, touristy region that is largely undeveloped. Our accommodations are all clean and well maintained, but with exceptions a little easier and without running water. During the cycling we will stay in tents.
Cycling Trip and Hornbill Festival
For the 6 days cycling and 3 days in Kohima during the Hornbill Festival we will be joining a bigger group of max 24 participants. before and after maximim participanst will be 12.
Additional Program in Delhi, Kolkata and the Sunderbans
Many flights to and from Guwahati will go via Delhi and Kolkate. We can assist you with the domestic flight booking, as well as with the organisation of extra accomodation or sightseeing. From Kolkata a 2 days excursion in the Sunderbans Nationalpark is possible.
Three Weeks Special North East India Trip: To the Hornbill festival by bicycle