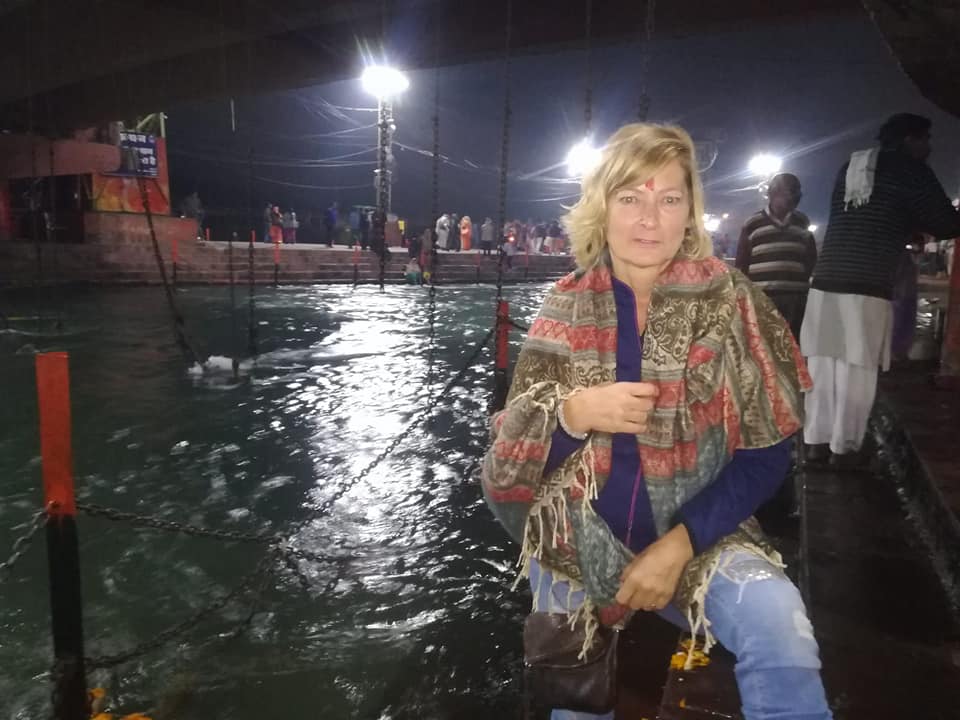 A wonderful report by Elke, who travelled India with the help of Chalo!Travels. She stayed in a Yoga Ashram in Rishikesh and did a  Yoga Trek in the Himalayas. This beautiful writing deserves a place on the Chalo! Travels Blog.
Dirty, noisy. I cannot stand the sight of this extreme poverty. These are some of the arguments that friends came up with, when I asked them, if they wanted to travel with me to India. The years passed. In November 2018 I turned 60. I made my best gift for myself: a journey to the origin of yoga. Garnished with a lot of yoga.
Sarah helped me. There is only one word that describes her organization of my yoga journey: perfect. Whether it was the 12 days at Anand Prakash Yoga Ashram in Rishikesh, my trip to the Himalayas or the day in Dehli. I immersed in a different life. And I didn't have to deal with the daily organization of trips, hotels, guides, etc. If that had been necessary, three weeks would not have been enough. In addition, I always felt safe as in Abraham's lap. Thank you very much, dear Sarah.
In the ashram, I sat on a pillow every morning, wrapped in a warm scarf, bought at the market in Rishikesh, and meditated. 06:00 am followed the first yoga class. Taught by Yogrishi Vishvketu, the founder of the Ashram. His classes showed me that in Germany we often do more gymnastics than yoga. I like that, too. But in the ashram I felt yoga with all my senses.
Rishikesh, the "world capital of yoga", is definitely worth a trip. Here are some tips: The light in the Beatles ashram is magical. Yes, the Beatles were here and tried to meditate transcentricly in 1968. But this is a different story. The market in the city offers typical Indian stuff, such as paintings, great scarves, jewelry and a copper water bottle, which is only available here in the region. If you pour water in and leave it standing for one night, it should be conducive to digestion and prevent stomach pain. But the best are the people from all over the world, who literally talk about God and the world. In Rishikesh I was able to let myself drift. What I rarely succeed in my hometown of Berlin.
Mcloud Ganj was my next stop. I was a little closer to the high mountains. The Dalai Lama resides here in a rather modest temple. You have to feel the positive energy. But then it's just in you.
My trek into the mountains started there. I was experienced an incredibly beautiful landscape, friendly villagers – and rocky paths that lead mostly in steps up to the summit. I thought i was a great hiker, but I'm only used to the Alps. Here only the energising words of my guide drove me on. "You are quite fit for your age!" Quite! For your age! Well, if woman doesn't let that become a summit stormer.
When I was back, magical hands rewarded me. Incredibly, this Thai yoga massage that Sarah had organized for me. Another lazy day and then I flew back to Dehli. A day in this bustling city, which is already demanding a lot from us Western Europeans. But Noor, my companion, showed me his city. And it was completely different from what my drawer thinking had previously thought.
This trip had only one drawback: I had to go back. Back to pre-Christmas, hectic Berlin. In my demanding job. Everything seemed strange. Somehow unimportant. Maybe it is.