The second report about my time as a volunteer in Delhi and our first trip through the desert state of Rajasthan. Nine years have past and when I read this report myself, I immediately feel transported back to that time. I'm a bit proud of what we were able to achieve for the children in the small Center in the middle of a slum.
Even when I think of the Diwali Festival at the time, a glow comes into my eyes. By the way, I am still in contact with the camel guide Dellboy and still send my guests to him for camel safari.
I hope you enjoy this report as much as I do!
Namaste!
And again, a month has passed. How time flies here! I feel like we've been here forever. This is partly due to the fact that we now have a real daily routine: In the morning we often go running in the nearby park, then we are at work until 5 o'clock, after that we usually go shopping at the local market and then have Hindi lessons and/or yoga. For a short time we even have been taught Indian cooking.
Our social network is also expanding: Diwali, for example, the New Year's Festival of Hindus, also called the "Festival of Lights", we celebrated with Hukum and his family, an acquaintance of Joanna's uncle.
The festival was really great, eventhough the fireworks were way too loud for our ears.
At Hukkum's place we witnessed once again the space here in India, where his family has even more or less "a lot" of space compared to most others: 5 people live in 40 square meters, there is a tiny kitchen, a tiny bathroom, a living room where the two almost adult siblings sleep with the grandma, and the bedroom of the parents. Almost no one has real private property here. In Germany, such a thing is hardly imagable.
But this family is still doing really well. In our slum we talked to some women the other day and looked at their apartments – up to six people sleep in a 9 square meter room.
Our work
We now have a real routine at work and we are already well involved in the team! In the morning we are really making progress with the children. Although it should be mentioned that the number of children has increased from about 40 to up to 90 children! We now get to know the children properly, know about their quirks, their strengths, their preferences and can already assess them quite well in many areas. We have already bought toys and slowly it becomes more and more ar real Children's place!
Some play Memory (although you really have to keep an eye on it, because many children see the meaning of the game more in who can put most parts in their pockets), others puzzle, others play with the skipping rope! We also tried to approach individual children, who have been particularly noticeable to us. For example, there are two sisters who are very isolated from the group and only speak, when they feel unobserved. Another child stands with her bag in the corner all the time and cries, others are quite norty boys. We take special care of such children and have already achieved successes! The little sister is already playing ball with us – but only until the big sister notices.
The work is really a lot of fun for us, although sometimes it is really demanding to tame the 90-strong rattlesnake gang! Even the English vocabulary already stuck in the minds of the little ones!
A few weeks ago, we had a long conversation with the manager of ABHAS, Manjusha, for the first time, and we also realized that apart from the education that the children receive, other things are much more important – for example, the regular meal and simply that the children her can be a child and do everything that children do: play, laugh, crumble, paint, etc. Many of the older ones already have to take on great responsibility, even though they are actually children themselves.
We also keep reminding ourselves of the poverty of children. Last week, for example, it was quite cold for a day, so maybe 15 degrees and we've been quite cold even with our sweaters and the kids were walking around barefoot with shorts and t-shirt. But it's not just the children. When I talked to the woman in charge of cooking food everyday, she also told me that she was also very cold in her thin Salvar Kameez, but that her husband "drank the money away" and she invested the rest of the money in her son's clothes. That makes one think!
Apart from that, we are really busy, even in the afternoon, when we either write reports, document workshops photographically or plan classes.
Our Rajasthan Holiday
This month we used the holiday (Guru Nanak's birthday) as an opportunity to get to know a bit more about India.
So we left friday after work by train towards Jaisalmer, a desert town near the Pakistani border).
During this 22-hour train ride, one gets to know fellow passengers, who share food and their life stories, as one goes past tiny villages through the Thar desert.
We really liked Jaisalmer, with its sandstone-coloured houses, a romantic lake with temples around it and the huge fort that towers over the city. The only negative point: Jaisalmer is a tourist resort and all these traders have strained our nerves! We are not used to such things at all.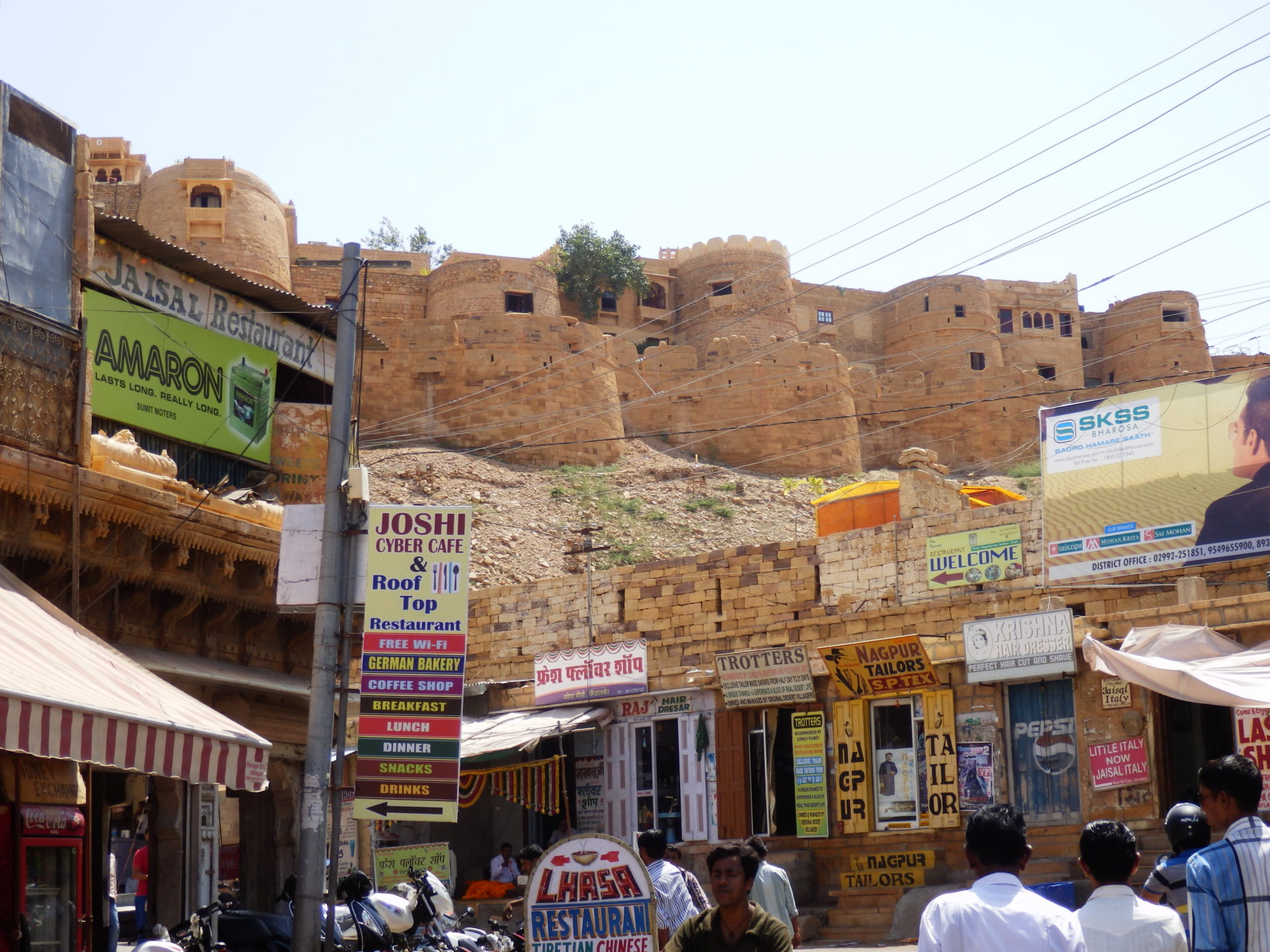 On Monday we went started a 3 days camel safari, one of the highlights of our trip! With a jeep and four other tourists (two German young women and two world-travelling Australians), we drove to a desert village outside Jaisalmer, where our camel guides and our means of transport were already waiting for us! Sitting up has been an act in itself, but you also get used to it. The camel riding was also a lot of fun, although after a two-hour ride on the desert ship your legs hurt quite a lot!
At noon we stopped under a tree and then we cooked over an open fire! After the meal everyone rested in the shade (because it got really insanely hot) and at four o'clock we went on to our nightly resting place – a sand dune There we marveled at the sunset before dinner.
Although it got a bit cold on the sandy floor at night (we only had a few blankets) and the full moon illuminated everything almost in daylight, it was a great experience!
The next morning, after breakfast, our other fellow travellers left us, who had only booked 1 1/2 day tours and so we both rode alone with the camel guide and a 12-year-old boy. This was actually much nicer, because now everything was much more like family and no longer existed this service relationship between us. In the evening we cooked and ate together and then sat by the campfire and our two camel guides sang and drummed traditional songs for us. We have also learned a lot about the hard life in the desert, the poverty and the problems of the people in the villages. Our camel guide, for example, has a house that is more or less built only of branches because stone houses are too expensive. Vegetables are very rare – usually only chapati and chilli is eaten, breakfast is never eaten and in order to buy the camel, he had to borrow a lot of money from a big landowner. He is completely dependent on these camel safaris to feed his family.
These 3 days were really incredibly great and versatile. Sometimes you feel like you're riding in the savannah, then again you're in a black stone desert and you feel like a cowboy in a Western movie, then again you're in a little greener or sandy area and then of course there are these sandunes. In between you can hear the bells of herds of sheep, which offers a variety to camels farts 🙂
We then went on to Jodphur – the blue Brahmin town, whose fort and the audio tour was great! From there we drove on to Pushkar, a popular place of pilgrimage for all Hindus because of the holy lake. As luck would have it, this lake was unfortunately more or less dried out – only a few ghats (bathing places where the faithful wash themselves in) had been artificially filled. Despite this, Pushkardidn't loose it's charm! Here we were in a complete different landscape with all the mountains and palm trees!
We admired the sunrise and sunset from the highest mountain in Pushkar, on which is a temple, and I have to say – this steep, 3 km long path to the top was really worth it, even if we arrived more or less wet due to the sweat.
From Pushkar we went to the last destination of our trip – Jaipur, where we could live with an Indian family. It was insanely interesting to talk to the daughters, because we have seen the problems of the youth from slightly more affluent families.
Of course, this visit of the family has once again expressed the disparities of India: 5 days before, our camel guide told us about how he and many, many others are fighting for survival, and here the girls, who have a driver, a great apartment, plenty to eat, a good education and loving parents, complain about too little freedom and that their lives here are too limited. These problems seem so unimportant, but that too is India. Each class has its own problems.
So that's it once again from me.
In a month there will be new things to hear from me !
Greetings,
Sarah