Due to my many tours to Rajasthan, long term stays at my favourite Ashram Sri Jasnath Asan near Jodhpur in Rajasthan and my friendship to the Rajasthani Cook Rekha I am very familiar with the Rajasthani Cuisine (and also love it very much).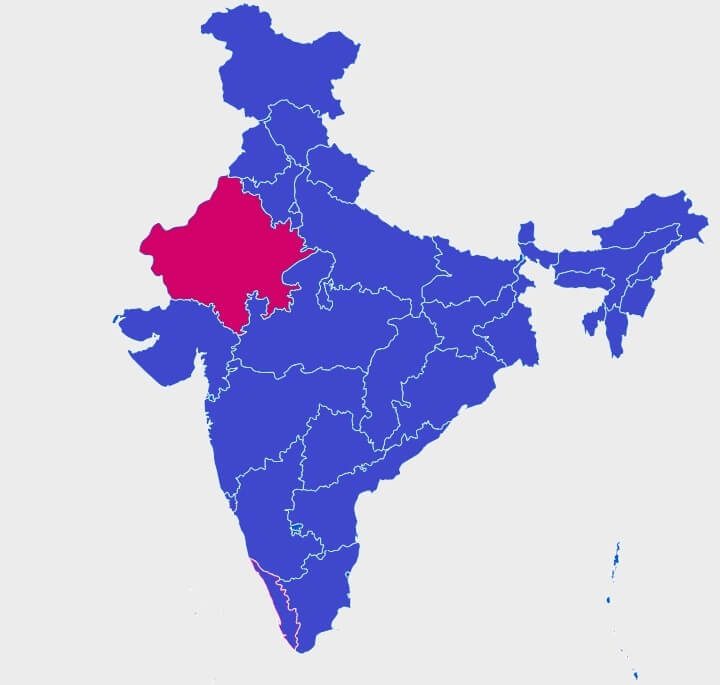 The desert state is very dry and therefore fresh vegetables and rice is not very common. Instead, the local cuisine consists of milk products, grains and dried wild berries.
The most typical dish of Rajasthan would be Dal Bhati Churma- Baked Dough Balls with lentils and some sweet made out of some crushed Bhatis (dough balls). But since the Bihar Littis were already so similar, I decided on some other dishes.
Today I exaggerated a bit with preparing for dishes ?. Ker Sangri is a simple dry dish prepared from wild and dried berries- I got them from my last Ashram visit. Gatte ki Sabji is not really a vegetable like the name could suggest, but rather sausages made out of chickpea flour and cooked in a yogurt gravy. The sausages reminded me of parmesan and I don´t know why ?. A raita is always a refreshing side dish made out of Yogurt and in this version with fried crispy chickpea flour cubes. Only the Khoba Roti was new to me and it is not only a beautiful looking bread, but also extremely tasty.
I miss all my friends in Rajasthan and can´t wait to offer tours again to my favourite places including Jodhpur, the Shri Jasnath Ashram, the Lake city Udaipur, Jaisalmer and it´s Sand dunes, the Ranthambore national park and the holy place Pushkar.
Once you get out into the rural area there is so much to see and experience with close interactions with the locals- especially during our cycling trips and hikes.
Recipe for Gatte ki Sabzi
Recipe for Khoba Roti
Recipe for Pithod Raita