India – a big country with many highlights
Although I have been living in India for almost ten years now, I have still not been able to discover the whole of India. Very often I return to places that I particularly liked, or I travel with my tour groups, whereby my guests usually travel on more well-known paths during their first experience in India, as the "normal India" already has a lot to offer.
India is just so incredibly big and the itineraries often very long, so I only discover India in small, slow steps.
Of course, I stick to mine (and Chalo! Travels) Travel motto: "Experience India actively" faithfully.
Since I am firmly integrated into the small mountain bike community in India, I am always well informed about mountain bike events and races throughout India.
7 days stage race in the mountain state of Uttarakhand
When the CFI (Cycling Federation of India) announced the fourth edition of the seven-day stage race by the Himalayan state of Uttarakhand, it was clear to me: I would take part in this.  Not only would there be a fully organized bike tour through an area that was largely unknown to me, but there were also no participation fees, as the race was intended to promote mountain biking in India and, in cooperation with Uttarakhand Tourism, also to support the tourism suburb.
Tourist activities in Uttarakhand
The Himlayan State has to offer a lot including the holy place Rishikesh on the Ganges, The Corbett National Park with wild tigers and elephants, countless trekking and pilgrim routes to sacred lakes, temples and river springs and the highest mountains of India (Nanda Devi (7434 m) , Thrishul (7120 m), Kamet (7756 m) and many other known and unknown peaks that make the heart of every climber beat faster). Mountaineering enthusiasts among you may have watched the film "Meru", also a peak in Uttarakhand. I myself took part in a four-week mountaineering course in Uttarkhasi, Uttarakhand at the NIM Mountaineering Institute in 2011, and was able to experience this magnificent mountain world for the first time. For less extreme mountain tours, Uttarakhand also offers more tranquil pilgrimages with magnificent views (Kuari Pass Trek) or to sacred springs (Gangotri).
When I visited a friend at the border guard (Uttarakhand is on the Nepalese border) last year, I was able to do some excellent mountain bike tours here as well. The number of jeeptracks, forest trails and village paths is phenomenal. In addition, Uttrakhand also has an unusually well-developed asphalt road network.. Many professional road cyclists from all over India come here to train on the long climbs.
An international mountain bike race in India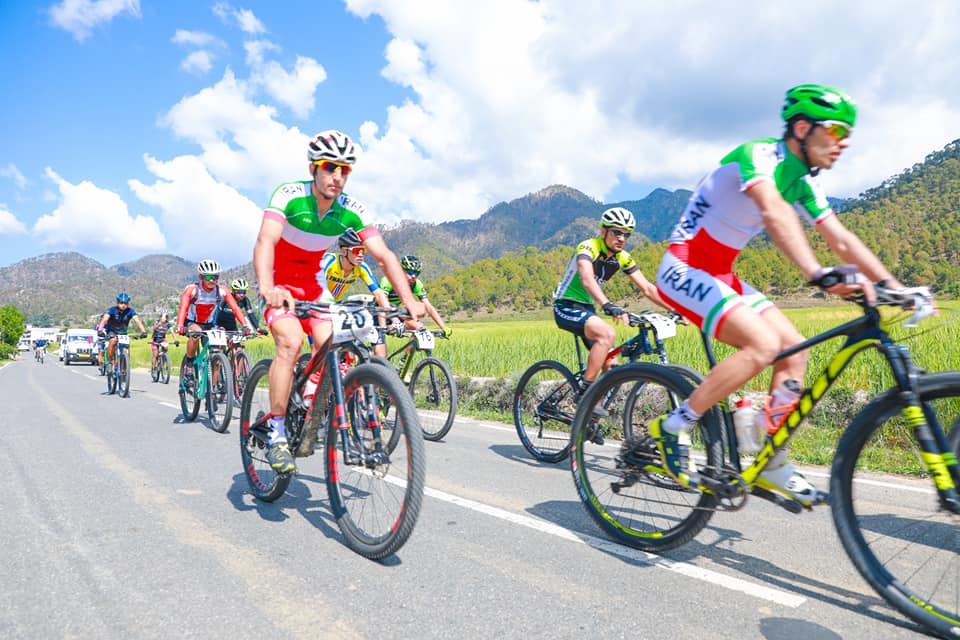 Now back to the actual topic: The MTB Uttarakhand race:
Of course, the race enjoyed some popularity with Indian mountain bikers as a free event. In addition, top Asian mountain bikers were invited – including the national champions in XC mountain bikes from Thailand, Indonesia, Singapore, Nepal, Iran and Malaysia. And then there was me, the only non-Asian participant.
So the race sounded great, didn't it? One thing, however, should be known before registering for the race: the name MTB refers only to the bicycle type and by no means to the track itself. If you look at technical trails, forest trails or jeep tracks at the MTB Uttarakhand, you are looking in vain. MTB Uttarakhand takes place mostly on asphalted ground, although this is so bad from time to time that a mountain bike is quite in demand.
Of course, the technically talented riders from all over Asia did not quite get their money's worth. Especially the girls were used to off-road and short cross country distances, and not the continuous ascents of 15 km length and more on stages of over 100 km.
But as a not very technical skilled cyclist and passionate climber, I actually loved exactly this track profile, although even After 7 days of road racing I missed natural ground very much.
The Race- The Qualifying Lap
The race began in Nainital- a mountain resort located on a pretty lake at 2000 m and which isvvery popular with Indian tourists as a place of escape in the summer, when it gets unbearably hot in the rest of India.
Since of course many Indian mountain bikers wanted to take advantage of the chance of a free stage race, more Indian participants came than the racing organization could supervise. The first stage consisted of two laps of 25 km each, in which only the 50 best Indian riders were selected. Female and international participants had a free ticket to the race.
So although the girls only went along for "fun" and it was actually a nice warm-up lap (the women only had to ride one lap), it got serious somehow and all the women put a nice effort. After this "Quali-Round" it was clear for me, here I can unfortunately not keep up.
So I pushed the idea of a race into the background and enjoyed myself instead with the rich breakfast and lunch buffet and befriended my roommate from Singapore.
I was really surprised by the good organization of the event. In other bicycle races in India, which were under state organization, there was often a lack of sports-appropriate nutrition or accommodation was very simple.
But in this race everything was really nice: good accommodation, food, best road markings and everything went more or less according to plan.
Stage 1 Nainital-Almora approx. 90 km
The first stage from 90 km to Almora was the highlight of the whole tour for me: From behind I worked my way to the front and was able to win the first stage very narrowly. I couldn't believe it, I had seen myself far off the day before. But the girls were in trouble uphill and I felt great. I also benefited from the fact that the stage was 10 km longer than originally advertised.
Of course, all eyes were on me as the winner of the first stage.
Stage 2 Almora-Kausani approx. 80 km
On the second day after Kausani things didn't go quite so well: I just couldn't get on with the fast girls at the beginning, who all rode together.
I did my best not to waste too much time. Of course, it wasn't very helpful that my saddle was loose and steadily lowered. Eventually I stopped and was lucky enough to have the mechanic right behind me, who eventually solved the problem.
Shortly before the last short climb I finally managed to catch up with the first group of girls and in the end I reached the finish only a few minutes behind the first place.
Kausani was a beautiful place to stay, with great views and good accommodation. In the evening we all enjoyed the daily cultural program.
Stage 3 Kausani-Rudraprayag approx. 140 km
The third stage after Rudraprayag was the longest stage of the race with 140 km.
Since the last 90 km were mostly flat, this stage was very strategic and whoever had a tall rider in front of him or herself in the wind was clearly in the advantage. Well, I didn't have  one and after the long stage I was quite flattened. Again I reached the finish a few minutes behind the first riders.
Rudraprayag is a popular Hindu pilgrimage site, as the two sacred rivers Alaknanda and Madakini flow together here.
Stage 4 Rudraprayag-Tehri approx. 115 km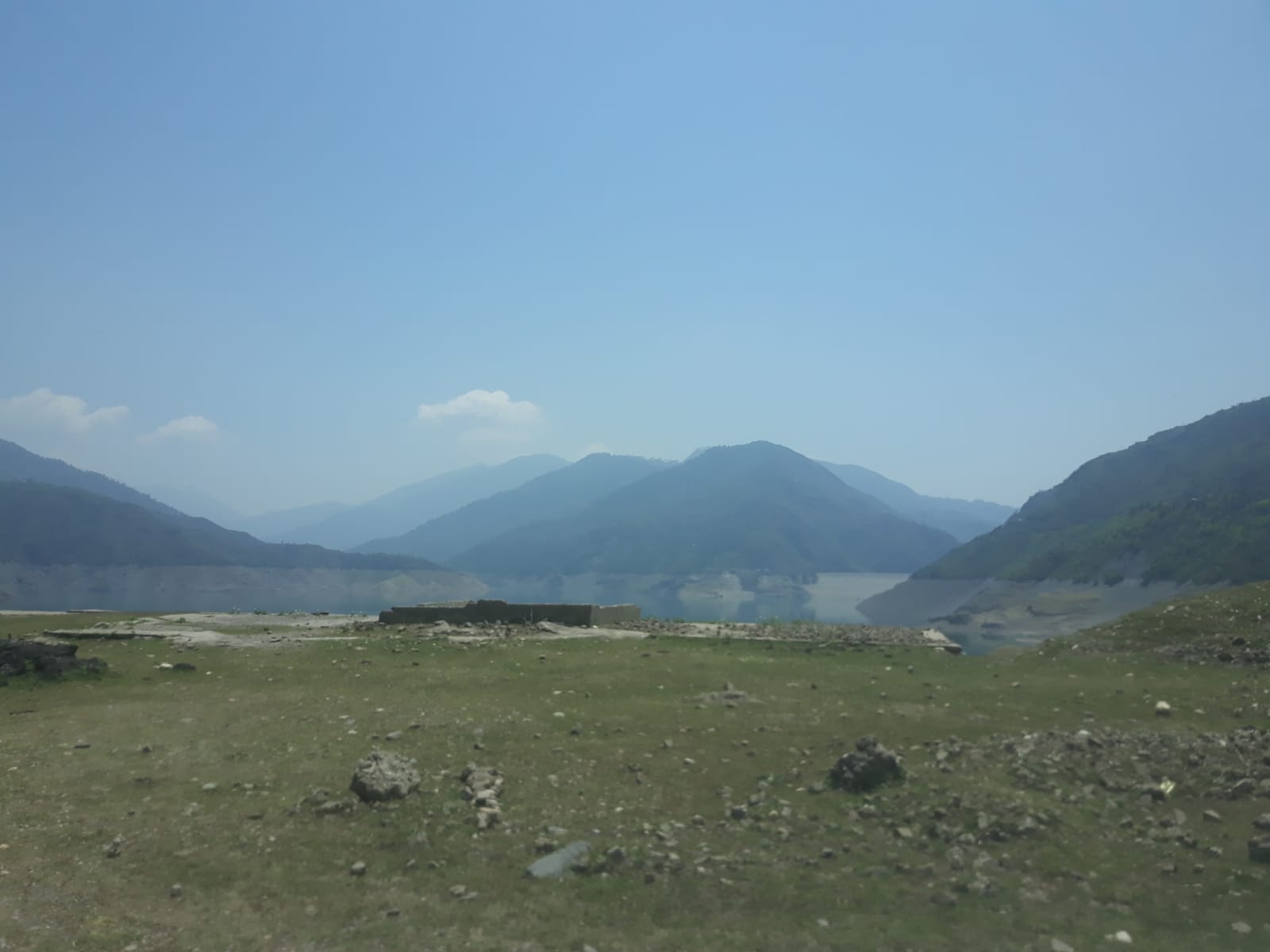 Stage 4 to Lake Tehri was supposed to be my stage, as it started with a 30 km climb.
But I hadn't recovered from the long stage the day before, so I was the very last rider for the first 20 km. That I was really the very last, I noticed, because I had theSweep car behind me and the annoying engine noise alone was a reason enough to go a little faster. At some point (after a lot of water with electrolytes and some gels), I finally got better and I started the catch-up hunt. I benefited from the fact that the 30 km climb became a 40 km climb, which broke the neck of most of the girls in front of me and I was able to catch up with some on the track.
The MTB Uttarakhand had neither a route profile nor exact altitude information. The briefings on the track the day before were all kept very inaccurate, so we never really knew how long and how many climbs there were. Every now and then the route turned out to be much shorter or longer.
I finally made it to the podium again on this 115 km stage with a third place. Highly motivated, I was looking forward to the rest day at Lake Tehri, the largest dam in India.
Rest day at Lake Tehri
On the day of rest, I actually did everything right: I ate well, slept, did yoga and foam rolling and even went on a relaxing small ride.
Stage 5 Tehri – Chinyalisaur approx. 40 km
The next morning I felt wonderful and highly motivated for the next stage to Chinyalisaur, which would be fast with 60 km on flat terrain.
The 60 km in the end became 40 km without great climbs. I couldn't keep up with the fast girls and lost 14 min to the first rider!
While I was still in second place in the overall standings up to stage 4, I slipped to 3rd place and had the 4th position close behind me.
Stage 6 Chinyalisaur- Mussoori approx. 80 km
The last stage to the popular tourist resort of Mussoorie was 80 km and had long ascents. I wanted to win this stage to secure a podium finish. But the girls from Indonesia and Thailand were incredible strong and sprinted up the mountains. I had no chance and finished fourth and was fourth in the overall ranking.
After I heard the lead (20 min) the girls had reached the finish, I was still happy with myself. The Asian professional riders were much stronger and I could at least offer them good competition.
Conclusion on the MTB Uttarakhand
Out of a total of 12 girls, I reached fourth place, with the mountain bikers from Nepal, Indonesia and Thailand in front of me.
Overall, the whole race was a very good, but also very exhausting experience. Never before have I had such a competition: almost every day we had another rider on the podium – really a big step forward for a mountain bike race in India.
I am grateful to have rode 7 days with and against such  professional athletes, to be able to make friends and to finally get to know the wonderful state of Uttarakhand.
I also realized that winning is beautiful, but not everything for me. I like events where the real challenge is to master the stages and have my own challenges against myself. Also, I really missed a natural surface under my tires. I may be a bad, but passionate mountain biker. Road racing with head to head racing stresses me!
Here informations about MTB Himalaya, another multi stage, but real mountbike race.