This June I was finally able to put into practice my long-cherished desire to explore the mountain regions of Spiti and Kinnaur by bicycle.
My boyfriend David played a big role in this: passionate mountain biker and adventurer and also fire and flame for this tour.
While I have often travelled from Manali to Spiti (various trekking tours took me to this wonderful mountain region), David, a native of Kinnaur, knows the Kinnaur valley very well. So I was responsible for the stages till Tabo, one of the last villages in the Spiti valley, and he from Tabo back to Shimla.
Not only in the route planning we complemented each other perfectly, but also in luggage transport we arranged ourselves well. We travelled very light and had only one bag set for a bike (a handlebar bag and a bag at the back of the seatpost).
Since David is much stronger than me, as a professional mountain biker, he carried the two bags while I was carrying a backpack. Basically, I would do without a backpack with such a long and poorly developed route, but our luggage situation did not allow any alternative and so I endured one or the other tension in the shoulder and back area.
On the way we also met other cyclists from time to time, who had considerably more luggage with them and were sometimes travelling with a total of 50 kg.
Although we also had a small cooker and cooking utensils with us, we did not use tent, mattress and sleeping bags on this ten-day tour, because we knew that there would be accommodation daily in villages or at least small tent camps.
In total, we would ride 930 km and cover 15200 metres of altitude.
We started our tour from Shimla, how brilliant, that we could start directly from our doorstep with the trip.
Day 1 Shimla-Jalori Pass (3100 m), 150 km, 3376 hm
The first stage was a very nice hammer and certainly the hardest day of the tour.
Jalori Pass hadn't really been our fixed destination – we just wanted to see how far we were going and at the end of the day would just take a room in one of the villages along the way. So relaxed and spontaneous I certainly wouldn't have started the day just by myself and once again I was happy to experience this adventure with David together.
We knew the route up to Narkanda at an altitude of 2700 m well, Narkanda was within our training area.
We managed to start before 7 o'clock and thus avoided the heavy traffic of the Indian tourists on the way to the popular excursion destination Kufri.
We rode relatively fast and looked forward to the upcoming long descent down from Narkanda to the Sutlaj valley.
But even the descent down to 1000 meters caused me a shock: It was as if I was cycling against a hot wall of fire – a hair dryer would have been a smooth understatement. It got hotter the lower we got and finally the thermometer showed 44° C.
Normally, warmth doesn't bother me with during sporting activities, but on that day I suffered a lot and was afraid to fall off the bike with every further pedal stroke. That we crossed the Satluj River at noon time- the hotest time of the day, did not improve the situation. Now it would be 60 km long and steep ascent up to the Jalori Pass, which is 2000 meters higher.
Bravely, I tried to think in small steps. David and I swapped helmets, which slightly improved my headaches and a cool foot bath on a creek did well.
We were quite hungry, but at the stop in Anni we brought the food down with difficulty because of the heat, only the mango and a lot of water did well.
After lunch, I felt even worse. Now I had no short-term destination in front of me, but only the Jalori Pass, more than 35 km away. The road got even steeper and I felt I was not moving at all. David was very patient with me, but also had to fight with luggage, heat and a far too big gear for this track.
I needed a break with lots of water and electrolytes. Then it went on. And behold, all of a time things got better again. Was it due to the many liquids? Because we reached shady forest? Or did the track get a little flatter? Maybe it was a combination of a lot of things, but I rolled again and once again I proved to myself that sometimes it was worth biting your teeth together and waiting for better times.
It rolled exactly up to 6 km before the Jalori Pass. Anyone who knows the pass, knows that from here it will be really steep – without interruption.
I switched to the smallest translation and allowed myself the option to walk anytime. On foot I wouldn't need much longer for the 6 km.
Slowly it became dusk and thus again a little cooler. Thanks!
I kicked and kicked, ignoring my aching legs, my back, my head. Counted up to 100, counted meters, counted  trees. I knew I would get down if I couldn't get on my bike on this steep road.
By now it was 7:30 pm. We had been on the road for over 12 hours. It got dark and approached the last meters and there it was: the Jalori Pass.
This day was certainly one of the toughest in the saddle I had ever experienced. At first I was too exhausted for anything and needed a moment with myself. Then it went on. We pushed the bikes over a small path through the adjacent forest, where we were promised a tent camp. In fact, after about 1.5 km we met a clearing with cozy tents. The nice man who was responsible for the camp not only cooked us a delicious meal, but even made us two buckets of water hot. Up here, at an altitude of over 3000 metres and at night, I was actually happy about the two thick blankets.
Day 2 Jalori Pass- 10 km before Manali 105 km, 1200 hm
This day we have just approached too comfortably. Not quite recovered from the day before, we came slowly into the aisles, enjoyed our breakfast and that wonderful camp and finally started only at 10:30 am. Far too late, for a not particularly high altitude intensive, but nevertheless long stage to Manali.
At first we just rolled down the pass, enjoyed the greenery, the villages, the lightness – it rolled and rolled, kilometer by kilometer. But after about 30 km the track became increasingly flatter and there were also one or the other hill and then I quickly realized, oh oh, my legs did not participated today.
We reached much lower again-at 1000 m near Aut, where we met the highway. It was hot and dusty. The road was just extended and was also busy and so we drove through dust most of the time.
I longed for Kullu and when we were very close to our intermediate goal it actually started to rain! That, too.
In Kullu an old bicycle friend Sunil was waiting for us. He invited us for lunch and we (or rather I) needed the break so much that we didn't mind waiting for the meal. The rain had stopped by now, but the clouds were quite dark and I was hoping for a heavy rain, so we would have to stay edovernight at Sunil's.
But the rain didn't come and so we started after our two-hour break at about 17:30 towards Manali- again much too late.
We still had 40 km and about 800 meters of altitude ahead of us. Not really a big task.
In fact, it was easier than thought. The track between Kullu and Manali was almost completely renewed, the road was now much flatter, wider and faster. We rolled and rolled into the darkness and finally into the rain. This became so strong that we decided to look for a hotel and stayed in one only 10 km from Manali!
2 weeks Manali with hikes, fishing, trip to Keylong for a bike race and seven days of yoga trekking
The next day we also covered the last 10 kilometers and Manali welcomed us with traffic jams and exhaust fumes: it was high season for Indian tourism. We made it all the way to Old Manali. Here it was much quieter.
We spent a few relaxing days with fishing and hiking, then we went on a little intermediate adventure: In the neighboring valley Lahaul a one-day mountain bike race would take place at over 3200 meters of altitude and we would participate in it. Both, me and David won in our categories, yeah. It was a 4 day trip in total including riding one day to the race over the mighty Rothang and one day back again.
Then there was some work waiting for us in Manali. I had a seven-day yoga trek through the Hamta Valley with four German guests coming, whom I would accompany as an organizer and yoga teacher. Admittedly, probably one of the most beautiful jobs on this planet. You can also read more about the Yoga Trek here.
Day 3 Manali- Chatru 3300 m, 81 km, 2300 hm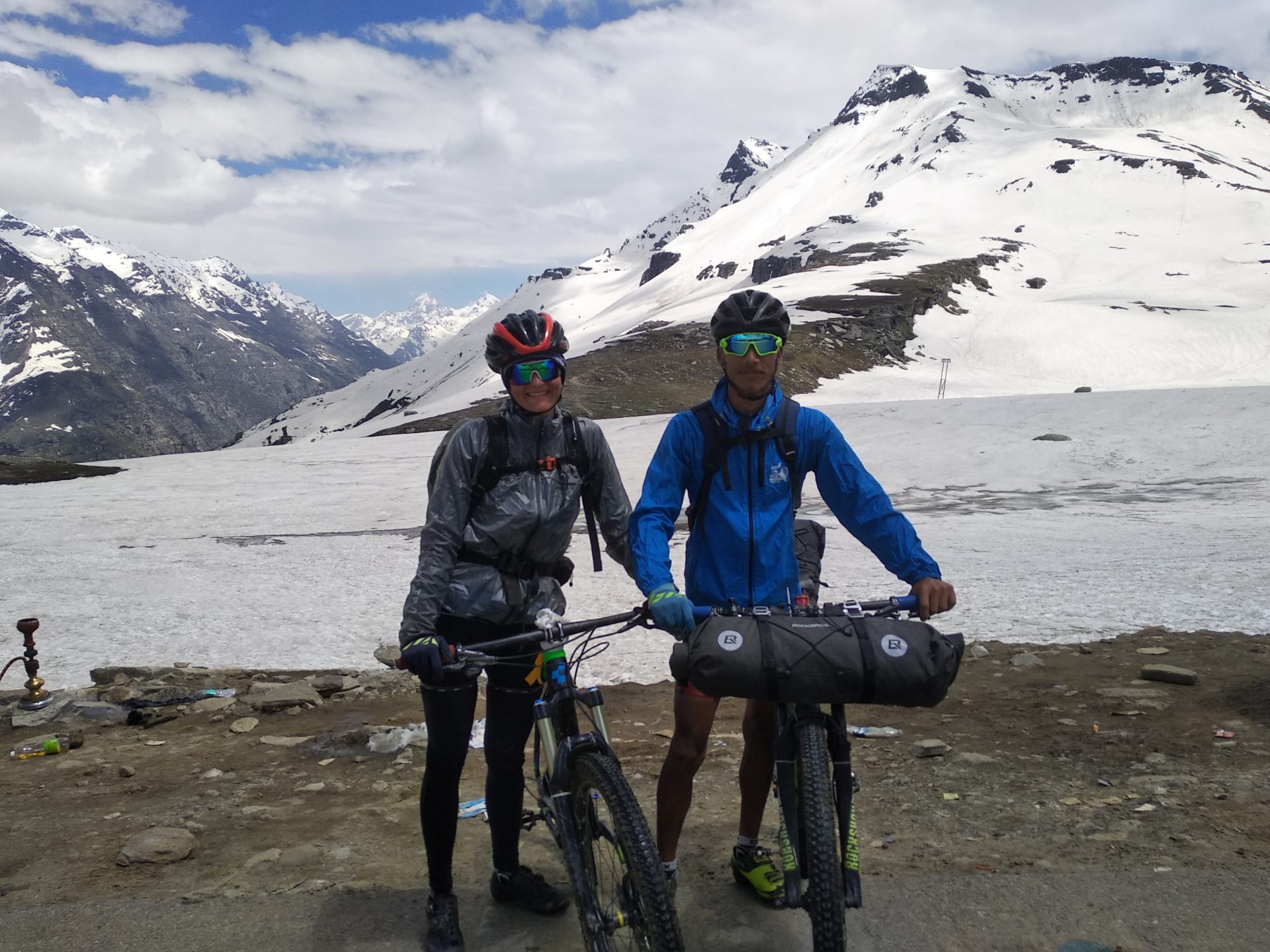 Crossing the 3980 m high Rothang Pass a second time certainly irritated us. We had already completed the 51 km climb with 2000 metres of altitude by bicycle for the race in Lahaul and again it was time to not only ride long uphill, but also to expose ourselves to  the traffic by Indian tourists.
Many Indians come to Manali in May and June to escape the heat in the flats and to see snow. 
For David and Me, this meant that we had to pass long car queues, get stuck between wedged buses and endured partying Punjabis, before we were finally on top of the pass.  It was a 5 hours climb. The bike break resulting from the seven-day yoga trek was probably not as good, because my thighs hurted like never before. A fortnight ago, crossing the same pass had been easy by comparison. This time I had to bite my teeth in pain and tears shot me in the face. Rarely had I been so happy about a descent. At least the weather was clear today with blue skies. The sun shone strongly and so the descent through the snow walls was less cold.
I enjoyed the unpaved part of the descent and David was waiting for me at the junction at Gramphu (here you leave the Manali-Leh Highway to Spiti) with instant noodles and eggs.
Of course, there are actually enough stops on this route to be able to eat. But it's beautiful to just picnic in nature. The break did well. I found new energy and my socks had time to dry. The sun had it all over 3000 meters up here!
The next 20 km of road to Chatru, a tent camp, we would now have all for ourselves. A section behind Chatru and in front of Kunzum Pass was still not cleared of snow and rock and was therefore closed to motorized traffic.
We had made enquiries and already knew that the two tent cities Of Chatru and Batel were being managed, so that our next two nights were secured. Over the snow and the rocks we would push or carry our bikes.
But today it wasn't that far. We were able to ride as far as Chatru, although there were some deep streams and snow walls to go through. The 65 km long section between the Rothang and Kunzum passes is in such bad condition, that even by bike you can only move very, very slowly over the loose rubble.
In the late afternoon we finally reached Chatru and were greeted by trekkers and the well-known owners of a tent edging house. We drank hot coffee, ate well and played an Indian board game. Then we were given two blankets and we fell asleep deeply and firmly.
Day 4 Chatru-Bathel 3900m, 32 km, 800 hm
Originally, my plan for today, was not only to get to Bathel, 40 km away. But to leave our luggage in Bathel to make an additional 30 km excursion to the beautiful Chandratal.
Well, the very poor road conditions and a 10 km piece of snow avalanches and rock falls kept us busy all day, so that in the afternoon we reached the next tent city Bathel exhausted and certainly did not continue anywhere.
Even the first 15 km long well-developed part was challenging: loose debris, many crossing streams, soft sand. We didn't get any faster than 7 km/h, and from time to time I even had to get off the bike. After 15 kilometers there was a long section with boulders. Here the road had not yet been cleared and we had to carry the bikes partially. On a green meadow we took a break, assuming that the most difficult piece was now over.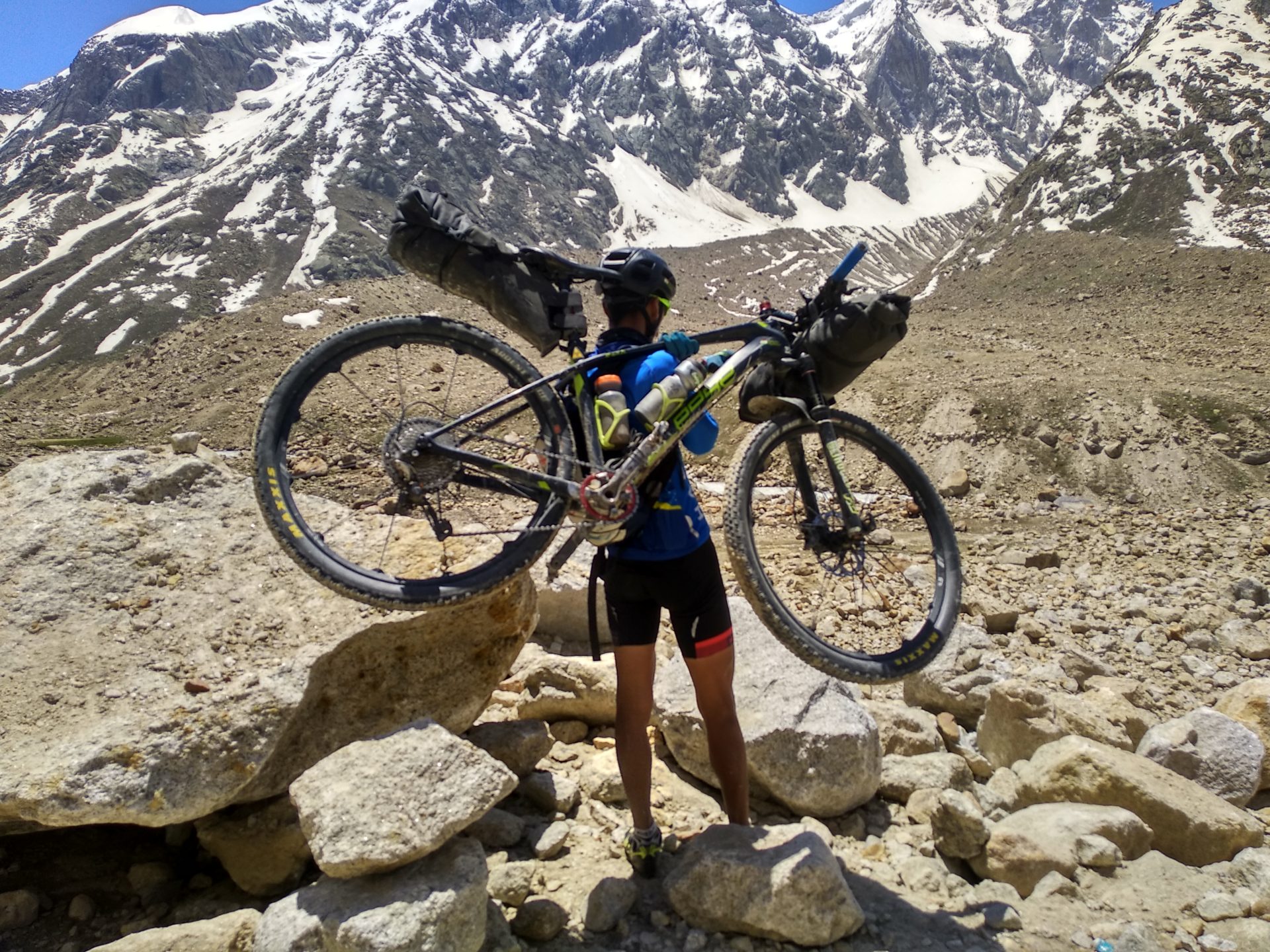 But now the fun really started: One snow avalanche after another blocked our way and we had to push the bikes through the snow again and again. Sometimes the snow was so steep that David struggled to save his heavily loaded bike from falling into the raging Chandratal River.
In itself, today's section was not dangerous, except perhaps for the cold feet, who did not like to have to change through the creek or snow in thin cycling shoes. Only shortly before Bathel we met the evacuation vehicles, which would probably still have a lot of work to do in the next few days.
At least we met shepherds with their animals every now and then today and were not quite alone in the middle of the Himalayan mountains.
After Arrival we were welcomed into the Dhaba (small simple place to sleep and eat) by Chacha and Chachi.. Chacha and Chachi means uncle and aunt. The older couple from Tibet has been running the tent city for over 45 years . The two often hosted several stranded trekkers and tourists who got surprised by snowstorms.
We spent another pleasant evening and a pleasant night in simple but comfortable conditions and with nice company.
These two days in Chatru and Bathel should be the cheapest of the tour with less than 9 euros each for both of us for accommodation and full board.
Day 5 Chatru-Kibber 4200 m, 65 km, 1150 hm
Both David and I had a lot of respect for the climb up to Kunzum Pass, which started right at Bathel.
Although the ascent was only 12 km long with only 600 meters of altitude, we knew that this route would also take place on unpaved ground.
But our concern was unfounded and, as it is so often the case, if you think a little worse than it really is, the one-and-a-half hour climb up to the pass was even really fun. The path was much gentler than yesterday's route. The higher we got, the more white mountain giants came into our sights, including the twins CB 13 and 14, which we wanted to climb last year.
At the top of Kunzum Pass at an altitude of 4550 meters there is a Tibetan temple with a small smooth stone. It is said whose coin sticks to the smooth vertical surface of the stone, her or his desires comes true.
Well, what can I say, David and I must have had the right wishes :).
Also the 20 km down to the first settlement to Spiti were fun. In the meantime we also met one or the other vehicle, which drove up the Pass and to Chandratal, but there were countable few.
In Losar we enjoyed delicious goat momos (filled steamed dough bags with goat meat, then we went on. The road was still bad and very bumpy. Every now and then there was a piece that was asphalted, that we enjoyed all the more. Until the turn-off to the new road high to Kibber, it was still largely slightly downhill. But 25 km before Kibber it was time to get back up.
The high air still made it a little bit more difficult and only slowly we climbed the small pass at an altitude of about 4500 meters. Now we were on a kind of plateau and also went through the piece where only a few years ago an annual market took place, where traders from all over Asia traded with each other. This is where the Parang la Trek to Ladakh begins, which forms a piece of the famous silk route.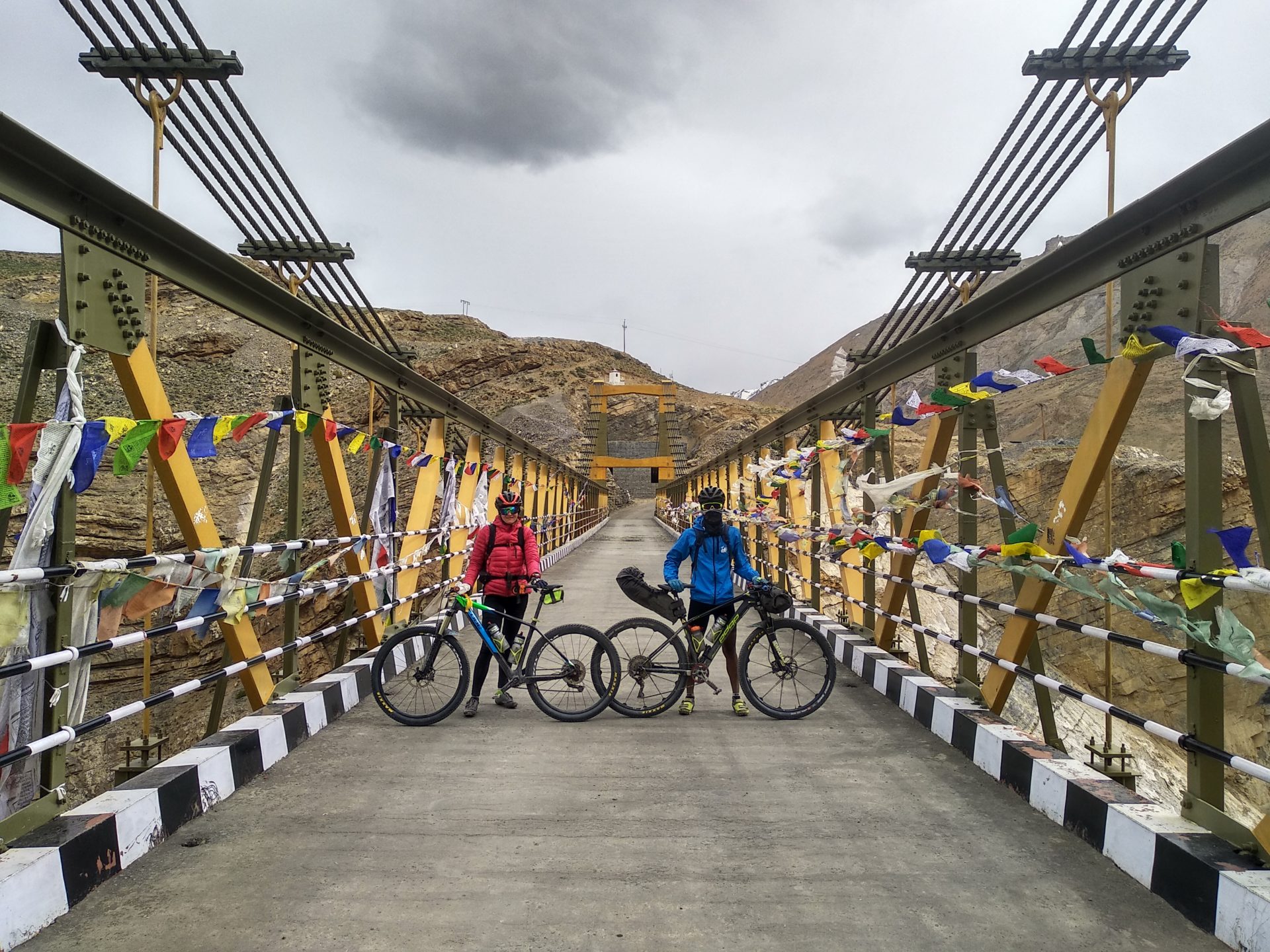 We rolled into the village of Chicham and continued over the new bridge of of a mighty gorge. The highest bridge in Asia saved us the crossing in the bucket, which used to hang on ropes for crossing few years back.
One last climb and we reached Kibbber.
In the friendly Norling Homestay we made ourselves comfortable, enjoyed the beautiful view of the village, watched when the yak herds were caught up and children played on the streets and also enjoyed a hot shower and some TV.
Day 6 Kibber-Kaza 3600 m, 23 km, 200 hm
For today more than just as far as Kaza was planned. But I needed a transit permit for the next section, which would pass close to the Chinese border. The person in charge had a meeting with a minister today and so everything dragged on a little longer until it started to rain.
In the high mountain desert Spiti it does not rain often, but if it does, then it becomes uncomfortable. So we looked for a nice homestay on the outskirts of the city and visited some friends. In Kaza there is not much else to do except eating.
Day 7 Kaza-Langza (4400 m) Comic (4500 m)-Tabo (3050 m), 93 km, 1453 hm
Today we were not on the normal route towards Kinnaur, but took a small sledover over the higher villages of Spitis. These are connected by a wonderful jeep slope and led us up to 4700 m, the highest point of our entire tour.
The 16 km long ascent to the 4400 meter high village Langza went quite fluid, although I also drove the route alone, because David was on and off at once. A friend had told him that the track was a Strava section and David wanted to get the KOM "king of the mountains" title for it – despite luggage. Well, he was on the move fast, but there was no Strava section in the end. The road led us up along a gorge and finally to a Golden Buddha. Now the road was no longer paved, but very quiet. We climbed steadily uphill. We were travelling so slowly that even during the trip we found the famous fossils, which date back to the time when everything was sea here!!
We passed the village of Hikkim, which houses the highest post office in the world, and Komik, the highest village in the world, which is connected to a road. There is also a monastery here.
Shortly before the departure back to the main road near Demul we put in a pancake lunch – a friend from Kaza sponsored us, thank you for that!
The 12 km long descent on asphalt was fun and quick, then a strong headwind came. Oh no!
Luckily we met old bike friends – bike-riders on fatbikes from Alaska, which we had already met in Manali- we all rode together and a little more comfortable and finally the wind stopped and it almost went downhill!
In Tabo there iswas a thousand year old monastery. We lived in a nice inn so close to the monastery that I took part in the ceremony of the monks the next morning.
Day 8 Tabo- Nako (3700 m)-Spillow (2500 m), 130 km, 1500 hm
Today we left the Spiti valley and  David's area of responsibility began, which was noticed by the increased kilometer length and the altitude meters for the stages of the next days.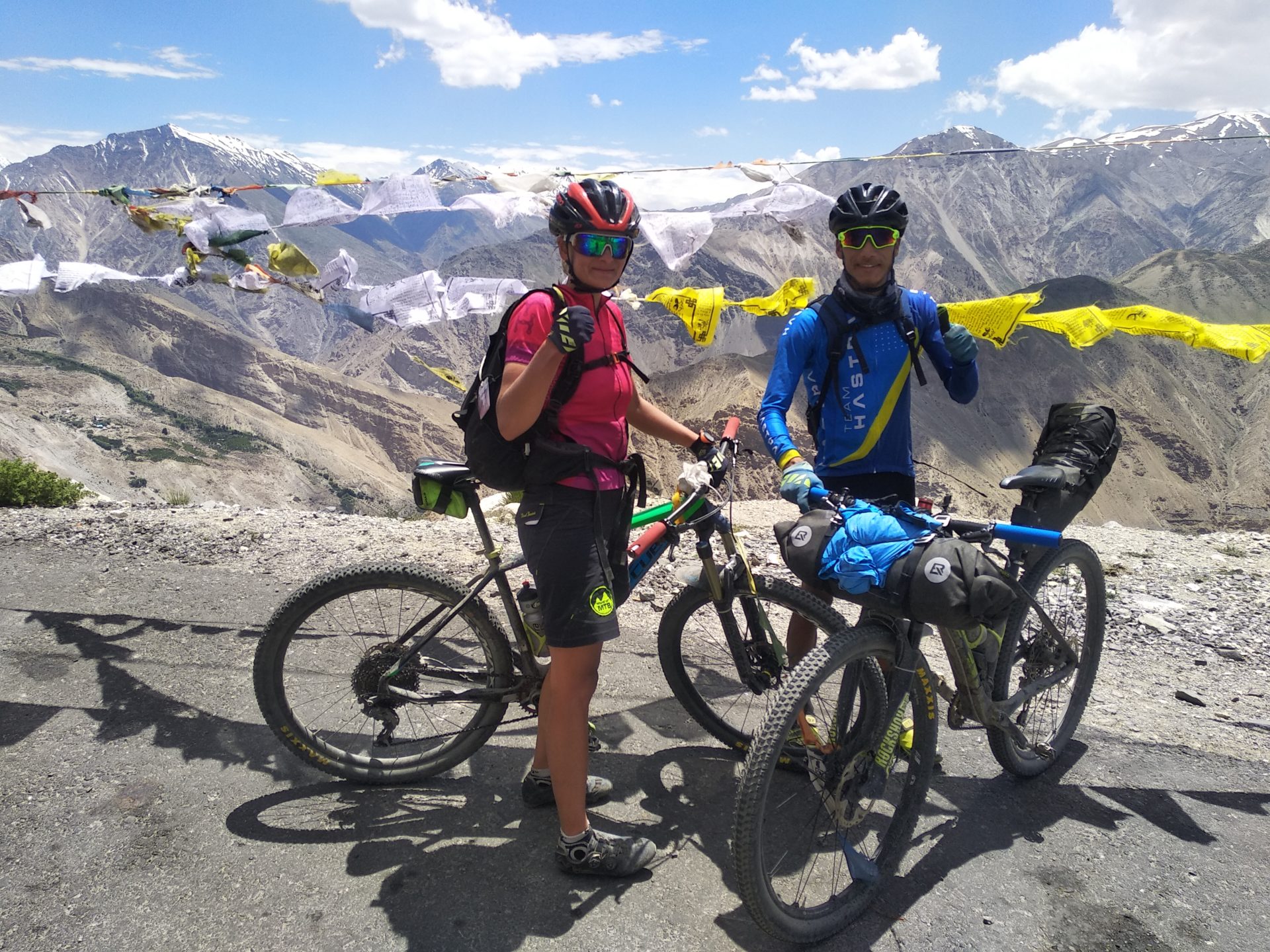 Up till the border to Kinnaur it went almost only slightly downhill. There I had to show my permission and we continued on a large road right next to the Spiti River. Already, a fierce headwind was blowing again, which worried me. After a total of about 50 km from Tabo, a 15 km long ascent started up to 3800 m. The seven hundred meters of altitude had it all. We practically rode up a mountain wall and quickly could see the river Spiti from high up. Sometimes the sections of the route were really steep and even though we saw the village of Nako in the distance it took quite some time and I got really hungry.
But finally we reached Nako, I was surprised, the village was so beautiful, surrounded by high mountains, with a lake and an old monastery and traditional houses. We spend a good 2 hours in Nako, enjoyed noodle soup and  strolled through the village.
Now I've had enough energy again- it could go on. David said , it would be anyway only downhill and flat. Easy
Well, he hadn't lied. But we had both underestimated the wind, which now blew neatly from different directions. 
Moreover, I did not expect such a road. Although it had only recently been widend (thank God), it had simply been carved into the rock. Those who deviated from the road would land directly hundreds of meters down in the Spiti River. But this was not the only danger. We drove here through rough rocks and again and again signs warned for rockfall. At critical points, there were even soldiers who were watching the streets for rockfall to warn civilians.
The wind became stronger and stronger. Sometimes we couldn't hold our bikes anymore and had to lie down flat on the ground for self protection.
I was rigid with fear, super concentrated and didn't notice the dust on my face, nor did I feel any thirst or the urge to go to the toilet for the next three hours. I just wanted to reach into safety.
David showed me the famous confluence of Spiti and Satluj, to which I paid little attention. To top it all, we switched to the other side of the river, so we had to ride near the slope now. I drove stubbornly in the middle or on the wrong side of the road near the rock face, which made me feel safer. But David was very upset and worried about me because of the traffic, which I didn't really care about.
I still know exactly how everything in me relaxed as I got closer to our destination, the road got better and the wind subsided. Wow, great relief. The additional effort because of the headwinds really exhausted me. Apperantly normally there is not such storm.
Spillow is not a popular tourist destination. Nevertheless, all the inns were occupied and we only got the dirtiest room in the whole place. During the whole trip we had always got very nice but cheap accommodation. But this room here was a dirty hole. But we had no choice and it was only for the night anyway.
Day 9 Spillow-Sainj (1000 m), 155 km, 1100 hm
Our longest stage, which would lead us steadily downhill (with some smaller climbs) out of Kinnaur.
Today we skipped many smaller sights, which were a bit off the main road. We would explore the Sangla Valley, Kalpa and Sarahan on one of our next tours. Today it was time to make a stretch. Especially in the morning we rushed to pass Rekong Peo before 9 o'clock, because until then, the track was still a bit dangerous and the track was often closed for controlled blasts due to the construction work going on.
Again a check of my permission by the army, then we reached Rekong Peo and from here it suddenly became wonderfully green again. We were now at about 2000 meters altitude and I enjoyed trees and grass. There were also huge quantities of hydroelectric power stations here.
On the way to Rampur there was again an impressive section of road cut in the rock – Fortunately, the wind was not so strong today.
It went lower and lower, further and further and it got hotter and hotter. After Rampur we still had about 30 km ahead of us – hardly any inclines but even the flat road section was hard after more than 100 km and at 40° C. Just 500 m from our destination we stopped at a small stand to have a gardener cut up juicy cucumbers and tomatoes. Delicious.
The night in a beautiful hotel was well deserved!
Day 10 Sainj-Shimla 100 km, 2100 hm
It was the 35 km ascent with 1700 hm that separated our hot starting point from Narkanda at 2700 m. The plan was to start early to gain altitude quickly and escape the heat. Well, one plan is one thing, a flat tire is another.
Luckily it happened here in civilization with car repair shops that were everywhere around. The repair did not take long.
We were tired of the last two days and our back hurted. But kilometer by kilometer we fought our way up and finally we reached dense, shady forest and then Narkanda. On the way up we took watermelon stops and raspberry breaks.
In Narkanda we took a long break. We met two Dutch brothers, who just set out in the opposite direction and we had a nice chat at lunch.
Afterwards we rolled through the beautiful green hills full of orchards, two small ascents, then only downhill to Shimla.
Unfortunately, things didn't go quite as smoothly. The break in Narkanda had probably been an hour too long. In Kufri at 2700 m, the first monsoon clouds appeared so fast that we finally reached Shimla in heavy rain. Thank you Shimla, for this first heavy monsoon rain, which made our arrival a little frosty.
Who is interested in doing a similar tour (despite my story :))- but organized, with luggage transport and in opposite direction, can find the tour details here.