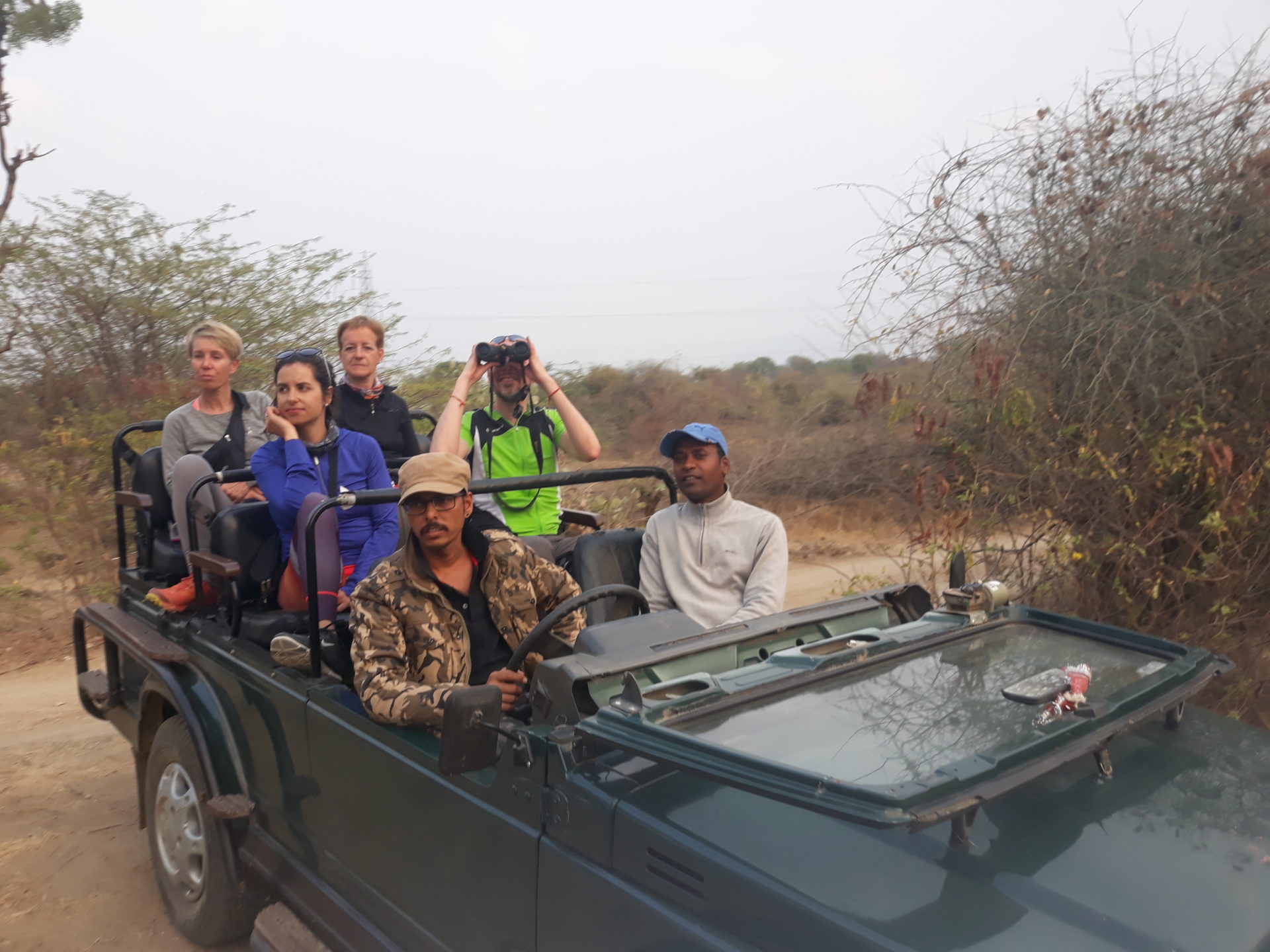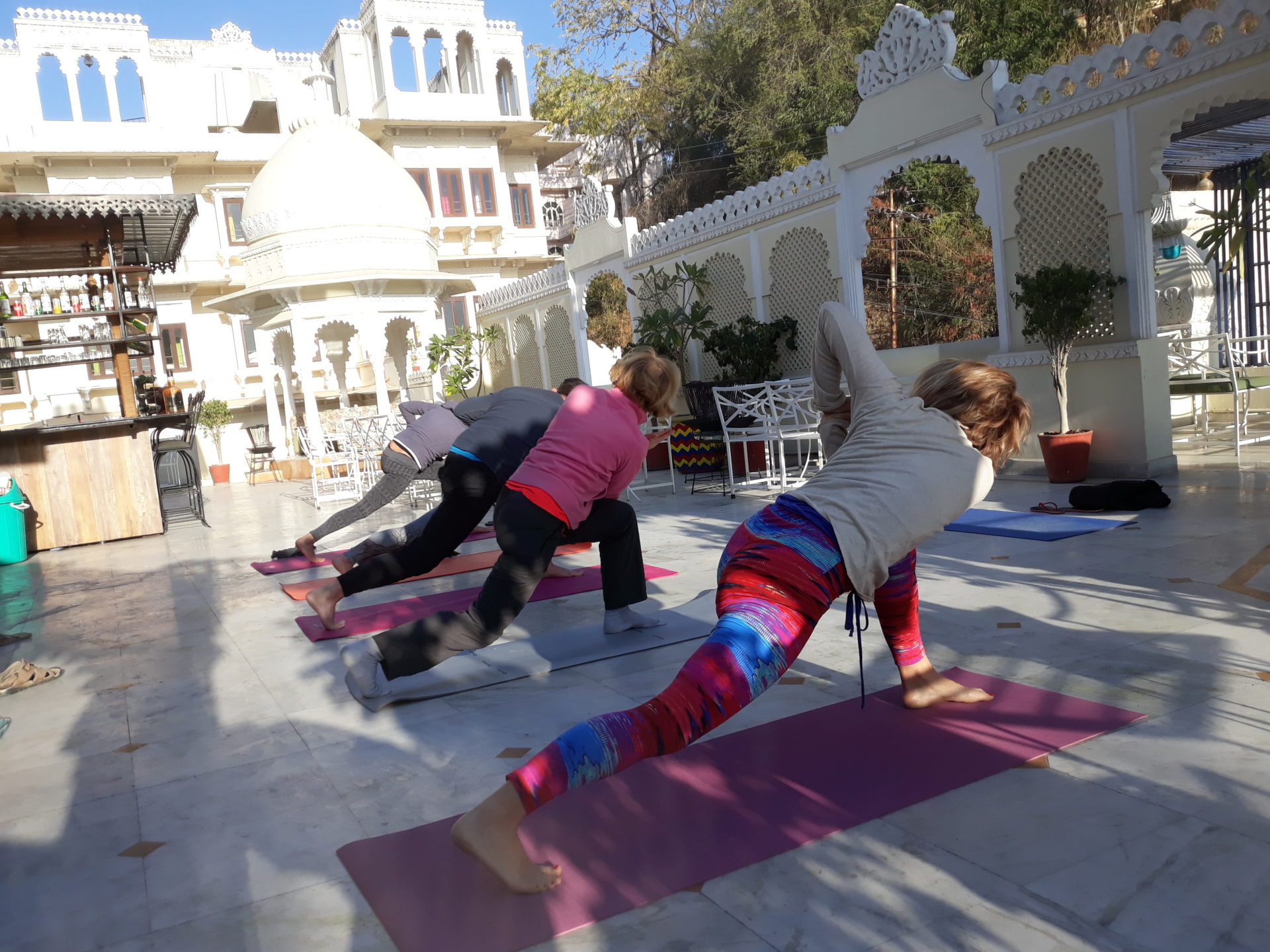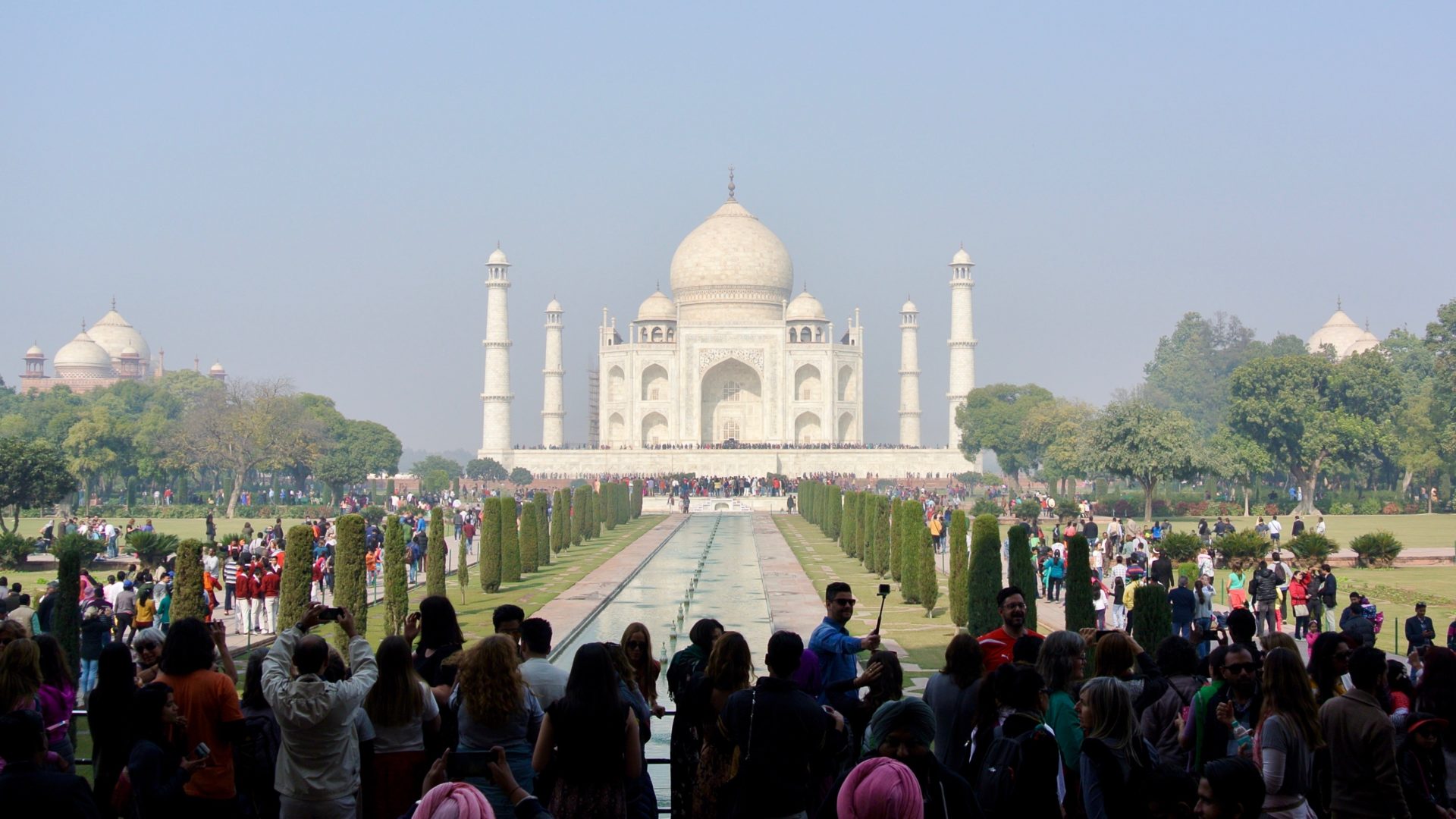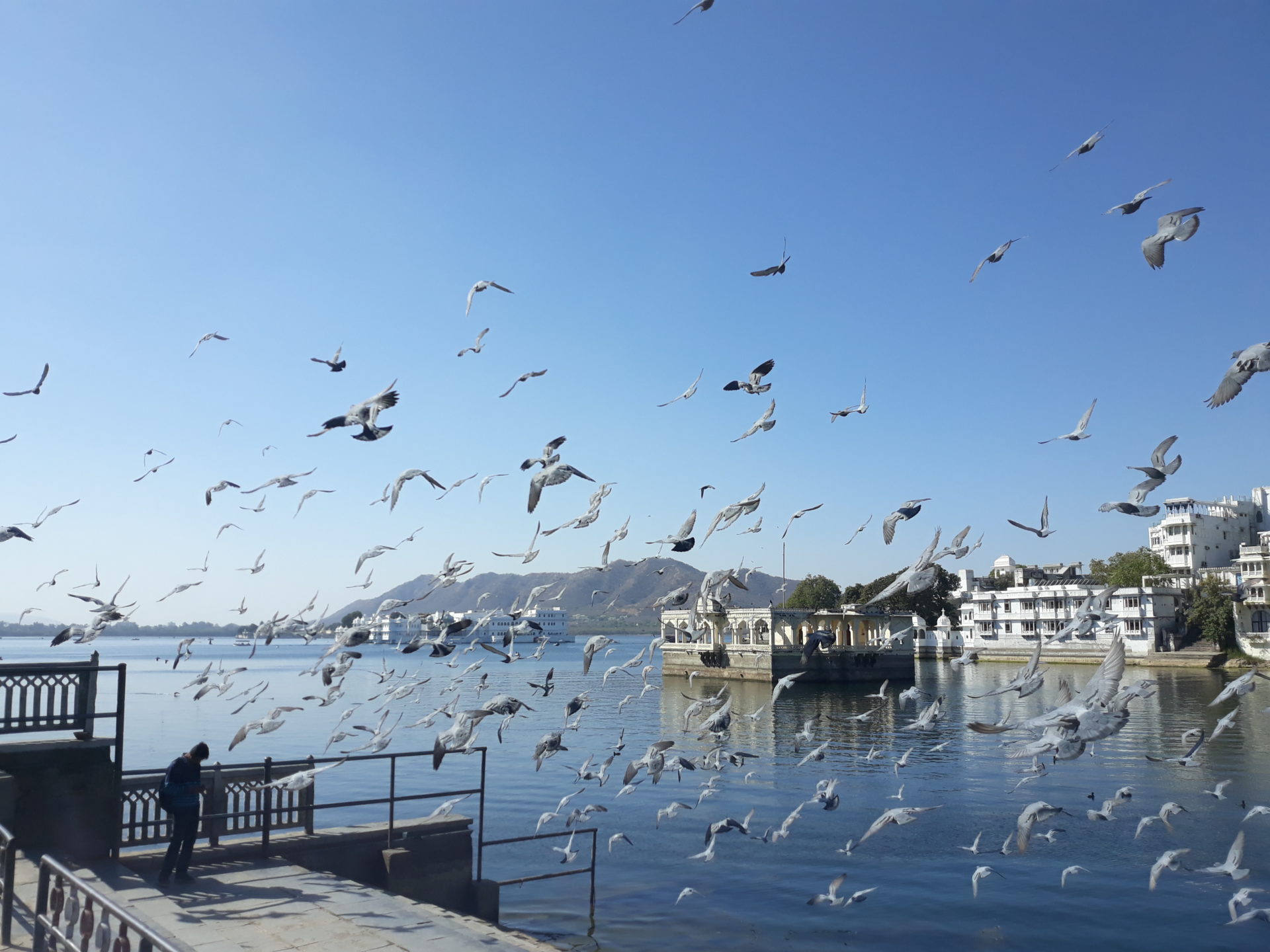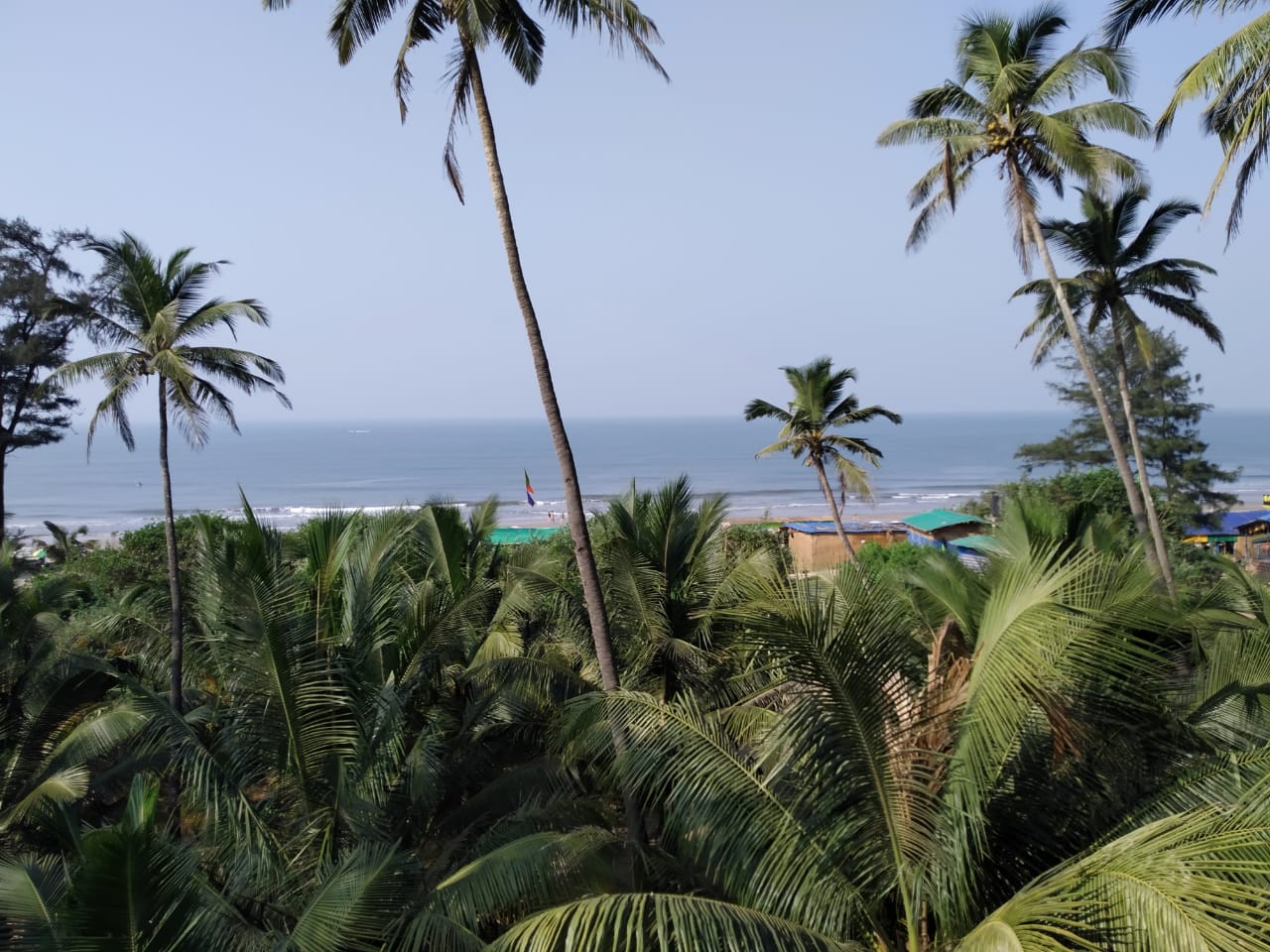 Overview
Magnificent palaces, imposing fortresses & wild animals
In Rajasthan, the fairy tales from 1001 nights come to life. Hardly any region has been able to preserve its heritage as authentically as Rajasthan. The North Indian state offers a wealth of cultural highlights and always leaves us amazed.
The palaces and fortresses are reminiscent of the many kingdoms that once fought for supremacy in the region.
Myth Rajasthan. This journey takes us from Udaipur – the Venice of India – to Delhi, the city with the two faces. visit the Taj Mahal in Agra and the capital of Rajasthan, Jaipur – the "Pink City". We experience the barren beauty of the Thar Desert and experience unity and harmony in the holy city of Pushkar. With good luck, we meet in Ranthambhore National park the shy royal tiger, the national animal of India. The bustle of temple life, luminous palaces and the quiet beauty away from the cities – look forward to Rajasthan!
Biking, hiking & relaxing. With one of the highlights, we start the adventure Rajasthan: the 3-day bike trekking from Udaipur to Jodphur. By bike we cross beautiful landscapes, visit traditional villages and conquer legendary fortresses. On guided hikes, we discover the Thar Desert and the blue city of Jodhpur. With our yoga sessions, you can relax and strengthen your body and mind. It will also be exciting during the safari when we go close to tigers and leopards. At the end of the journey, there is time to review the newly gained impressions. On Goa's dream beaches relax and let your soul unwind.
Program
Day 1 Arrival in Udaipur
At the airport Sarah or Yuvraj, your tour guide welcomes you. You will discover Rajasthan in the next 2 weeks on that guided tour. They familiarize you with Indian customs and have many insider tips about the people and culture of India. After checking in at the hotel, we take a short exploration of the old town of Udaipur and end the first day in India with a traditional Indian dinner on the roof terrace of a restaurant overlooking Lake Pichola. Meals incl.: D
Day 2 Discovery of Udaipur
After a yoga session together and breakfast, we go on a tour through the rampant markets of Udaipur. There is a lot to see, photograph and above all to taste. We end at the Jagdish Temple, which we visit. The afternoon we use for a visit to the City Palace, Palace of the Maharana. The palace is now a museum with facilities from the time of the Maharana, the head of the Sun Clan. Udaipur is therefore also nicknamed the "City of the Rising Sun". Afterward, we get to know the romantic City of Udaipur on our boat trip to Jag Mandir. The small island with a palace is a great setting, which Roger More as James Bond in Octopussy was also able to get to know. Meals incl.: B
Day 3 Start of bike trekking – 1st stage from Udaipur to Kumbhalgarh (50 km/3-4 hours)
Today the 3-day bike trekking from Udaipur to Jodhpur begins. We bike through beautiful landscapes. The first stage takes us on small asphalted village roads from Udaipur to Kumbhalgarh. Some efforts lie ahead today. Several uphill and downhill passages are on the program. Today, the landscape is still green and lush with lots of wheat, sugar cane and cornfields. In Kumbhalgarh, the imposing fortress (UNESCO World Heritage Site) awaits us, huge walls stretch over the ridge. Kumbhalgarh is a mixture of the fortress, very old temples, rural life, few inhabitants and a 570 km² nature reserve. Journey: 40 km, 4 hours (plus 50 km transfer in the minibus with approx. 1.5 hours travel time) Meals incl.: B, L, D
Day 4 Biketrekking – 2nd stage from Kumbhalgarh to Jawai (40 km/4 hrs)
Today's bike route from Kumbhalgarh to Godward takes us through the hilly landscape of the Aravalli mountains. On our way, we are accompanied by impressions of rural India. Halfway through we visit the Ranakpur Jain Temple. The 15th-century temple complex is one of the largest temples of the Jains. Our destination today is the Jawai Safari tent camp. In the afternoon we go on a leopard safari at Lake Jawai. Journey: 40 km, 4 hours (plus 40 km transfer in a minibus with approx. 1.5 hours travel time) Meals incl.: B, L, D
Day 5 Biketrekking – 3rd stage from Jawai to Jodhpur (50 km/4 hrs)
The last stage of our Biktrekking leads us over flat, desert-like terrain. It goes through traditional villages of the Rajasthan tribes to the vicinity of Ghanerao, where we have a final lunch with the cycling team in a small castle complex. The last stretch to the blue town of Jodhpur is taken by the minibus. In Jodhpur, we stay for 2 nights. Journey distance: 40 km, 4 hours. (plus 150 km transfer with approx. 3.5 hrs travel time in the minibus) Meals incl.: B, L
Day 6 Walk through the blue city – Jodhpur (7 km/4 hours) & cooking class in the evening
In the morning you can take part in a yoga class. During our 4-hour sightseeing, we visit the mighty Mehrangarh Fort. Continue through the old alleys of the Blue City and the Bazaars to the ancient Step Well. The many palaces and markets characterize the image of Jodhpur, in the afternoon you have time to explore Jodhpur on your own and you have the opportunity to zipline in front of the magnificent backdrop of the fort and over the roofs of the blue city (Flying Fox approx. 25,-). In the evening we are greeted by Rekha and Rishi in their home to take part in a lively cooking lesson with culinary delights. Walking Route: 4 km, walking time 4 hours (sightseeing tour) Meals incl.: B, D
Day 7 Visit to the Holy City of Pushkar
After breakfast we meet our minibus and driver, who will be our companion for the next few days to Delhi. After 4 hours drive, we reach Pushkar. The holy city by the lake invites you to linger and enchants through the terraces by the lake and the winding alleys with small cafes and restaurants "very spicy". There is time to stroll and have lunch. We visit the Brahma Temple and the holy Pushkar Lake at sunset. Meals incl: B
Day 8 Small desert hike and on to Jaipur, the Pink City
After breakfast we take a three-hour hike through the countryside to the highest point of the region. The hilly terrain changes, we hike on narrow paths through sand dunes, over fields and on over passages with boulders. At the highest point is the Savitri Temple. It is a wonderful sunset viewpoint. Then we set out for the capital of Rajasthan, the "Pink City" Jaipur (journey time about 3 hours). In Jaipur we stay for 2 nights. In the afternoon we walk to the Tigerfort, where we have our dinner overlooking the illuminated city of Jaipur. Hiking route: 8 km, walking time 3 meals incl.: B
Day 9 Bike tour through Jaipur (approx. 3 hrs)
Our morning sightseeing tour by bike through Jaipur's alleys is adventurous. We visit the market and experience the lively city life up close. For breakfast we are invited by an Indian family, traditionally we are served the three-part dish "Dhal Bati Churma": on an open fire roasted dough balls with yellow lentil curry and sweet sprinkles. Afterward, we visit the Jantar Mantar (UNESCO World Heritage Site) and the Amber Fort. Bike Tour: 3 hours (sightseeing tour, many stops) Meals incl.: B (late breakfast!)
Day 10 Rathambhore National Park & Jeep Safari
After breakfast, we start our trip (3 hrs) to Ranthambhore National Park. The reserve, which covers almost 400 km², is home to a wide variety of animals. However, the park is famous for its tigers. Due to the varied landscape with lakes, hills and forests, Ranthambhore offers not only its stunning wildlife but also beautiful flora. In the afternoon we take part in the four-hour Jeep Safari. With a little luck, we can observe tigers, axis deer, antelopes, crocodiles, jackals, panthers as well as countless bird species in the wild. There is no guarantee of seeing a tiger in any Indian nature reserve, but nowhere are the chances as good as in Ranthambhore National Park Meals incl.: B, D
Day 11 Tiger Safari & Drive to Agra to Taj Mahal
In the morning we take the train to Agra – what would be a trip through India without having traveled by train! Around noon we reach Agra. The legendary Taj Mahal awaits us, which we can already see at lunch from a roof terrace. In the late afternoon, we walk to a viewpoint where the symbol of love shines over the Yamuna River in the sunset light. Route; 4, 5 hours by train, meals incl. : B
Day 12 Visit of the Taj Mahal
After breakfast, we visit the Taj Mahal (UNESCO World Heritage Site). The Taj Mahal is considered the most beautiful building of Muslim architecture in India. The large mausoleum was built by the great mogul Shah Jahan in memory of his beloved wife, the Persian princess Anjuman Bano Begum, better known as Mumtaz Mahal. On her deathbed, she wanted her husband to be a tomb like a world had never seen before. The big mogul then built the Taj Mahal, which seems to have originated from a fairy tale. Afterward, our journey leads us to the capital of India: Delhi. We end the day with dinner together. Meals incl.: B, D
Day 13 Domestic flight from Delhi to Goa
There is breakfast before the transfer bus takes us to the airport. It's called farewell to Northern India and Sarah or Yuvraj. A two-and-a-half-hour flight and a 2-hour transfer take us from the bustling capital to paradise on the Arabian Sea. For three days we stay in Goa and enjoy the blue water and the wide sandy beaches. Meals incl.: B
Day 14-15 On the beach of Mandrem
For the last two days, we can relax and rest on the beach, which is directly adjacent to the hotel. The days are completely free for us. Optionally, you can choose from many different activities. How about a typical Ayurveda massage? Yoga at sunrise? A trip to Old Goa, Panjim, the capital of Goa and to the spice plantations? (Excursion 40,-/person incl. lunch; Ayurveda and yoga from 15,-) Meals incl.: daily B
Day 16 Farewell & Return Flight
Today it is time to say goodbye. A shuttle takes us to the airport in the early morning.
Services
15 nights: 11 x hotels, 1x luxury tent camps, 3x beach resort meals: 15 x breakfast, 3 x lunch, 6 x dinner (including once with a small cooking class followed by dinner)
4 x guided bike tours (incl. 3-day bike trekking) 3 x guided hikes 2 x morning yoga sessions 1 x safari in the NP Ranthambore 1 x leopard safari at Lake Jawai 1 x small boat tours
Local Tour guide until day 12
Admissions, visits, transfers, domestic flights, train ride and luggage transfer according to the program
gratuities
unmentioned meals
drinks
visa fee
international flight
flight to Udaipur (can be arranged)
Highlights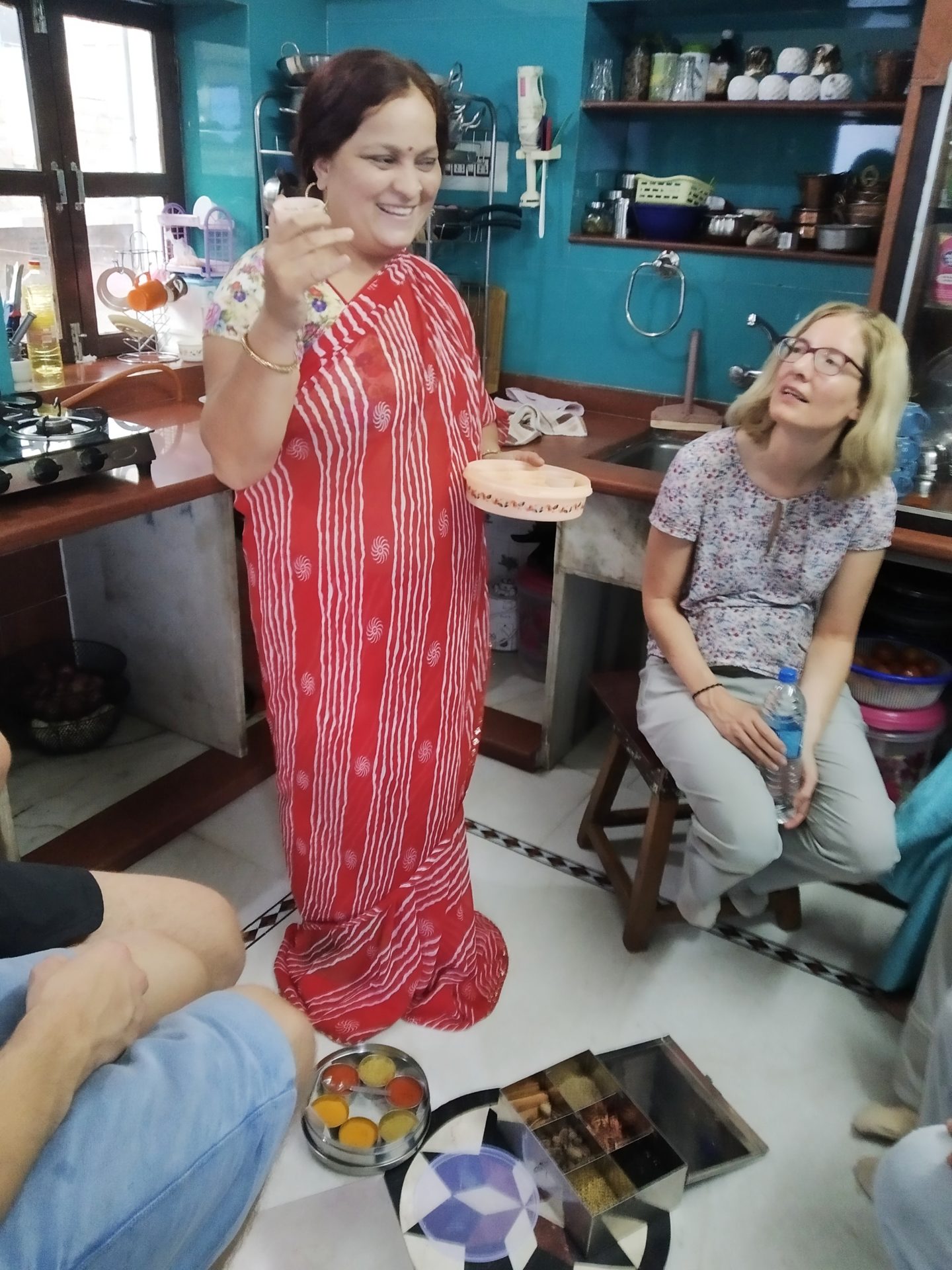 Prices and Dates
11.11.2023 – 26.11.2023
02.03.2024 – 17.03.2024
09.11.2024 – 24.11.2024
Double Room/Twin Sharing 2200 € (starts from 6 participants, inquire for private tour)
Room supplements (Single Room): 410 €
1/2 DZ: As an alternative to the single room we offer the booking of half a double room
This trip is also possible as a private tour possible with free date choice
Tour Info
Requirements
Good basic condition for 5 easy to medium bike tours in flat to hilly terrain up to 50 km long as well as 3 easy to moderate hikes of 2-4 hours walking time with maximum length of 10 km. Bike trekking does not require technically demanding bike skills, but you should at least be able to ride 50 km on a flat track. The route is simple and asphalted (sometimes slightly poor road condition.) The accompanying vehicle can also spontaneously accommodate individual persons.
Further Information
This is an adventure trip – the "experience" is in the foreground! So don't be afraid of new contacts, new cultures and ways of life!
About The Region
In Rajasthan, the desert state, it is almost year-round hot and dry. Only the winter months from November to February are a little more pleasant. In any case, take a headgear with you to protect yourself from the strong sunlight.
Rajasthan attracts the most tourists, so tourism is the livelihood of many locals. Often this can also become unpleasant. Because especially in the big cities and tourist strongholds, one is heavily pressured to buy something. Often beggars or children come to ask for money, sweets or pens. Here it should be well considered who you give something to. In addition, however, there are still many tourist-untouched areas, which we will also visit on our trip and thus get to know the very original Rajatshan.
Our opinion: Picture book India
Rajasthan is known as one of the cultural hotspots of India: palaces, fortresses, proud people, camels and elephants. Pictures that we already know from childhood.
These highlights can be combined very well with our sports spirit. This trip may not be our most demanding from a sporting point of view, but it is peppered with easy to medium-heavy hikes as well as bike tours and pushes the sweat beads in our faces during morning yoga.
Food & Drink
A delicious breakfast in the morning awaits you in each accommodation. On 5 days, dinner is also included in the price of the trip and lunch is included on 3 days. With a small cooking course, we get to know the Indian cuisine very intensively and can then enjoy our home-cooked dinner.
Domestic Flight
Our domestic flight with Air India from Delhi to Goa departs on day 14 of our trip.
How to get there
You can reach Udaipur by plane or train. We can help organizing your arrival.
Visa and booking
Please provide your full name when booking, as it is in your passport. Your passport must still be at least 6 months, you are responsible for the validity of your passports. To enter India, a visa is required, which costs about 25,- Euro. The homepage of Indian Visa Online lists the requirements for an electronic tourist visa. It can also be applied directly there.
Number of participants at least. 8 people, max. 16 people
What equipment should you think about?
Passport
Printing of the electronic tourist visa (e-TV)
Cash/EC card/credit card
Photocopies of the most important documents (keep separate from originals). Send a copy via PDF to your own email in advance.
Travel
Day backpack (approx. 25l volume if possible with integrated rain cover) for food and drinks on the go
For the hikes we recommend: hiking boots/trekking shoes with profile and well run-in; breathable sportswear (e.g. functional shirt/quick-drying; light long hiking trousers) and 1-2 pairs of hiking socks.
Comfortable sneakers are recommended for sightseeing tours/walks.
For the bike tours recommend bike pants and functional shirt/quick-drying; bicycle gloves, bicycle drinking bottle if necessary; you can rent a bicycle helmet on-site (free of charge)
Duvets are available in the tent camps. No sleeping bag or cabin sleeping bag required
A pocket/headlamp is recommended for overnight stays in the tent and in general, there are sometimes power outages.
Drinking bottle or field bottle (minimum 1 litre)
Wind and rain protection (e.g. light breathable rain jacket),
Long trousers and sweater/jacket (for the evening and/or rooms with air conditioning)
Photo equipment does not forget.
Field cutter/remote glass for safari if necessary
Sun protection and headgear (cap, hat or headscarf, sunglasses, sunscreen)
Travel pharmacy, first aid kit, possibly personal medications, insect repellent
Swimsuit
Can I drink from the water pipe in India?
No, tap water should not be drunk.
Do I need an adapter for electronic devices?
The voltage is 220 volts. Due to different socket types, we recommend taking an international adapter set with you. In Addition to the Euro plug C, the plug types D and M are also represented in India.
Accommodation
Which hotels are we staying in?
Here is an insight into our hotel selection. Please note that this is a provisional list. Short-term changes may occur. All information without guarantee.
5

Incredible

We, my husband and I, did a multi-active trip in Rajasthan with Chalo-Travels, i.e. with Sarah, in February 2020. The trip was unbelievably beautiful, especially thanks to Sarah's organization and guidance. Sarah organizes carefully and always tailors to the needs of the travel participants. You never feel "patronized", but rather accompanied really attentively and empathetically. Sarah enables insights into Indian life, also away from the tourist crowds. If you want to go on a group trip to India and not just get on the bus, get out of the bus, you should travel with Chalo-Travels. The mix of sporting activity, culture and freedom are perfect. Thank you again, dear Sarah, for this unforgettable vacation and if it works, we would like to travel with you again next year. Kind regards Antje and Georg

5

Great Trip

I did a multi-active trip through Rajasthan with Sarah. We were 8 participants and it was one of the most beautiful trips I have ever made, thanks to Sarah. She is an extremely well organized, thoughtful, responsive tour guide who knows India and knows how to bring "her" country closer to you! On our trip, none of the participants were sick, which was due to the fact that Sarah always knew when and where we could eat. I can only recommend everyone to travel with Sarah!

5

Multi-Active Trip

I wish you all the best and keep doing this with your business, you're doing it really great and I can still say that this was one of the greatest trips I've made so far! And what is still crucial for me: It was my first "group trip" and the first impression counts as you know. You and especially you have made sure that this was certainly not the last trip in such a constellation and I can only encourage anyone who is alone to do such a thing. I was able to fully enjoy the trip, thank you for that!

5

Wonderful Tour

A week has passed since I am back home and I am still busy processing my impressions of India. Thank you for this wonderful journey, which was also wonderful because you led it and we got to know "your" India.
Rajasthan Multi-Active Tour "ON THE TRACES OF THE MAHA RAJAS" with Beach days in Goa