Sport & Abenteuer Reisen
Reise Bausteine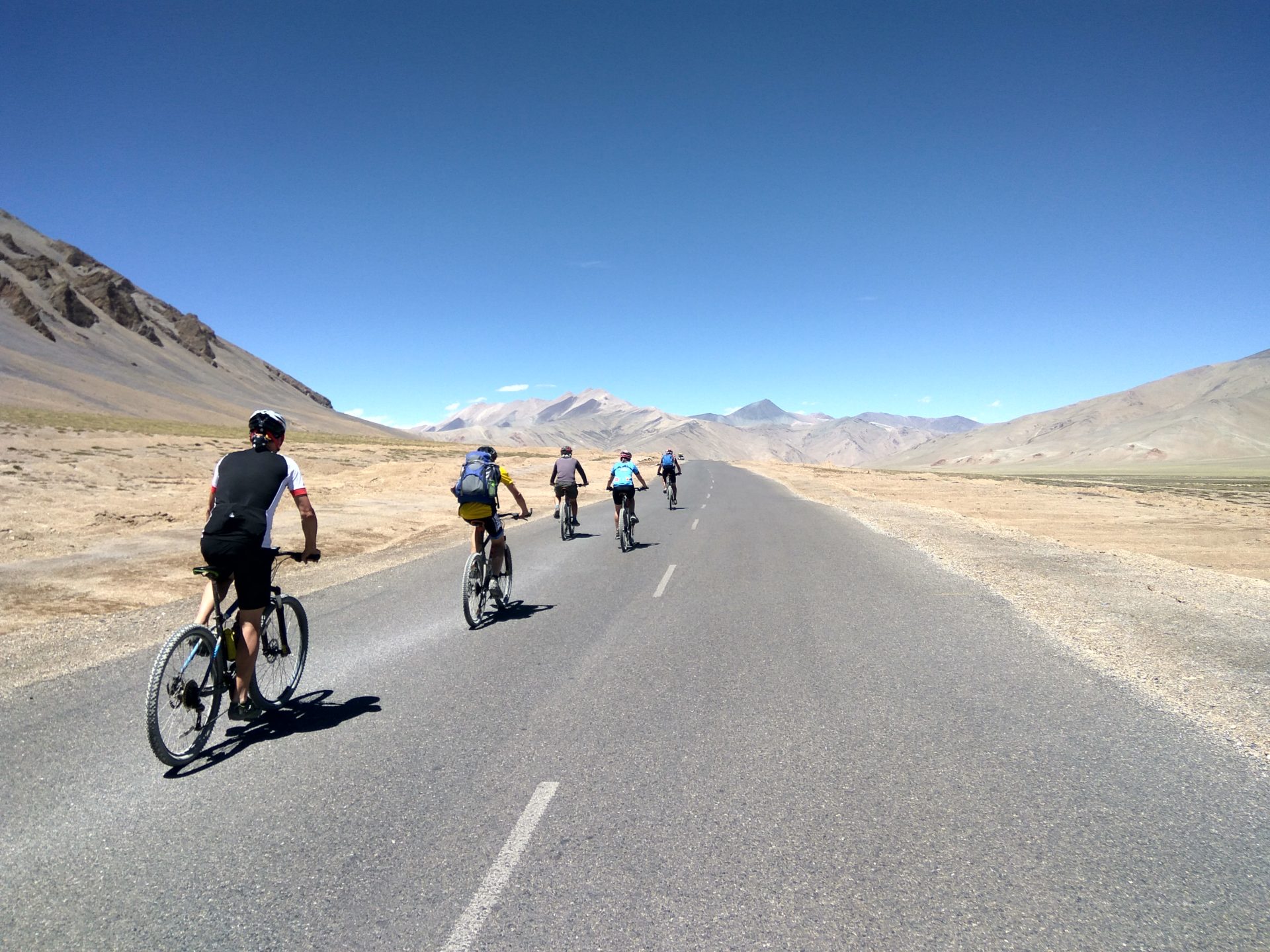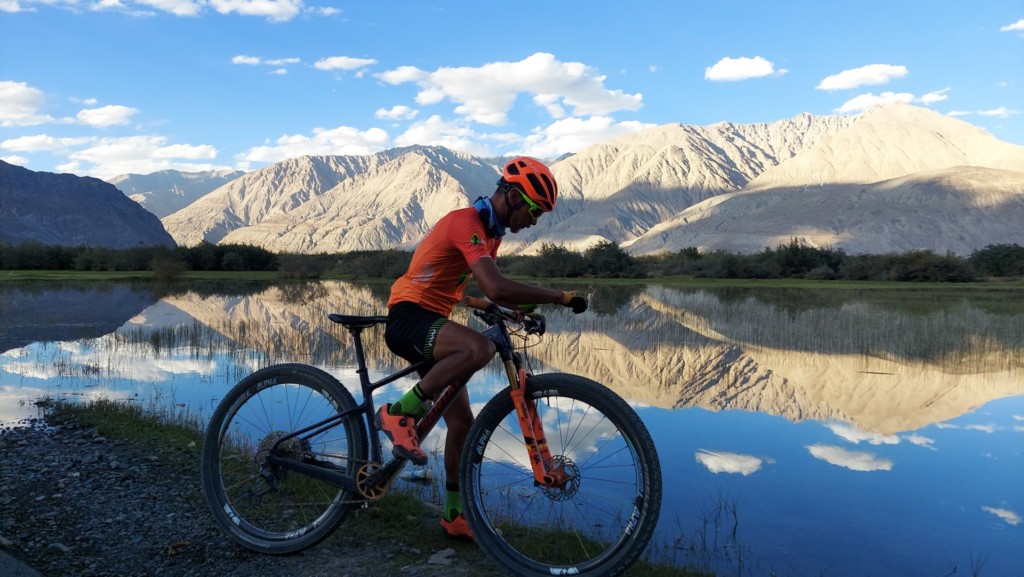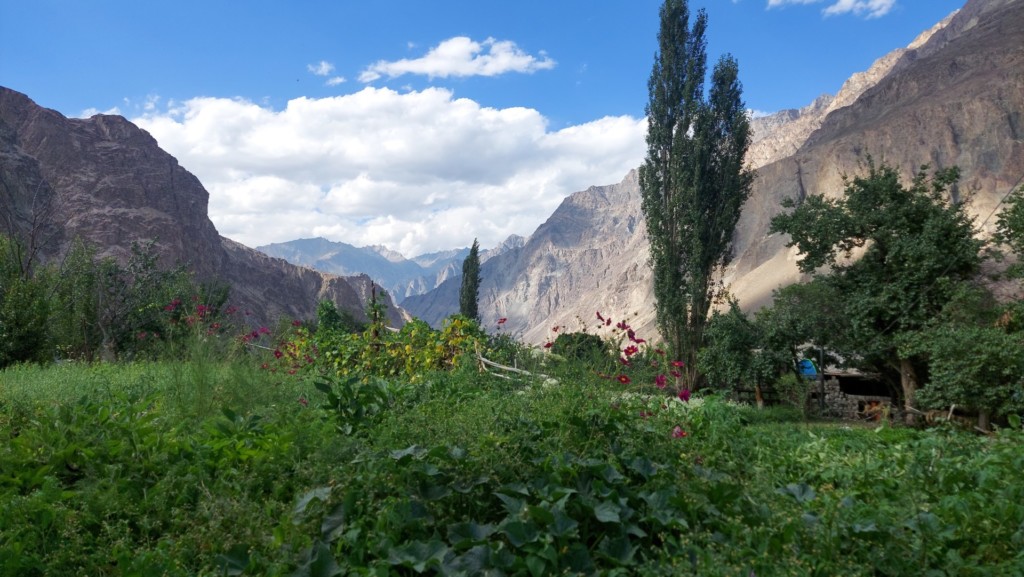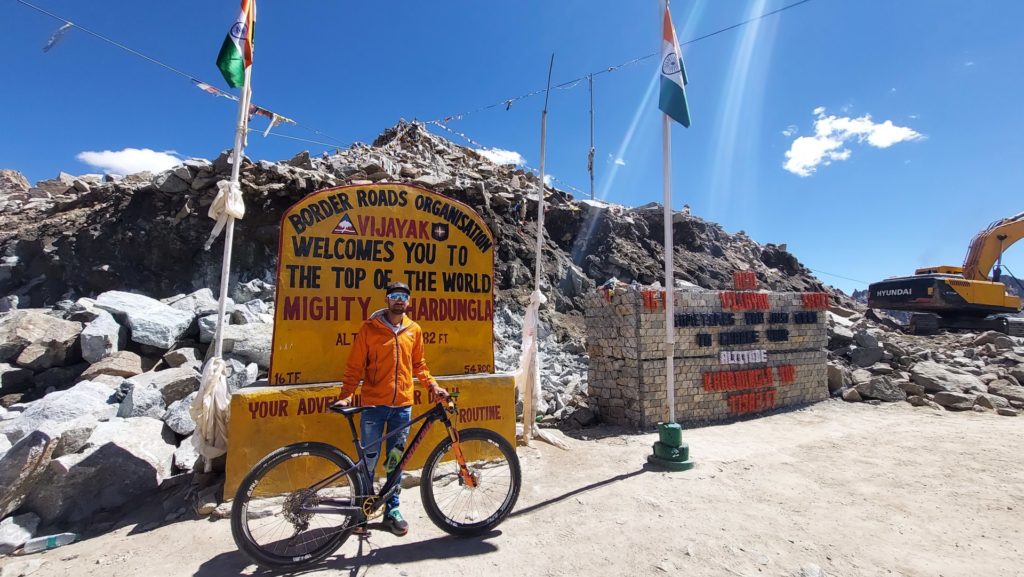 Overview
Admitted: this cycling trip can be hard, especially when you are not proper acclimatised. But this tour is also the best round trip to explore the most beautiful places in the cold mountain desert.
There will be plenty of highlights in terms of culture, nature and cycling.
High mountain passes, remote valleys, traditional villages, Buddhist monasteries, azure mountain lakes. You name it!
We will need a special "Protected Are Permit" to cycle though this remote areas close to the Pakistan and China borders.
After acclimatising a few days in Leh, we cross the mighty Khardung La to enter into Nubra. This Valley is famous for its scenic beauty, sand dunes, preserved culture and closeness to Pakistan.
Afterwards we follow the Shyok river out of the valley towards the Pangong lake-the biggest lake in Ladakh with 70 % of it belonging to China. We continue the trip on remote and rough roads to Karzok Village while crossing the Kaksang La (5436 m).
Karzok is situated at the beautiful Tsomoriri lake. We might have the chance to encounter nomads.
Continuing to the salt lake Tsokar, we reach the Manali Leh highway and cycling back to Leh over the Tanglang la pass (5300 m).
Below Itinerary is a suggestion for you Ladakh cycling trip, but it can be customized and modified according to your wishes. The shorter route option would lead you from Nubra Valley via the Wari La pass (5250 m) back to Leh. and can be done in 6 to 9 days (depending on the number of days in Leh).
Either you take it as a stand alone Ladakh tour or you add this trip (as a shorter version) to some of our other Cycling Tours, such as the Manali-Leh Highway Trip or Zanskar Tour. For the later case, the first 3 days in Leh can be skipped, making the trip shorter.
Program
Day 01 Arriving in Leh
We will you pick you up from the airport and dropp you to our quite guest house with a beautiful garden.
Since Leh ist situated at an altitude of 3500 m, today ist all about rest to acclimatise well. A small walk to the Market of Leh can be done.
Overnight in guesthouse
Day 02 Leh Sightseeing Walk and Bike Check
Still acclimatising, we take you for a walk around Leh. We will visit the Shanti Stupa, the Leh Palace, the old monatery Gonpa Sona and of course the old town of Leh.
Overnight in guesthouse
Breakfast
Day 03 Leh to Stok Palace and back to Leh
Today we take you for a local ride. We cycling along the Indus river and visit the Stok palace and Spituk Monatery.
It is mostly a flat ride, but some uphill cycling is involved, when we ride to the Stok Palace. The King Family used to reside here.
Ca. 60 km ride
Overnight in Guesthouse
Breakfast
Day 04 Leh To Khardung village over the Khardungla Pass
Today our Ladakh Cycling Tour will properly start with a big cycling day. We are crossing the 5300 m high Khardung La Pass to cycle into the Nubra Valley. Please bear in mind, that you still might not be 100% acclimatised and it is no shame at all to hop into the back up vehicle anytime.
We promise, the views into the Ladakh valley while riding up are amazing. We will see entire Leh and the Stok range with the white tip of Stok Kangri (6250 m).
Up one the Khardung la pass after a 40 km uphill (and 1800 m of elevation) on above 5300 m it can be quite chilly. After a hot tea we put on some warmer layers and enjoy the fun downhill all the way to the scenic village Khardung. Khardung (3975 m) is surrounded by green fields of barley and buckwheat and the first village in the Nubra Valley. We stay in a homestay and enjoy the interactions with the locals.
ca 72 km ride
Overnight in Homestay
All meals
Day 05 Khardung to Hunder
Today it is not only a short ride, but it will be also mainly downhill or on flattish roads. We descend 1000 m into the Nubra Valley at the Shyok river on 3000 m.
We are left with time to visit the ancient Diskit monastery with the 30 m tall Maitreya Buddha Statue and the mesmerizing sand dunes of Hunder. Here it becomes all clear, why Ladakh is called a desert!
We can admire the cute Bactrian Camels with their two humps and thick fur. They are originally from Mongolia, but got here hundreds of years back, when the Silk route was leading through this region.
In Hunder we stay in a Hotel surrounded by a beautiful garden.
Ca. 54 km ride
Overnight in hotel
all meals
Day 06 Hunder to Turtuk and back in car to Hunder
Gentle up and downs, many army camps and small villages are on todays menu.
We ride all the way to Turtuk, one of the last villages before the border to Pakistan. If we are lucky, the wind is on our back, if not, well…, lets say there is always a backup car with us.
We will start the ride early. Not only, because during the day it can become surprisingly warm, but also because we have some program to cover.
Turtuk is a green cute village on 3200 m with a population of 500 people. It belongs to the 4 Baltistan villages in India since the India-Pakistan war in 1971, when this area was captured by India.
Culture, people, lifestyle and religion here are quite distinct from the rest of Nubra Valley.
People are mainly Muslim, have Arian features and living quite self sustainable with being 220 km away from Leh, the next bigger market.
We will have a walk through the buckwheat and vegetable fields, visit the museum and a traditional house, as well as teh beautiful old mosque. In a garden surrounded by walnut and apricot trees we try some baltistani dishes.
in the evening we had back by car to Hunder.
ca. 80 km and 80 km Transfer back
Overnight in Hotel
All meals
Day 07 Hunder to Agham
Another beautiful and comparable easy day on the bike. We follow the Shyok river now in the opposite directions. Some small climbs on the narrow roads till we reach the tiny settlement Agham. Here we are welcomed to a comfortable guest house.
ca. 60 km ride
Overnight in Guesthouse
All meals
Day 08 Agham to Durbuk
Similar to the previous day we keep following the river further out of the Nubra Valley.
ca. 60 km ride
Overnight in Guesthouse
All Meals
Optional: Back to Leh via Wari La
Climb the remote and scenic Wari La pass (5250 m) and enjoy the most beautiful downhill towards Shakti Villages. We will have many options to take some fun off-road shortcuts between the smooth tarmac switch backs. Also some nomads camps might be on the way. It is a delight to ride through the Buddhist Shakti Village with its small stupas and prayer flags all over. later onwards we follow a wide road all the way down to the Indus Valley while passing stunning monasteries. Once we reach the Manali Leh Highway at Karu, we will have Lunch. After the full filling 70 km ride we can jump in the car. On the way to Leh we can stop for a visit of Thiksey Village. Of course there is always the option to continue for 35 km by bike on a good road to Leh. The Tour ends the next morning at Day 9.
ca. 70-105 km ride
Overnight in Guesthouse
Breakfast, Lunch
Day 9 Durbuk to Man Village (4200 m)
Today we reach Pangong Lake. The route tends to have more climbing, then descending. One of the main tourist attractions in Ladakh and what is better than reaching it by bike?
We enjoy the scenic beauty and stay in a remote small village for the night.
Ca. 60 km ride
Overnight in Guesthouse
All Meals
Day 10 Man to Chusul
A short ride, to recover a bit from everyday's riding. However we are still on above 4000 m of elevation, which is kind of unbelievable. We enjoy high mountains, tiny villages and quite roads.
Ca. 40 km ride
Overnight in Guesthouse
All Meals
Day 11 Chusul to Mahe
Today will be one of the more interesting, but also challenging days on the bike again! It is a Pass crossing day. On a fairly new cut road we climb up to the 5400 m high Kaksang la. First on a metaled road, later on a jeep track. After such an intense climb the downhill ride to Mahe (4200 m )village is very rewarding.
Ca. 70 km ride
Overnight in Guesthouse
All Meals
Day 12 Mahe to Tsomoriri (Karzok)
Another great attraction is waiting today for us. The traditional town Karzok at the blue Tsomoriri Lake. After the ride we enjoy roaming through the narrow paths, visiting the monastery and enjoying the views of the lake. Many nomad camps are in the surrounding.
Ca. 60 km ride
Overnight in Guesthouse
All Meals
Day 13 Karzok to Tsoker Lake
A small retour of 40 km, then we follow a narrow road to the Salt lake Tsokar. Today we stay in a deluxe camp. In the spacious tents is enough room for a proper bed. Today will be our highest night on 4800 m!
Ca. 80 km ride
Overnight in Camp
All Meals
Day 14 Tsoker to Latho
It is a pass crossing day. We enter the famous Manali Leh Highway and cross it's highest pass, the 5300 m Tanglang la.
Along descends takes us to the first villages of Ladakh. In Latho village at 4200 m we stay in a homestay.
Ca. 75 km ride
Overnight in Homestay
All Meals
Day 15 Rumste to Leh
The last day will mark a beautiful ending of our 2 week long cycling endeavour. After riding downhill back to the Indus Valley, more and more settlements are appearing and it is getting almost busy! Welcome back to civilisation! We follow the Indus River all the way to Leh. On the way we can visit the famous Thiksey Monastery and enjoy our lunch there.
Ca. 80 km ride
Overnight in Guesthouse
Breakfast, Lunch
Day 16 End of the tour
After the breakfast we can dropp you to the airport or you continue your India trip.
Breakfast
Services
Transfer to and from the airport
All entrance fees during sightseeing tours
Before and after the bike tour
All accommodations during the tour in hotels, guesthouses, homestays and camps
meals as mentioned (mainly all meals included, besides in Leh)
Accompanying back up vehicle
Local guide cum mechanic
water during the cycling tours
Mountain bike, you can also take your own bike: 150 € Discount
International flight
Visa
Unmentioned meals and drinks
Tips
Highlights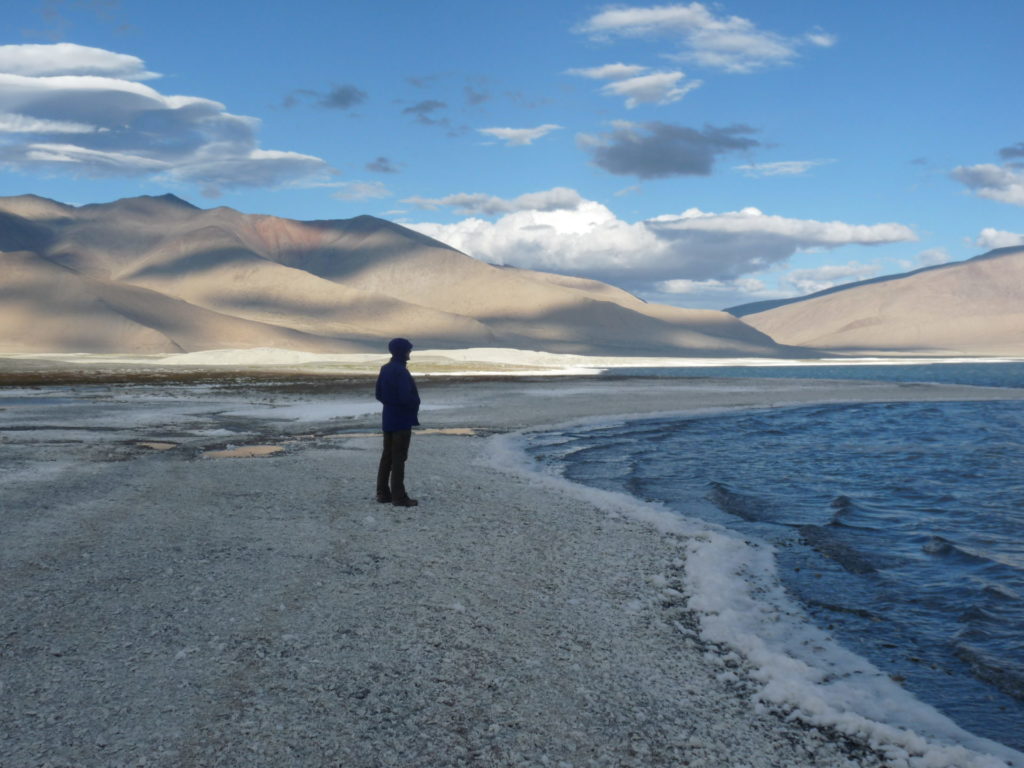 Dates & Prices
Fixed Dates:
25. Juli -2./9. August 2024
(can be combined with the Great Zanskar Cycling Tour)
This tour can also be done privately according to your own date preference and in variation!
Recommended time is between June to September.
Cost 16 days Tour:
2-3 participants from 3000 € per person
from 4 participants 2500 € per person
from 6 participants 2150 € per person
400 € single room surcharge
Cost 9 days Tour:
2-3 participants from 2100 € per person
from 4 participants 1700 € per person
from 6 participants 1550 € per person
300 € single room surcharge
Tour Info
Requirements
The route is never steep, but always goes either uphill or downhill with some flat sections. Nevertheless the climbs are sometimes very long and you need good endurance. Due to the altitude, the tour will be particularly difficult for you. The "thin air" is clearly felt and symptoms such as mild headaches and deep breathing can occur. In case of more severe symptoms of altitude sickness, measures such as cancellation of the tour must be considered.
The descents can sometimes be quite fast and you should exercise caution. This tour is suitable for anyone who enjoys safe, enjoyable and persistent cycling. Knowledge of mountain biking is not necessary.
Bikes
We will provide good mountain bikes with hydraulic breaks and a gear system along with a helmet. If you require cleat pedals please bring your own, as well if you prefer your own saddle.
This is not a mountain bike tour, nevertheless due to bad road conditions, broken tarmac, some off road sections or roads which are under construction, a bike with wide tyres and a good suspension is preferable.
There is the option to bring your own bike.
Route
This tour is new in our program. Of course we know the route and have run multiple cycling, motorbike and car tours in this area, but never in this set up.
Therefore we don't give the exact daily altitude meters in the itinerary. Please be also always open to short notice changes in the tour program. Due to the closeness to the boarder, the Indian Army can close the roads anytime. Also the weather situation comes into play.
Options
You can use this tour as an add on tour to the:
If you are well acclimatised, we can skip the acclimatisation days and shorten the 9 and 16 days tours by 2 days
You can combine all our Himalayan Bicycle Tours together, making it an epic 35 to 50 days tour:
Starting in Shimla and ride through the areas Kinnaur and Spiti (Tour 1)
Continuing through Zanskar all the way to Leh (Tour 2)
Now adding this Ladakh Cycling Tour
Riding down the Manali-Leh Highway to Manali (Tour 3 backwards)
optional adding the tour from Manali to Daramshala (Tour 4 backwards) or closing the round trip by cycling back to Shimla
Accommodation
You will be accommodated in nice comfortable guest houses and hotels, as well as more simple homestays and fixed camps in deluxe camps.
All of the villages and areas we are staying are very remote and some offer only basic amenities.
9 to 16 Days Ladakh Cycling Tour