Four weeks – four women
At last! After a two-year break, I was finally able to organize a trip to India for my guests again! While I've traveled a lot in India myself over the last two years and got to know some areas that I didn't know before (yes, they still exist), international tourists were not allowed to travel to India .
Now you can go again and I am very grateful to all those who love to travel who put their trust in me and India and book trips to India.
The very first trip had it all! Because during a one-month tour of India you can experience a lot in the country and get an idea of how diverse India is on so many levels. In addition, my guests wanted a lot of action, interaction and yoga, so that I could really live it up when planning the trip! In fact, this trip was a combination of my favorite India travel modules that took us through almost all of India.
There is no question that I accompanied the journey myself! Not just because I like to travel to India myself, of course. I was also curious about what had happened in the different travel destinations in the last two years and I was really happy to finally see my old business friends all over India again.
In the first two weeks I was alone with a travel participant in Rajasthan. Then two other girls in Kerala joined us and together we went up north, first to Rishikesh, then further up into the high Himalayas for yoga trekking. Finally, of course, a train ride to Agra was a must.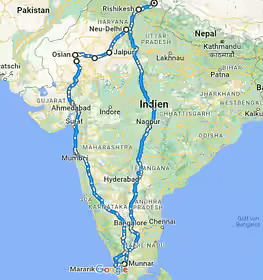 At first glance, the itinerary may seem like a big back and forth. But it made sense from a climate point of view, because in April it gets hotter (not warmer) every day in Rajasthan, so we should definitely visit this region first. On the other hand, the trekking season in the Himalayas doesn't start until April, so the later the better!
Stage 1 Delhi Day Sightseeing
When I spent the day in Delhi with my guest Ulrike, both she and I were amazed that she found Delhi very "relaxing"! Normally, Delhi is not one of the favorite places for foreign tourists.
But the combination of Ulrike's good preparation, my local knowledge and Delhi's constant progress probably led to this insight.
If you inform yourself in advance about Delhi, it can really scare you. At the end of the day, Delhi has all its sides and you have to know how to take them instead of just taking them.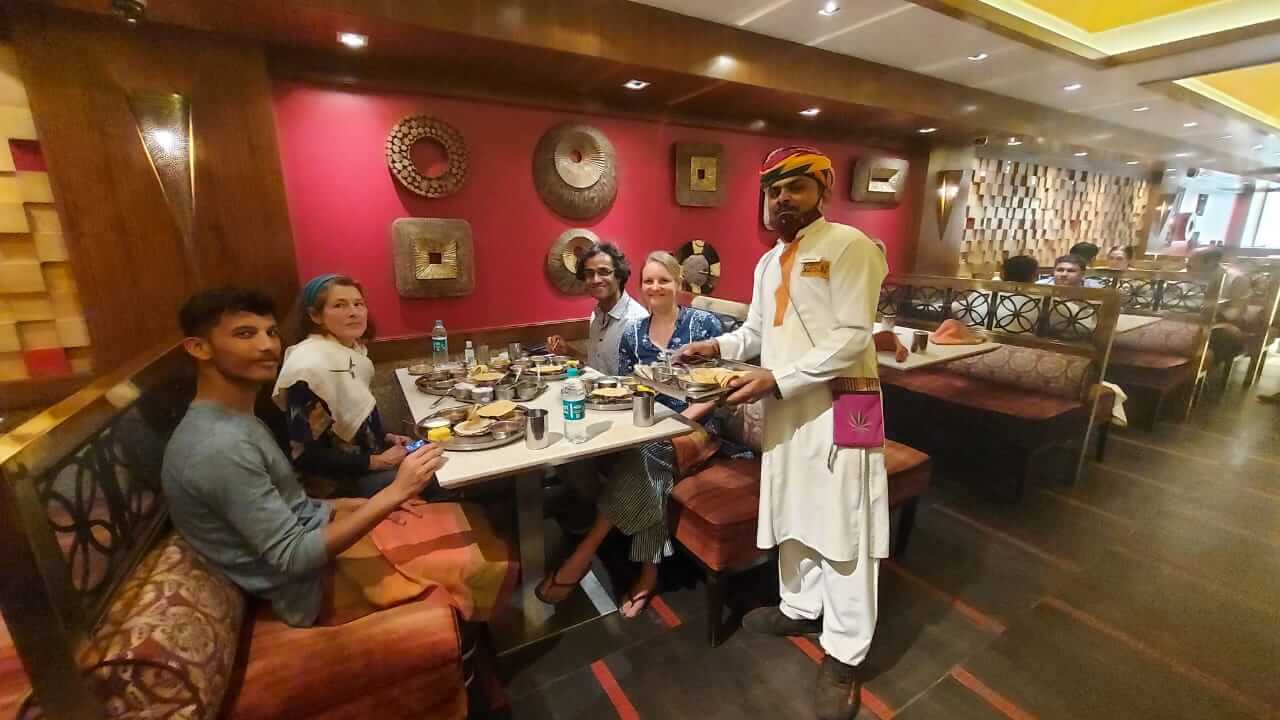 After a day in bustling Old Delhi visiting the Jama Masjid and the Spice Market, we went to Connaught Place for a light snack, continued by rickshaw to India Gate and Lodhi Garden and finally had dinner with friends.
Stage 2 Rajasthan culture and adventure tour
Comfortable in the car with a driver, we then made our way to Rajasthan. In the capital Jaipur we enjoyed the morning bicycle sightseeing tour through the narrow streets followed by breakfast at the "locals". We also marveled at the skills of the block printers, stonemasons and candy makers, alongside the impressive forts, markets and palaces.
In Pushkar, the holy city on Pushkar Lake with the only Brahma temple in the world, things got a little quieter and more peaceful. We slept in the comfortable luxury tent, during the day we enjoyed the touching atmosphere at the lake, where sacred ceremonies took place.
We then stayed at the Shri Jasnath Ashram for two whole days. It was fortunate for us that Guru ji took us to one of his programs with a rural farming family where we could participate in Hindu rituals.
Further on in the ancient desert city of Osian we visited the Satia Mata and Jain temples before riding camels through the rural desert to a farm. Here we spent the night comfortably under the stars, after being cooked very well by the family! It was probably one of our most comfortable nights!
Another one-hour ride the next morning, then we continued to the blue city of Jodhpur. Here we not only enjoyed the stroll through the old town with the wedding parade, but I was also really looking forward to meeting my good friend Rekha at the evening cooking class.
Of course, a visit to the Mehrangar Fort was a must.
Stage 3 Kerala Beach Resort and Active Travel
Originally we had planned a seven-day Ayurveda Beach Resort stay in Kerala at Marari Beach with daily excursions.
But when Ulrike noticed that she found traveling in India very pleasant and could do with a little more program, we moved the flight from Jodhpur to southern Indian Kerala by one day so that we could still do a day hike in Munnar in the Western Ghats through tea and make spice plantations.
Ina and Steffi joined us at the resort. Together we went on a houseboat and kayak tour in the backwaters, rode our bikes to the port city of Kochi, did a South Indian cooking class with Renjitha, took part in a temple festival and admired the young men while they trained in Karali, Kerala's traditional martial art. Oh yes – beach, sea (with dolphins!!), yoga, Ayurveda massages, good food and pool were also on the program!
Stage 4 Yoga Ashram in Rishikesh
We said goodbye to palm trees, the sea and Masala Dosa (South Indian speciality) to fly to Dehradun in the foothills of the Himalayas and continue to our ashram in Rishikesh on the Ganges, the yoga capital of the world and spiritual center of the Hindus in India.
Here on the Ganges we experienced the spiritual life of a yogi in the ashram in Rishikesh for three days with daily meditation, yoga classes, sattvic meals, fire ceremony and rituals. A highlight is of course always the visit to the Parmarth Niketan Ashram in the evening for the Ganga Aarti, the lights ceremony on the Ganges, followed by Satsang and dinner.
But also the rafting tour with a swim in the Ganges was a great experience and a lot of fun!
Stage 5 Three-day yoga trek in the Indian Himalayas
Of course, a yoga trekking tour in the Himalayas was a must! For this I chose the three-day Kuari Pass Trek . On the one hand because it is one of the few trekking tours that is possible early in the season, on the other hand because it probably offers the most beautiful views of the really high mountains, such as the 7800 m high Nanda Devi and the 7500 m high Kamet.
Of course, it takes a whole day of transfers in and out of the high mountains. The trek actually had everything to offer: Great campsites, great views, a high 4000 m pass, a small slightly higher peak, mountain lakes, small mountain villages, forests, pastures and flowering rhododendron. The great team took care of us and in the mornings and evenings we practiced yoga in front of a great mountain backdrop.
Stage 6 Taj Mahal visit to Agra
There are three things that no trip to India should be without a train ride, a visit to the Taj Mahal and trying out Indian street snacks.
So these activities had to be packed into the last three days of the trip.
We almost got a little wistful that the trip to India should soon be over. But then we all agreed that we still had a long weekend ahead of us, which can sometimes be like an independent mini trip.
After we arrived in Agra by train, we first went to the particularly beautiful Hotel Clarks Shiraz. In the evening we admired the Taj Mahal at sunset and then had a lot of fun with Moses on the delicious street food tour.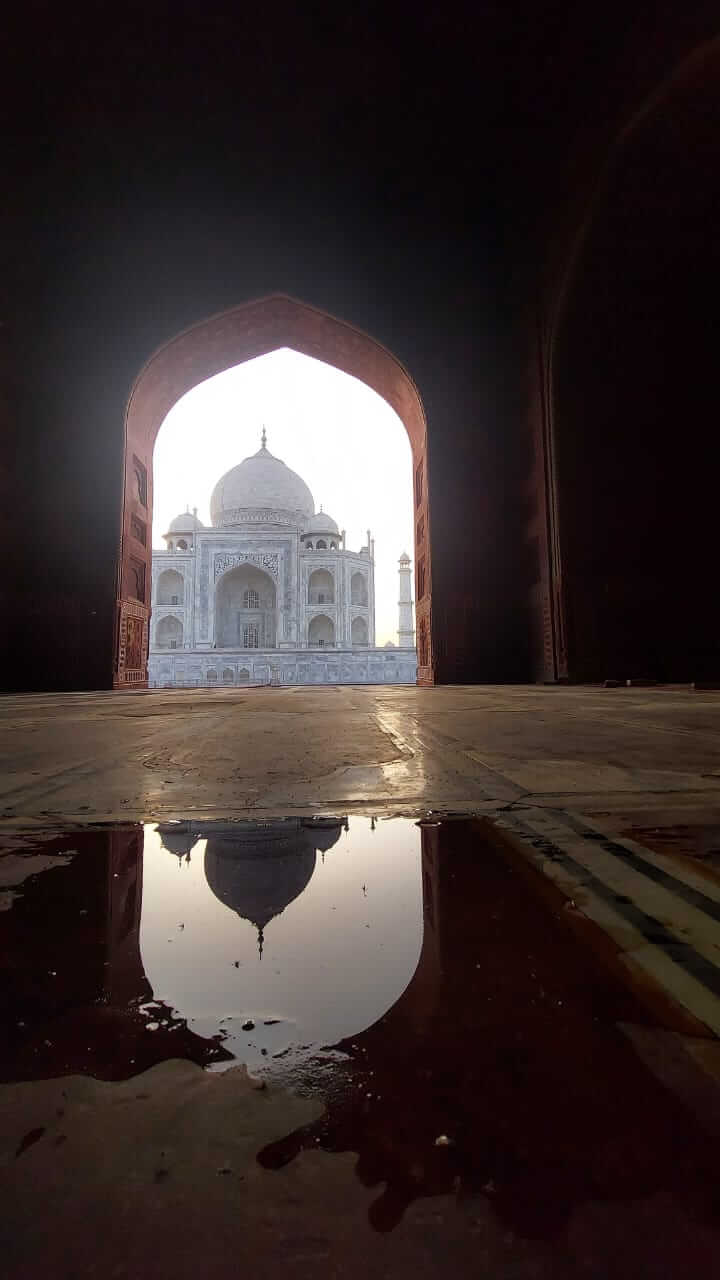 The next morning we got up early to visit the Taj Mahal before breakfast. After some "pool time" and the emotional visit to Sheroes Cafe (run by women who survived acid attacks), we started our journey to Delhi.
Leg 7 Delhi and Departure
The journey ended where it started: in Delhi. A proper final evening, a few tears and then it was: Bye, Bye India.